Whooo is Captain Owl?
We are excited to introduce you to our giant owl sculpture painted by artist John Unasa, Captain Owl! He will be joining 46 other owls in The Haier Big Hoot, a free Auckland sculpture trail that will raise significant funds for the vital work of Child Cancer Foundation.
About The Trail
The Haier Big Hoot is a nine week, free Auckland-wide scuplture trail. It will feature 47 bespoke giant owl sculptures painted by various artists and joining them will be 60 owlets designed by school students. The owls will be displayed in public spaces, parks, malls and streets across Auckland. At the end of the trail all owls will be auctioned to raise funds for Child Cancer Foundation.
The owls will land in Auckland on Saturday 3 March and take flight on Sunday 6 May. Find them all using the trail map app and collect rewards as you go.
For more information, visit www.thebighoot.co.nz

Find Captain Owl and be in to WIN* $4000 towards a holiday of your choice!

Download The Big Hoot mobile app to find Captain Owl. Enter the code from his plaque into the app and you're in the draw to WIN*!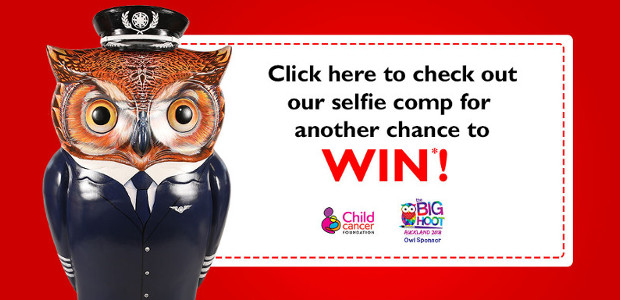 Capture an 'owlfie' with Captain Owl and you'll be in to WIN* $2000 towards a holiday of your choice!
Snap a selfie with our Flight Centre Captain Owl, upload it to Facebook tagging @FlightCentreNZ with the hashtag #aucklandbighoot and you're in the draw!
(Note: post settings must be public)