MEDIA RELEASE
June 28 2018
Every industry is facing major disruption, and the travel industry is no different.
Amongst other things, technological advancements, political and social upheaval, climate change and changing tastes and preferences are shaping the path the industry will take going forward.
Culture can be used to understand and predict these industry shifts. After all, humans are herd creatures and much of what we think or do is driven by what is happening in the world around us.
Today, Flight Centre Travel Group, in collaboration with TRA, New Zealand's largest independent insights agency, have released a report that reveals insights into some of these cultural patterns, and how they are acting on the travel industry in New Zealand.
The Tides of Change – looking towards the future.
Flight Centre NZ managing director David Coombes says, "While some changes or cultural shifts might seem insignificant at first, they might also bring seismic shifts within our industry.
We understand the importance of paying attention to these currents, taking note of the tides of change, and remaining always curious about our customers' current and future needs.
The report we have released today tells us that the travel industry is undergoing massive change. This change is for the better, and holds opportunity for all in the industry if we ride the cultural currents correctly."
Using "TRA's Cultural Compass" the report navigates the following key cultural currents:
Beyond: The shift to an experience-orientated culture where people seek more meaningful ways to live life. "Our customers are seeking more; they want to be travellers rather than tourists. Those who prioritise experience will be who thrive in 2019 and beyond" Sean Berenson, FCNZ general manager product.
Trust & Integrity: The growing demand for transparent business practises relating to personal data, privacy and security. "The ability of Blockchain technology to securely share a piece of information is going to revolutionise the world, particularly for business travellers" Nick Queale, FCNZ general manager corporate.
A.Daptation: The evolution and tension of the connected self as technology becomes essential to how we function."As other travel companies race to pursue technology only models, we've focussed on understanding the nuances of both online and offline" Sue Matson, FCNZ general manager retail.
Audacious Change: The desire for daring approaches to effect true, transparent and inclusive change. "Businesses can no longer sit on the sidelines; consumers are expecting them to be proactive and engage with relevant issues" Jodie Burnard, FCNZ general manager marketing.
The report also navigates the following secondary cultural currents: nature, work revolution, optimised self and fresh start.
Read the full report here: The Tides of Change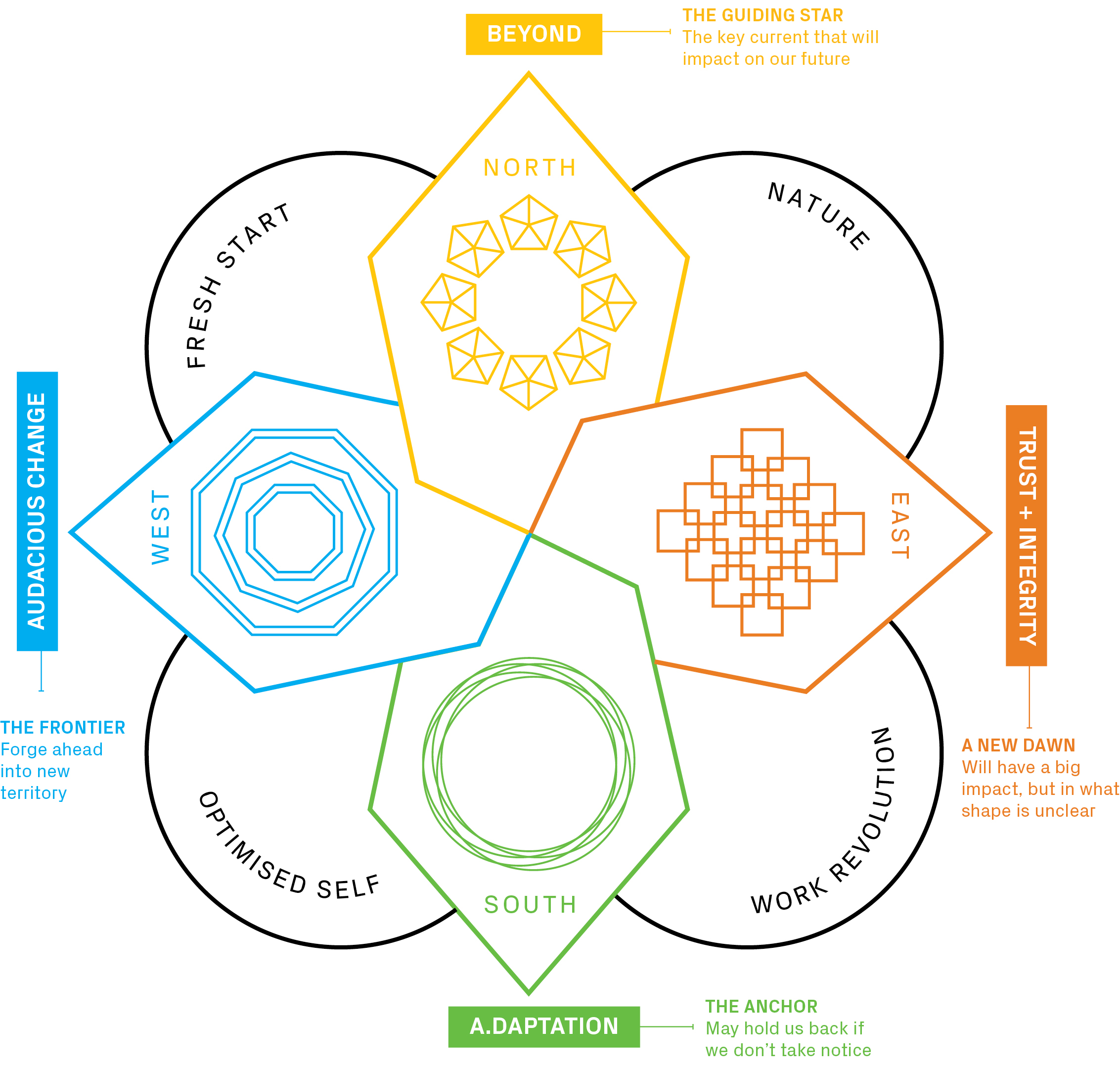 - ENDS -
For further information, or to organise an interview with David Coombes, please contact:
Dana Duxfield, Flight Centre Travel Group
021 651 363
dana.duxfield@flightcentre.co.nz
If you have any questions about the TRA Cultural Compass and Cultural Currents referred to in the report, please contact:
Claire Tutill, TRA
About Flight Centre Travel Group:
After starting with one shop in the early 1980s, Flight Centre Travel Group (FCTG) has enjoyed remarkable growth to become a $20 billion business consisting of more than 40 brands. One of the world's largest travel retailer groups, it has company-owned operations in 23 countries and a corporate travel management network that spans more than 90 countries. FCTG was listed on the Australian Securities Exchange in 1995 (ASX: FLT). Flight Centre Travel Group employs more than 19,000 people globally and has a total of almost 2,800 businesses
https://www.flightcentre.co.nz/
About TRA:
Founded in 2007, TRA has since grown to be New Zealand's largest independent insights and data analytics agency. Based in Britomart, Auckland TRA utilises capabilities across analytics, research, strategy, culture and information design to solve complex business problems for its clients. Twice named in the Deloitte Fast50 as one of New Zealand's fastest growing companies, TRA has amassed a client list of New Zealand's largest private and public organisations.