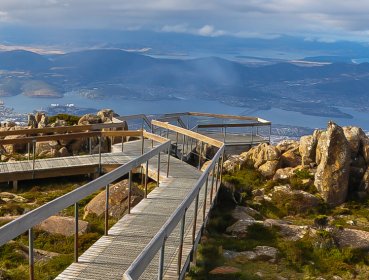 From the waterfront to towering kunanyi (Mt Wellington), Hobart is a city with so much to explore. Start at the harbour's edge, where travellers and locals alike are drawn to the historic waterfront and its array of cafes, restaurants, pubs and wine bars. Stretch your legs and take a bushwalk to get the best views of the city. Visit the Museum of Old and New Art (MONA) for a world-class cultural experience, or drop by in June for Dark MOFO to experience Hobart's weird and wacky winter festival.Planning a visit? Explore our Hobart travel guide and find out how to make the most of your time in this historic city. We've collected the best tips from our travel experts, and have all sorts of suggestions for things to do, the best time to travel, where to stay in Hobart, getting around and more.
Hobart quick facts
Beverages
Bottle of Coke/Pepsi (330ml)
NZD $4.00
Currency
Australian dollar
NZD $1.00 = AUD $0.93
Eating out
Restaurant meal (casual dining)
NZD $26.85
Electricity
Plug type: I
3 pins • 230V
Where to stay in Hobart?
You can't go wrong when it comes to deciding where to stay in Hobart. All Hobart neighbourhoods are only a short distance from the city. You should have no problems making your way to Salamanca Place, Battery Point and the waterfront from your accommodation, even in the outskirts of Hobart. For some travellers, staying outside of the action is actually a preferred option, as parking is more accessible in the suburbs.
Bars, eateries, parks, and shops are right on your doorstep when you stay in the centre of Hobart. It's a breeze to get around with Battery Point, Salamanca Place, and Hobart's waterfront restaurants only a few minutes away on foot. Meanwhile, all the convenience of the inner city's shopping centres and other facilities is only a quick walk from your accommodation.
---
Best suited to active folk, Sandy Bay is located 3km from the city. It adjoins the suburb of Battery Point, with great trails available nearby along the Derwent river edge. The natural beauty of the area, with its calm waters and leafy streets, in combination with the contrast of large homes and character cottages, will allow you to experience a side of Hobart quite different to the bustling city centre. There are yachts aplenty in the area too, so you could easily arrange a sail.
---
Among one of the best places to stay in Hobart is the North Hobart area. If you're a foodie, you'll be spoiled for choice by the diverse expanse of pubs, bars, and eateries central to the neighbourhood. Use your time in North Hobart to explore the nearby shops, bookstores and cinema, or make the most of the quick walk to the city's CBD.
---
Battery Point, a five-minute walk away from Hobart CBD, is an area with cute shops and striking colonial homes, many of which feature beautiful front gardens. A hop, skip and a jump from Salamanca Place and just 2km from the Botanical Gardens, Battery Point is a great place to stay if you want to explore Hobart on foot. You aren't far from the action and will have incredible views of both the River Derwent and Mt Wellington.
---
West Hobart, the relaxed bohemian area of the city, is best if you're passionate about diving into Hobart's creative community. This is a suburb with older homes, gorgeous gardens and narrow, steep streets. In West Hobart, you can stay close to nature reserves without having to compromise proximity to city restaurants and cafes. There's a strong sense of community spirit with grocers, schools, and a butcher shop all close by. Here you can live like a local during your Hobart holiday.
---
Things to do in Hobart
There are myriad things to do in Hobart. Not only is the city itself great to explore – it's also the perfect place to base yourself if you're day tripping to Bruny Island, Port Arthur, or Mount Field National Park. From delicious food to familiar stores, Hobart provides all the creature comforts you could want for during a getaway in Tasmania.
Fishermen's cottages and mansions of merchants and master mariners line the narrow streets of Battery Point. You can spend a whole day admiring the architectural styles in the area. Take a camera or recharge your phone because you won't be able to resist taking snapshots of the beautiful gardens, flowers, lemon trees, and olive trees you spot along the way. It's magical.
---
In Taroona, a 20-minute drive from Hobart, you'll find Shot Tower, one of Tasmania's top visitor attractions. The circular sandstone turret, once built to turn arsenic, hot lead and antimony into ammunition, is a must-see as it's the world's last tower of its type. Climb the wooden steps to see the incredible view from the top of the tower.
---
The towering, sandstone warehouses of Salamanca Place form a centre point and meeting place for the creative arts community in Hobart. Alleyways full of hidden treasures are sprawled among the fascinating buildings. The Australian colonial architecture is the perfect setting for the array of artworks, shops, cafes, and bars. This area also makes for a beautiful spot to stroll along at night with trees lit up, live music playing, and restaurants bustling.
---
Tasmanian Museum and Art Gallery
While you're in Hobart, set aside time to visit the Tasmanian Museum and Art Gallery (TMAG). A combination of museum, art gallery and herbarium, TMAG houses exhibits that represent Tasmania's rich history and biodiversity. Permanent highlights include the 10,000-item photographic collection and the selection of decorative artworks from the state's colonial era.
---
Small galleries contribute to Hobart's thriving culture in a big way as they provide recognition of local artists' work. Support contemporary Tasmanian and Australian artists by paying a visit to Colville Gallery or Despard Gallery on Hobart's esplanade (Battery Point). The warmth and styles of the galleries create the perfect atmosphere for the ever-changing and exceptional work on display.
---
Drive up Mt Wellington to experience a spectacular view of Hobart and the River Derwent. There's a wild, exhilarating atmosphere on the mountain with strong, icy winds. Depending on the time of year and the weather, the pinnacle may even treat you to a light snowfall. Don't forget your jacket!
---
Gain a captivating insight into Hobart's history by visiting the city's former gaol, The Tench. It originally covered about 1ha with 50,000 convicts housed at the complex during its time as a convict penitentiary. Tours are available at The Tench, with many chilling stories of its past entrenched in its walls.
---
Catch a ferry from Hobart's waterfront up the River Derwent. In 30 minutes, you'll arrive on the steps of MONA, Australia's largest privately owned museum. The space houses more than 2,000 artworks, all from owner David Walsh's collection, including ethnographic pieces and artefacts from ancient times. The collection is renowned for being thought-provoking and controversial with exhibits that are strange, confronting, and immersive. If you need to take a break, visit the museum's restaurant, cafe and bar for fine food, wine, and views of the river and surrounding scenery.
---
Maritime Museum of Tasmania
Once Hobart's first public library, the Carnegie Building (down by the waterfront) now houses the Maritime Museum of Tasmania's comprehensive collection of paintings, artefacts, and model ships. This is a great place to explore if you're interested in Hobart's history, with Tasmania's maritime heritage central to the development of industries in the community.
---
Hobart food and drink
Deciding where to eat in Hobart? It's a tough call. There are so many world-class food and wine options to choose from. Hobart offers everything from stylish modern Australian restaurants to folksy wharf-side dining, inner-city coffee shops, and artisan bakeries. The eateries in the area serve as warm havens to escape the cold in winter, and in summer they are simply showcases of the very best Tasmanian produce. Work your way through the food Hobart has to offer and you'll soon realise why the city attracts foodies from far and wide.
Hobart food markets are where you can see the city at its very best. Salamanca Market, down by the historic warehouses of Salamanca Place, plays host to vibrant stalls of local crafts and produce. Stroll through organic fruit and vegetable stalls, tea stalls and cheese stalls, and be sure to chat to vendors – it's the best way to get to know the locals!
---
After a long day exploring the city's parks and laneways, wind down with a cold brew or hot toddy. Hobart's bars and nightlife can be found in North Hobart, while other noteworthy places await you near Brooke Street Pier, at Salamanca Place, and down near Victoria Dock. Early and late afternoon drinks are also worth the drive out to Cascade Brewery, Australia's oldest operating brewery, with dining available and rare brews for sale in the visitor centre store.
---
Coal River Valley Wine Region
The Coal River Valley wine region, a 20-minute drive from the city, is an award-winning wine-producing area with a large concentration of privately owned vineyards. Spend a day tasting exceptional reds and whites. The wines are internationally acclaimed and closely aligned to those produced in famous French and German wine regions.
---
Treat yourself to fine-dining in one of Hobart's restaurant precincts. Here you'll sample the best of Tasmania's fresh, local ingredients. Take your pick from the bustling eateries of Salamanca Place, folksy wooden dining halls and historic buildings down by Franklin Wharf, and the diverse range of elegant restaurants on Elizabeth Street.
---
Where to find the best coffee in Hobart?
While there are many warm and inviting cafes to choose from downtown, the best coffee in Hobart is served with a side of pastry. Daci & Daci Bakers in the city boasts great coffee, as does the iconic Jackman & McRoss (a must-visit bakery in Battery Point). Whether you're craving a flavoured latte or a wake-up espresso, you won't have to venture far to find your caffeine fix.
---
Where to shop in Hobart?
Not sure what there is to buy in Hobart? You may be surprised by the range of Hobart shopping options.The CBD has stores from many big domestic and international brands, as well as groups of independent shops in the inner-city malls and the arcade. There are also smaller laneways and side streets hidden all over the city where you'll find stores exclusive to Hobart. Many small shops and markets stock the work of local makers, revealing great opportunities to bring home unique souvenirs for yourself, your family, and your friends.
Salamanca Market, with its vibrant stalls and live music, provides a wonderful place for buying not only food but also books, flowers, accessories, and all sorts of special knick-knacks. Alternatively, if you're looking for something a little more "out there", the Museum of Old and New Art Market (MONA Market) is a welcoming and in-your-face celebration of music, performance, art, science, and food.
---
Shopping centres in Hobart
Love a bustling shopping precinct? Cat and Fiddle Arcade is the place to go for Hobart fashion. There are over 70 speciality stores in the arcade, comprising a range of shops stocking international labels, homewares, jewellery, and shoes. This precinct has some delightful places to grab a coffee and a bite to eat as well!
---
Best shopping precincts in Hobart
Hobart's shopping centres are great places to enjoy some downtime and escape the elements. Any day-to-day necessities or travel essentials you forgot to pack will be easy to come by. If you're looking for a relaxed shopping setting, Centrepoint on Murray Street is a great choice as it's quiet with a small selection of quality stores.
---
When is the best time to travel to Hobart?
Weather in Hobart is great year-round as every season brings out a different side of the city. If you're travelling to Hobart in winter, you'll get what many consider to be the "authentic Tasmanian experience" – cold, misty mornings and beautiful days. During the cooler months, you'll truly appreciate Hobart's warm and cosy cafes too. In summer, Hobart comes alive with events in abundance, markets in full swing, and foodie favourites in season (hello berries!).
What is Summer like in Hobart?
If you're not a fan of the cold, summer is the best time to visit Hobart. The temperature sits at around 11°C to 21°C, so it's warm (though rarely hot). There's minimal rainfall in summer too, particularly in February. Appropriate clothing: Jeans and a short-sleeve shirt. Don't forget: A light jacket and layers for travel to alpine areas.
---
What is Winter like in Hobart?
Winter in Hobart is quite cold (at least by Australian standards!), sometimes a little wet, and snowy at higher altitudes. It's off-peak season in Tasmania, so you will avoid the crowds and experience Hobart like a local. You're also likely to secure cheaper flights and accommodation deals. Temperatures sit at around 3°C to 12°C, so pack your warmest clothes. Appropriate clothing: Thermals, jeans, extra layers, and a jacket. Don't forget: Boots, a water-proof jacket, warm pyjamas, a beanie, a scarf and gloves (or pocket hand warmers).
---
What is Autumn like in Hobart?
Autumn brings out the colour in Hobart. Trees are vibrant, so photo opportunities are plentiful. Temperatures sit around 6°C to 20°C, so it's cool but never hot. This is a great time to travel if you want to avoid crowds as there won't be as many tourists as in the summer season. Appropriate clothing: Jeans and a light jacket. Don't forget: Your camera, boots, extra layers, a water-proof jacket, and warm pyjamas.
---
What is Spring like in Hobart?
Spring in Hobart is a great time to see plants flowering. It's also a quiet time when most tours are just starting to kick back into gear. Temperatures generally sit at around 6°C to 19°C. Rainfall is comparatively high in this season, so be sure to pack accordingly. Appropriate clothing: Jeans and a light jacket. Don't forget: Boots, extra layers, a water-proof jacket, an umbrella, and warm pyjamas.
---
How to get around Hobart
Hobart transport, though limited, is easy to navigate and pleasant to use. Buses are available across the city and journeys are relatively quick. Many attractions are within walking distance of one other, so you may not need to use public transport. However, where walking isn't possible, and buses to your destination are unavailable, you can easily order a taxi. Travelling to areas outside of Hobart can prove challenging, as there are no rail services available in the region. If you need to travel long distance, book a seat on a coach or hire a car and travel at your own pace.
Getting around Hobart CBD in a hire car can be tedious, as parking is hard to find and often expensive. In most cases, the best option will be to walk or catch a taxi. Many local taxi services operate in Hobart and can be hailed in person or booked over the phone.
---
Walking Hobart is a great option as just about everything is close together – and you won't miss any of the charming alleys or cafes! Hobart CBD is small enough to cover on foot and you can easily walk from the CBD to Salamanca Place, Battery Point, and the waterfront without getting too tired.
---
Hobart public transport is efficient during the day but largely unavailable on weekends and on weeknights. You can use the Hobart public transport app (Metro Tas App), Metro website, or Metro hotline to plan your journey. Once you're on the bus, you can pay your fare using a Greencard or cash.
---
Bicycles are available to hire in Hobart at a dockside depot on Brooke Street, right on the Salamanca restaurant precinct. This is a great way to see the city as you can cruise around the city at your own pace. With bicycle hire in Hobart, you really are taken care of – helmets, locks, and maps of the city are all included. All abilities are catered for too with electric bicycles, pedal bicycles, big cross-city bicycles, and mobility scooters all available for hire.
---
What are the best parks in Hobart?
Buy a coffee to go and spend some time in the quiet serenity of one of Hobart's parks. The open spaces are perfect spots for picnics with your travel companions. What better way is there to experience and enjoy the fresh air of Tasmania? Local parks in the suburbs are quaint and peaceful, but the Royal Tasmanian Botanic Gardens and Queens Domain are the parks that you simply must make time for during your Hobart holiday.
Royal Tasmanian Botanic Gardens
The Royal Tasmanian Botanic Gardens, a five-minute drive from Hobart's CBD, are home to in-bloom flowers, Japanese gardens, lily ponds, and wildlife. A popular destination among locals and tourists alike, the gardens are well-maintained and peaceful, featuring some unique and beautiful collections. In the Botanic Gardens, you'll even find a Sub Antarctic Plant House – the only one of its kind in the world.
---
Unwind in Franklin Square with a packed lunch or takeaway coffee. In the square, you'll see a symbol of Tasmania's colonial history: a statue of Sir John Franklin (a former governor and Arctic explorer). The park's central position makes for good viewing of the surrounding historic buildings, and it's also a great place to people-watch. With the area a meeting place for working locals, you're sure to get a sense of the city's community and atmosphere.
---
A stone's throw away from the Royal Tasmanian Botanic Gardens is Queens Domain, a gorgeous area of natural grasslands that provide a habitat for native flora and fauna. Set aside some time to wander around the area. Queens Domain promises great bird-watching, cool shade, and picturesque views of the water.
---
The current requirements for travelling to Hobart
Talk to a Hobart Travel Expert
Our dedicated team of experts know all the ins and outs of travel and love sharing their knowledge. If you're looking for help planning specific sections of your trip or full itinerary planning, our team is ready and waiting to help create your perfect holiday.
Enquire now