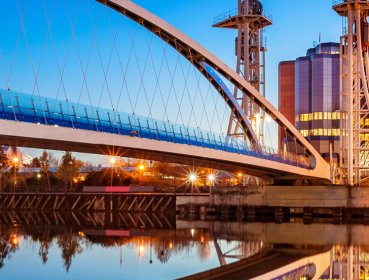 About halfway between London and Edinburgh lies Manchester, the birthplace of the Industrial Revolution and a modern city of inclusivity, invention and sheer inspiration. There is so much to see and do in this city, spanning the arts, sport, nightlife, canal cruises, walking tours and wine bars. Line your trip up with a festival or football game, book tickets to the theatre, or perhaps reserve a table for two at one of Manchester's best restaurants. Whatever you do, you'll be in good company.If you're planning a visit, explore our Manchester travel guide and find out how to make the most of your time in this exciting English city. We've collected the best tips from our travel experts, and have all sorts of suggestions for things to do, the best time to travel, where to stay in Manchester, getting around and more.
Manchester quick facts
Beverages
Bottle of Coke/Pepsi (330ml)
NZD $4.05
Currency
Pound sterling
NZD $1.00 = GBP £0.48
Eating out
Restaurant meal (casual dining)
NZD $30.70
Electricity
Plug type: G
3 pins • 230V
Where to stay in Manchester?
The beautiful thing about choosing where to stay in Manchester is that wherever you pick you'll remain close to the top attractions. The city is nicely compact. The real question is budget and style when deciding on places to stay in Manchester. The closer you are to the city centre, the pricier the hotels. However, you won't need to worry about the cost of transport. If socialising is top of your holiday to-do list then look no further than Deansgate or Castlefield. Check along the Metrolink lines too, and you'll find quaint areas like Salford Quays just a short trip away.
Stay in the City Centre and book into one of the well-known hotel chains, or seek out a unique inner city boutique. The real benefit of staying in the heart of Manchester is your proximity to major attractions. Manchester Cathedral, the National Football Museum and the cultural Northern Quarter are all within walking distance. It's also where you'll find great high-street and artisan shopping opportunities.
---
A short tram ride from Manchester City is Salford Quays – formerly the site of the Manchester Docks and close to the end of the Manchester Ship Canal. Stay here if you plan on taking one of the canal cruise tours. The waterside location is also home to a collection of modern architectural must-sees like The Lowry theatre, MediaCity (the BBC's Manchester hub), and the Imperial War Museum North.
---
A trendy part of town, Deansgate is a top location for evening socialising. Here you'll find upmarket wine and cocktail bars and many fine-dining restaurants. When not eating and drinking, take advantage of the many cultural sites on this side of town, like the Manchester Opera House, the People's History Museum and John Rylands Library.
---
Of all the places to stay in Manchester, Castlefield is one of the most peaceful. Located close to the River Irwell, the area's steeped in history. Discover the Roman fort of Mamucium (where Manchester got its name), as well as the world's first industrial canal. As the birthplace of such forward-thinking ideas, it's fitting that this is home to the Museum of Science and Industry Manchester too.
---
Things to do in Manchester
With so many things to do in Manchester, some pre-holiday prep is essential. In the heart of the city you'll find weekly Manchester markets and historical sites like Manchester Town Hall. Make the most of the Metrolink tram and train lines and even more attractions will open up to you: excellent parks, gardens and shopping destinations around Greater Manchester are only a short trip away.
Old Trafford and Manchester United
Even if you're not a soccer fan, a tour around Old Trafford and Manchester United is a must. Home to one of the greatest soccer teams in the world, players like Eric Cantona, David Beckham and Wayne Rooney have all graced the Old Trafford pitch. Now you can too. Stadium tours include a walk down the tunnel and a peek into the changing rooms.
---
It's the outside of Manchester Town Hall that really wows. In the heart of the city, the Gothic-style building sits dominant – the 85m clock tower very much a part of Manchester's skyline. Take time to spot some of the notable sculptures built into the exterior of the building, like King Henry III, Queen Elizabeth I, and St George, the Patron Saint of England.
---
No British industrial city is complete without a canal system. Manchester Ship Canal is just that: 58km of inland waterways linking the city to the Irish Sea. During a day-long cruise, discover how the ship canal shaped Manchester. Keep your camera handy! There are great waterside views of important buildings, locks and bridges that line the route from Manchester Salford Quays all the way to Liverpool.
---
Catch some theatre, dance, opera and more by grabbing tickets to a show at The Lowry. Located in the City's Cultural Quarter, there's an ever-changing program. From performances by local talent to internationally acclaimed theatre shows, it's a good idea to check The Lowry website before you travel to see what's on. Make a night of it by grabbing pre- or post-show dinner at a nearby restaurant.
---
Victoria Baths Manchester
When Victoria Baths Manchester opened in 1906 it was considered the most beautiful public bath in the country, where families could relax in sumptuous Victorian style. Today, Victoria Baths are a heritage visitor attraction and community hub. Enjoy a guided tour around the baths and learn about ongoing restoration projects. Check the Victoria Baths website before your departure to see what events are coming up.
---
A Grade I listed building, Manchester Cathedral has survived wartime bombings, witnessed the Industrial Revolution and is home to the remains of the Hanging Bridge, an important medieval bridge connecting the cathedral to the nearby town. Located on Victoria Street, Manchester Cathedral is open to the public every day. An onsite visitor centre provides more information on the church's past.
---
As Manchester is home to two of the biggest soccer clubs in the Premier League, it's fitting that the National Football Museum is here too. A celebration of 'the beautiful game', here you can learn about players past and present, soccer's representation in the UK media, and even swot up on the finer laws of the game (off-side rule, anyone?).
---
This Gothic building is impressive outside, but step indoors and you'll feel like you've been transported to Harry Potter's Hogwarts! Dedicated to one of the most successful Victorian-era businessmen, John Rylands, the library now belongs to The University of Manchester. Explore the library's world-famous collections, including some of the earliest books ever printed and the oldest known piece of the New Testament.
---
Get your holiday art fix with a trip to the Manchester Art Gallery. If you're into fine art, then you'll enjoy the gallery's 19th century collection of British Pre-Raphaelite paintings and contemporary offerings from international artists. Not confined to the gallery walls, it's here that you'll also be able to find out more on the city's public art and monuments.
---
A nod to democracy in Britain and the history of the UK's 'working class', the People's History Museum charts cultural and social change within the country. While 'getting political' might not be at the top of your holiday to-do list, spend time browsing the collection and you'll come away with a better understanding of the UK's former class divisions and tensions.
---
Manchester travel tips
Although there are many similarities between Australia and the UK, there are a few Manchester travel tips worth remembering. For example, did you know that Manchester has an efficient tram system? The Metrolink is a speedy way to get around and there's a great train network as well. Use these and Greater Manchester will open up to you. Another tip is to check your travel options when a soccer match is on. Public transport may be busier and some roads may even be closed and pedestrianised. By and large Manchester is a safe city, but like with any overseas trip it's important to be aware of your surroundings.
As an Australian passport holder, you won't need to sort out UK visas before your holiday. UK tourist visas are valid for up to 6 months and can be granted at UK border control. Simply present your valid passport when asked. Proof of an onward or return journey may also be required. Keep these documents close to hand as well. Check gov.uk for all the latest UK visa information.
---
Manchester is a very multicultural city, so you can expect a diverse range of cuisine. Curry Mile offers some of the best Indian cuisine in the whole of the UK. Make sure you don't miss out on putting this claim to the test! Apart from curry, you'll find a good mix of Manchester pubs serving British food favourites and restaurants offering modern dining and European dishes.
---
UK electrical plugs and voltage
The voltage and frequency in Australia and the UK are the same: 230V and 50Hz, respectively. You shouldn't need a voltage converter when using your electrical appliances, but you will still need an adapter. The plug pins and sockets in the UK are different. Pick up an adapter at the airport, or find one in the many UK electrical stores and even in some pharmacies.
---
Your holiday begins when you touch down at Manchester Airport. It services long-haul international flights, as well as shorter European trips and some domestic flights. There are three terminals and the airport's located around 12km from the city centre. When departing, arrive two hours early to check in and clear security. There are plenty of shopping opportunities and restaurants to help pass the time.
---
The UK currency is British pounds (GBP). These can be easily obtained at currency exchange outlets in Australia like Travel Money Oz. British banks and post offices offering a bureau de change service can also exchange dollars for GBP. ATM machines are everywhere, just check with your bank regarding any overseas charges for using your card. Contactless card payments are also widely accepted.
---
Tipping in Manchester and the UK isn't mandatory. The minimum wage is pretty good, so tipping is usually reserved for exceptional service. You may want to tip wait staff or taxi drivers for a great experience. If this is the case, 10 percent of the bill is sufficient. Occasionally, restaurants will automatically add gratuity to the bill, too.
---
English is the primary language in Manchester, but due the city's multiculturalism you may well hear Panjabi, Turkish, Urdu and more. Besides languages, there's also the city's own Mancunian accent. Considered a working-class city, hearing the Queen's English when in Manchester is unlikely. Mancunian is often described as a broad, northern accent due to the city's location in the UK.
---
Manchester food and drink
Explore the eclectic Manchester food and drink scene and you'll experience tastes and flavours from around the world. Traditional Manchester pubs in Castlefield and the city centre serve locally brewed beer alongside British favourites and a 'proper roast' on Sundays. Alternatively, explore the influence of the multicultural population by heading to Curry Mile or China Town. Sit back and enjoy a filling Indian, Pakistani or Asian meal with all the trimmings. You'll be pleasantly surprised at how much food you'll get for your money. Between attractions satisfy your hunger with a visit to the many Manchester food markets and artisan cafes.
However you like to dine, you'll find a Manchester restaurant precinct to suit your requirements. Enjoy a relaxed and affordable meal along Manchester's famous Curry Mile. Be spoilt for choice as you explore the many Indian, Pakistani and Middle Eastern restaurants. Out for a special occasion? Head to the new Corn Exchange, Northern Quarter or a little further out to the nearby village of Didsbury.
---
Where to find a good coffee?
The coffee scene in Manchester is on the up. In busy shopping areas you'll find wellknown coffee chains, but if you're willing to look a little more carefully you'll find independent cafes and roasters popping up across the city. To find them, look towards artsy areas like the Northern (Cultural) Quarter and MediaCity. Deansgate, Cheadle and Salford are also independent cafe hotspots.
---
Cosy pubs, trendy cocktail bars, and live music venues… Mancunians are 'madferit' all. Head to Deansgate for upmarket drinks in wine bars and cocktail dens. During the summer, the only place to socialise is in a good beer garden. The traditional pubs in Castlefield are where you'll find one. Alternatively, soak up the city's thriving music scene in the boho Northern Quarter.
---
What are the best food markets?
Manchester food markets are a great place to stop for a quick bite to eat, or for locally sourced produce. Piccadilly Gardens hosts weekly street food markets, while the Northern Quarter varies its market fare from week to week. Travel a little further for foodie treats and you'll discover the well-established Makers Market and award-winning Bury Market in Greater Manchester.
---
Manchester through your eyes
Where to shop in Manchester?
If no holiday is complete without some retail therapy, then the Manchester shopping scene won't disappoint. Large Manchester shopping centres, like the Old Trafford, puts the UK's most popular high-street stores, designer wares and restaurants all under one roof. You really could spend a whole day in this modern complex. For a unique shopping experience, visit the old Smithfield Market. Here you'll find original, one-off holiday gifts created by artists and designers from the region. It's also worth checking out local shopping guides to see what Manchester markets are coming up. Different markets often rotate throughout the month, so keep your eyes peeled.
Weekends are the best time to venture to the Manchester markets. Travel a little way out to Greater Manchester and you'll find an array of farmers' and fresh food markets. There's also the monthly Urmston Artisan Market – great for crafts and interesting goodies. Not wanting to travel? Regular markets like Piccadilly Street Food Market and the Flower Market are in the heart of the City.
---
Smithfield Market Building
Smithfield Market Building used to be a lively Victorian fish and food market. Today, the glass and iron structure still stands but is now home to the Manchester Craft & Design Centre. Here you'll find studios inhabited by some of Manchester's most talented artists and designers selling textiles, jewellery, prints, and homewares. It's the perfect place to pick up one-off souvenirs.
---
One of the city's major shopping areas, Exchange Square is in the centre of Manchester. The area was redeveloped after a bomb attack in the '90s, but it's now an open retail destination flush with designer stores and well-known UK department retailers. Seasonal events and pop-up markets are also held in Exchange Square because of its easily accessible location and good public transport links.
---
Satisfying your inner shopaholic is easy with a trip to the Old Trafford Centre, or Intu Trafford Centre as it's sometimes called. The dome design is the focal point, but you won't be gazing at the modern architecture for long. There are three storeys of much-loved UK high-street names, department stores and designer brands all in need of your attention.
---
When is the best time to travel to Manchester?
When picking the best time to travel to Manchester consider what you'd like to do during your holiday. If getting outdoors to parks like Wythenshawe or Platt Fields is important, visit during the summer months. Should your holiday itinerary largely consist of exploring the city's historic side, then autumn and winter are the ideal time to explore indoor attractions like the National Football Museum and the John Rylands Library. Also, bear Manchester's geographical location in mind. Even if you've visited the UK before, Manchester's northern position means you may find it slightly cooler than some southern UK destinations.
What is Summer like in Manchester?
Summer in Manchester is between June and August. The highest temperatures hit in July when the average is 16°C, but prepare for a few mid to late 20°C temperatures to creep in between late July and August. Daylight can stick around until as late as 9pm, so make the most of the long days and fine weather by exploring Manchester's outdoor attractions. Appropriate clothing: Shorts, skirts and dresses for daytime, and long-sleeve tops and jeans for cooler evenings Don't forget: Sunscreen, sunglasses, and a hat.
---
What is Winter like in Manchester?
As Manchester is located in the north of England, you can expect extra chilly weather during the winter months. Between late November and February, temperatures can drop below freezing. The cold weather brings its own charm. Morning frosts and the chance of snowfall only add to the excitement of the season. Days are much shorter too, with the sun setting around 4pm. Appropriate clothing: Warm clothing and plenty of layers Don't forget: A hat, scarf, and pair of gloves to keep the chill out.
---
What is Autumn like in Manchester?
From September through to mid-November, the autumn weather starts to set in. Temperatures in Manchester will begin to fall, getting as low as 3°C. The tree leaves will turn beautiful shades of red, orange and gold. Autumn is also when Manchester gets most of its rainfall. Visiting in October? Make sure you bring a brolly and waterproof jacket. Appropriate clothing: Closed-toe footwear, trousers, jeans, and long-sleeve tops Don't forget: A waterproof jacket and umbrella.
---
What is Spring like in Manchester?
Expect the mercury to rise from around March. Spring starts to thaw the city out after winter with temperatures slowly creeping up between 9°C and 13°C. You'll also notice the days getting longer. Explore outdoor attractions later into the evening, before heading inside to one of the many bars or restaurants along Deansgate or Castlefield to avoid the cooler evening air. Appropriate clothing: Trousers and long-sleeved tops for the evening, and t-shirts for finer spring days Don't forget: A jacket and umbrella – spring showers can occur randomly and often.
---
How to get around Manchester
The Manchester transport network is efficient, modern, and expansive. Trams, buses and trains will get you from A to B in the city centre, or take you further afield to markets and parks in Greater Manchester. An excellent resource is the Transport for Greater Manchester (TfGM) website or app. From here you'll be able to plan your route to various attractions and get live travel information.To travel like a true Mancunian, get familiar with the Metrolink tram service. It's reliable and a great way to get around the inner city quickly. Alternatively, see the city under your own steam by walking or cycling around Manchester.
Grab a Manchester taxi when you don't feel like walking. Flag a cab on the street – as long as the taxi light is illuminated – or head to a licensed taxi rank. Alternatively, look online for a list of minicab companies to call and pre-book a journey. All licensed Manchester taxis are metered. Apps like Uber are also widely used across the city.
---
Prefer to cycle your way around Manchester? Then look up one of the many Manchester bike hire outlets before you travel. It's possible to book bicycles for just a few hours – perfect for pootling around the city centre – or days and even weeks. Check out the Transport for Greater Manchester website to get a list of suggested routes and information on cycle lanes.
---
Manchester public transport is a great way to get around. When in the heart of the city, use the free Metroshuttle Bus or Metrolink tram service. Trams run frequently and across the lines you'll be able to reach the most popular visitor destinations. Get yourself a System One travel card, which allows travel on a combination of buses, trains and trams, if you plan on using public transport often.
---
Get around at your own pace by walking Manchester. Shopping areas like Exchange Square and attractions including Manchester Cathedral, Manchester Art Gallery and many museums are situated in the city centre. Walking between these destinations won't take long. Plus, go by foot and you're more likely to stumble across interesting pop-up events and street entertainers as you go.
---
What are the best parks in Manchester?
Although considered a very urban, industrial city, it's pleasing to know that there's a plethora of Manchester parks to escape to. When in the city, take a 10-minute sightseeing break in the centrally located Piccadilly Gardens. For a greener day, explore the many British woodlands in Wythenshawe Park. Many green spaces have marked-out paths and walkways too. As well as keeping you active on your holiday, they're a great way to see the historical sites and buildings within the grounds. From tramway museums to community lakes and heritage buildings, each location has its own story to tell.
Situated in the heart of the city, Piccadilly Gardens is the perfect place to pause after a shopping spree or between attractions. Pull up a park bench and watch Mancunians go about their daily business, while taking in the nearby historic and modern architecture. The grassy area is a nice spot for enjoying a quick bite of lunch when the weather is fine.
---
Nicknamed 'the people's park', Platt Fields Park is in Central Manchester. Called so because local people and the unemployed landscaped the area and created the large lake – the park's central feature – back in the 19th century. Hire a boat to explore the lake. Alternatively, keep your feet firmly on land and amble around the community garden projects and beautifully sculpted Shakespearean Garden.
---
Debdale Park is more than playing fields and beautiful gardens. It's where you'll find the Debdale Outdoor Centre. Add some action to your Manchester holiday by booking a sailing, windsurfing, climbing or orienteering session. Alternatively, keep a steady holiday pace with a leisurely walk along one of the many marked paths. It's also great for picnics and people-watching on fine-weather days.
---
More than just a green space, Heaton Park offers activities, sites, and attractions. Visit the tramway museum before heading over to the Grade I listed Heaton Hall. Alternatively, mess around on the park's boating lake, or walk the beautiful grounds under your own steam. There are several planned walking routes that allow you to take in some of the park's best bits.
---
Explore Wythenshawe Park's 109ha and you'll discover beautiful woodlands, open grasslands, and wildflower meadows. Enjoy being among nature as you explore the themed gardens, park facilities (tennis courts, bowls, pitch n putt) and views of Wythenshawe Hall, a 17th century Grade II listed building. Take one of the woodland walks and then afterwards you could stop by the horticultural centre to pick up some souvenirs.
---
The current requirements for travelling to Manchester
Talk to a Manchester Travel Expert
Our dedicated team of experts know all the ins and outs of travel and love sharing their knowledge. If you're looking for help planning specific sections of your trip or full itinerary planning, our team is ready and waiting to help create your perfect holiday.
Enquire now