Relax and enjoy the journey
What are some of your most treasured travel memories? Maybe it was road tripping to the beach as a child, a post-study backpacking expedition through Europe or a secluded weekend away for your honeymoon. Our most memorable voyages usually have one thing in common – other people. Travelling with loved ones, social circles or joining forces with colleagues can add an exciting new element to your holidays. Perhaps your family has been discussing exploring their heritage, your workplace is planning a corporate retreat or your friends are keen to party in the most vibrant global capitals – group travel is the way to go.
Explore the USA on a group tour
Whether they are short breaks or lengthy adventures, group holidays require a lot of forward planning to book accommodation, tours and flights in bulk. Our Flight Centre group travel experts are brilliant at planning holidays for all cohorts large and small. Think the overseas wedding you've dreamed of isn't an option? Think again! Has your graduating class disbanded across the country and you want to organise a 10-year reunion? Not a problem.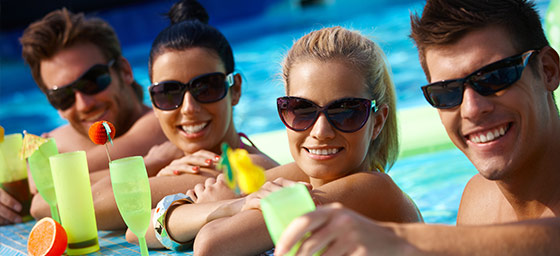 Catch up and wind down with a group of mates somewhere fabulous!
Whatever your desired experience, a school trip outside the classroom or sports team taking on an international opponent, we can organise your group travel so you can relax and enjoy the journey. There are, of course, other benefits such as safety in numbers, the company of likeminded people, packing more in for your money's-worth and building lasting bonds with friends, relatives and associates. Sharing quality time, swapping stories and socialising are some of the best parts of life so start making lasting memories and celebrate your favourite people with a group travel getaway.
Contact a Group Travel Expert
Read more about Flight Centre's experienced Group Travel Experts or enquire about your next group travel booking by calling your local group travel specialist on 0800 24 35 44.