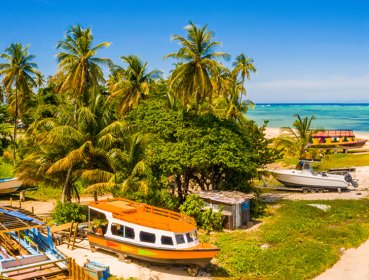 Contrary to what many believe, a Seychelles holiday is not just about lazing about on the beach, cocktail in hand. Well, there is certainly plenty of that to be had, but if you're ready to step away from the sun lounger, this 115-island paradise will reward you with a hearty dose of adventure. Ultimately, there are plenty of things to do in Seychelles. It's the type of destination to do as little or as much as you like, be it kicking back at your hotel, diving into the deep blue, or watching giant Aldabra tortoises shuffling along. When you're ready to get the blood pumping, take your pick from snorkelling, diving, sailing, cruising, fishing, trekking, and zip-lining. And that's just the beginning!
Seychelles quick facts
Beverages
Bottle of Coke/Pepsi (330ml)
NZD $4.23
Currency
Euro
NZD $1.00 = EUR €0.56
Eating out
Restaurant meal (casual dining)
NZD $22.09
Electricity
Plug type: G
3 pins • 240V
Where to stay in Seychelles?
Need a few suggestions of where to stay in Seychelles? From glitzy resorts to pared-back bungalows, Seychelles is brimming with a treasure trove of accommodation options. Here are a few of our favourites:
Tucked away on the island of Mahé, Constance Ephélia Resort continues to top the list for both first-time and regular visitors. Why? As one of the island's most established resorts, it offers all the mod cons you could ever want and need, with plenty of activities to boot. Just imagine: catamaran rides, kayaking, scuba diving, ziplining, and rock climbing. There's also an on-site spa and five restaurants to choose from.
---
There's only one 'club' to go to in Seychelles, and Club Med Les Seychelles is it! Incredible food? Check. Impeccable suites? Check. Top-notch service and activities galore? Double check. There's nothing this resort doesn't have. There are even three swimming pools, with one reserved for the kids. As the only accommodation on Saint Anne, this is island living at its very best.
---
If you value your privacy on holiday, this secluded resort occupies its own private island. Yes, you read that right! Take your pick from comfortable suites or lavish villas equipped with plunge pools and a golf cart for you to whizz around on. North Island is a stellar accommodation choice for sun-worshippers looking to play. Don't forget to sample those passion fruit margaritas – yes, please!
---
Things to do in Seychelles
Get ready to pack your sunblock and sunnies and leave all your worries at home. You'll find no shortage of things to do in Seychelles, but here's what our travel experts recommend:
If you're on the hunt for that perfect place to wiggle your toes in the sand, look no further than Seychelles. This multi-island nation boasts a bounty of beautiful beaches where you can swim and snorkel to your heart's content. While Anse Intendance and Beau Vallon stand firm as Mahé's more popular slices of coastline, we're more inclined to encourage travellers to sneak off somewhere that's slightly quieter, like Curieuse Island.
---
Move with the pace of nature
Nature lover? Seychelles stands firm as a sanctuary for some of the most exotic and rarest flora and fauna in the world. Counted among them is the jellyfish tree of which only a handful remain in existence, and the coco-de-mer, the world's heaviest nut (and a tough one to crack!). There's also the alluring Seychelles black parrot inhabiting the primeval Vallée de Mai. Just don't forget to visit those giant tortoises on Aldabra.
---
If you prefer to keep your head above water, try your hand at surfing, kayaking and SUP'ing, or cruise out to sea on a glass-bottom boat as bottlenose dolphins duck and dive alongside the bow. During October and November, expect lucky sightings of Southern right whales and humpbacks migrating to warmer breeding waters. Cameras at the ready!
---
Don't forget to bring your trail shoes! Stretch out your legs along some of the tropical hiking trails found in Praslin and La Digue Island. Have a crack at Morne Seychellois, the highest point located in Mahé's Morne Seychellois National Park, at just over 900 metres above sea level. Trust us – the views alone are worth breaking a bit of a sweat.
---
Boasting water visibility of up to 30 metres, there is no better place to encounter the creatures of the deep than Seychelles. Don your mask and snorkel, then dive on down to experience a kaleidoscope of tropical fish and abundant marine life. Whale sharks and manta rays frequent these waters, as do hawksbill and turtles who slowly come ashore to lay their eggs from September through to March.
---
Did you know that Seychelles is famed for its locally produced rum? A tour at the Takamaka Bay rum distillery will not only give you a glimpse into the history of Mahé island's main distillery but give you the chance to try this delicious local elixir. The tour lasts roughly 30 to 40 minutes, but the overall experience can be extended with a forest walk or a bite to eat at the onsite restaurant.
---
Seychelles food and drink
It's a well-known fact that if you plan your holidays around food – good food – you will never be disappointed. Here's where to eat in Seychelles:
Marie Antoinette Restaurant
This gorgeous little restaurant in the capital of Victoria is characterised by its colonial-style architecture dating back to the 1800s. Named after the infamous let-them-eat-cake Queen Marie-Antoinette of France, it has been welcoming guests for over 50 years. This is the place for authentic Creole food, including that oh-so-exotic bat curry (one of the nation's favourites).

 
---
Chez Batista, located at Takamaka on Mahé, makes for an excellent pit stop for those making their way to Anse Intendance Beach. Go hungry, as the portions are generous and the SeyBrew (local beer) is always flowing. If you're here for a hearty feeding, hop in line for the buffet.
---
Jam-packed with plenty of joie de vivre, Lanbousir is a familiar favourite of ours on the island of La Digue. The menu here changes daily depending on the catch of the day, but most importantly, the beer is always cold. The battered Job Fish and BBQ prawns come highly recommended.
---
Tucked away on Eden Island (an artificial island between the airport and Victoria city), this South African-owned establishment offers excellent service and a friendly atmosphere. You will find yourself overlooking the water as you dig into a hearty selection of comfort food. The pork ribs and calamari rings are a must, with a daily happy hour(s!) from 3-6 pm.

 
---
Seychelles through your eyes
Where to shop in Seychelles?
Should you like to fill your bags with little knick-knacks and treasures to take home with you, here's where to shop in Seychelles:
Sir Selwyn Selwyn-Clarke Market
Amble down the aisles of the Sir Selwyn Selwyn-Clarke Market in the capital of Victoria and you'll soon discover a plethora of nourishing produce, herbs and spices. This is the go-to should you require new pareos (sarongs). While the market is usually open Monday to Friday until around 5pm, early morning is the best time to browse when everything is still fresh – particularly the seafood.
---
As Grace Kelly is quoted as saying, "The pearl is the queen of gems and the gem of queens." And if you're interested in owning a string to call your own, head to the Black Pearl, an idyllic little jewellery boutique hidden on the island of Praslin. During your visit you can also embark on a tour to get an insider's perspective of how those beautiful black pearls are harvested. 
---
Aside from the Sir Selwyn Selwyn-Clarke Market in Victoria, the Bazar Labrin is one of the most popular food markets on Mahé. It's also open in the evenings between 4-9 pm so you can dabble in some night shopping. The bazaar is known for its fiery barbeques serving up fresh fish, grilled breadfruit, mango salad and banana fritters. There's also live music for that island soundtrack.
---
Dating back to the 1840s, this weekly bazaar has long held its popularity – always a good sign! Kicking off in Victoria next to the clock tower, it rewards visitors with anything and everything from arts and crafts to delectable red snapper grilled to perfection right in front of you. And of course,
a hearty dose of charm.
---
When is the best time to travel to Seychelles?
Located just south of the equator, Seychelles enjoys warm tropical weather year-round — bliss! In July and August, the average daily temperature is 26°C/79°F, in March it's 28°C/82°F, with March, April and May being the hottest months. Since there aren't traditional seasons, the year is roughly divided into a rainy season and a dry season instead. However, depending on the location of a particular island, these two seasons won't always be exact and timing your visit really just depends on what you are interested in doing during your stay. Generally, Seychelles experiences its dry season between April and October. During this period, the stronger winds blow in from the southeast from around June to September – a great time for windsurfing! November through to March is considered the rainy season (when the northwest monsoon blows) because the air is quite wet and muggy. However, the months of December and January receive the most rainfall of the year. Overall, the transition months of April and November are ideal for snorkellers and scuba divers due to high underwater visibility and low winds.
How to get around Seychelles
Seychelles is one country where we don't recommend self-driving, particularly for first-time travellers. Instead, visitors should rather uses shuttles or taxis to explore their immediate surroundings. But there are some other fun modes of transport you can opt for too. For island hopping around the Seychelles archipelago, by far the easiest and most frequent way to travel between the main islands of Mahé, Praslin and La Digue is by ferry. This service is operated by the Seychelles Ferry. Should you prefer to go by air, inter-island flights are available with Air Seychelles. You'll be surprised to know that Seychelles boasts seven airports. The rest of the islands can be reached by a private helicopter ride or chartered plane (if you're flush!). Of course, one can also get from one island to the next via private yacht or catamaran.
What are the best beaches in Seychelles?
There are no two ways about it, Seychelles takes beach holidays to a whole new level. Here are a few of our favourites:
Located south of Mahé, Anse Intendance is just the place you imagine when thinking of that picture-perfect beach: crystalline water and powdery white sand fringed with swaying palm trees. Framed by gigantic granite boulders, it easily ranks amongst the most exceptional beaches in Seychelles.
---
With its safe shallow waters and coral reef, Beau Vallon beach hits the sweet spot for those looking to dive or snorkel during their Seychelles holiday. Although it is one of the more-frequented beaches on Mahé, it's large enough to not feel cramped. If you're not one for lazing on the shore, there are plenty more water activities on the go here, such as surfing, windsurfing, kitesurfing and jet skiing.
---
When you're all geared up to dabble in some island-hopping, make a beeline for Curieuse Island. This wonderful island is brimming with beautiful beaches, however, Cote D'Or remains a firm favourite for sun-worshipers. At 2.5km long, there's no better place to embark on that quintessential sunset walk along the sand. While you're at it, grab some fresh coconut juice or a mango daiquiri to refuel. There's really no better reward after a long day in the sun. 
---
Head to the island of La Digue and snap up your spot in the sun at Anse Cocos. Just picture it: bright teal skies contrasted against the sun-bleached shoreline. The best part? Along with a delightful jungle walk to reach it, this secluded cove even boasts its own natural tidal pool hemmed in by Mother Nature herself.
---
This small, picturesque bay is tucked along the south-eastern coastline of La Digue. Being slightly off the beaten track, it's much quieter than other beaches on the island and a great spot to catch up on some reading (or snoozing). And although you'll need to watch the current when swimming or snorkelling, the scenery alone is absolutely spellbinding.
---
Seychelles Frequently asked questions
What to take on holiday to Seychelles?
When you're packing for a trip to the Seychelles island archipelago, don't forget the essentials like your passport, visa, phone, chargers, camera, sunblock, some SCR and the correct power adaptor. From there, we recommend packing a towel, your swimwear of choice, a hat, flip-flops, some walking shoes and a great book to enjoy as you relax by the water.
---
What is there to do in Seychelles?
Beyond spending your days hitting pause and embracing that maxo relaxed lifestyle, Seychelles offers up a smorgasbord of adventure both on land and in the water. Take your time exploring the beauty of the coastline, with endless beaches just waiting to take your breath away. Go on island hikes and explore the colourful fruit markets in the capital of Victoria. You can head to villages to experience the local culture before popping the top off a coconut and saying cheers to the island way of life.
---
How do I go about cancelling my Seychelles holiday package?
---
Where to go on holiday in Seychelles?
With 150 islands on offer, it may be hard to choose where to set up shop for your holiday to Seychelles. Most tourists and locals tend to gravitate towards Mahe, Praslin and La Digue. Mahe is the biggest and most populated island, with arguably the best beaches. Praslin is famous for the Anse Lazio Beach, and is a much smaller, more walkable island with national parks to explore. Finally, La Digue serves up fantastic snorkelling and swimming opportunities.
---
When is the best time to visit Seychelles?
Get the most out of your holiday to Seychelles and avoid the trade winds by visiting between April and May or October and November. During these times, you can expect warm tropical heat and picturesque days on the water. Don't let this discount other months, though! You may just experience more of a breeze when travelling with the trade winds, which is perfect for those that aren't a huge fan of the humidity.
---
How to find the best holiday package to Seychelles?
With years of experience under our belts, and a decent tan to show from our time spent relaxing on tropical beaches, the Flight Centre Travel Experts are the perfect people to ask about your holiday package to Seychelles. From family holidays to adventure trips and romantic stays, we can easily curate a Seychelles holiday package to help tick off your next bucket list adventure.
---
The current requirements for travelling to Seychelles
Talk to a Seychelles Travel Expert
Our dedicated team of experts know all the ins and outs of travel and love sharing their knowledge. If you're looking for help planning specific sections of your trip or full itinerary planning, our team is ready and waiting to help create your perfect holiday.
Enquire now