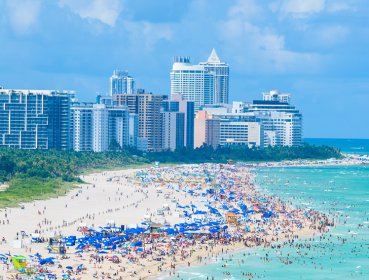 From Sunny Isles Beach in the north, down to South Beach and across to Little Havana, Little Haiti, Wynwood, Coconut Grove and more – every Miami neighbourhood has a story to tell. Do you want to be able to walk from your hotel in the morning to enjoy an authentic Cuban coffee? Is the art deco playground of South Beach where you'd like to base your Miami getaway? This city has beautiful beaches, incredible nightlife, culture galore (and is also family friendly, if you're travelling with the tribe). How can you resist?If you're planning a visit, explore our Miami travel guide and find out how to make the most of your time in Florida's capital. We've collected the best tips from our travel experts, and have top suggestions for things to do, the best time to travel, where to stay in Miami, getting around and more. 
Miami quick facts
Beverages
Bottle of Coke/Pepsi (330ml)
NZD $4.43
Currency
United States dollar
NZD $1.00 = USD $0.61
Eating out
Restaurant meal (casual dining)
NZD $44.05
Electricity
Plug type: A
2 or 3 pins • 120V
Where to stay in Miami?
Whether you're after a quiet retreat or the excitement of South Beach, deciding where to stay in Miami is all about the experience you hope to enjoy. The city features a range of accommodation precincts each boasting their own unique character and enduring charm. South Beach is home to all the action, Miami Beach offers spectacular beachside convenience, and Downtown is a place to enjoy the modern convenience of this thriving city. A little farther afield, Coral Gables and Coconut Grove offer a more relaxed feel that's still within easy reach of the city.
If you're looking for a central location in the heart of the action, South Beach offers one of the best areas to stay in Miami. With a host of accommodation options available, this location provides you with direct access to dining, the favoured shopping strips of Lincoln Road and Ocean Drive, and the hustle and bustle of iconic South Beach.
---
Downtown Miami offers a wealth of choice when it comes to places to stay in Miami. This area houses some of the biggest names in the accommodation industry with rates that are more budget-friendly than South Beach. Best of all, the central location provides ready access to all the major tourist destinations like Wynwood and Miami Seaquarium. 
---
Featuring luxurious resorts and boutique hotels, Coral Gables positions you in the heart of Miami arts and culture. This picturesque part of the city has a historical feel that harks back to Miami's 1920s heyday. Spend a day basking in the famous Coral Gables Venetian Pool or shopping to your heart's content at a destination that's within 20 minutes' drive from Downtown Miami. 
---
Funky, laidback and offering great access to local restaurants and shopping, Coconut Grove is a more relaxed and affordable option than the heart of Miami. This destination is about a 20-minute bus ride from Downtown but includes great shopping, elegant motels, and easy access to the Vizcaya Museum and Gardens and the Miami Science Centre. 
---
If you're after ocean views, spectacular sunrises and idyllic beaches, Miami Beach has a host of accommodation options to suit all budgets and tastes. The area features large-scale beachfront resorts, historic Art Deco hotels, and self-contained apartments. This region also sees you close to all the action of South Beach but with less of a premium price tag. 
---
With a vibrant culture, lively arts scene and beach-going lifestyle, there's a wealth of things to do in Miami. Discover nature, delve into dining, or simply kick back on the beach. From lounging in the sub-tropical warmth to exploring cutting-edge street art, this is a destination where entertainment, architecture, attractions, and relaxation effortlessly mix into a sun-soaked holiday of endless choice.
The four-hour drive from Miami to Key West features a host of attractions to visit and activities to enjoy. The route takes you across the Overseas Highway to the southernmost tip of the United States. The drive alone is spectacular, but once you reach the end of the US, there are even more delights to enjoy like snorkelling and spectacular sunsets. 
---
The 600,000ha protected habitat that is the Miami Everglades is a place like no other. Attracting environmentalists and researchers the world over, it's home to wild mangroves, giant alligators, and towering sea grass. The Everglades also features the Miccosukee Indian Reservation, and the area can be explored in a host of ways including cycling, camping, and airboat tours.
---
Wynwood and the Design District
Once a neglected area, Wynwood and the Design District has re-emerged to become the modern arts and creative hub of Miami. The area features museums, large installations of street art, and over 60 art galleries. A major drawcard of the area is the famous Wynwood Walls where over 40 murals by acclaimed artists are painted on the exterior of buildings. 
---
The Perez Art Museum is home to a vast collection of modern and contemporary works celebrating the culture and diversity of Miami. Overlooking Biscayne Bay, the striking gallery focuses on 20th and 21st century works and also boasts elaborate hanging and sculpture gardens. The Perez Art Museum is open daily and is located in Museum Park near the Museum of Science. 
---
Committed to documenting, protecting and conserving Miami culture, HistoryMiami Museum features a selection of permanent displays and changing exhibitions. The museum aims to help people understand how the region's past affects its future and includes an aviation hall, photography displays, and the popular Tropical Dreams exhibition recounting a 10,000-year history of South Florida. 
---
Housed in a former public library, the Bass Museum showcases international contemporary art. The museum features permanent and temporary exhibitions with the aim of expanding the definition of contemporary art. Exhibitions include the use of multimedia, fashion, design and architecture, and they span eight galleries, social spaces, a dedicated learning centre, and a cafe. 
---
Art Deco Historic District
Explore the famous coloured buildings and stunning architecture of Miami with a tour of the Art Deco historic district. Comprising four areas, the region is renowned the world over for its distinctive building designs and bright decor that harks back to a heyday in the 1920s. The Art Deco historic district is located on Miami Beach between 5th and 23rd Street. 
---
Renowned as the social, cultural and political epicentre of the city, Little Havana Miami is situated near Downtown. It features a vibrant street life, enticing restaurants, a host of notable landmarks, and a character all of its own. Named after the capital of Cuba, the area is home to Cuban exiles along with many Central and South American immigrants. 
---
Vizcaya Museum and Gardens
Just south of Miami's modern skyline is a nod to Italian culture and history in the form of Vizcaya Museum and Gardens. The former winter home of businessman James Deering, this stunning mansion with equally spectacular gardens is designed to replicate an Italian villa. The gardens are renowned throughout America as some of the most ornate, featuring Italian and French influence.
---
Swim with dolphins and dive deep into a world of underwater wonder at Miami Seaquarium. This 15ha oceanarium is one of the oldest in the United States and features endangered species along with traditional favourites like penguins and sea lions. Located in Downtown Miami and boasting spectacular skyline views, the Seaquarium is open 365 days a year. 
---
Famous the world over, the Art Deco architecture of Miami is explained and documented in detail at the Art Deco Museum. The facility allows you to better understand the architectural heritage and community culture of Miami Beach, providing an insight into the three main historic building styles of Miami. Opened in 2014, the museum also features scaled building models, roving displays, and personal memoirs of residents
---
Miami travel tips
Visiting this vibrant city is generally a safe and enjoyable experience, with just a few Miami travel tips to keep in mind. Like many nations, the US remains alert to terrorist activity with high security at airports and public places including the government buildings of Miami. US travel advice can change, but it generally includes keeping an eye out for suspicious activities and being mindful of your personal safety. As medical treatment in the US can be expensive, you should take out comprehensive travel insurance prior to departure and ensure any required vaccinations are up to date. 
Eligible Australians visiting for less than 90 days no longer require USA visas. Instead, they can take part in the Visa Waiver Program and apply for authorisation via the Electronic System for Travel Authorization (ESTA). To be eligible, you must have an e-passport, a return or onwards ticket, and a passport that is valid for six months beyond your return date. 
---
Miami food is diverse and infused with its strong history of immigration. From South American cuisine to hot dogs, burgers and southern fried chicken, there is a vast array of options for diners. America also boasts high food hygiene standards, but like anywhere, you should assess the general condition of your dining venue before ordering. 
---
USA electrical plugs and voltage
American plugs and voltage are different to the Australian standard, which means an adapter will be required if you're planning on taking electrical devices to Miami. The US voltage is lower than Australia (110-120V compared to 240V here), while the plug has two parallel pins, and often a third round pin. Adapters are readily available prior to departure or at the airport. 
---
Located within 13 kilometres of the Downtown area, the major Miami airport servicing the region is Miami International. This bustling airport is America's second busiest for international passengers and features over 100 airlines. Miami International boasts an array of shopping, dining and duty-free stores. The airport is easily accessible from the city and is serviced by rail, bus and taxi. 
---
The American currency is the US dollar, which can be readily obtained prior to your departure from Australia or at money changers and even banks within the USA. Credit cards are widely accepted and Miami is also well equipped with ATMs, allowing you fast access to funds without the risk of carrying cash. 
---
Tipping is very much a part of the American culture, with gratuities often expected due to the low minimum wage for service workers. Generally a tip that equals 15-20 per cent of the bill total is a good figure to aim for, and some restaurants also provide suggested amounts. It's a great idea to keep $1 bills on hand to use for tipping. 
---
English is the national language of the United States of America, although due to Miami's extensive Latin American populations, you'll hear a lot of Spanish spoken. In fact, just 27.7 percent of the county's population speak only English. Restaurants, government bodies, and most service industries feature Spanish translations in addition to English. 
---
Miami food and drink
Miami food and drink is a serious business with destinations and cuisine to suit all tastes and desires. The region not only boasts contemporary cuisine and upscale eateries but also features a thriving street food industry. Dining in Miami is a truly multicultural affair with dishes ranging from South American to Asian, American and beyond. Behind all this is a commitment to fresh locally sourced cuisine that ensures Miami's hospitality scene effortlessly offers great eats and a lasting impression. All this is topped off with the vibrant coffee culture courtesy of the Cuban influence, making Miami a must-taste destination for foodies and coffee lovers alike. 
From South Beach to Coral Gables, Miami restaurant precincts serve up a smorgasbord of varied delights. South Beach accommodates every taste and every budget, Coconut Grove boasts everything from burgers to fine-dining, and Coral Gables is emerging as the must-visit destination for all things food. Meanwhile, Sunset Harbor crams a host of cuisine options into a few small blocks, and Wynwood offers casual eats with an artistic view. 
---
What are the best food markets?
Miami food markets are more than willing to oblige when it comes to finding fresh produce or engaging in some serious street food indulgence. For street food that goes above and beyond, check out Miami Marketta. Open three nights a week, this is a foodie's haven. Meanwhile, Miami's health-conscious population means each weekend the city embraces an array of farmers' markets featuring endless local produce. 
---
Each Miami area offers its own after-dark excitement, with a vast variety of places to relax as the sun slips slowly beyond the horizon. From happy-hour hotspots to poolside cocktails and the rooftop bars of Downtown, Miami bars and nightlife take the glitz and glamour of this vibrant city to a whole new level. 
---
Where to find a good coffee?
With their distinctly Cuban influence, Miami cafes boast a strong coffee culture destined to delight lovers of all things caffeine. If you're after a truly authentic blend, head to Calle Ocho in Little Havana and join the kerbside queue to sample the best cup. Meanwhile, great coffee can be found on almost every corner, with many cafes also featuring the novelty of old-style coffee counters. 
---
Where to shop in Miami?
Miami shopping caters to all the vibrancy and style of the region, with outdoor shopping malls, designer precincts, and emerging artisan hubs. With great weather year-round, much of the shopping action takes place in the great outdoors and you can casually stroll shopping strips amid live music and swaying palms.If you're considering what to buy in Miami, fashion is a great place to start. The city is renowned for its colourful, summery approach to style that's readily accessible at markets and a bevy of outdoor shopping malls. In addition, the city also boasts fresh creative flair with a vibrant artisan scene. 
From antiques to the latest fashion, Miami markets are the place to seek out one-off pieces and bargains. The Miami Flea is particularly unmissable if you'd love to support local artisans while hunting for great handmade souvenirs. If you're looking for up-and-coming products, the former warehouse district of Wynwood is home to all the latest trends at the Wynwood Alley markets. 
---
There's no shortage of Miami shopping centres to realise any shopper's retail dreams. Among the most renowned are Bayside Marketplace on the waterfront and the luxurious Bal Harbour Shops. For the ultimate retail experience, Aventura Mall ranks among America's best, while Dadeland Mall is home to all the big names, and Brickell City Centre is the latest luxury precinct to join the shopping scene. 
---
Featuring vibrant and colourful outdoor tree-lined malls, Miami shopping precincts symbolise the sun-loving culture of the region. South Beach is a great place to kick off any shopping spree with the iconic Lincoln Road Mall and Ocean Drive. Check out the designer district of Wynwood, explore the up-market boutiques of Coconut Grove, or settle in for a day exploring the stores of Miami Lakes. 
---
When is the best time to travel to Miami?
Boasting a sub-tropical climate, the weather in Miami is warm year-round. This makes it a popular destination for tourism throughout the year, but particularly in the American winter when rates tend to be higher and the region more crowded. If you're looking to sidestep the peak times, March to May is perhaps the best time to travel to Miami, with warm, sunny days and temperatures in the mid 20s. A spring visit also allows you to avoid the traditionally wetter months of June to November, which coincide with hurricane season. 
What is Summer like in Miami?
Summer sees the Miami rainfall begin to pick up as temperatures climb to the low 30s. This time of year also sees the US in summer holiday mode, with families keen to embrace the beach and the cool refuge it affords. Appropriate clothing: Casual beachwear for the daytime and light but classy attire for going out at night Don't forget: Sunscreen. 
---
What is Winter like in Miami?
Winter finds Miami in all its sun-kissed glory. The average Miami temperature settles into a comfortable 23°C. Meanwhile, this is also the time of year the region enjoys its major arts and cultural events. Appropriate clothing: Short sleeves, with a jumper for the evening Don't forget: Something a little bit glamorous – this is the time to see and be seen in Miami. 
---
What is Autumn like in Miami?
Autumn is traditionally one of the wettest times of year to travel to Miami with hurricanes a possibility. On the bright side, if you can handle the occasional downpour and humidity, the accommodation rates are cheap and the beaches aren't crowded. Appropriate clothing: Shorts and t-shirts with a light jumper in case the evenings get cool Don't forget: An umbrella. 
---
What is Spring like in Miami?
Of all the Miami seasons, spring perfectly treads the fine line between great weather, affordability, and less frenetic crowds. Days are warm, bright and clear, while the beaches aren't packed, and the accommodation is more affordable. Appropriate clothing: Short sleeves, dresses, shorts and slacks Don't forget: Swimmers – the beach beckons at this time of year. 
---
How to get around Miami
There's a range of Miami transport to help you get around this sprawling city. From old-style trolleys to bike hire and buses, navigating the bustling streets and varied precincts is convenient and sometimes free. Miami boasts two forms of free public transport for visitors including hop-on-hop-off trolleys and the Metromover light rail. If you're looking to travel farther afield then taxis are also readily available, while the Metrorail and Metrobus have the outlying regions of Miami covered. Meanwhile, cycling is emerging as a hugely popular way to traverse the city, with bike hire stations offering a hop-on-hop-off service. 
Miami taxis are plentiful and easy to find. Most use a meter and generally rates are reasonable. Just ensure any cab you hail is licensed by checking for prominent signage and a phone and licence number. Many cabs also accept credit cards, but that's worth a check too, and as the passenger, you'll be responsible for any tolls incurred during the trip. 
---
Cycling is a great way to navigate the city, with Miami bike hire readily available. Many shops and resorts hire bicycles, while the CitiBike service also provides bike stations where you can easily hire a bike from a number of convenient locations. Miami is progressively being transformed into a bike-friendly destination so there are a host of dedicated bike lanes and routes to explore. 
---
Featuring trains, trolleys and buses, the Miami public transport system is a convenient and affordable way to navigate the sprawling city. Among the options is the above-ground rail line known as the Metrorail, and the free-of-charge Metromover. Meanwhile the Metrobus boasts over 1,000 buses servicing the greater area, along with a free trolley service in the city centre. 
---
To really take in the sights, sounds and bright hues of the city, walking Miami is the ideal way to navigate this exciting destination. In fact, the city is widely regarded as a walker's paradise due to its beachside pathways and flat terrain. Walking also offers the opportunity to avoid the traffic and explore precincts like South Beach, Little Havana and Downtown at a more leisurely pace. 
---
What are the best beaches in Miami?
Framed by bays, oceans and keys, Miami beaches are the subjects of postcards. From shaded beaches adjoining parks to historic beaches signalling the southernmost point of America, Miami serves up endless beaches in all directions.If you're considering surfing Miami, bustling South Beach and Bal Harbour Beach are among the best destinations to seek out the swell.Alternatively, if soaking up the sun is more to your liking, there's endless beaches to relish the rays and enjoy a quick dip. For the quintessential Miami beach experience, head to South Beach and revel in the exciting pace for which Miami is famed. 
Slightly less crowded than its southern counterpart, Miami Beach is a wide expanse of sandy, white beachfront with clear blue waters and endless sights. Enjoy all the activity of the skaters, cyclists, and joggers traversing the elevated boardwalk. Pull up a chair and relax in the sun, or take in the view from the nearby restaurants and eateries. It's a beach with it all in the heart of Miami. 
---
Acclaimed as America's primary party beach, South Beach Miami is the beach you've seen in magazines, on postcards, or on TV. It's a vibrant bustling beachfront that attracts a lively crowd enjoying the active pace. Stroll the beach and watch the frivolity, take in the ocean view dotted with cruise ships, or venture a little further to explore the Art Deco buildings nearby. 
---
Located on the southern end of Miami Beach, Lummus Park Beach boasts ocean frontage and an inviting park. It's the perfect place to people-watch and take in all the activity or even dive into the adventure yourself. Play volleyball, have a picnic, or grab your skates and join the fast-paced passing parade. 
---
Quieter than the southern beaches in Miami, North Beach is popular with locals and visitors alike. The wide and sandy shoreline offers an old-fashioned band shell, adjoining park, and showers. Concerts are regularly held in the vicinity and an array of restaurants are located nearby, offering the opportunity to catch some rays, then grab a bite while enjoying the ocean views. 
---
Situated on a narrow stretch of land between the Atlantic Ocean and Intracoastal Waterway, Haulover Beach is noted for its crisp blue waters and nearly 2.5km stretch of soft, white sand. It's a favoured destination for swimming and kite flying, with a nearby nine-hole golf course and tennis courts. Haulover Beach is located to the north of Miami Beach. 
---
Located on Key Biscayne, Crandon Park is a sprawling series of beaches that features an amusement area and a nature centre with exotic plants, rare fish, and wildlife. Noted as one of the Miami region's greatest assets, Crandon Park has a number of ecosystems to enjoy, including mangroves, dunes and sea grass beds. There are also cabanas for hire, barbecue facilities, and a park. 
---
Bill Baggs Cape Florida State Park
With more than 1.5 kilometres of sandy beachfront, Bill Baggs Cape Florida State Park is a haven for swimming and snorkelling, and also features the historic Cape Florida Lighthouse. Further activities in the region include boating, fishing and kayaking, along with hiking and wildlife spotting. Occupying a third of the island of Key Biscayne, this is a place to soak up the sun and explore. 
---
Miami Frequently asked questions
What is the best part of Miami to stay in?
If you're after the postcard experience of Miami – art deco buildings, neon lights, swish cocktail bars and restaurants, South Beach is it. It's your gateway to the Miami adventure of your dreams. If you're less of the party-until-the-wee-hours kind of person, Coconut Grove is a quaint neighbourhood that's based around Biscayne Bay.
---
What to take on holiday to Miami?
One thing you should know, Miami is hot – in more ways than one. During the day, it's all about the beach vibes and swimsuits, by night, up the ante and dress to impress, Miami style.
---
Where to go on holiday in Miami?
The beach, baby! Miami is blessed with kilometres of coastline, making it a dream destination for sun seekers. If you're in the mood for a beach party, head to Ocean Drive and 12th Street. South Beach is the postcard of Miami – art deco buildings, neon lights, cocktail bars and restaurants galore. Architecture lovers can marvel at the official Art Deco Historic District, which lies between Fifth Street and 23rd Street, and Ocean Drive and Collins Avenue. For a taste of Miami's artistic side, Wynwood and Design District areas have become a hub for creatives, while Little Havana is the heart of Cuban culture in Miami. Don't even get us started on the food!
---
How do I go about cancelling my Miami holiday package?
---
Do you need a car to get around in Miami?
Nope. There are plenty of public transport options available to get in and around Miami. The best part about public transport? You don't need to look for a park at the other end, which in Miami can be a challenge, to say the least.
---
When is the best time to visit Miami?
Boasting beautiful weather all year round, Miami is known for its dreamy sun-drenched lifestyle. Here, it's t-shirt season from January right through to December. There's no bad time to visit Miami although many people escape the chilly East Coast in winter and head for Miami to defrost.
---
What is there to do in Miami?
Soak in some 'vitamin sea' by the ocean, experience Miami's famed nightlife, indulge in a little retail therapy along Miracle Mile, jet ski, marvel at the Art Deco architecture, go fishing, catch a famous Miami sunset, eat your way around Miami's award-winning restaurants, check out the art galleries, take a day trip to the Everglades. One thing is for certain, you won't be bored in Miami!
---
How to find the best holiday package to Miami?
Sign up to get the hottest deals sent straight to your phone & emails here. You can also check out our deals online, or speak to one of our Travel Experts.
---
The current requirements for travelling to Miami
Talk to a Miami Travel Expert
Our dedicated team of experts know all the ins and outs of travel and love sharing their knowledge. If you're looking for help planning specific sections of your trip or full itinerary planning, our team is ready and waiting to help create your perfect holiday.
Enquire now