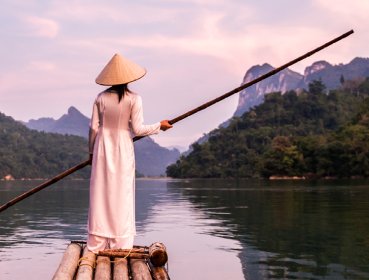 Hanoi is a city of tradition and progress, where the vestiges of French and Chinese occupation linger amongst all the frenetic activity of 21st century life. Markets, scooters, street food, more scooters… Hanoi has its bustling areas, like the popular Old Quarter, as well as its tranquil spaces, like the Imperial Citadel of Thang Long, now a UNESCO World Heritage Site. Visit Hanoi to immerse yourself in modern Vietnamese life, discover more about Vietnam's fascinating history, make the most of the incredible bahn mi and pho, and more .If you're planning a trip, explore our Hanoi travel guide. We've collected the best tips from our travel experts, and have top suggestions for things to do, the best time to travel to Hanoi, where to stay, getting around and more.
Hanoi quick facts
Language
National language
Vietnamese
Beverages
Bottle of Coke/Pepsi (330ml)
NZD $0.74
Currency
Vietnamese dong
NZD $1.00 = VND ₫14887.64
Eating out
Restaurant meal (casual dining)
NZD $3.35
Electricity
Plug type: A
2 or 3 pins • 220V
Where to stay in Hanoi?
Choosing where to stay in Hanoi can be a challenge as this city has many character-filled districts. Stay in the historic Old Quarter with its French Colonial buildings and street-side cafes for a European flavour. Alternatively, you can relax around the Tay Ho district where five-star hotels line the shoreline.Flight Centre can help you find the best places to stay in Hanoi. You can choose from small bed and breakfasts to luxurious hotels and everything in between. All you'll need to do is to pack your bags and hop on your flight.
If you intend on seeing all of the important landmarks in Hanoi, head towards the Old Quarter. Here you'll find attractions such as the Opera House, Dong Xuan Market, Bach Ma Temple, and much more. The Old Quarter is also the business district, so it's one of the best areas to stay in Hanoi for great modern shopping and creature comforts.
---
Hanoi's city centre is located around Hoan Kiem Lake. While this may be smaller than West Lake, it's an important historic location. Discover the Ngoc Son Temple pagoda on a small island in the middle of the lake, which is accessible by bridge. Hoan Kiem is close to other religious sites and Hanoi attractions to check out.
---
If you want to get away from the hustle and bustle of Vietnam's capital without leaving Hanoi, stay in Tay Ho. This district is named after the large West Lake that provides a peaceful oasis 20 minutes away from the city centre. Tay Ho is also home to the Quan Thanh Temple, the oldest in Hanoi.
---
There are many places to stay around St. Joseph's Cathedral. This religious site is surrounded by shops that add to the bustling atmosphere of Hanoi. The cathedral is within walking distance of Hoan Kiem Lake and the Thang Long Water Puppet Theatre, among other attractions. This is the ideal location for crossing off the historic landmarks of Hanoi.
---
Formerly known as the French Quarter, the Ba Dinh District is one of the best areas to stay at in Hanoi. Expect high-end fare as this large area is full of foreign embassies, government buildings, and international schools. It also houses the Ho Chi Minh complex and other monuments relating to Vietnam's military past. There are many great restaurants, bars, and other establishments that stay up late in Ba Dinh.
---
Things to do in Hanoi
As a busy, bustling city where bikes, scooters and tuk-tuks weave through crowded streets, there are certainly lots of things to do in Hanoi. Use your days to explore the Old Quarter. This is where you'll find the city's many museums and, when the sun sets, fabulous night markets. When you need a breather from the city's bustle, retreat to Hanoi Botanical Garden.
An early morning visit to Hoan Kiem Lake allows you to see this beautiful scene before it gets busy with tourists and while locals are practising tai chi. Join them, or continue your walk across the famous red bridge that leads to a small island where you'll find Ngoc Son Temple. As you walk, keep an eye out for turtles. Locals believe that seeing one will bring you good luck.
---
No visit to Hanoi is complete without a day trip to Ha Long Bay. Dramatic islands with limestone cliffs emerge out of emerald waters. Hop on a boat designed to look like a traditional Chinese treasure ship (a junk vessel), or a small private cruise houseboat and explore nearby caves and floating villages.
---
Bach Ma Temple is the oldest structure in Hanoi's Old Quarter. This small building has a rich history dating back to 1010. Legend has it that a white horse showed the reigning king where to build the walls of his citadel. In gratitude, the king dedicated Bach Ma Temple to the wise creature. Visit the pagoda and you'll see a statue of the white horse and a shrine to Confucius.
---
Built from 1901 until 1911 by the French, the Hanoi Opera House became an important part of Vietnamese political history. Today, it's also an important part of the country's cultural scene. Local and international artists take to the stage to perform in front of the 600-strong audience. You can catch ballets, classical orchestrations, Vietnamese opera, and traditional folk music in this beloved venue.
---
Temple of Literature Hanoi
When it was built in 1070, the Temple of Literature Hanoi became Vietnam's first university and was dedicated to the Chinese philosopher, Confucius. Today, this beautiful place still attracts students from around the country who want a bit of good luck during exam time. Although you can't explore the whole campus, you can walk around its many courtyards and pavilions, enjoying the quiet atmosphere and rich history.
---
If the tropical weather becomes too much for you, visit Ho Tay Water Park, located inside West Lake Park. This swimming pool complex has slides, pools, and a lazy river to enjoy. After a day playing in the pools, stick around the West Lake area to enjoy a beautiful Hanoi sunset.
---
Vietnamese Women's Museum
The Vietnam Women's Museum is dedicated to promoting gender equality through education. It exhibits items relevant to women's lives such as traditional attire, pottery, and other everyday objects. Moreover, it showcases the roles that women played throughout Vietnam's rich history. The museum has five floors, each with a different theme, and is definitely a must-see when visiting Hanoi.
---
Built by the French on the site of a Vietnamese Buddhist temple in 1886, the Roman Catholic Saint Joseph Cathedral of Hanoi is the oldest church in the city. While the outside is typically French in design, the inside is decorated in Vietnamese style and colours. A trip here will reveal more about its colourful history.
---
Lotte Tower Observation Deck
A must-see in Hanoi, the Lotte Tower Observation Deck is at the top of a 65-storey skyscraper that also houses a hotel, spa, and department store. The Observation Deck offers the best panoramic views of the city. There are four themed zones to enhance your experience, each offering something a little different depending on whether you visit during the day or at night.
---
While Bach Ma is the oldest temple in the Old Quarter, Quan Thanh Temple is the oldest in all of Hanoi. This Taoist place of worship has statues of its many deities, including the God of the North. He's a patron of martial artists, so expect to see martial arts classes held on the temple grounds when you visit.
---
Stepping inside a French Colonial building with the words 'Maison Centrale' by its entryway will give you a grim but necessary glimpse of the Vietnam War. This building is Hoa Lo Prison, where Vietnamese revolutionaries and American prisoners of war were kept. Today, it's a museum that commemorates the fate of these prisoners.
---
Vietnam Military History Museum
If you're interested in history and the military, you should visit the Vietnam Military History Museum in Hanoi. It houses a large collection of tanks, fighter planes, weapons, and other war relics. There are also accounts by former soldiers who fought in the Indochina wars. Drop by Huu Tiep Lake after your museum visit to see a B-52 plane that was downed during an air raid.
---
Vietnam Museum of Ethnology
Vietnam is home to 54 different ethnic groups. Many of these groups are situated in the north of the country, not far from Hanoi. The Vietnam Museum of Ethnology gives you the chance to learn more about their cultures. Displays include clothes, jewellery, and everyday artefacts that demonstrate the way of life in North Vietnam. Outside, there are replicas of houses for you to explore.
---
Fine Arts Museum of Vietnam
The Fine Arts Museum of Vietnam has a collection that spans two buildings, which were formerly used by the French Ministry of Information. Now you'll find information about paintings, sculptures, and other fine art pieces by Vietnamese artists. Some of these artworks draw on themes of patriotism and military strategies, while others are more recent abstract pieces that are well worth a look.
---
Hanoi travel tips
Gathering Hanoi travel tips should be an important part of your holiday preparation. For instance, did you know that although you can't drink the tap water, the ice in your drink should be fine because it's been frozen at a central plant where the water is treated? Getting vaccinated is not a requirement for entry into the country. However, it's best to get the all clear from your doctor. You should also know to dial 113 for the police and 115 for medical emergencies.Here are some other key pieces of Hanoi travel advice to keep in mind.
You will need a Vietnam visa or approval letter for a visa on arrival to enter the country. For more information and to apply for a visa online, you can visit the Government of Vietnam's online information portal or the Australian Smart Traveller website. You can also contact the Embassy of Vietnam based in Canberra. You may be able to apply for a visa exemption certificate if you have a Vietnamese parent or partner.
---
Vietnamese food is known for its fresh ingredients, varied textures, colourful presentation, and well-rounded flavours. Be sure to try the Hanoi specialities like banh cuon (rice-flour rolls stuffed with minced mushroom and pork) and cha ca (turmeric fish with dill). When eating from street food vendors, make sure their work area is clean. A lot of diners can be a good indication as to the quality of the food.
---
Hanoi electrical plugs and voltage
Hanoi mostly runs on 220V of electricity, which is lower than Australia's 240V. Most hotels will have sockets for two-pin or three-pin plugs with flat prongs. Some places in Vietnam will have 110V and sockets for round-pronged plugs. To be on the safe side, get a universal adapter that can accommodate these differences.
---
Located 45km from the city centre, Hanoi Airport is the largest in Vietnam. Also known as Noi Bai, it has two terminals: an older one for domestic travel and an international terminal completed in 2014. Public taxis, minibuses, buses, and car rental services can be found at the arrivals area.
---
Vietnam's currency is called the dong. Although it is subdivided into 10 haos or 100 xus, these units are no longer used due to their small value. Since 2014, retailers have generally not accepted coins, so make sure you have banknotes on hand. Get them from ATMs or at major banks. Credit card payments may be limited to big hotels and restaurants in Hanoi.
---
You don't have to tip when you're in Hanoi. However, giving a small gratuity will be appreciated by the people who have served you. Tour guides, hotel housekeepers, massage therapists, and restaurant wait staff earn low wages. So if they provide you with excellent service, give them a small reward.
---
Locals in the more touristy parts of Vietnam speak some English, especially those with a high school or college education. The elderly might know some French as well. However, it could be helpful if you learn some basic Vietnamese phrases such as xin chao (hello) and xin cam on (thank you).
---
Hanoi food and drink
Discovering where to eat in Hanoi is an exercise for the senses. Listen for crowds at popular eateries serving local favourites. Inhale the scent of fresh ingredients combined with well-rounded flavours. Bun Cha is a popular pork dish, but whatever you order, expect plenty of noodles. In need of a coffee fix? Hanoi won't disappoint as Vietnamese coffee is everywhere. Apart from traditional Vietnamese fare, the Hanoi dining scene also boasts Chinese and French dining as these countries have played a significant role in Vietnam's history. You'll see great examples of their cuisine as well as fusion food in Hanoi. Take a trip to Hoan Kiem Lake for restaurants aplenty, or the Old Quarter for market food and street stalls.
Hanoi restaurant precincts
Indulge in fine-dining in the French Quarter. This Hanoi restaurant precinct offers bistros and restaurants with standout dishes hailing primarily from France – but don't be surprised if you spot other European and American dishes on these menus too. A city specialty is the cha ca (fish fillet with turmeric and a variety of spices). Alternatively, head to the Old Quarter and you'll find it being served in small eateries alongside other delicious dishes.
---
The simplest way to enjoy Hanoi's nightlife is to sip draft beer (bia hoi) while sitting on plastic chairs in the street. Head straight to Bia Hoi Junction to get several cheap pints with locals and foreigners alike. Hanoi's most popular bars, pubs and nightclubs can also be found in the West Lake or Hoan Kiem districts.
---
No trip to Vietnam is complete without having a bowl of pho - rice noodles in a flavour-packed broth topped with meat and herbs, for breakfast. Seek out one at Hanoi's biggest market, Dong Xuan. On weekends, head to the night market in the Old Quarter to taste fresh and fried street food while shopping for souvenirs.
---
A legacy of the country's French Colonial past, Vietnamese coffee (ca phe) has a specific preparation process that results in a distinct flavour. Hot water is poured over coarse grounds sitting inside a metal drip filter (phin). Drop by drop, coffee trickles out into a strong brew that's often sweetened with condensed milk. Enjoy it on ice to cope with the tropical heat.
---
Where to shop in Hanoi?
Venture out on a Hanoi shopping spree and you'll come home with everything from traditional clothing to handmade home decor and luxury goods. Vietnam's capital has streets dedicated to specific items, boutiques inside French Colonial buildings, open-air markets, and multi-storey shopping centres.Make sure you wear comfortable shoes when you head out shopping, because you'll likely be walking from place to place a lot. From Dong Xuan Market in the north part of the Old Quarter, to designer shopping in Trang Tien Plaza close to Hoan Kiem Lake, you could easily spend a whole day splashing your holiday cash. Need a break? Pull up to one of the many eateries and enjoy an iced Vietnamese coffee to re-energise.
Located inside a four-storey building in the Old Quarter, Dong Xuan Market is Hanoi's largest indoor market. Inside, you'll find everything from clothes and accessories to appliances and pets. Be on the lookout for products handmade by Vietnam's ethnic minorities.
---
Hanoi Weekend Night Market
If you want to try a lot of Vietnamese food specialities, the Hanoi Weekend Night Market is the place to be. Apart from fresh and fried delicacies, you can also find inexpensive shirts and accessories to take home. On some nights there are performances that showcase the traditional costumes and music of Hanoi.
---
Hanoi's Old Quarter not only has beautiful French Colonial buildings, but it also has streets full of vendors that specialise in specific items. One of these is Hang Gai Street, which has boutiques and tailors selling nothing but silk products. Get a bespoke suit or dress as well as ties and scarves. For some accessories to finish your new look, check out Hang Bac Street for silver jewellery.
---
If you're looking for an Ao Dai – the Vietnamese traditional dress – head to Hang Da Market. This indoor market boasts many fashion, fresh produce and rice paper stalls, all housed in a beautiful building. Haggling is accepted here, so take your bargaining skills to get the best price. Getting there early is also key for finding the best wares before they're sold, and avoid weekends if you can as it gets very busy.
---
Trang Tien Plaza is an iconic building located near Hoan Kiem Lake. It was originally built in 1901. Today, this air-conditioned shopping centre houses many international high-end brands within five of its six floors. It also has some local brands that will keep you in vogue with the latest Hanoi fashion.
---
When is the best time to travel to Hanoi?
The weather in Vietnam is quite varied, so it's important to consider the best time to travel to Hanoi. Unlike Australia, the city experiences summer in June and winter in December. As Hanoi is in the northern part of Vietnam, it experiences the humidity, heat, and typical yearly patterns of a tropical country. During monsoon season, heavy downpours arrive in the afternoon but leave after a few hours. The winter months also have a chill in the air. If you visit Ha Long Bay on a day trip, you'll find it's often covered in mist, giving it a more ethereal appearance.
What is Summer like in Hanoi?
Hanoi temperatures soar to averages of 32°C during the summer months. From May until August, expect high humidity as well as heavy rainfall. Make sure you always have a raincoat and/or an umbrella with you to face the afternoon thunderstorms. Appropriate clothing: Shorts, skirts, t-shirts, and poncho or raincoat Don't forget: Temples are holy places, so dress in loose but conservative clothing.
---
What is Winter like in Hanoi?
Winter in Hanoi occurs from December until early March. As it's in northern Vietnam, the temperatures average at 17°C, but they can drop to as low as 5°C. However, there's hardly any rainfall. Plus, you can always warm up with a steaming bowl of pho. Appropriate clothing: Long pants and a jacket to keep you warm Don't forget: A scarf, gloves, and thick socks.
---
What is Autumn like in Hanoi?
A lot of people would say the best time to travel to Hanoi is in autumn. From mid-September until the end of November, the city experiences cool breezes and a drier atmosphere with average temperatures of 25°C. Enjoy seasonal young green rice, a local speciality, and plenty of sunshine. Appropriate clothing: Lightweight jeans and short-sleeved tops Don't forget: Take a cyclo tour of the Old Quarter to see the autumnal coloured leaves.
---
What is Spring like in Hanoi?
Depending on who you ask, spring in Hanoi starts as early as January or as late as April. Temperatures range from 15 to 20°C. Spring is also when Tet, the Vietnamese New Year, occurs. It's a week-long holiday where locals decorate using fruits, exchange gifts, and wear red. Appropriate clothing: Light, long-sleeved tees and jeans Don't forget: A waterproof jacket as drizzle and showers are common.
---
How to get around Hanoi
Getting around using Hanoi transport can be an adventure. The traffic consists of bicycles, scooters, tuk-tuks, buses and taxis, all racing as fast as they can to get to their destinations. Some drivers will even use the footpath as an extra lane to cut a few seconds off their travel time!However, don't let this intimidate you. Use your phone to find the best routes to get you to your destination. Be alert when travelling on public transport, walking around the city, or hiring your own vehicle. Also, just enjoy the adventure that is getting around Hanoi.
If you need to get around the city quickly, flag down a Hanoi taxi. Most of them are safe and reasonably priced. However, you should always be aware of your surroundings and be on alert for any scams. It's well-known that tourists often get charged higher prices. Make sure your driver uses the meter. Also, use your phone's map app to ensure you're on the best route.
---
Bike hire isn't widely available in Hanoi. However, if you're a cycling enthusiast, there is one key opportunity for you to get your pedal on here. The Hanoi Bicycle Collective can set you up with temporary wheels, and their position right next to West Lake means you can immediately enjoy a challenging and rewarding cycle around Hanoi's largest lake.
---
Apart from taxis, there are other Hanoi public transport options available. If you're in a real rush, flag down a green-helmeted motorcyclist. Meanwhile, if you prefer a more meandering ride, experience the Old Quarter of Hanoi by cyclo (a pushbike-powered rickshaw). With both options, be sure to agree on a price with the driver before hopping onto the vehicle.
---
Walking around Hanoi is a great way to see the city and exercise. Vietnam's capital is small enough to have several landmarks just a few minutes away from each other. However, walking in Hanoi needs situational awareness as the traffic can be random and chaotic. When in doubt, follow the locals as they cross the street or walk steadily to allow traffic to slow down for you.
---
What are the best parks in Hanoi?
Hanoi's parks and gardens are a welcome respite from the hustle and bustle of Vietnam's capital. A highlight of your trip will be Hoan Kiem Lake. During the morning hours you'll find locals practising tai chi in the gardens, close to the shore. There's also the beautiful Bach Thao Botanical Park – home to exotic plants – as well as the open space of Thong Nhat Park. Take time to stroll through the green spaces, enjoying the everyday of Hanoi life.
Established in 1958, Thong Nhat Park was named after Vietnam's desire for reunification. In the 1980s, it was briefly renamed Lenin's Park in honour of the Russian revolutionary's 110th birthday. Today, this 50 hectare recreation area features manicured lawns and plenty of flowering trees. Locals come here to beat the summer heat, especially since there's a large lake where people can sail swan boats.
---
You'll find the Hanoi Zoological Garden inside Thu Le Park. This small zoo has animals from Vietnam as well as gifts from Australia, Europe, and Asia. Be on the lookout for the local sika deer, macaque monkeys, and blue and yellow macaws.
---
If you want a place to enjoy a variety of activities, go to Thu Le Park. This 29 hectare area contains a lake where people enjoy boating, as well as a zoo. There are also eateries and places to play tennis and sing karaoke. If you want a moment of peace, visit the small Voi Phuc Temple nearby.
---
Behind Ho Chi Minh's Mausoleum lies a lush green space that's considered the lungs of Hanoi. Bach Thao Botanical Park's name means 'hundreds of plants' and it lives up to this meaning. Enjoy a large variety of indigenous trees, herbs and flowers, as well as species from around the world. Visit the botanic gardens between sightseeing, taking time out to enjoy lunch and refresh your senses.
---
The current requirements for travelling to Hanoi
Talk to a Hanoi Travel Expert
Our dedicated team of experts know all the ins and outs of travel and love sharing their knowledge. If you're looking for help planning specific sections of your trip or full itinerary planning, our team is ready and waiting to help create your perfect holiday.
Enquire now