Thu, 28/11/2013 - 8:05pm
I am about to engulf myself in shark-infested waters on our Africa tour, four nautical miles off the western cape of South Africa. We had driven from Cape Town to the Great White Shark capital of the world to cage dive with the great predators of the deep.
It is 6am on a crisp South African morning. The sun beams off the ocean's silk surface as we set out to search for Great White Sharks. We stop at 12 metres deep, where I slip within a cage into the Atlantic Ocean's vast blue body. The near freezing water chills my bones as anticipation scatters within me. I am about to face my ultimate fear.
Our boat crew hurl large volumes of chum (fish parts) into the blue Africa waters to attract the sharks. It is important that the sharks are not fed to avoid them associating the smell of chum and the sight of humans as food. A block of black polystyrene is thrown into the water with a rope acting as a decoy to keep the Great Whites interested around the cage.
"Divers get ready - incoming," yells the skipper. I take in a large breath, expanding my lungs to their full capacity. My weight belt pulls me to the bottom of the cage. My tight grip on the metal bars bleaches my knuckles.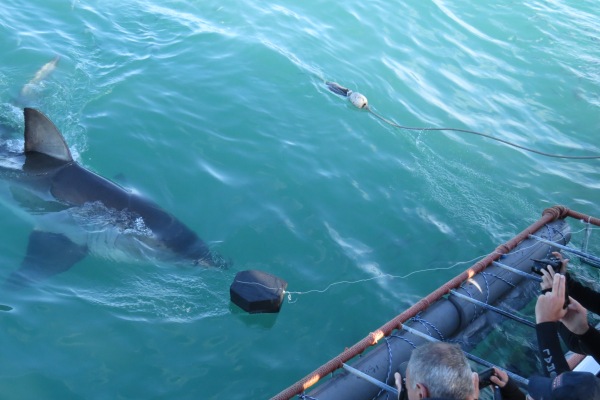 In the left of my eye I sense a dark shadow. A four metre Great White Shark swims inches away from my bulging eyes. Adrenaline rushes in my bloodstream and suddenly I'm not afraid. The Great White's calm, inquisitive aura radiates into the cage. He cruises past with almost a curious grin. The images of aggressive, man-hungry Hollywood monsters fade away.
Nine Great White Sharks come to visit our boat, breaking the ocean's smooth face with their pointy dorsal fins. The Shark Cage Diving tours of South Africa aim to promote Great Whites, educating people on their beauty and strength as opposed to their aggressive, man-eating connotations. After seeing the sharks beside me in the deep, I now have a new-found love and understanding of these majestic fish.
Looking for more information on Africa tours?  Contact a Flight Centre travel expert – 130 stores nationwide. Phone 0800 24 35 44.
Other Travel Articles You Might Like...