Mon, 10/02/2020 - 3:10pm
Warm, friendly and almost impossibly beautiful, Bali is a holiday destination that more than lives up to its considerable reputation. Whether you're a first-time foodie or a returning thrillseeker, we've put together the perfect primer for your trip to the place they call 'The Island of the Gods'.
Where should I stay?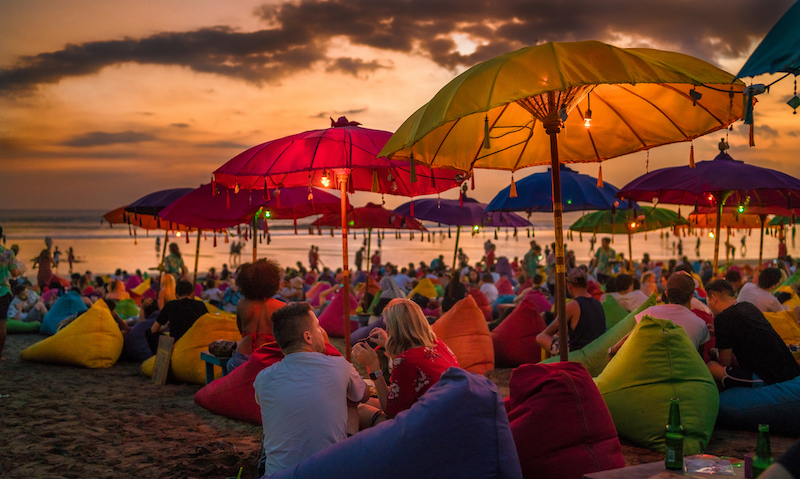 Beach-goers at dusk at Denpasar, Bali. Photo: Getty Images
One of the most enticing aspects of Bali is just how well the island can cater to pretty much any sort of traveller, from clubbers to hippy types to families looking for an easy beach holiday. That said, it makes sense to put a fair bit of thought into where you want to base yourself. The coastal villages of Canggu and Kuta, just west of Denpasar, are perfect if you're keen to stay close to the action – strongly favoured by younger travellers, these spots boast plenty of affordable-but-luxurious villa accommodation – ideal if you're travelling with a group – as well as easy access to a ton of fantastic restaurants, quirky bars and gorgeous beaches.
Nearby Seminyak offers a slightly more upmarket option, with architecturally designed hotels and an ample selection of high-end Balinese and international fashion boutiques, while the combination of comfort and entertainment on offer in the resort area of Nusa Dua makes it the perfect spot for those travelling with families.
How will I get around?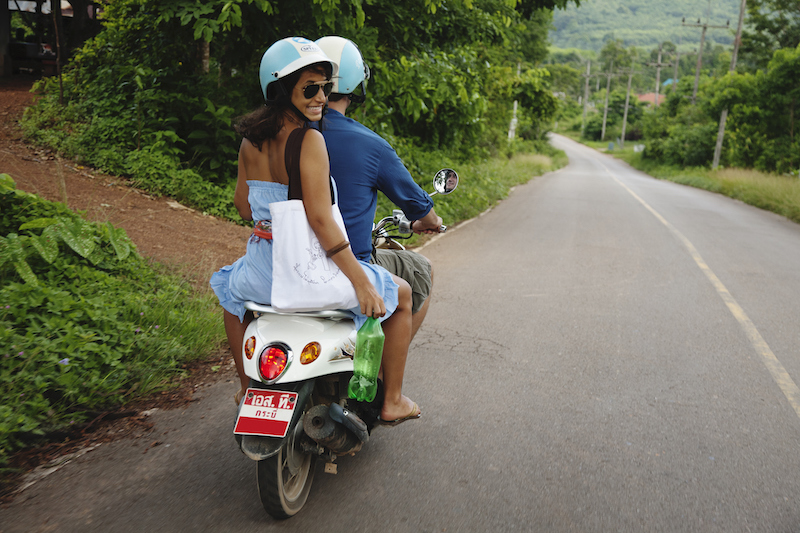 A scooter is a great way to get around Bali - don't forget your helmet! Photo: Getty Images
Visitors to South East Asia often have concerns about the ease and navigability of local transportation systems, but thankfully even first-timers shouldn't have too many issues figuring out how to get around in Bali. The Kura-Kura shuttle bus is an easy and reliable option if you're planning to stick mainly to the major tourist areas, but if keen to explore a bit more or if you'd prefer private transport, your best bet is to download the Grab (basically the Indonesian equivalent of Uber) and Blue Bird Taxi apps – both options will mean that you'll be travelling with vetted drivers, and you'll avoid the confusing hassle of haggling over meter rates and road routes.
If you're keen to be a bit more autonomous, scooter hire is a popular and affordable option, with visitors free to scoot around Bali so long as they have an international driver's license. Be sure to keep yours handy, and make sure you wear your helmet, as local police can be quite vigilant (and no one likes picking up traffic fines on holiday). Just don't drive too fast, and remember that the road rules here are a bit looser than back home – keep your mind and your eyes on the road, though, and you shouldn't have too many issues. Also remember to advise your travel insurance that you are planning to hire a scooter so you are covered for that (usually they will add a little extra on your premium but it's definitely worth it!!).
What (and where) should I eat?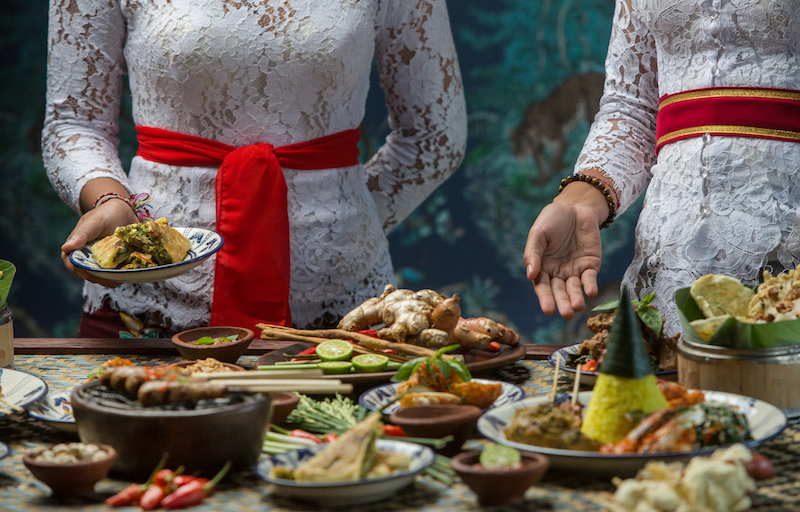 Waitresses serving Balinese side dishes. Photo: Getty Images
While the main flavours underpinning Balinese cuisine aren't dissimilar to those of its better-known Thai or Malaysian counterparts – think piquant spices and gorgeously fresh herbs – the local culinary offerings here also reflect both the island's natural setting and its cultural makeup. With the island's population being largely Hindu, beef is off the menu in most establishments serving local specialties, but even the most avowed of meat eaters shouldn't miss it – high-end restaurants like Seminyak's Merah Putih serve fresh-caught seafood and modern takes on classic Balinese flavours, while street food meccas like Canggu Market and Denpasar's Badung Market have everything from satay skewers and char kuey teow to the decadent coconut-and-banana treat that is pisang rai in plentiful supply. In short, anyone after an authentic taste of this gorgeous destination won't need to look too far.
Of course, there's certainly more than just Balinese food on the island's menu these days – cafes like Kynd Community in Seminyak and Watercress in Ubud offer delicious, guilt-free and gram-ready cuisine, while casual eateries like Kuta's retro styled Cosmic Diner and the world-class fine (but not stuffy) dining on offer in establishments like Canggu's The Slow Kitchen and Bar mean that no matter whether you're after a quick bite or a romantic evening, you can easily find a spot to suit.
What should I do?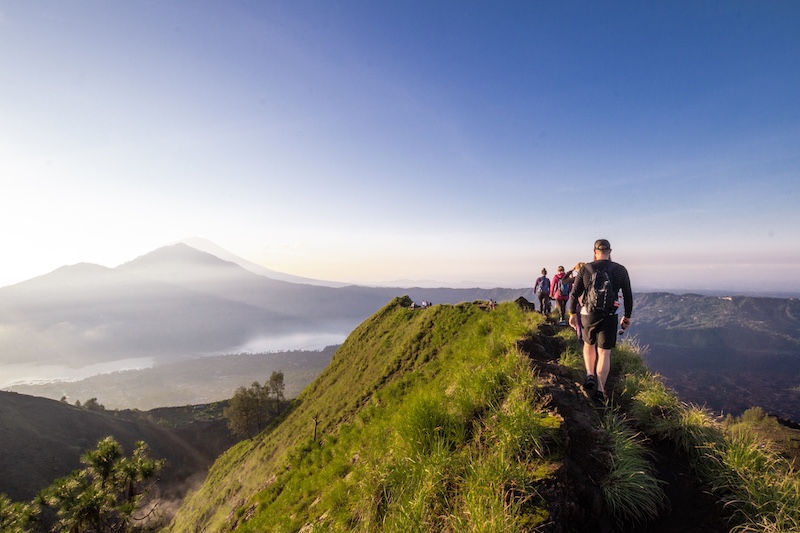 Hiking Mount Batur, northern Bali. Photo: Getty Images
If you haven't been to Bali before, you may be surprised by just how much choice you'll have when it comes to recreation – as with the ample dining and accommodation options, the island boasts a near-limitless range of ways to while away the days. Sun-and-fun-seekers will love lapping up the poolside luxury at clubs like Omnia and Potato Head, while adventurous travellers can get a different perspective on an Ayung River rafting trip, up-skill with surf lessons at Kuta Beach or go hiking up Mount Batur.
Anyone looking for tranquility can find it in the stunning terraced hills and peaceful yoga studios of Ubud, while family travellers can take the kids to the amazing Waterbom water park or challenge their climbing skills at the always-entertaining Treetop Adventure Park in the Bedugul Botanical Gardens, before ending the day with a breathtaking Barong dance at one of Ubud's famously beautiful temples – the perfectly memorable end to another stunning day in paradise.

Other Travel Articles You Might Like...