Thu, 11/07/2019 - 10:58am
Inland from Bali's well-known beach towns Canggu, Kuta and Seminyak, there exists a haven of endless rice paddies, palm trees, yoga retreats and delicious plant-based food. Ubud is the perfect destination for a 48-hour tropical retreat once you've explored the coast.
Day 1
9:30am Take the roughly one-hour taxi journey to Ubud from Bali's southwest coast, or the one-and-a-half hour journey from Denpasar Airport.
10:30am Arrive in Ubud and hustle your way through the chaotic scooter and car-filled streets. Feel relieved when you arrive at your slightly-out-of the-centre accommodation and realise Ubud's chaotic roads are juxtaposed with serene and peaceful rice paddy fields.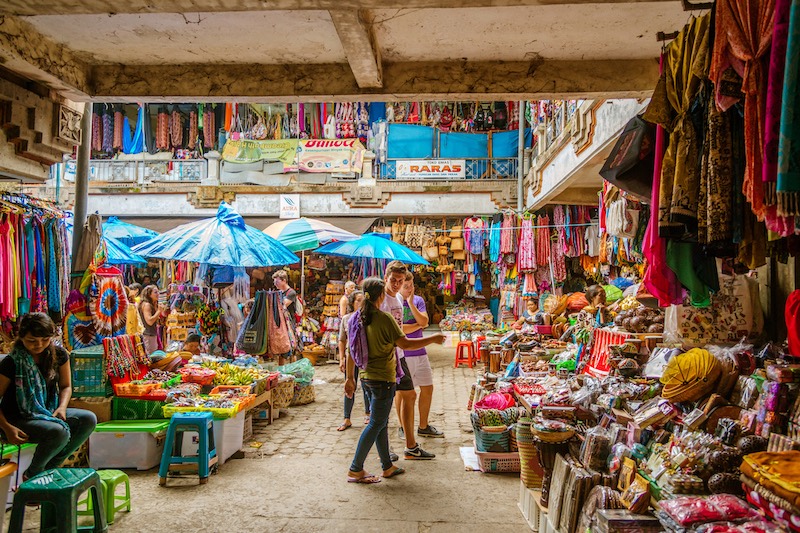 Ubud Art Market. Photo: Getty
11:30am Visit Ubud's Art Market, a vibrant display of locally produced cultural artworks – colourful sarongs, dreamcatchers, wooden carvings, paintings, knick knacks and more. Head upstairs to discover an array of tropical fruits: dragon fruit, papaya, watermelon, passionfruit and mango. At the market you'll be wise to bargain, as the 'local price' and 'tourist price' are often two different things. Make sure you keep the bargaining fun, smile, say "suksma" (thank you) and remember, by paying a good price you contribute to the economy and livelihoods of local Balinese people.
1pm Walk to nearby quaint, cobblestoned Gootama Street to shop, visit a spa and buy some delicious local chocolate. Have lunch at Seeds of Life, a 100% raw cafe and tonic bar, where shoes are optional and sitting on the floor cushions is encouraged.
3pm Ubud's Royal Palace is a must-see while in Ubud. The local royal family still live in the palace which was built in 1917. The palace structures are ornate with detailed stone-carvings. Basically, you haven't see Ubud until you've seen the Palace.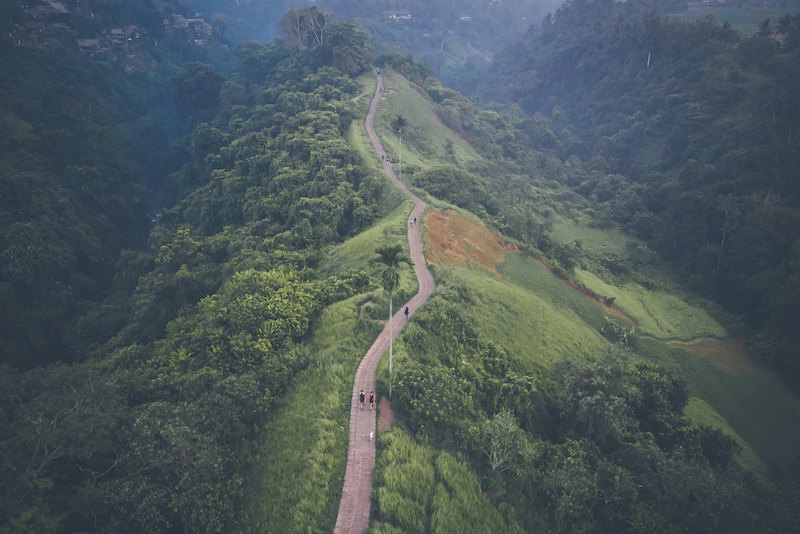 Aerial photo of Campuhan Ridgewalk, Ubud. Public domain
5:30pm Grab a drool-worthy coconut gelato from Tukies on your way to Campuhan Ridgewalk. The ridgewalk is doable for most fitness levels, but can be challenging in the heat, so it's best walked at either sunrise or sunset. At sunset, lookout for flocks of Petulu White Herons who fly north to roost for the night, then once night falls keep an eye out for bats. Campuhan Ridge Walk is a tourist favourite for good reason – expect panoramic views of palm trees, rice fields and lush tropical forest.
7:30pm Head to a local warung for an authentic Indonesian dinner – Warung Gauri on Sunset Walk may be the most delicious and cost-friendly in town. Try the gado gado, nasi campur, nasi goreng or tofu/tempeh satay. Wash it all down with a Bintang.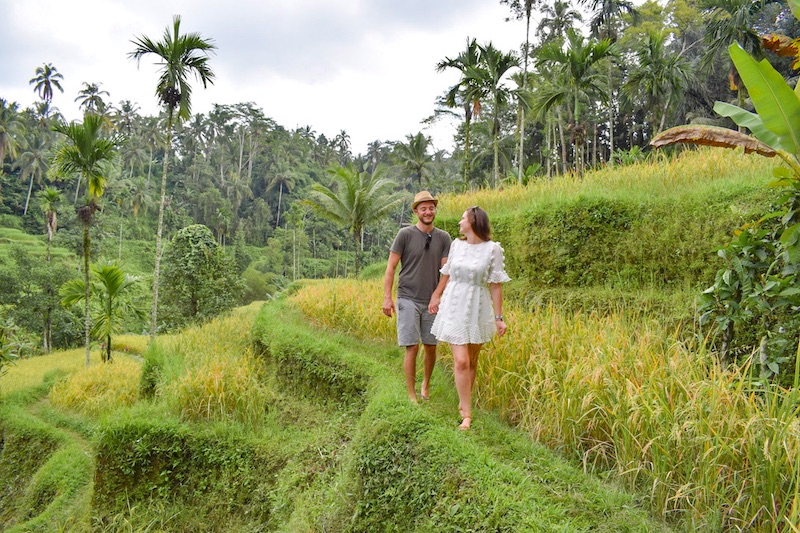 The oft-Instagrammed Tegalalang Rice Terraces. Photo: Chloe Milne
Day 2
5:15am Wake early for a sunrise visit to Tegalalang Rice Terraces: a 40-minute drive from Ubud. Request your driver drop you where the rice fields are lush – although Tegalalang is a tourist destination, it's also functional and rice gets harvested three times per year. At 6am, observe the sunshine radiate throughout the rice terrace valley. Snap some shots for your Instagram, or just wander the rice paddies and enjoy the beauty and serenity.
12:00pm Discover one of Ubud's lesser-known and therefore peaceful roads. Just out of the town centre exists a walkway lined with palm trees, banana plants, papaya plantations and lush rice paddies. Jalan Subak Sok Wayah may be one of the most idyllic, yet unknown, places in Ubud. Have lunch at Yuga Organic Warung, where you can watch the chefs pick fresh produce for your meal from the organic, hydroponics garden, then travel just a little further along the pathway and order a fresh coconut from Pomegranate Cafe to enjoy with panoramic views of the countryside.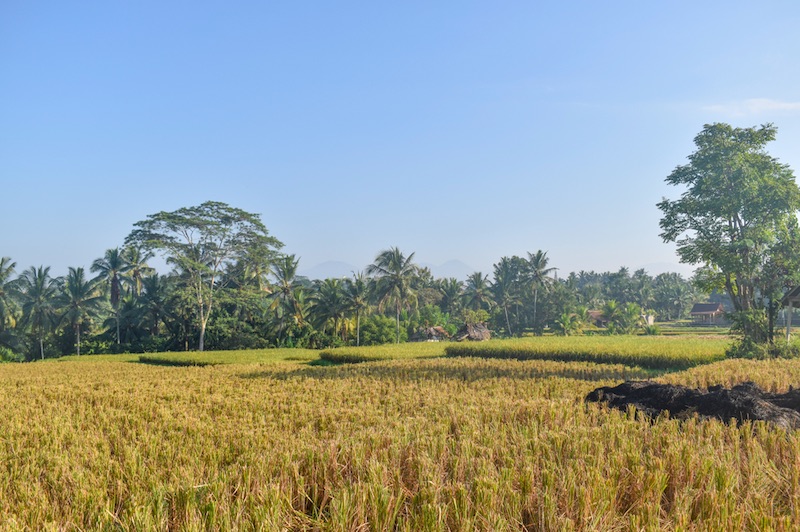 Find serenity on Jalan Subak Sok Wayah walkway. Photo: Chloe Milne
3:30pm Opt for a relaxing afternoon and visit one of the countless massage salons and spas across Ubud. Get a manicure, foot rub or have a full-body Balinese tension-relief massage.
7pm Dine at one of Ubud's newest – and easily tastiest – plant-based restaurants, Bella by Sage. Bella's delicious food is a winner with Ubud expats and remote workers alike, and is far from the tourist trail. Order a jackfruit pizza, sip a dragon fruit mocktail and take a slice of coconut cake to go.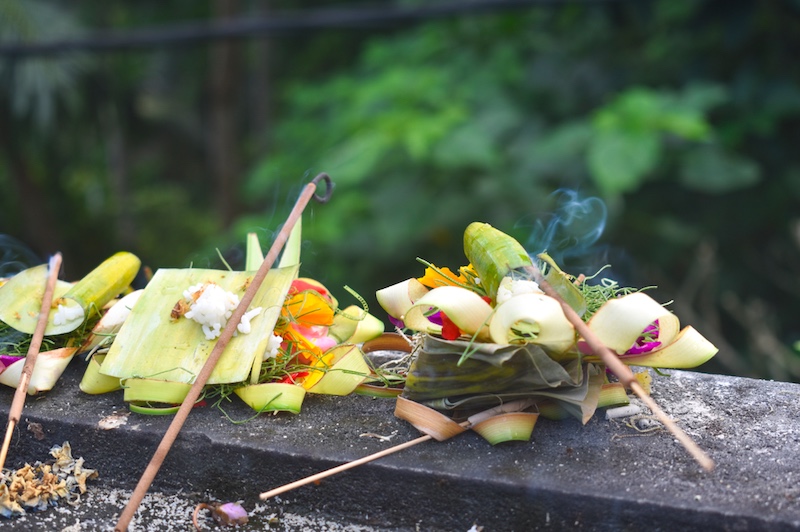 Canang sari – one of the Balinese daily offerings to the Gods. Photo: Chloe Milne
Day 3
6:30am Embrace the serenity of early-morning Ubud. Watch canang sari, a local Indonesian daily offering practice of laying down intricate palm leaf baskets filled with flowers, incense, money and other gifts for the Gods. You'll find this peaceful practice all over Ubud at every restaurant, hotel and home.
7:30am Take an early morning yoga or meditation class. Dedicate your practice to someone in your life, make a gratitude list or just enjoy the present moment. Ubud is known for its healing properties – perhaps the trip can be healing for you too.
9:00am Grab a healthy 'nice-cream' breakfast – an overflowing creation of fruit, cacao, acai berry mixture, coconut and even vegan Oreos, served in wooden pineapple-shaped bowls – at Acai Queen, on the aforementioned Gootama Street, before departing serenity.
Other Travel Articles You Might Like...