Fri, 27/03/2015 - 6:38pm
Brisbane is a fantastic place to take the family away to as it's only a short 3 hour flight from Auckland. Being the largest city in Queensland, everything is located nearby! Have a read below on some highlights for travelling to Brisbane with a family.
Streets Beach, South Bank
Not very often you see a white sandy beach in the middle of the city! This man made beach is the perfect place to go to and relax with the family. You don't have to worry about dangerous waves or sharks as this beach is patrolled 7 days a week by lifeguards. Lots of shade to sit down and have a picnic and plenty of room to kick a ball around with the kids while taking in the view of Brisbane City across the river.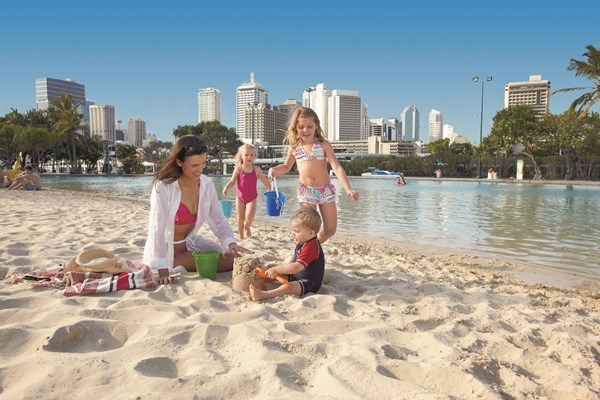 Tangalooma Island Resort
Get up close and personal with some of the oceans favourite animals, the dolphin. Tangalooma Island Resort is well known for it's dolphin encounters as they swim up and interact with people in only a few feet of water. Moreton Bay, just north of Brisbane, is home to approximately 600 dolphins as they thrive on the pristine conditions of the Queensland waters. Just a short drive from Brisbane City, this is a must do for people visiting the area.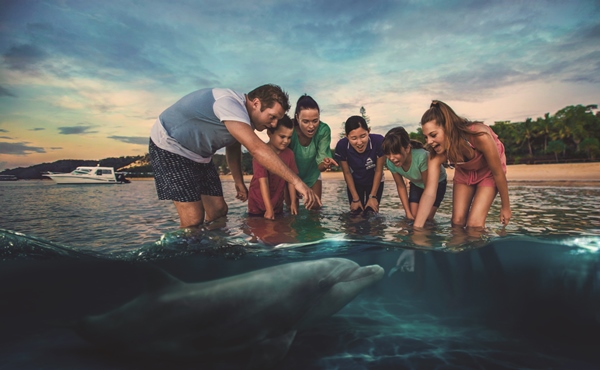 Kangaroo Point Cliffs
After a bit of outdoor adventure? Why not head to the Kangaroo Point Cliffs and take in some of the best views on offer of Brisbane. An excellent place to relax with a packed lunch and admire the sculptures along the river front. If you're feeling adventurous, why not abseil down the cliffs too! Remember to take your camera for this one!
The Wheel of Brisbane
If you're not afraid of heights, jump on The Wheel of Brisbane and check out some magnificent panoramic views of the whole region from 60m above ground. Located right next to the man-made Streets Beach, it is in a handy location for everyone to experience. At night it is fully lit up and is a popular attraction for families. All gondolas are air conditioned and can hold up to 6 adults and 2 children.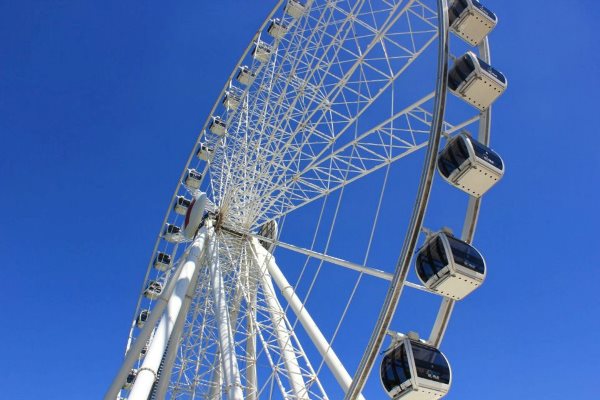 Lone Pine Koala Sanctuary
A must do when visiting Australia is to get a cuddle from a Koala! Only a short drive south of the main city area, every family will love visiting the sanctuary. Learn from the experts about these adorable animals as they have been doing it for over 80 years and have over 130 Koalas in the sanctuary. Plus there are over 100 other animal species there too, so be sure to have your camera ready!
For more info on Brisbane family holidays, contact a Flight Centre travel expert today – 130 stores nationwide or call us on 0800 24 35 44.
Other Travel Articles You Might Like...