Wed, 13/03/2013 - 8:17pm
Dive famous reefs, experience island resorts and get up close with crocs - all in a day's work in Tropical North Queensland for our Flight Centre consultant.
Arriving in Australia we were greeted by 30+ degrees and what feels like nothing short of 100 percent humidity at Cairns airport. This was expected but not being quite dressed for these conditions the profuse sweating and sticky feeling was a bit uncomfortable. We hired a van which included air-conditioning and I'd certainly not recommend travelling to this part of the world without it.
First it's off to Green Island and Great Barrier for the day with Great Adventures.  A 9 hour escorted tour on a large quick cat that takes 45 mins to get to Green Island with a further hour or so to the reef.  Green Island offers a unique opportunity to visit an ecological wonder in the sea.  There is a five star resort on the island which would be fantastic to spend a couple of nights at amidst the tranquillity.
For water-lovers there is reasonable snorkelling on offer, a full bar and restaurant with a nice pool and superb beach off the back of the island.  There are many natural plants, trees, animals and birds to see on the island.  It's great to walk around and a couple of hours here is all you need to take in everything on offer, short of staying the night in the resort.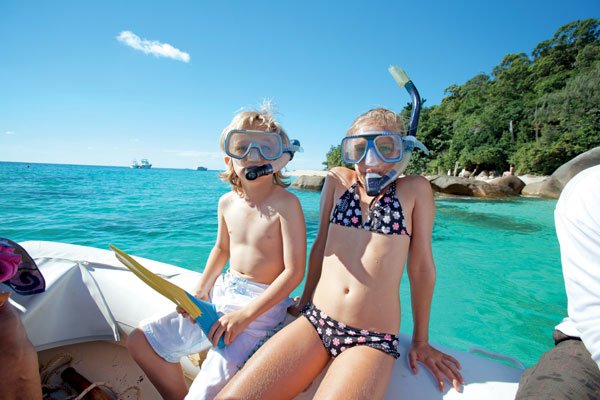 After exploring the island it's off to Great Barrier where the large pontoon which the cat docks up to has lots on offer.  Mainly though its diving or snorkelling; the water is like a bath in temperature and you could spend hours of happiness here, only coming back up to refuel from the ongoing buffet.  There's a great sun deck to soak up the rays on or if it gets too hot you can always retreat to the refreshing aircon and drinks.  If you're planning Australia holidays I highly recommend this tour as you get two great adventures that you just can't get in most other parts of the world.
For somewhere to stay in Cairns my top pick would be the Mantra Amphora. With its massive pool area, spacious apartments with air-conditioning and cooking facilities, and nice positioning not far from the beach, this is a good option for families or groups on a budget.
For the more discerning traveller, families or groups with a bit more to spend, Peppers is definitely the preferred choice.  This resort is 5 star all the way with 3 great pools, massive suites with private barbecue and deck areas on the roof, tennis court, and a great position on the main beach with dining options all around.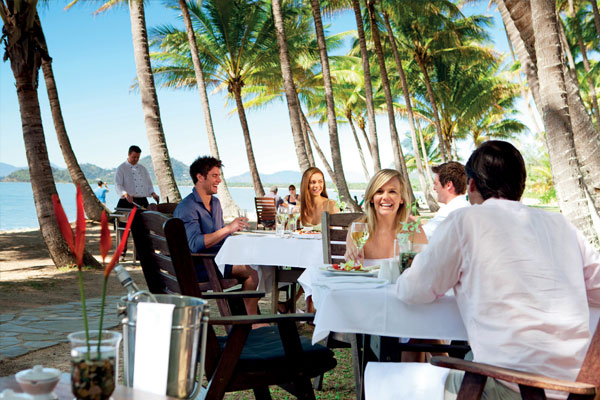 Next we headed off to Port Douglas and a trip to Hartley's Crocodiles Park.  This was great fun seeing snakes, koalas and some very big crocodiles and alligators.  This is a must do for travellers who have not experienced this type of wildlife.  Take plenty of water and good clothing to keep you out of the sun.  Expert guides are also worthwhile to make the whole experience that much more fulfilling.
Kuranda Sky Rail was a unique train ride and gondola over the mighty rainforest.  For people with an interest in this area they would find a whole day here not enough, with some great walking tracks, riverboat ride and Aboriginal crafts, clothing and markets. There is generous food on offer and a couple of great pubs to sit in and while away a few hours with a nice meal and a couple of drinks.  Highly recommended and well worth the time, money and effort.
For accommodation Peppers is again the highlight, although another option a bit further out is the Freestyler, which has a nice family feel.
Overall Tropical North Queensland is a destination that has something on offer for everyone. My highlights would be the laid-back Australia people and atmosphere, the weather, the great variety of accommodation, the Great Barrier Reef, Green Island and Hartley's.
Need more information on holidays in Tropical North Queensland? Contact a Flight Centre travel expert - 135 stores nationwide. Phone 0800 24 35 44.
Other Travel Articles You Might Like...