Mon, 21/10/2013 - 4:48pm
There's so much to see and do on the GC that it's hard to know where to start. Luckily Stacey Russell from Flight Centre Auckland has some tips for Gold Coast holidays.
When travelling to the Gold Coast I'd recommend flying into Coolangatta instead of Brisbane, as this will help avoid delays from traffic, roadworks and so on. These are my top picks for must-see attractions and the best of the accommodation options.
Dreamworld
Great for all ages, both adults and children, and a must do when visiting the Gold Coast. There are lots of rides so you'll need a full day. The park opens at 10am but you can pay a bit extra to get in earlier.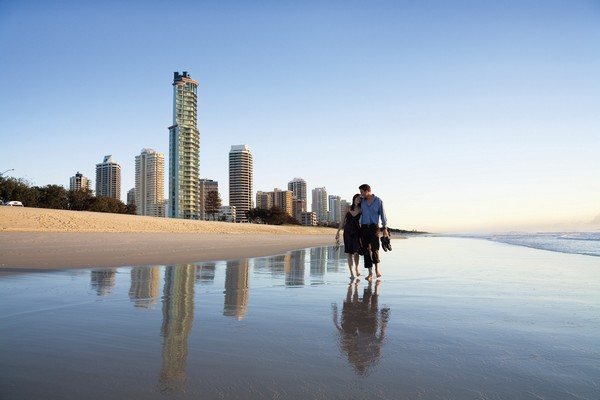 Outback Spectacular
This show has great atmosphere, with a mix of acting, musical, movie and dressage. It has some special effects that use strobe lights, so the production is quite professional. The food was good - a thick piece of eye fillet steak with corn, beans and mashed potato, with a mini wrap to start.
The jockeys do some impressive tricks on horseback, and try to get the audience involved with cheering on the horses. Kids that were sitting next to us were glued to the performance, although the show is quite long so I wouldn't recommend for very young children; maybe best suited to families with 8 to 12 year olds.
Skypoint Observation Deck
The views of the Gold Coast are very good from here, although that's about all there is to do up there. I'd recommend going during the day as in the evening they allow parts of it to be booked out for private functions, which can block off some of the viewing windows.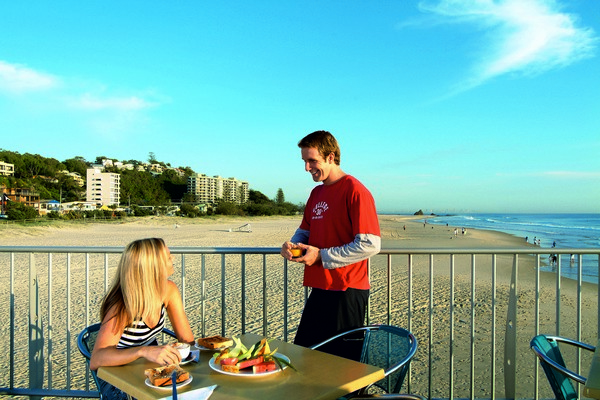 QT Resort
This hotel is very modern, with a quirky colourful decor including one-of-a-kind clocks, mirrors and chairs. There's a great bar called Stingray which has a DJ and serves unique cocktails such as a 'popcorn cocktail'.
Another cool feature of this property is that they have freshly squeezed lemon water in reception area, with funky straws and jars to use. They also have a 'hippy' van outside from which they serve ice-creams, and you can hire old-school bicycles or scooters to get about on.
Mantra Crown Towers
The fabulous reception area of this hotel looks like a cruise ship, complete with flying fish on the walls. Guests don't have to go far to find a pool here, with a massive lagoon-style pool with sand at one end and a bridge that crosses over the pool, as well as a heated indoor pool, spa, sauna and pirate ship-shaped kids pool. There's also a stunning Thai restaurant onsite with wooden-carved elephant shaped chairs.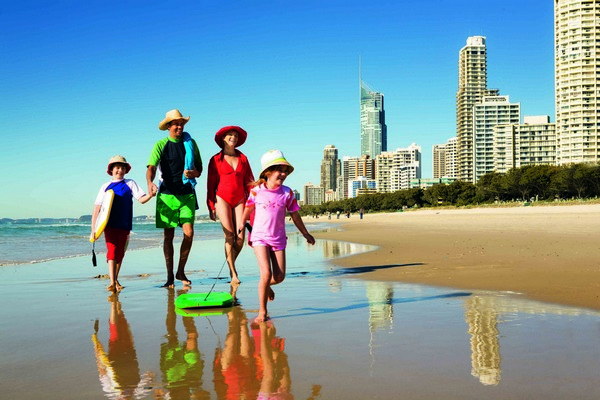 Turtle Beach Resort
This is a good option for families, as it's a huge resort-style property with lots of trees around. Couples can request a room at the other side of the property near the adults only pool, but if looking for a quiet hotel this is probably not the one for them.
Peppers Broadbeach
This is a fantastic hotel that really goes the extra mile. The turn down service is excellent - they leave a scented candle and bottled Voss water, put music on and close the blind between the bathroom and bedroom. The Zen gardens and general atmosphere is very relaxing, perfect for a break on the Gold Coast.
Looking for more information on Gold Coast holidays?  Contact a Flight Centre travel expert – 130 stores nationwide. Phone 0800 24 35 44.
Other Travel Articles You Might Like...