Tue, 14/05/2013 - 6:55pm
There are more to Gold Coast holidays than just theme parks, as Dielle DeSouza from Flight Centre West City discovered. But she still visited the theme parks...
I expected the Gold Coast to be dominated by family oriented activities and children. However I realised that although most activities are aimed for the young and young at heart, there are alternatives for everyone to enjoy, making it the perfect destination to cater to any budget.
Gold Coast in general is quite clean and priced to suit all budgets. The beach is the main natural element dominating the area followed by the hinterland in the distance, which is the natural rainforest.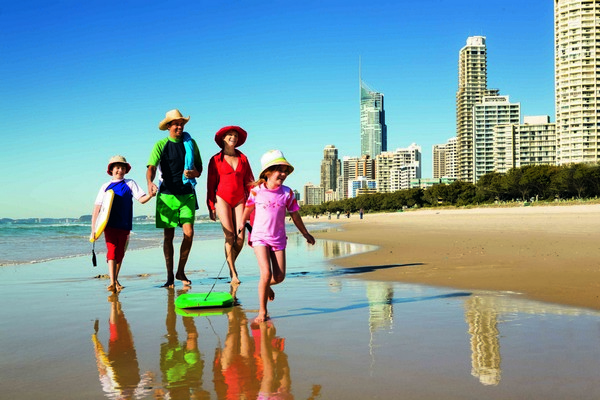 The two main hubs you ideally wish to be located at in the Gold Coast are either Surfers Paradise or Broadbeach. Surfers Paradise is aimed at a younger audience with a variety of bars, clubs, backpackers and shopping precinct. This area will cater more to the family traveller, teenagers and young adults. Broadbeach on the other hand is quieter however more upmarket with its casino, monorail, cabaret restaurant and mall. Broadbeach is ideal for couples, families with really young children and seniors.
Regardless of where you are located in these areas, the beach is never far away. The endless stretch of beach which connects all the areas together is magnificent. The waters are quite choppy and rough on all these beaches, so if you are not a surfer or swimming skills are not up to scratch you are better off at a pool in your accommodation if you still wish to enjoy the water.
If you are based in Surfers Paradise, Cavill Mall is your entertainment hub for shopping, restaurants, bars and nightclubs. Plenty of swimwear, chain clothing stores like ICE, Tarocash and Diva etc. Here you will find a few stops for the Gold Coast Tourist shuttle taking you to various parts of the Gold Coast. They are less frequent during the night.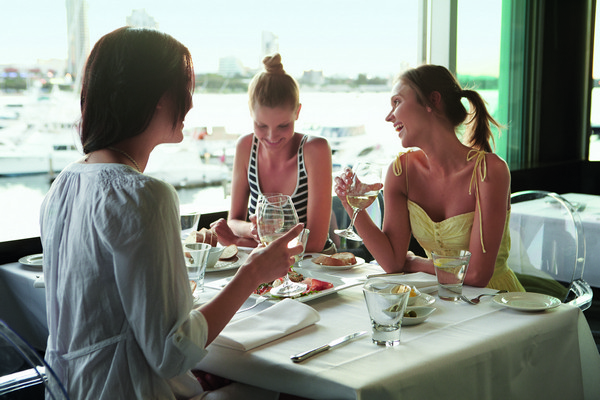 Some really good restaurants in the area are the award-winning Chiang Mai Thai Restaurant situated in Mantra Crown Towers, as well as QT's Bazaar which is a mix of several different cuisines, buffet style where you can have meals cooked to perfection. Some interesting choices are seafood paella cooked in squid ink. If you do have a special occasion Seaduction at Sea Temple is perfect for a fine dining experience. The shellfish veloute and truffle mash potatoes were amazing.
Broadbeach boasts the well reputed Draculas cabaret restaurant. Here you will get dinner and a show. This is purely a choice of taste for this experience which lasts 3 hours. The concept is of actors dressed as the "living dead" which put on a show of singing, dancing, acrobatics, holograms and comedy based on adult themes. There were children as young as 10 years old in the audience however I would not recommend this show to anyone under 18 years. Ideal place if you wish to have a bit of a laugh, be laughed at and enjoy some delicious cocktails.
Draculas is directly opposite Pacific Fair, which is a large double storied mall that stretches into alleyways. It is home to small boutiques which are unique as well as chain stores such as Priceline, Forever New, Esprit etc. It has a large food court and plenty of cafes and delis if you wish to eat in the area on a budget particularly for lunch; however plenty of restaurants dotted in the area for dinner. Broadbeach is also host to the iconic Jupiter's casino if you plan to indulge in a spot of gambling.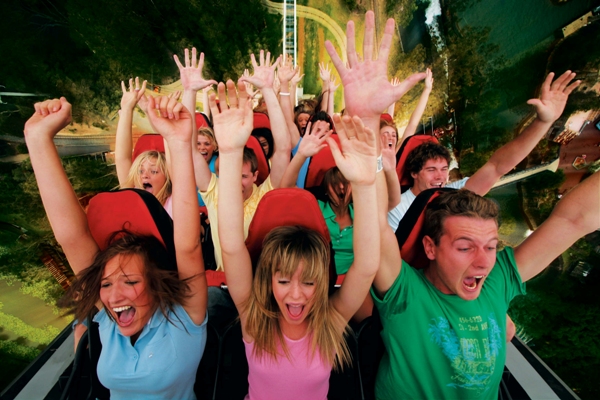 Being a family oriented destination, theme parks are one of the main reasons why families travel to the Gold Coast. Dream World and White Water World are located right besides each other. Dream World is perfect for everyone who likes a good amusement ride. It caters to the young and young at heart. The Wiggles and teacups area is perfect for really small children, whereas older children and adults can enjoy the tower of terror, giant drop and the claw to name a few.
Dream World also has Tiger Island where large Bengal tigers jump and do tricks. This is a good show for any age group. Eating at Dream World is quite expensive especially because you cannot bring your own food into the park. You have a choice of going to the buffet lunch or you can buy snacks (eg. a burger costs $14AUD).
If you have a full day to spend or need to cool off, why not nip over to White Water World and enjoy the water slides, the green room, the ever popular "wedgie" for the daring or relax in the cave of waves. There are only three main areas for young children if they do not wish to go on the slides.
Movie World was a very different experience to Dream World. The park is mostly aimed at very young children with a few rides for older children and adults. The best way to navigate around the park is to look at the schedule of the shows and follow them accordingly.
The Hollywood stunt driver show is a very popular one with stunt drivers doing tricks with the cars and engages the audience to participate. Asthmatics should take precaution due to the fumes. The Justice League ride is also very low key and good to do as a small group. Plenty of parades which involve children's characters such as Batman doing shows on the street. You can also take pictures with character lookalikes such as Wonder Woman and Marilyn Monroe.
For the more adventurous there are extreme rides such as Superman, The Green Lantern, Scooby Doo and the Arkham Asylum. There is plenty of children's character shopping to do at Movie World interestingly such as the Harry Potter Shop, Warner Brothers Boutique etc. Similar to Dream World, the park also has a no food policy, however there are plenty of options, albeit more expensive. Rick's Cafe provides buffet style lunch or you can opt for treats if you come midday and simply have a Ben & Jerry's ice cream or Gotham city burgers.
The waiting times for each ride on any of these parks can be significantly longer on busy days. Although we arrived during the off peak times, the parks were still quite crowded so I would recommend to visitors to at least spend a day each in these parks as a large amount of your day can be spent waiting for a ride. There are sign boards along the way of each ride informing the public how long it would take to get to the ride from their spot in the queue. Some of these time spots are as long as 45 minutes.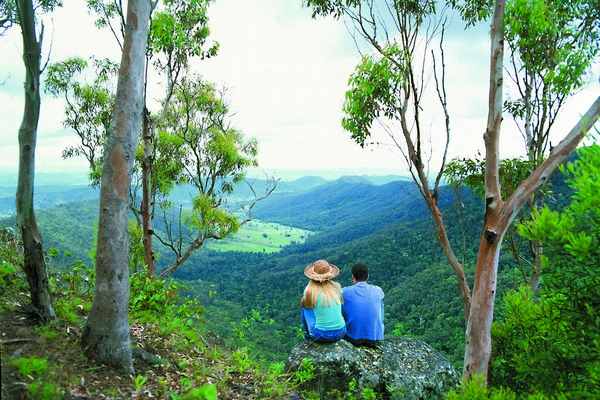 Jetboating is another great adventure activity for anyone aged 4 years and upward looking for things to do in Gold Coast. Taking place on the Nerang River. Each person is given a life jacket and the choice of wearing a raincoat. My advice would be take a change of clothes, wear the raincoat, if possible wear swimwear underneath and bring a pair of sunglasses as this activity gets you extremely wet. Wearing jeans, skirts or dresses will not do for such an activity.
The skipper takes you on the Nerang River at high speed and then aims for targets and suddenly turns creating splashes and airborne turns. Although there were participants who had phobias of such activities, everyone enjoyed it. The whole activity took nearly a couple of hours with some sightseeing of Chevron Island's magnificent houses. The location is close to Seaworld and Seaworld Resort.
Currumbin Wildlife Sanctuary is a good alternative for a low key excursion. Located conveniently close to Coolangatta Airport, the sanctuary is home to a wide range of Australian species. This is a perfect alternative to Australia Zoo if clients are time pressed or have very young children who are unable to tolerate the journey. Following the schedule of shows is the best way to get around the sanctuary otherwise patrons are bound to miss out.
The sanctuary is very hands on with lizards crawling on the steps of the cafe. They even bring snakes to the public that you can touch and hold. If you are keen you can also hug a koala which is an amazing experience. If you are going to do such activities, wear comfortable clothing which you won't mind getting soiled on, particularly with the koalas. Comfortable footwear and clothing is recommended if you wish to do these.
The sanctuary also has a train that gives you a brief tour of the whole area. You can spot several creatures in their natural habitat from dingoes and peacocks to lizards and other reptiles in the wild with fencing in certain areas. Also visible to the public is the veterinary where injured animals are taken in to be treated.
Located right next to the sanctuary is Honey World, where you can taste honey, see how bees make the honeycomb and buy products. Also next to Honey World is Surf World, a museum dedicated to the history of surfing.
Looking for more information on holidays in Gold Coast?  Contact a Flight Centre travel expert – 135 stores nationwide. Phone 0800 24 35 44.
Other Travel Articles You Might Like...