Mon, 11/05/2020 - 2:09pm
New Zealand's indigenous Maori community makes up nearly 17 per cent of the country's population, with their culture woven tightly into the national identity. It's thought the Maori migrated from Polynesia to Aotearoa (New Zealand) sometime between the 9th and 13th centuries, bringing with them what would become integral customs of Kiwi life.
Hongi and Moko
The customary Maori greeting is to press noses, "hongi", as opposed to a kiss on the cheek. Up close and personal, you might notice striking full-face tattoos on many Maori men, and lip and chin markings on women. Known as ta moko, the swirl-and-spiral style markings were once sacred signs of social status, while modern Maori don them to highlight their culture.
Te Reo Maori
Maori language or "te reo Maori" is considered a national treasure. Currently in the midst of a revival, the language is finding its way back into schools with its own dedicated week of celebration. Many places still use traditional Maori names, like Whanganui and Onehunga. Once you've wrapped your head around the five vowel sounds and ten consonants, you'll be saying kia ora in no time!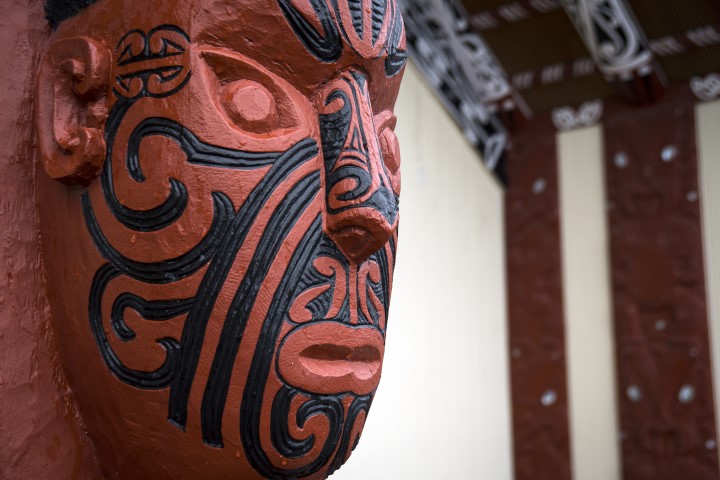 The Haka
The traditional war dance, the Haka, has been immortalised by the All Blacks rugby team, who ritualistically perform the act before each match. The pre-battle war cry is performed to incite fear and proclaim the strength of the Maori by hard stamping, body slapping and poking out the tongue with a wild gaze.
Powhiri
Traditional welcome ceremonies, powhiri, bring visitors to the meeting grounds in the heart of the Maori community. A warrior will challenge guests to see if they come in peace, followed by a presentation of waiata (songs) and speeches. Afterwards, guests can enjoy a hangi – a slow-cooked feast of meat and root vegetables using hot stones and a pit oven.