Wed, 22/01/2020 - 11:15am
The Maldives are probably most famous as the favoured holiday destination for celebrities like Sophie Turner, David Beckham, Tom Cruise and Taylor Swift. But while high-rollers love the place, the Maldives isn't just about private planes, butler service and ultra-luxury stays. With a number of all-inclusive resorts scattered across the islands, the Maldives might be more accessible than you think. Here's what you need to know about making your dream Maldives holiday a reality.
The Maldives basics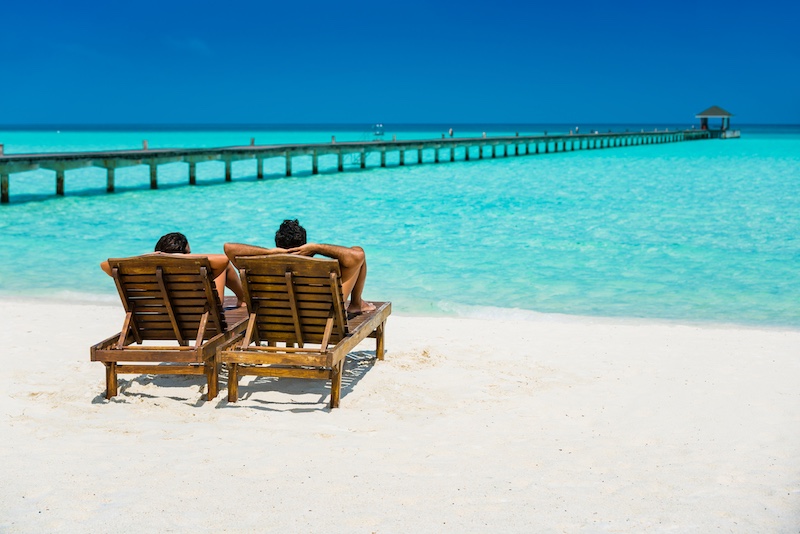 Just another day in paradise, The Maldives. Photo: Getty Images
Located to the south-west of Sri Lanka in the Indian Ocean, the Republic of Maldives is a nation of around half a million people spread over more than 1000 islands, with most of the population living in the capital, Malé. The Maldives are the lowest lying nation on earth, rising no higher than a few metres above sea level even at their highest point; most islands appear to be almost completely flat.
The local language is known as Dhivehi, but English is widely spoken, particularly in the tourism industry.
When to go and how to get there
The Maldives are hot and sunny throughout the year, with average temperatures of between 23ºC and 31ºC all year round. The best weather – and the best time to visit – is between November and April; high season is from December to March. The summer monsoon season begins in May and runs until October. Expect some rain during this season, but also better rates at most resorts.
The best connections to the Maldives from New Zealand go via Singapore or Hong Kong, with a total flight time of around 19 hours from Auckland, depending on stopover length. Flights to Malé from Auckland also connect via Doha, Dubai, Shanghai and Bangkok, though flight times will be longer.
What to do in the Maldives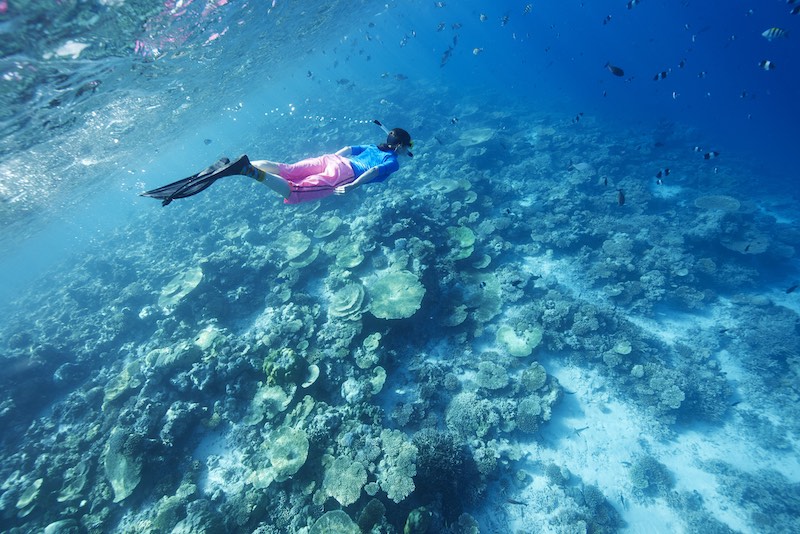 The Maldives are home to some of the best snorkelling sites in the world. Photo: Getty Images
Expect to spend your first day in the Maldives simply marvelling that a place could be this beautiful. Maldives holidays are all about total relaxation, so factor in plenty of time for sunning yourself on your private terrace or lounging by the pool. But when you're ready to be active, you'll find a plethora of things to do. Swimming, snorkelling, scuba diving, windsurfing, wakeboarding and waterskiing are standard at most resorts, as are non-aquatic activities like yoga. If you're a golfer, consider a stay at the all-inclusive Kuredu Island Resort, home to the Maldives' only 6-hole Par 3 golf course.
With some of the most diverse underwater life on earth – including rare whale sharks and, during the northern summer, giant manta rays – the Maldives are an outstanding place to snorkel and scuba dive. If you're ready to take the plunge and learn to dive, the all-inclusive Centara Grand Island Resort & Spa is a good choice as it has its own PADI certification centre, and a shipwreck just off shore where you can practise your new skills.
Want all the options of a family resort but also the seclusion of a couples-only destination? The luxurious Club Med Finolhu Villas could be the solution. It's located on its own island only five minutes' boat ride from Club Med Kani, where all activities are also available to Finolhu Villas guests.
What about the food?
Don't think that because the Maldives are isolated you'll be limited when it comes to dining options. From fresh seafood to Asian cuisine to family-friendly buffets, there are restaurants to suit every taste. Centara Grand Island Resort & Spa, for example, has three restaurants and two bars; Kuredu Island Resort boasts a remarkable 10 bars, three à la carte restaurants, and four buffet restaurants (the one you dine at depends on your all-inclusive band).
At the more intimate Club Med Finolhu Villas there's only one restaurant, though in-villa dining is included in the package. If you want a change, you can also dine at the restaurants at neighbouring Club Med Kani.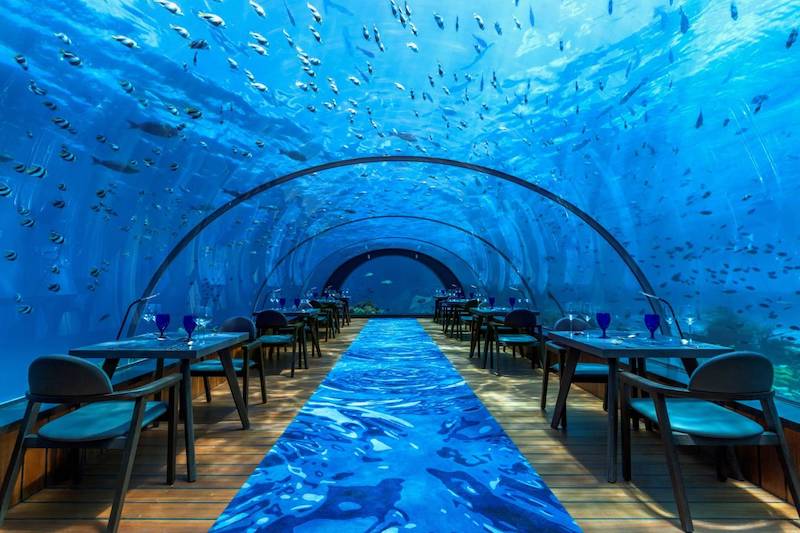 Hurawalhi 5.8 Undersea Restaurant (image supplied)
After a once-in-a-lifetime dining experience? If you're a guest at Kuredu Island Resort, book a table at nearby Hurawalhi 5.8 Undersea Restaurant. This is the world's largest all-glass underwater restaurant, and a truly spectacular place to dine surrounded by brilliantly coloured swirling shoals of fish.
Accommodation options
The vast majority of visitors to the Maldives stay at whole-island resorts, in accommodation that is either close to the water's edge or over it. At the over-12s-only Centara Ras Fushi Resort & Spa, the two-person villas are divided into Ocean Front (opening onto a perfect white sand beach), Deluxe Water (on the water's edge), and Deluxe Spa Over Water (you guessed it – over water). Centara's all-inclusive Maldives family resort, the Centara Grand Island Resort & Spa, has similar options, but includes larger family villas as well.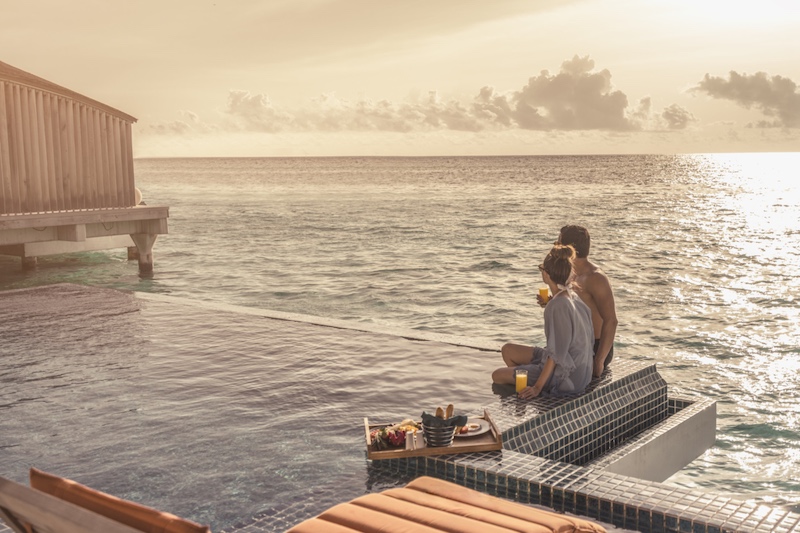 Stunning sunsets from Club Med's Finolhu Villas. Photo: Club Med
Likewise, all-inclusive Club Med boasts both a Maldives family resort and a kids-free getaway. At the luxurious, eco-chic Club Med Finolhu Villas, the accommodation includes Beach Villas with a view of white sand and the sea, along with adults-only Overwater Villas. All villas have a private terrace and pool. A five minute boat ride to the south, Club Med Kani offers a wide variety of family-friendly villas, including garden-view, beachfront and overwater options.
The large, all-inclusive Kuredu Island Resort is located around 40 minutes by seaplane from Malé, and has a huge range of accommodation to suit everyone from honeymooning couples to extended families. The size of the island means you can stay close to the action at the main resort area on the south side, or further away in a secluded bungalow, villa or honeymoon suite.