Fri, 05/06/2020 - 2:48pm
Queenstown is most definitely one of the best places in New Zealand for a fun-filled, action-packed family holiday. But there's so much to see and do, it's hard to know where to start, so we've put together the perfect 5-day itinerary on what to do, the kids will just love!
Day 1 - Patagonia Chocolates Queenstown & Queenstown Gardens:
Try and get a morning flight so you can have at least a full afternoon and evening there on your first day. After you've settled in, simply walking around Queenstown and the waterfront is the best way to start your stay. Make sure you visit Patagonia Chocolates Queenstown, on the lakefront just off Beach Street. They hand-craft their own chocolate which the kids (and parents!) will definitely enjoy, plus they also roast their own coffee, or you can grab a scrumptious hot chocolate for the kiddies, delicious ice creams, and fresh hot churros!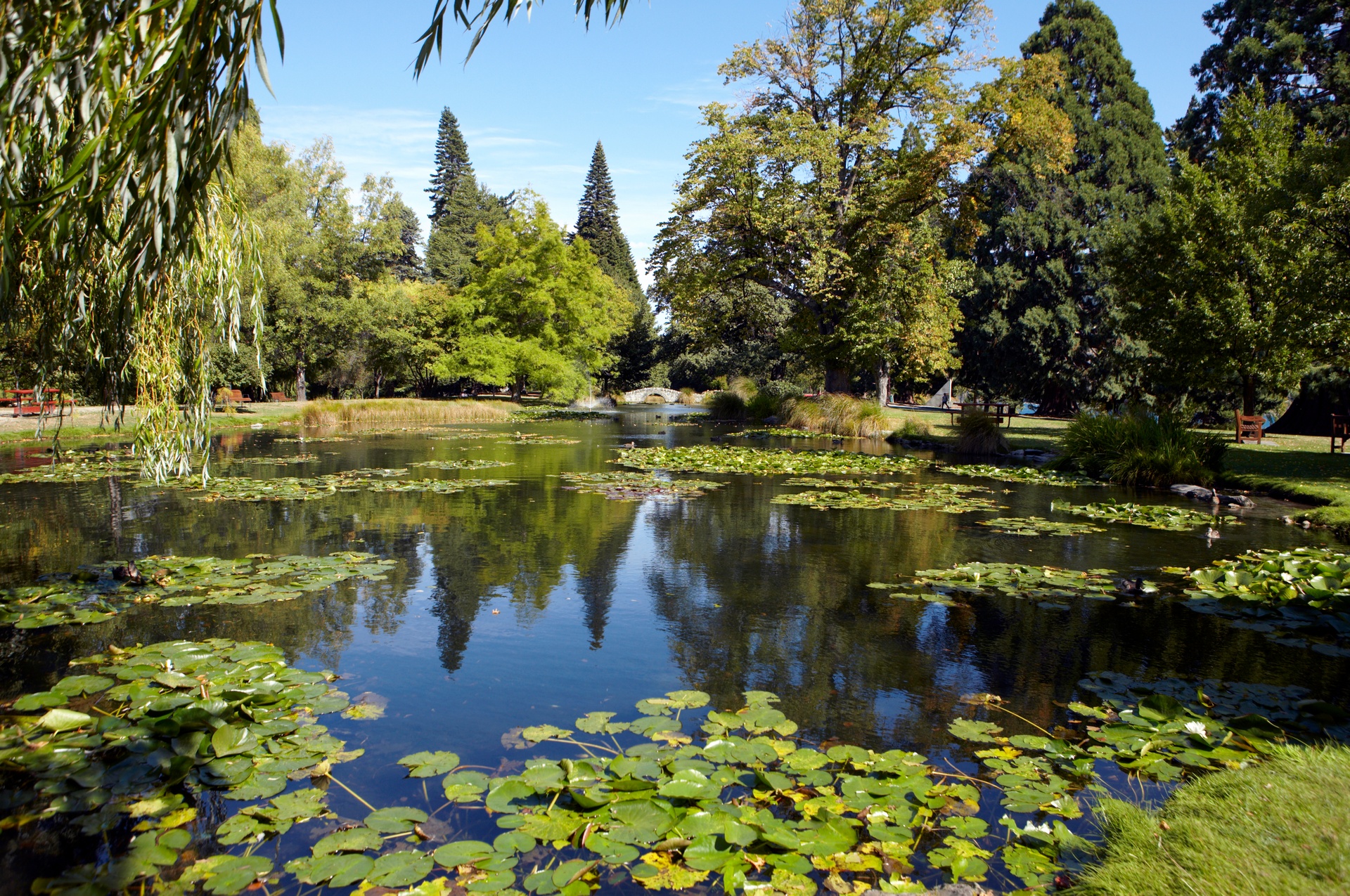 Queenstown Gardens. Image credit: Destination Queenstown
In the afternoon, take a stroll through the Queenstown Gardens. Located on Lake Wakatipu's northern edge, the gardens are home to beautiful plant life native to New Zealand and from around the world. Or if you have time you could also try hiring bikes or kayaking, one of the best ways to see the amazing lake and fun for the little ones too.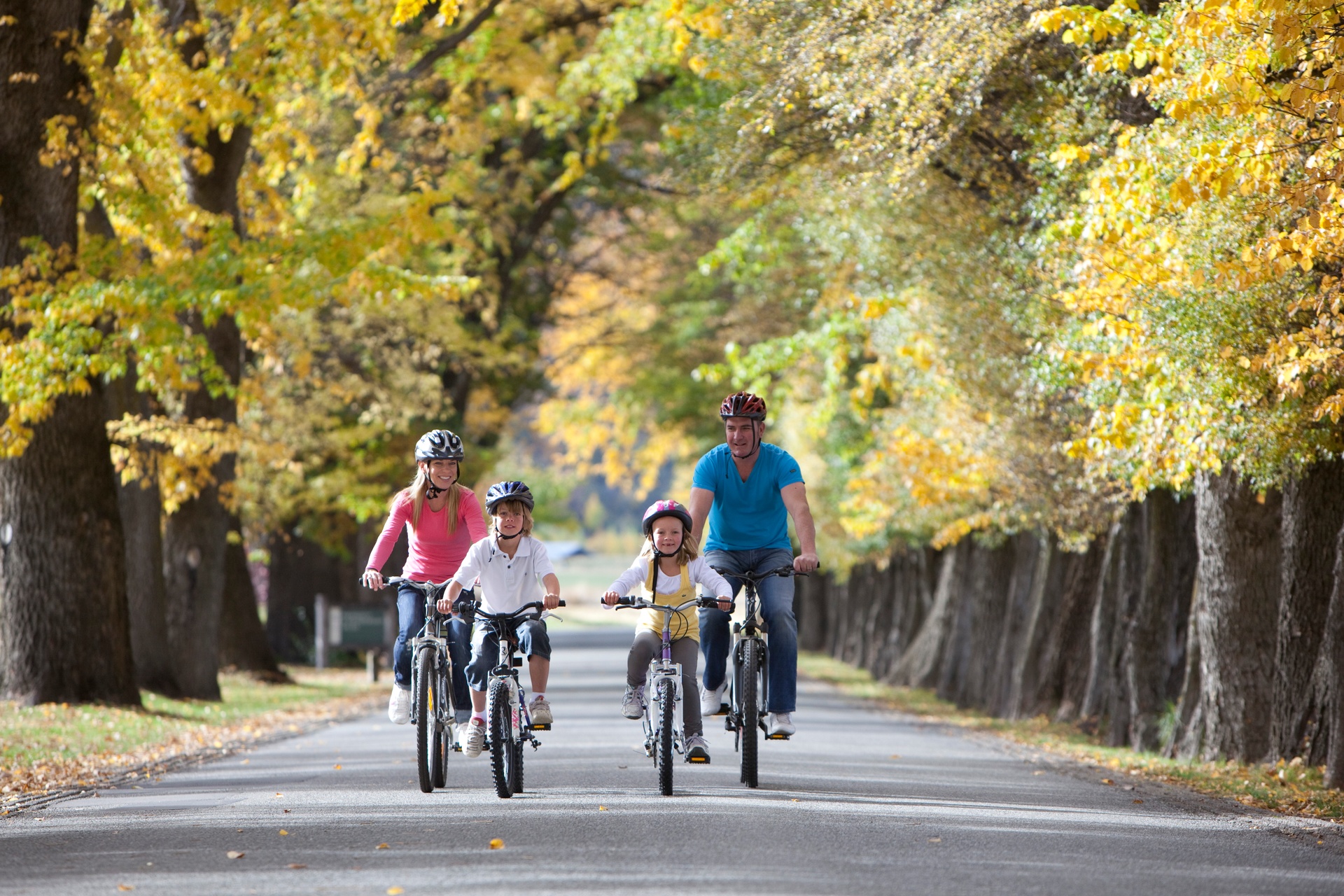 Family biking. Image credit: Destination Queenstown
Day 2 - Kiwi Birdlife Park, Skyline Gondola & Luge:
One place the kids will really enjoy is the Kiwi Birdlife Park; combine that with the Skyline Gondola and luge right next door and you've got a full day of fun!
The Kiwi Birdlife Park is a wildlife sanctuary, with over 20 species of native New Zealand wildlife in a 5-acre park, specialising in conservation and education. To top-off, your visit, check-out their Honey Bee Centre where you can view a see-through beehive and taste some delicious New Zealand honey. Then, enjoy lunch in their cafe, where a portion of their proceeds go towards Kiwi Conservation projects.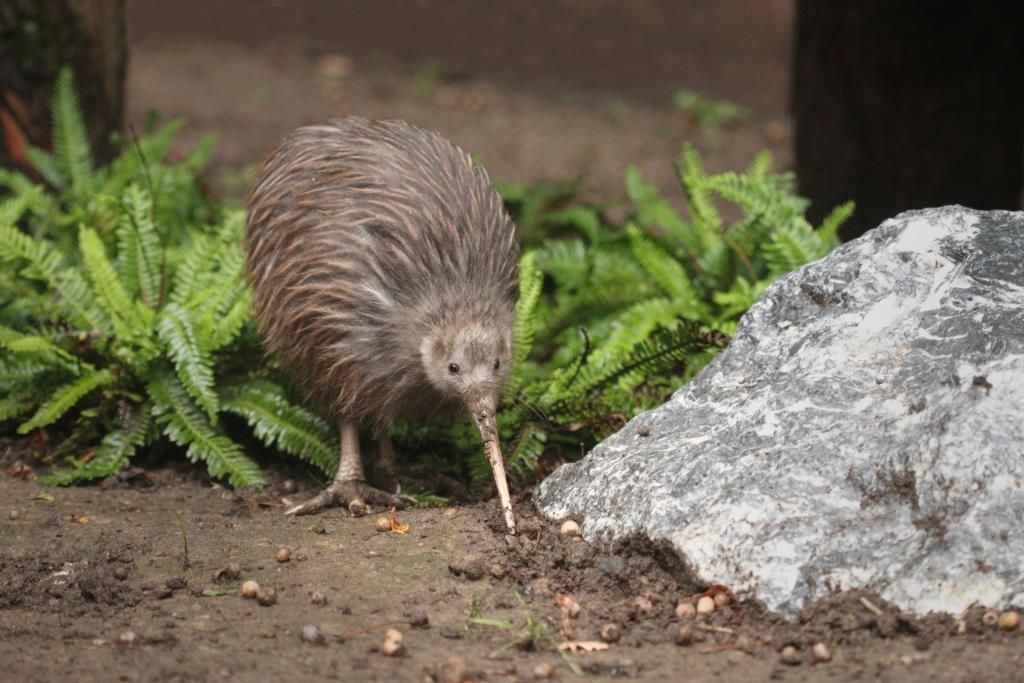 Brown Kiwi. Image credit: Shutterstock
After lunch, it's time to go up the
Skyline Gondola
. After a 450m climb to the top, you'll be treated to some of the most amazing views Queenstown has to offer. After some mandatory family photos, make your way to the
luge
. Hop onto your luge cart and go down 800 metres of banked corners, tunnels and dippers. Take it easy on the blue track or enjoy a more adventurous ride on the red track! Children must be over 6 years old and 110cm or taller to ride alone on the blue track, or over 135cm on the red track. Otherwise kids under the age of 6 (or shorter than 110cm) can ride tandem with an adult on the blue track.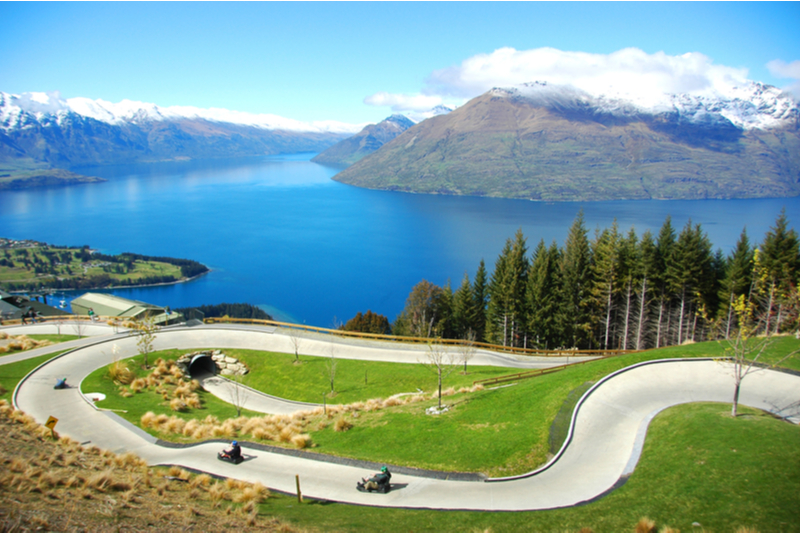 Queenstown luge from Bob's Peak. Image credit: Shutterstock
After all this fun, you can stay at the top for dinner at the
Market Kitchen Cafe
– their pizzas are a family favourite - while still enjoying the amazing views over Queenstown.
Day 3 - KJet Jet Boat & Arrowtown:
This morning, it's time for some thrilling adventures with a KJet 1-hour Jet Boat ride! Be ready for 60 minutes of high speed fun, across Lake Wakatipu and down the Shotover and Kawarau Rivers. You'll be travelling at speeds of up to 95kph and will be doing 360 degree spins, so make sure the kids are up for it as it's definitely not for the faint-hearted!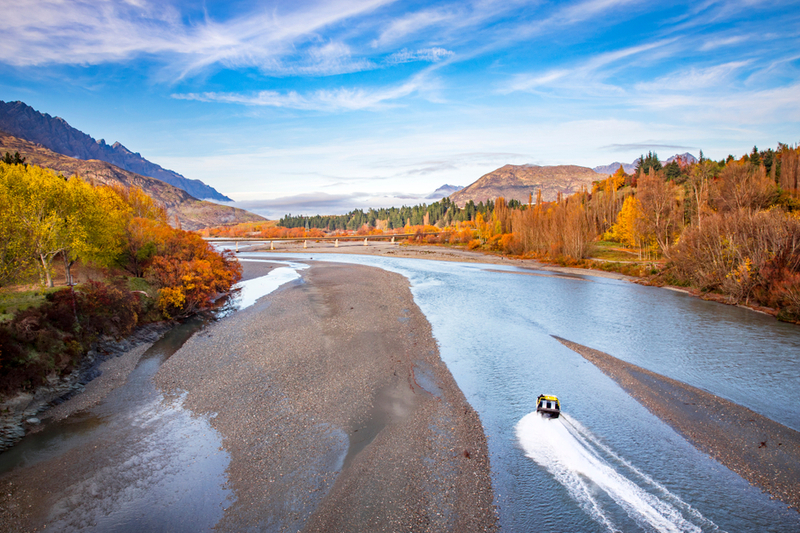 Jet Boating on the Kawarau River. Image credit: Shutterstock
In the afternoon, take a short 20-minute drive to
Arrowtown
and discover this historic former gold mining town. Walk around the charming town, full of heritage buildings, grab some food at one of the many cafes. We recommend
Postmasters Cottage Cafe
, set in a lovely 1860s cottage, which was once home to the postmasters, complete with horse-hitching post, picket fence, and beautiful gardens. Then visit the
Lakes District Museum
, a great place to learn about the gold rush era; plus you can even hire a gold pan there to try and find gold yourself in the Arrow River!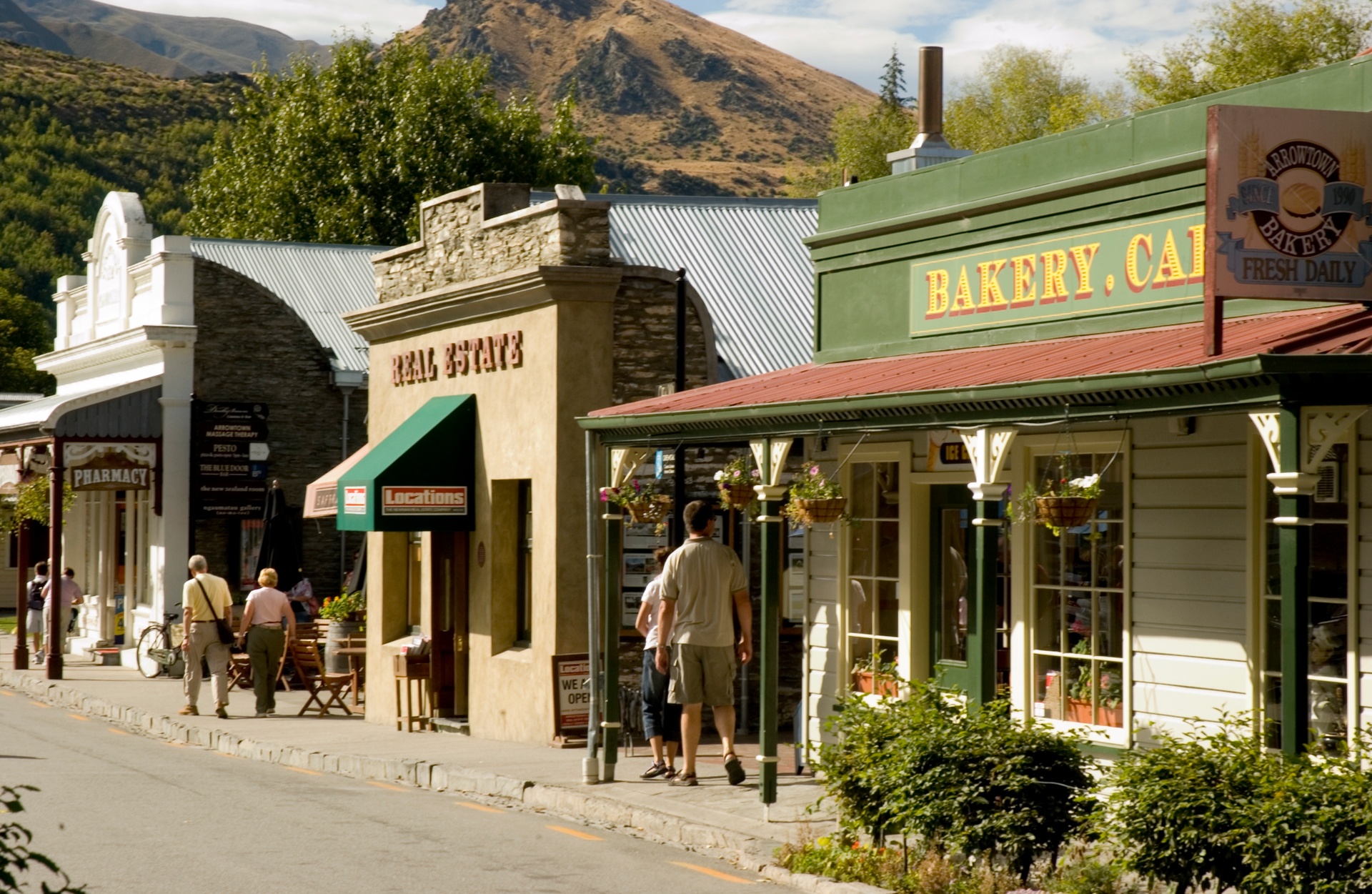 Buckingham Street, Arrowtown. Image credit: Destination Queenstown
Day 4 - 4WD Tour & Hot Pools:
The area around Queenstown is where some of the Lord of the Rings films were shot, and one great way to see some of the film locations is by doing a 4WD tour! Nomad Safaris offers some great half-day options bringing Tolkien's Middle-earth to life and taking you to places like the "Misty Mountains" (The Remarkables), the "Pillars of the Kings" (Kawarau Gorge) or to where the "Battle of the Wargs" scenes took place (Deer Park Heights).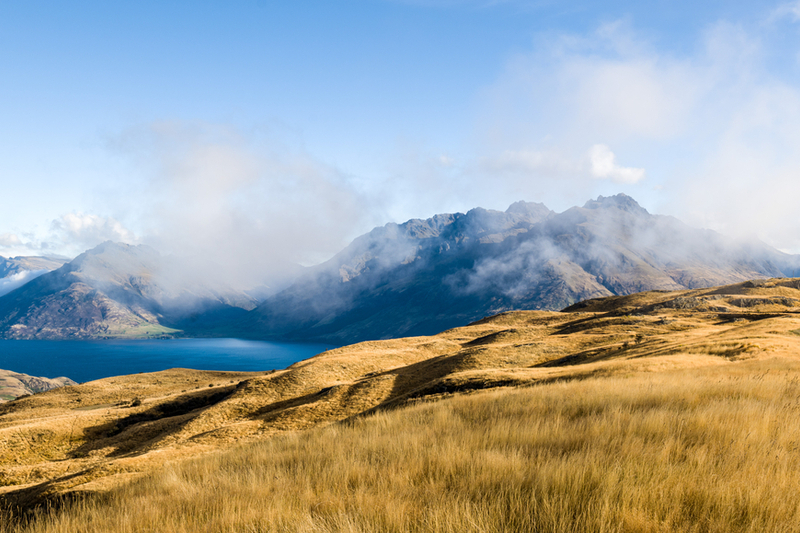 Deer Park Heights, where the Lord of the Rings' Battle of the Wargs was filmed. Image credit: Shutterstock
After that, take it easy in the afternoon, and go to the hot pools.
Alpine Aqualand
, based at the Queenstown Events Centre in Frankton is a great option for families, with a lazy river, 2 hydroslides, a toddler pool; plus mum and dad can take turns relaxing in the adult-only hot pool too.
For dinner, how about fish and chips by the lake? Try Erik's Fish and Chips, a great little takeaway place, located metres away from the lakefront. Or if it's too chilly to eat outside, there are loads of great options for dinner at the Steamer Wharf – from Italian to Vietnamese as well as some great pubs too.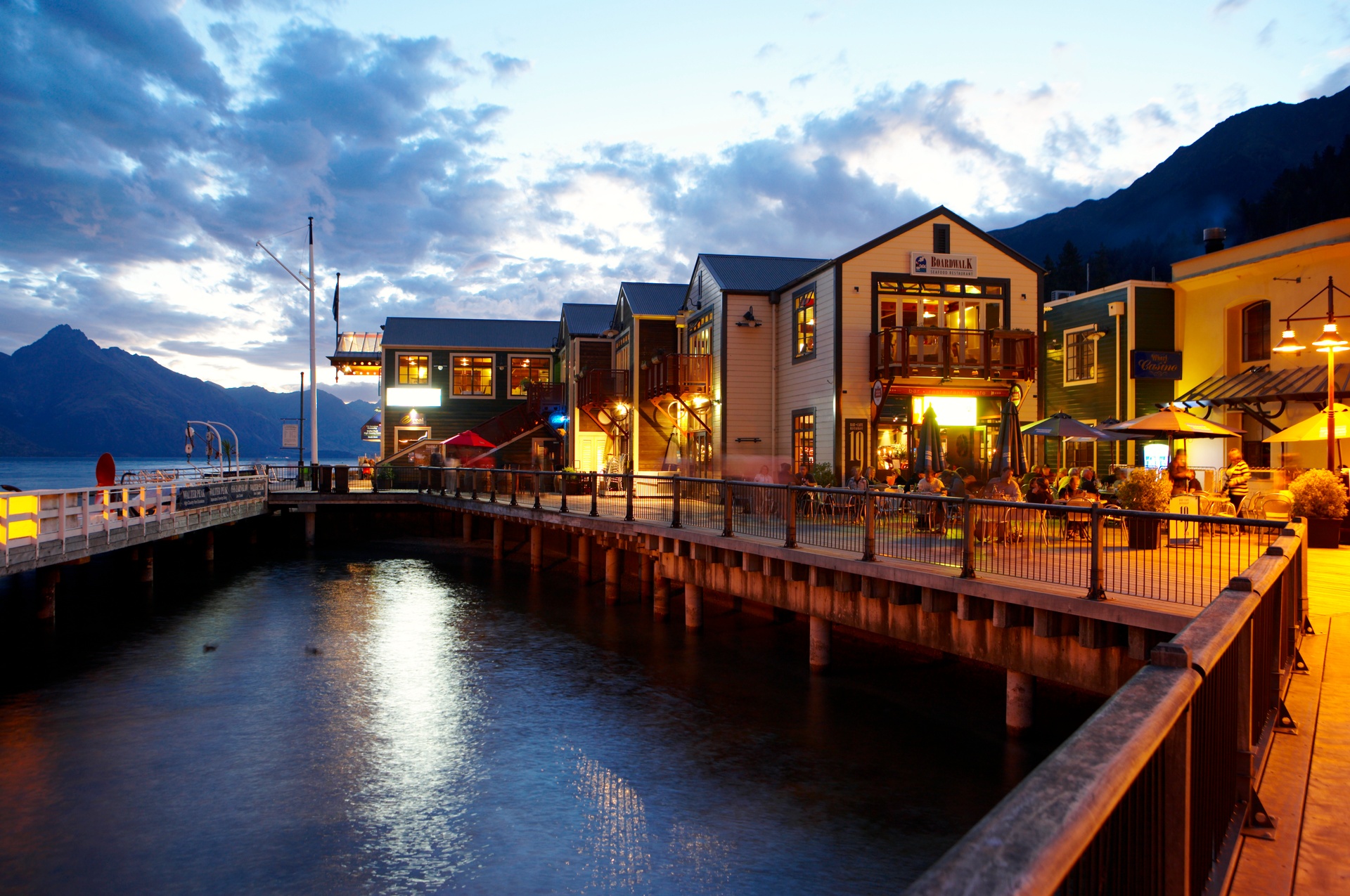 Steamer Wharf at dusk. Image credit: Destination Queenstown
Day 5 - Scenic Cruise & Fergburger:
Try and get a late afternoon flight back home today, so you can still make the most of your last day in Queenstown. A great way to finish off your family trip is to take a Spirit of Queenstown scenic cruise on Lake Wakatipu. Enjoy a 1.5-hour return cruise to Mt Nicholas High Country Farm, on the western shores of the lake. Cruise past Bob's Cove, view flora and fauna up close, and enjoy truly spectacular views looking up towards Glenorchy, Earnslaw Glacier, the Southern Alps and The Remarkables mountain range.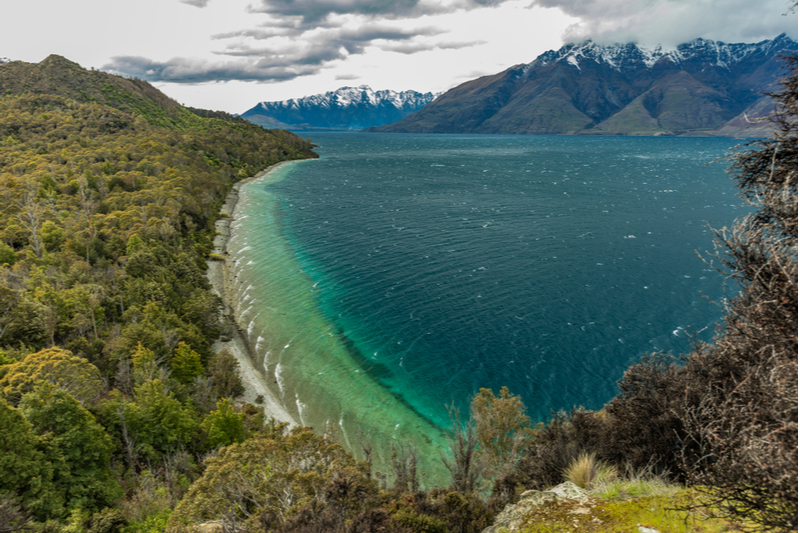 Bob's Cove, Queenstown. Image credit: Shutterstock
And it wouldn't be a Queenstown holiday without stopping for a burger at
Fergburger
so make sure you do that before you leave! They have some great kids burgers, and some amazing choices for mum and dad too, try the slow roasted pork belly burger - you can't go wrong!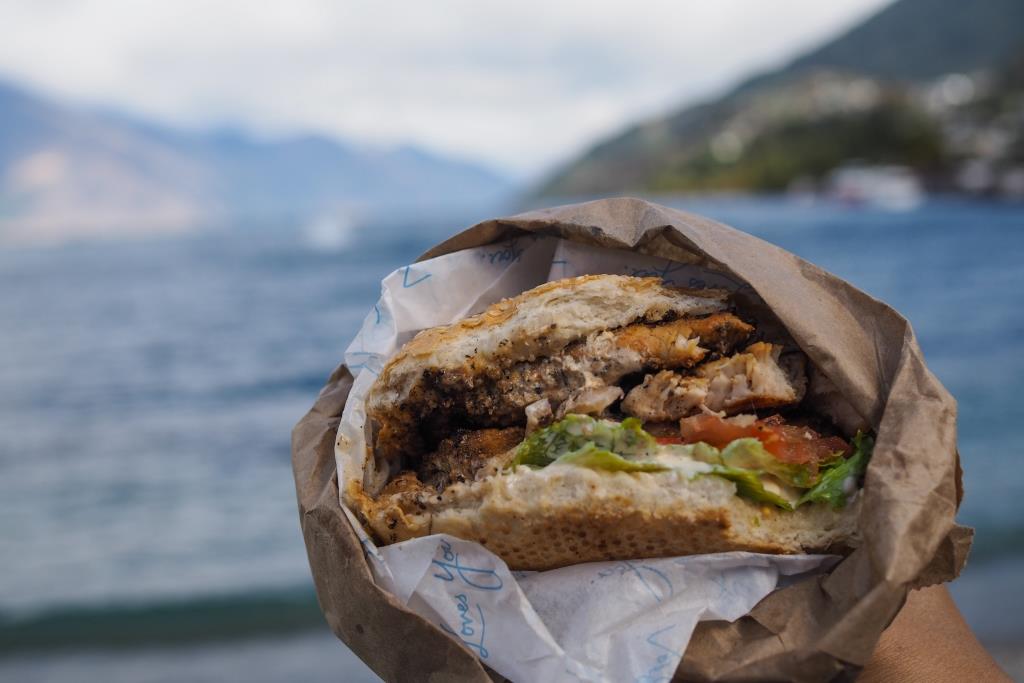 Burger from Fergburger . Image credit: Shutterstock
Feeling inspired? Book your Queenstown flights here.

Other Travel Articles You Might Like...