Fri, 08/05/2020 - 2:34pm
For anyone who enjoys hiking, New Zealand is the perfect destination with a variety of landscapes, including plenty of scenic national parks, lush rainforest and pristine white sand beaches. With over 1,100 awe-inspiring walking and tramping tracks, there's a walk for everyone no matter where you are or how long you've got, but it can be difficult to know where to start! So we've put together our top 5 must-do walking & tramping tracks for you to start discovering more of your own backyard.
Abel Tasman Coast Track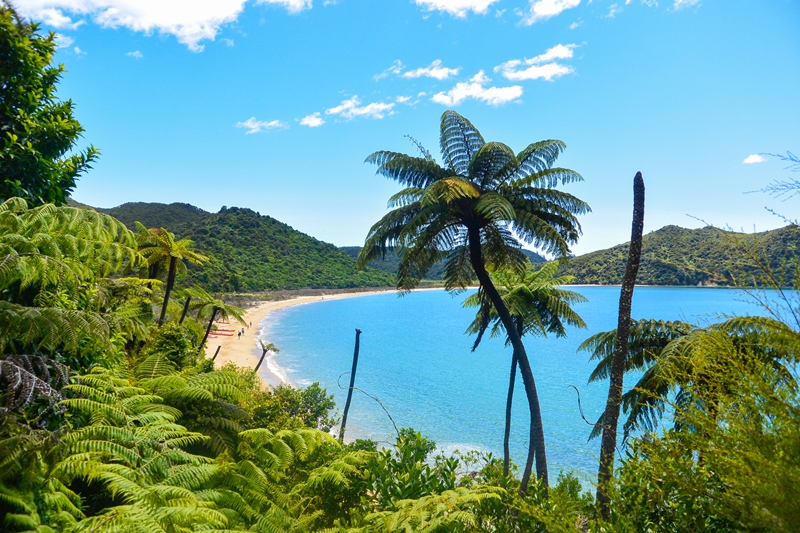 Abel Tasman National Park, New Zealand. Photo: Shutterstock
Distance:
60km one way
Duration:
3-5 days
Walking Track Category (as per DOC website categories):
Intermediate: Great Walk/Easier tramping track

One of NZ's most popular walks, this is the best way to explore the beautiful Abel Tasman National Park. Perfect for the adventurous family (with older kids), enjoy the golden sand beaches, turquoise waters, impressive rock formations, coastal native bush, and even keep your eyes peeled for fur seals!
You'll start by crossing the estuary over the Marahau causeway, then tramp through lush beech forest with large kānuka trees before emerging to a view of the stunning Anchorage Bay. Admire the stunning inlet to Falls River as you walk across the impressive 47-metre long Falls River Swing Bridge. Plus if you're looking for a quick dip, take a side trip to uncover Cleopatra's Pool - a natural rock pool with a moss-lined waterslide! From Bark Bay to Tōtaranui, you'll cross the gorgeous Bark Bay estuary, lookout point over Awaroa Bay and the Wainui Inlet, an ideal place to swim and explore rock pools.
Arthur's Pass Walking Track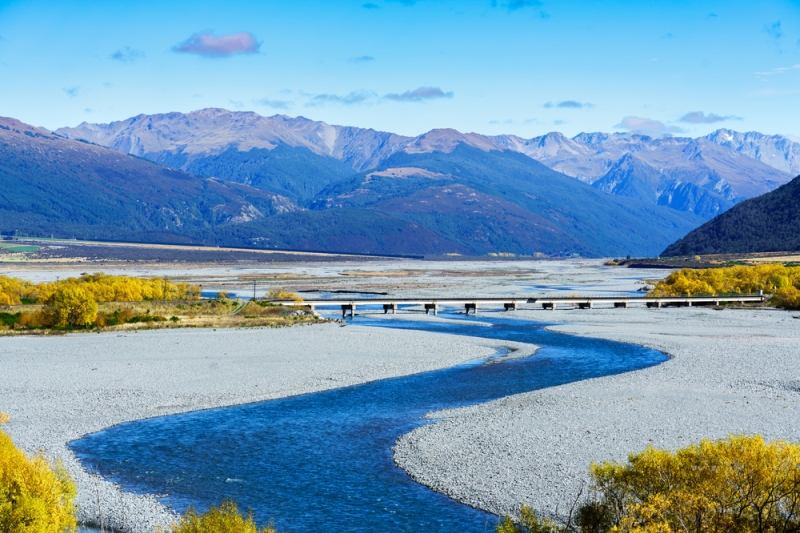 Arthur's Pass National Park, New Zealand. Photo: Shutterstock
Distance:
6.8 km return via same track
Duration:
2 h 40 min
Walking Track Category:
Easy: Walking track

If you're looking for a shorter stroll, experience the best of Arthur's Pass, characterised by picturesque mountain views, valleys and waterfalls. The highest pass over the Southern Alps, the National Park itself is a landscape of two halves with wide, shingle-filled riverbeds and beech forest on the eastern side, descending into dense rainforest on the western side where you'll feel the full force of the stunning Devils Punchbowl Waterfall. You'll most likely spot the inquisitive and cheeky Kea along the way! For accommodation, there are various options nestled right in the middle of nature, or if you're feeling adventurous, hire a campervan and stay at one of the overnight sites.
Milford Track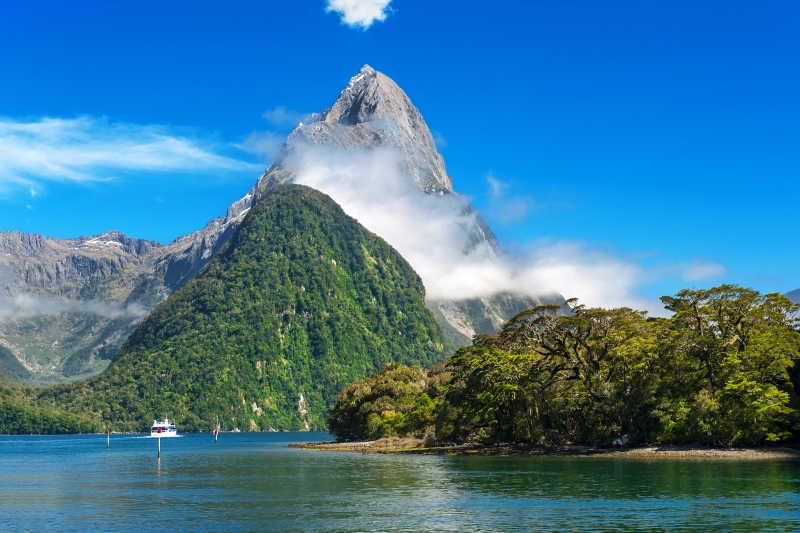 Milford Track, New Zealand. Photo: Shutterstock
Distance:
53.5 km one way
Duration:
4 days
Walking Track Category:
Intermediate: Great Walk/Easier tramping track

Wander through ancient rainforests and retrace the steps of early explorers with this magical adventure along valleys, carved by glaciers and cascading waterfalls. After a breath-taking boat cruise from Te Anau Downs (around 1 hour 15 minutes), take a beautiful beech forest walk along the banks of the Clinton River to Clinton Hut where you'll spend the first night. A gradual climb follows to the stunning Lake Mintaro, at the base of the renowned Mackinnon Pass. Past Hirere Falls, you'll get your first view of Mackinnon Pass and the impressive Pompolona icefield when climbing towards Mintaro Hut.
On the third day, head to Mackinnon Pass and soak up the views of Clinton Canyon along the way before reaching the highest point of the track - you'll feel on top of the world! Once you arrive at Dumpling Hut, have a moment admiring the towering Sutherland Falls in the distance. On the final day, take in the beauty of the dramatic Mackay Falls before the short boat ride from Sandfly Point. Surrounded by world-famous Milford Sound views, this will take you to the end of your journey.
Routeburn Track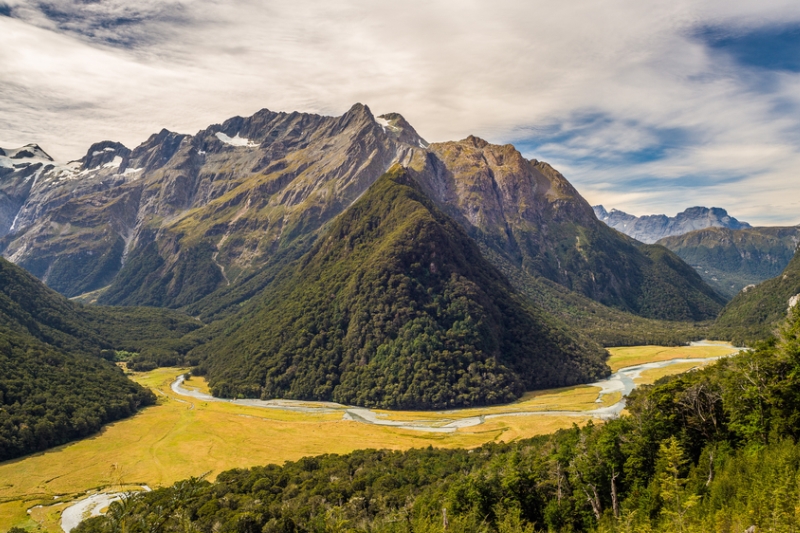 Routeburn Track, New Zealand. Photo: Shutterstock
Distance:
33 km one way
Duration:
2 - 4 days
Walking Track Category:
Intermediate: Great Walk/Easier tramping track

Known for being the ultimate alpine adventure, on this journey located in Fiorldland National Park and Mount Aspiring National Park, you'll be rewarded with spectacular vistas from the most remarkable terrain in New Zealand. Through incredible rugged mountain ranges and valleys, this track has two starting & finishing points and may be walked in either direction. So the choice is all yours!
If you choose to begin at the Glenorchy end, you'll start the walk by gently winding alongside the crystal-clear Route Burn river, passing Sugarloaf Stream, and climbing to Bridal Veil Waterfall. Once you reach the Routeburn Flats Hut, you can decide to stay or carry on to take a 1.5 hour elevated climb to the Routeburn Falls Hut to stay the night. The next day, the challenging route to the Lake Mackenzie Hut is an extremely rocky area which can get quite narrow along the cliff face. However, once you get to the peak of the track, Harris Saddle, you'll have the utterly pristine panoramic view of both National Parks. For the last day, you'll be reasonably sheltered as you take a gradual downhill walk through the lush silver beech forest to Howden Hut.
Tongariro Alpine Crossing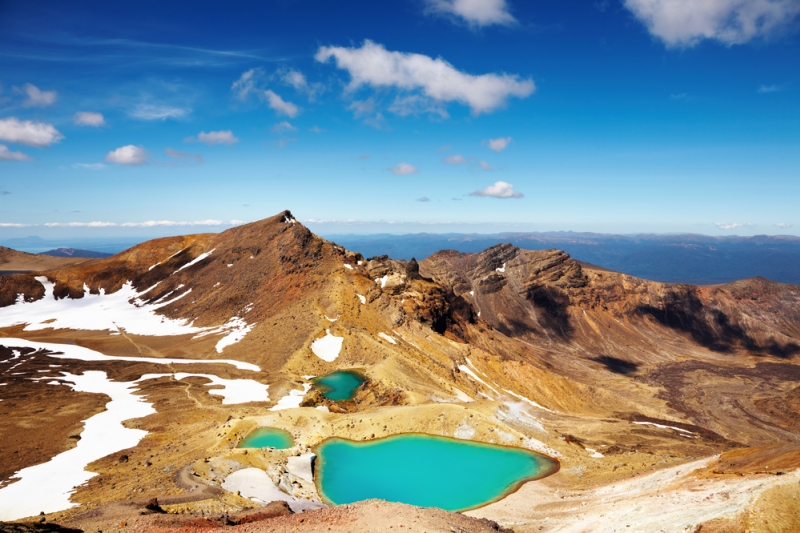 Tongariro Alphine Crossing, New Zealand. Photo: Shutterstock
Distance:
19.4km one way
Duration:
7 - 9 hours
Walking Track Category:
Intermediate: Great Walk/Easier tramping track
Last but certainly not least, explore the active volcanic heart of Tongariro National Park. Take an unforgettable journey through New Zealand's most dramatic and contrasting landscapes on one of the country's most challenging day hikes. Because of this, we recommend going with a guide as it can be dangerous if you're not fully prepared for the unpredictable and extreme weather conditions the track can have.
This part of New Zealand is sacred being a dual World Heritage site, which recognises both the natural environment and the cultural and spiritual significance this land has to local Māori. Although this track starts off sheltered with a gentle climb, don't be fooled: this is not quite a picture of what's to come as you reach the summit! After the steep climb up Devil's Staircase, you'll come across steaming vents, glacial valleys, ancient lava flows from Red Crater, and the ethereal Emerald Lakes and Blue Lake. Once you reach the edge of the North Crater, you'll be blessed by the rare and phenomenal scenery that is unlike any other hikes in the world.
Feeling inspired? Book your domestic flights here.

Other Travel Articles You Might Like...