Thu, 12/06/2014 - 3:46pm
You don't need to travel far or spend a fortune to have a fantastic family holiday. We're pretty lucky here in New Zealand with so many extraordinary spots right on our doorstep and fantastic holiday options to suit every season.
The team at Flight Centre shares their top picks for family holiday locations in New Zealand.
Queenstown
Winter or summer; Queenstown is always buzzing with activity for families.
In winter, pack your warmest clothes and head for the mountains. Cardrona Alpine Resort is perfect for all ages and skill levels, boasting some of the best facilities in the country for kids including children only facilities, licensed childcare buildings and ski schools for kids as young as two!
Ski the hours away and then thaw out at the Onsen Hot Pools afterwards. For those who want to keep their feet firmly on the ground, check out the nearby Puzzling World in Wanaka where you can lose yourself in the 1.5km of passages of the great maze and check out rooms full of illusions.
For summer travellers, the lakes of the Queenstown district are breathtaking and provide the perfect backdrop for camping, picnics and beach cricket.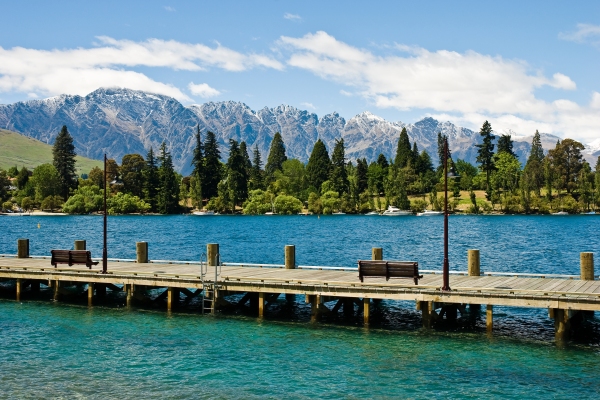 Wellington
The capital city of Wellington is full of hidden treasures for family entertainment. You could spend an entire day at Te Papa, New Zealand's national museum, without spending a cent, or ride the cable car to the Cable Car Museum and Carter Observatory and have a  picnic in the beautiful Botanic Garden. For Lord of the Rings fans, the Weta Cave and movie tours are well worth a visit.
If you're searching for the perfect New Zealand holiday package, find one that gives you and the family a few days off. With that spare day or two, head up the Wairarapa Coast to Cape Palliser to see the North Island's largest fur seal colony and travel a little further north to Pukaha Mount Bruce – home to the world famous little white kiwi, Manukura.
Goat Island
As far as New Zealand accommodation is concerned, you can't go past Goat Island Marine Reserve. Just 80km out of Auckland, this popular summer spot for families is the oldest marine reserve in the country and completely protected from fishing, meaning the fish aren't afraid of humans and will swim happily amongst snorkellers, nibbling at fingers.
For a great view of the marine life without getting wet, take a trip on The Glass Bottom Boat around the island; perfect for the winter months when the weather isn't perfect but the wildlife still is!
Rotorua
Not just for international visitors, Rotorua is a hive of tourism activity with traditional shows and tours, lugeing, zorbing, bungy jumping and copious amounts of other adventurous pastimes.
Head to one of the 12 lakes in the Rotorua district; perfect for camping, hiking, fishing, swimming and water skiing. The Blue Lake is particularly well suited for families with parks, reserves, pontoons and a permanent water-slide on the pummus sand beach.
For other free activities, marvel at the mud-pools at geothermal Kuirau Park, stroll through the Government Gardens, explore the Rotorua Redwoods or take a half hour drive to Kerosene Creek and bathe in the amazing geothermal pool.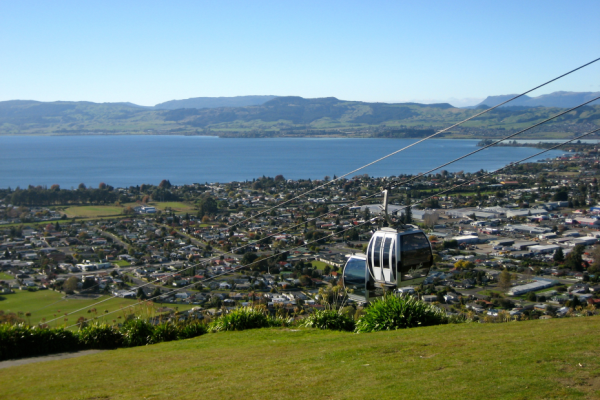 Bay of Islands
Nature lovers listen up. You must find a New Zealand holiday deal to the Bay of Islands. You'll kick yourself if you don't. Paihia is the perfect place to base yourself on a visit to the Bay of Islands. With an abundance of activities and scores of day-trips there's something for everyone.
Cruise to the 'Hole in the Rock', spot the marine life on a dolphin watching trip and take a ferry to New Zealand's original capital city, Russell.
Trek north to the most northern accessible point of the country, Cape Reinga and see the Pacific Ocean on the east collide with the Tasman Sea from the west. You can even take an educational trip to the Waitangi Treaty grounds – New Zealand's most important historical site, set on beautifully maintained grounds just outside of Paihia.
Kaikoura
Home to a huge array of wildlife, Kaikoura is famous for its incredible whale watching trips. Take a stroll along the shore and see the home of the local seal colony.
For some amazing seal spotting, drive north to the Ohau Stream - just a 10 minute walk from the carpark is a small picturesque waterfall where seals take their playful pups in the winter. Take your time sitting on the rocks and watching them frolic; you won't want to leave!
Nelson
With over 40 walks within the walkway capital of New Zealand, Nelson offers the perfect spot a family holiday.
Venture out to Abel Tasman National Park for amazing views, idyllic camping spots and beautiful beaches. Hire a kayak at Tasman Bay and paddle around Split Apple Rock. For the adventurous types, venture out to the Harwoods Hole Track and walk 45 minutes to Harwoods Hole; the deepest vertical shaft in New Zealand.
For indoor entertainment, check out the World of Wearable Arts and Classic Cars Museums and enjoy lunch at one of the many local vineyards.
Taupo
There's one rather large draw card in this town; New Zealand's largest lake. It provides the perfect backdrop for family fun; swimming, kayaking, fishing, sailing and cruising.
Try your hand at prawn fishing at Huka Prawn Park. If you're lucky enough to snag a couple, you can cook them up or take them home (or back to your tent!) to BBQ.
In the winter months, Taupo is a convenient gateway to the central plateau where you can spend the day on the slopes and nights warming up at the many mineral outdoor pools of AC Baths or DeBretts Hot Springs.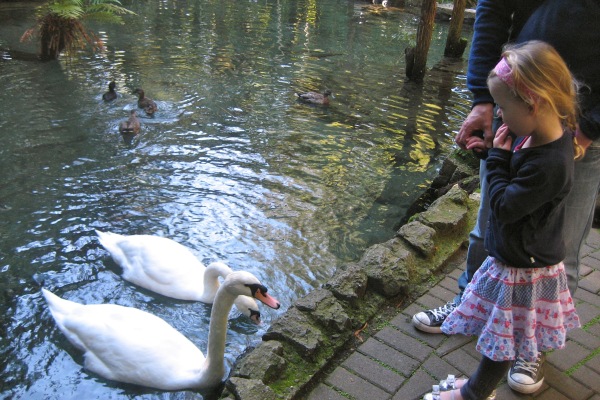 Don't miss out on your mid-winter break! If you're looking for more information or planning your next holiday, contact a Flight Centre travel expert today – 130 stores nationwide.
Phone 0800 24 35 44.
Other Travel Articles You Might Like...