Thu, 05/03/2020 - 3:48pm
Outdoor adventures, improbable South Pacific scenery and excellent eating and drinking all combine on one of Hawaii's most compact and interesting islands, Kauai Island.
Kayak the Wailua River
A popular Kauai excursion is kayaking the sacred Wailua River. It'll take you around five hours, and after paddling upstream framed by tropical vegetation, there's a forest walk of around 45 minutes to hidden waterfalls.

Drive the Waimea Canyon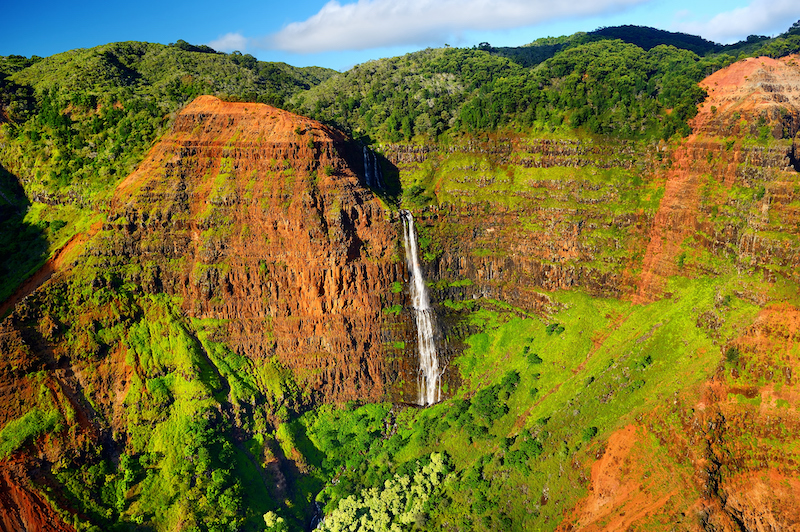 The Waimea Canyon, Kauai. Photo: Getty Images
Rent a car – ideally a Jeep or convertible Ford Mustang (make sure you ask your Flight Centre travel expert to look into a car hire for you) – to negotiate the sinuous highway coursing through the Waimea Canyon. Lookouts provide superb views of the canyon's deep ravines and scattering of waterfalls, with the final stop at Pu'u O Kila lookout high above the lush green valleys of the Na Pali Coast. If you're brave enough, this is also a spectacular – if somewhat hair-raising – road to cycle.

Sail the Na Pali Coast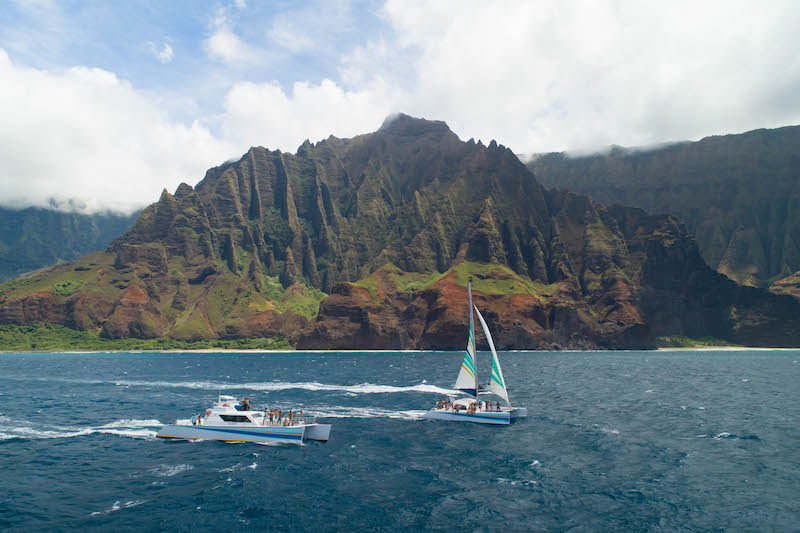 Sailing on the Napali Coast. Photo: supplied
Take to the water from Hanalei on the North Shore and Port Allen on the south coast – it's the best way to take in the immense scale of Kauai's northwestern coast. Verdant pinnacles soar upwards from compact coves, while Pacific trade winds will impel you along the coast to areas with excellent snorkelling.
Eat at food trucks
Dining at food trucks is a good way to maximise your holiday budget. Check out the Mexican flavours at Al Pastor Tacos at the northern end of Kapa'a Old Town or Cafe Turmeric in Hanalei on the North Shore for organic and vegetarian curries. On the island's south shore, food trucks gather around Warehouse 3540, a hip artisan hub – don't miss Kickshaws' upscale versions of traditional American comfort food.
Shop at farmers markets
The Garden Island's fertile soils produce superb local fruit and vegetables all through the year. Produce highlights, mostly grown by Kauai's expat Thai and Vietnamese farmers, include fragrant white pineapple, luscious mango and creamy avocado. Shop at Saturday morning's Kauai Community Market in Lihue for the best ingredients for DIY lunches and dinners.
Eat local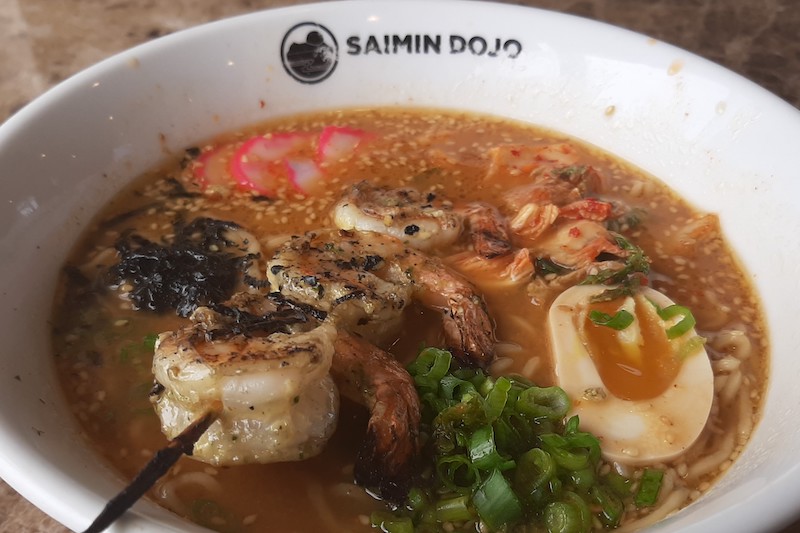 Saimin Dojo ramen soup. Photo: Brett Atkinson
Kauai's former history of sugar plantations attracted hardworking migrants from Asian countries, and Korean, Japanese and Filipino culinary influences all combine in the island's restaurants. On the Eastside, Saimin Dojo dispenses saimin noodle soups – a Hawaiian spin on ramen – packed with zingy chilli, pork and garlic-infused shrimp, while the menu at the stylish Hukilau Lanai includes the island fusion of lobster with local goat cheese and macadamia nuts.
Drink local
The best of the island's two craft breweries is the Kauai Beer Company in Lihue. Standout brews include the Sleeping Giant Barley Wine – named after an iconic mountain ridge on Kauai – and food trucks are regular visitors on Thursday nights. If you're lucky, Shaka Burgers will be serving their local 100% grass-fed beef. Kauai's best coffee is at Aloha Roastery's two locations. Don't make the mistake of not ordering a freshly-baked pineapple bun.

Tiki bar time

The Hawaiian happy hour tradition of pau hana – roughly translating to 'work is over' – is very popular on Kauai. Sip on Mai Tai cocktails at the Lava Lava Beach Club's beachfront sand-between-the-toes location or snack on wasabi-laced ahi tuna amid the retro style of Mamahune's Tiki Bar at the Hilton Garden Inn. The funky surroundings include a faux mini-volcano and sweeping views of nearby Wailua Bay.
Discover Hollywood history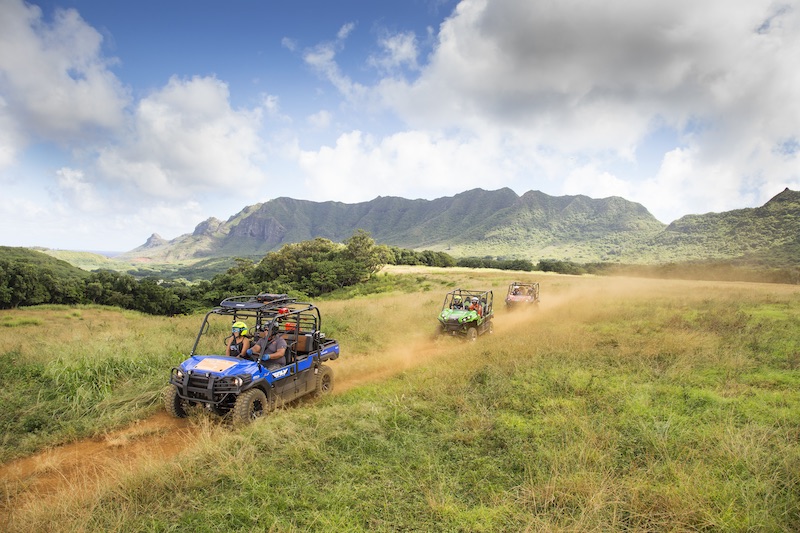 An ATV tour of Kipu Ranch, Kaua'i. Photo: supplied
Sheltered by a mountain ridge you've definitely seen in the movies, the rugged scenery of Kipu Ranch has been harnessed for some of history's biggest films including Raiders of the Lost Ark and the Jurassic Park franchise. Here winding paths are framed by tropical jungle, giving way to a hilltop view of the perfect bay coveted by George Clooney in The Descendants.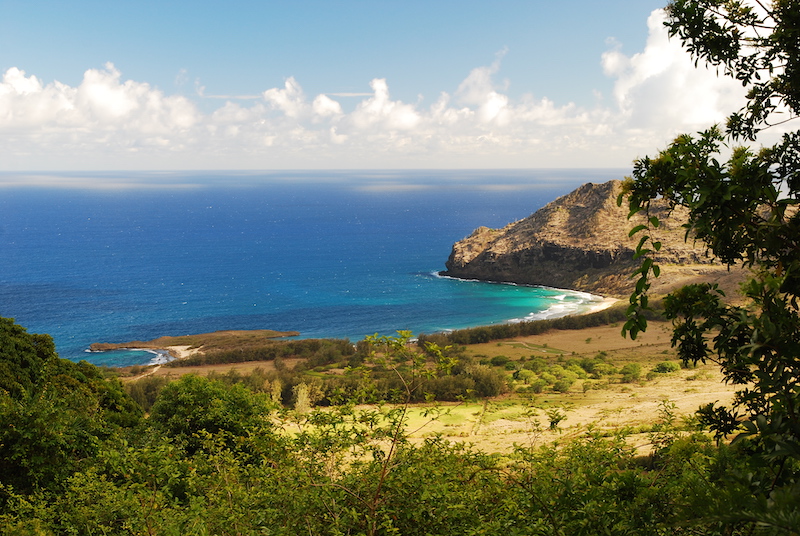 The perfect beach made famous by the movie The Descendants. Photo: Brett Atkinson
Beach hop with a shelter dog
Many of Kauai's beaches and hiking trails can be visited with a dog, and it's possible for visitors to the island to hook up for the day with a very good boy or very good girl from the Kauai Humane Society. Dogs can be picked up from 11am Tuesday to Friday or from 10am on Monday and Saturdays, with the canine companions not being due back until 5.30pm.
Other Travel Articles You Might Like...