Wed, 06/11/2019 - 5:17pm
Argentina is renowned for barbeque and Malbec. The asado – barbeque style – of Argentina developed from the country's cowboy, or gaucho, history. The gauchos roamed the countryside last century, wrangling the cattle and horses that had escaped from the ports of Buenos Aires and bred in the hills. Today, their stories are folklore, their colourful clothing is a marketplace staple, and their diet of grilled meats is a national way of life; but it's not the only one.
From the chori (sandwiches) and cerveza (beer) enjoyed over hot sun-lit grills to steak dinners served in the lap of luxury, Buenos Aires has a culinary experience for everyone.
Lunch on the run
Argentina has perfected the humble sandwich. It's elevated the concept to an art. First, the chori (full name: Choripán). It's the locals' street food of choice. A large grilled sausage, usually 70% beef and 30% pork, is placed between two thick, chimichurri-smeared pieces of bread. It's said the best chori in town can be found at the food stands on Costanera Sur.
Next, the more sophisticated lomito. It's got a juicy slab of Argentinian beef with all the dressings: chimichurri, mayo, fried egg, ham, cheese, and salad. It's a monster. To get the best, follow the richest smells from the food carts in one of the richest suburbs, Puerto Madero.
Finally, the bondiola, or bondipan. This is your beef-free option: instead, you get a thick slice of roasted pork shoulder served with lemon juice. You can choose to add cheese, fries, or egg; or keep it simple with salsa or chimichurri. Your filling of choice is crammed thickly into a baguette; it's easy to hold and easy to wolf down on your way to the next bar.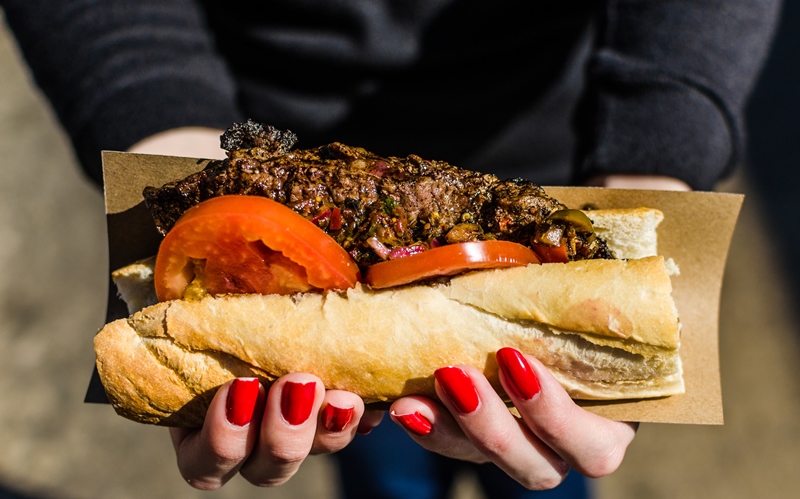 Coffee and cake
Argentinians have a sweet tooth. Even their coffee is often roasted with sugar (torrado). But don't worry – those of you with a taste for a long black are in luck too. The Palermo Soho region of Buenos Aires is perfect for coffee lovers. Wandering around this neighborhood you can find every kind of hip coffee brewing method from Chemex to Aeropress to cold-press; new technology blended with the uniquely aromatic South American coffee blends.
Pair your coffee with alfajores: two small, soft cakes sandwiched together with a thick smear of dulce de leche and covered in sugar or chocolate. For those looking for something even more indulgent, you can't miss a chocotorta. This rich cake isn't baked, but instead composed of layers: dulce de leche, queso crema, and chocolate biscuits.
Grand dining experiences
For a fine-dining experience you can't go past Casa Cavia. Inside a 1927 mansion sits this chic, timeless restaurant. Pair exquisitely prepared sweetbreads with a Sauvignon Blanc instead of the country's famous Malbec for an Argentinian dining experience that's different. It's a little on the expensive side, but worth it for private dining, outdoor tables, and valet parking.
Nestled inside the Hyatt Duhau Palace is the Duhau Restaurante and Vinoteca. This award-winning restaurant makes traditional Argentinian fare with a contemporary twist, and pairs it all with an extensive wine bar. The local beef here is wagyu and black angus, and an entire room dedicated to cheese tasting elevates the experience to something more intimate and grand. Enjoy a long lunch overlooking the palacio's gardens with a deep red wine in hand.
Casa Coupage is the place to go for wine pairings. This closed-door restaurant in Palermo is a family home, and hosts Luciana and Santiago offers a seven-course, seven-wine meal that spans across all Argentina's culinary options: from empanadas and pasta to lamb and, of course, steak.
Food markets and shopping
Farmers' market mercado de San Telmo is a permanent, covered market that offers antiques alongside gastronomic delights. Fresh fruits and vegetables - giant pears (peróns), fat and juicy grapes, citrus, and shiny tomatoes - are available all day long from inside the Italian-inspired building. The butchers tend to take the middle of the day off; get in early in the morning or drop by after 5pm.
Outside of the city limits is the feria de Mataderos, a gaucho-inspired marketplace. You can enjoy traditional asado or parilla (barbeque), buy a poncho, and sit back and enjoy watching some expert horsemanship.
Sabe la Tierra is a market with several different locations around Buenos Aires: Palermo, Balvanera, and San Fernando are just a few. Some markets are under cover, and some in the open air, but all are stuffed with organic produce, fresh bread, and mouth-watering street food.
The best steak in town
There's stiff competition here. Steak is what this country does best, so no matter where you go you're guaranteed something exceptional.
Parilla Don Julio is a little more upmarket, but it never fails to please. Grass-fed beef is cooked on an indoor grill in the form of rib-eye, sirloin, skirt, or even ribs. It's served with your choice of fries, salad, or just more steak if that's what you'd prefer. Bread baskets and bowls of chimichurri never stop overflowing and, of course, the wine doesn't stop either.
For something more basic, Santas Manjares can't be missed. The great service and great prices are only exceeded by the quality of its steaks. Everything from burgers to flank to filet mignon is there, accented with chorizo and grilled vegetables. Best paired with a local craft beer, this is the place to go for a gut-busting steak dinner.
Where to go for a break from steak
Buenos Aires may have built its cuisine on gaucho culture, but it has seen many waves of immigrants pass through its port, particularly Italians.
Yas, there's an Argentinian pizza. Pizza al paso or al corte can be found around every corner, by the slice or as a deep, cheesy meal to share. It has a thick, chewy dough, and pizza chefs here go light with the sauce and heavy on the cheese; mozzarella is often found dripping down the sides of a crust. Topped with chilli flakes, onions, and olives, the Argentinian pizza is simple but satisfying. Order some faina, a chickpea pancake, to soak up the oozing cheese. Try going to La Mezzetta, an old-school local favourite.
Buenos Aires is in South America, so it goes without saying that you can buy a good empanada there – but we'll say it anyway. Every food stall, restaurant, and bar will offer empanadas to suit any taste: ham and cheese, chicken, lamb, and even the popular vegetarian quinoa and goat's cheese combination are all found inside the thick, crimped savoury pastries.
Other Travel Articles You Might Like...