Tue, 26/02/2013 - 6:27pm
There are around 20 islands in the Mamanuca Islands chain in Fiji, and Sarah Dainty from Flight Centre Whangaparaoa slapped on sunscreen, singlet and snorkel to explore the best of them.
Beachcomber Island
This is known as the 'party island', but despite being an all inclusive budget resort popular with younger people, I found myself surprised at the great options suitable for couples and older travellers. Various room types are available including dorm, lodge and bures.
Beachcomber Island is a small island with gorgeous vegetation and white sand on all floors including in the bar and restaurant (which also has an upstairs area with wood floor). There is also a small take away shop which opens late for people who want to eat something outside the main meal times.
They have a dive pool for those interested in doing a beginner dive and also have several water sports on offer. The beach is beautiful white sand and offers good snorkelling around the island.
Castaway Island
Nearly 2 hours by boat from Denerau, but worth the wait, Castaway Island has an amazing resort with an ambience of intimacy and traditional Fiji holidays. There are a range of bures with double bed and 2 single beds plus a privacy sliding screen door to separate the main bedroom from living area, which is great for families.
We had a beautiful lunch in the beachfront restaurant. There is also the Sundowner Bar, which is upstairs overlooking the sea and serves pizzas.
The beach is stunning with clear water and white sand. Non-motorized water sports are free and there are several daily cultural activities. They have an adults only pool with swim-up bar and also a very nice family pool with different water features.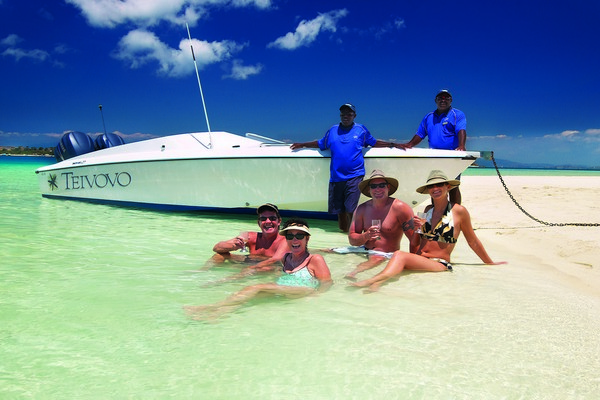 Malolo Island
Likuliku is a very luxurious adults only island resort. It's tastefully decorated, keeping the island feel but at a higher standard. As well as garden and beachfront rooms there are also over-water rooms some distance from the main facilities but accessible by cart. Rooms have a big bathroom with beautiful bathtub looking out to sea, plus huge deck with chair and direct access to the lagoon.
The resort also has a big infinity pool and gorgeous fine dining restaurant. It's a stunning resort for those who can afford it!
Mana Island
Mana Island is one of the larger Fiji resorts with extensive grounds and good family accommodation in the spacious oceanview suites. They have 2 beaches, North and South, with a restaurant at each (buffet and a la carte respectively). For whiling away leisure time, there are 2 pools, tennis court,  a gorgeous day spa and numerous daily activities.
The oceanview suites are beautiful and relatively new. Spread across 2 levels, there is a big living area downstairs with sofa bed, armchairs and bathroom, while upstairs is a spacious bedroom and big balcony with chairs. Add in air-conditioning and this makes for a great place to stay on a beautiful white sand island.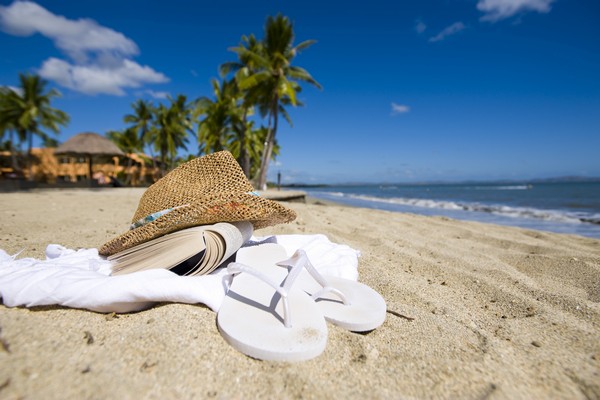 Plantation Island
This is a big resort, designed for families on a budget and offering great facilities for kids. They have a restaurant, mini market, small massage room and hair salon in the resort.
Guests can take their pick from a range of locations for rooms, from 1 or 2 bedroom garden bures, beachfront and poolside rooms, and rooms in the main hotel area. Two bedroom options have a double bed and 2 single beds, making them ideal for families.
Treasure Island
We had a wonderfully warm welcome at this friendly island. Small and intimate, the resort is 35 years old and a great option for families on a budget. This was an amazing resort for kids; they have an environmental programme to grow coral and release turtles into the wild and offer lots of different daily activities, as well as an air conditioned kids club for kids age 3-12 free of charge.
The resort's main restaurant offers a la carte or buffet depending on the night. We enjoyed a very 'Fijian family' type meal with lots of traditional dishes on the table for us to share. They do cava nights once a week and fire dancing other nights.
The grounds needed a little bit of work but the pool and restaurant area were very nice. A very nice chapel with ocean views would be perfect for island weddings.
Need more information on Fiji? Contact a Flight Centre travel expert - 135 stores nationwide. Phone 0800 24 35 44.
Other Travel Articles You Might Like...