Tue, 06/08/2013 - 7:23pm
Island cruising, snorkelling and resort living were the highlights of the Rarotonga holiday enjoyed by Ada Leger from Flight Centre Auckland.
The Cook Islands will always be my number 1 South Pacific destination. White sandy beaches and properties that cater for travellers on a budget or those who want some luxury. It only takes 50 minutes to drive around the whole island, and it's easy to get around by bus, rental car or scooter. Everything is accessible and at reasonable prices. Why would you go anywhere else?
We booked ourselves on a Bishops Lagoon Cruise, which departs from the wharf opposite Aitutaki Lagoon Resort & Spa. We boarded a 21 metre catamaran and headed off to a little island called Akaimai.
We were dropped off on a gorgeous white sand islet - it was heaven. We did some snorkelling, then sat in the warm lagoon with our nice cold beer, talking about how we would like to be stranded here!
We then headed to One Foot Island for our delicious BBQ lunch. Don't forget to take your passport so you can have it stamped with the one foot island stamp. After a big lunch, we returned to Aitutaki, all the time being serenaded by local musicians on board; oh how I want to go back!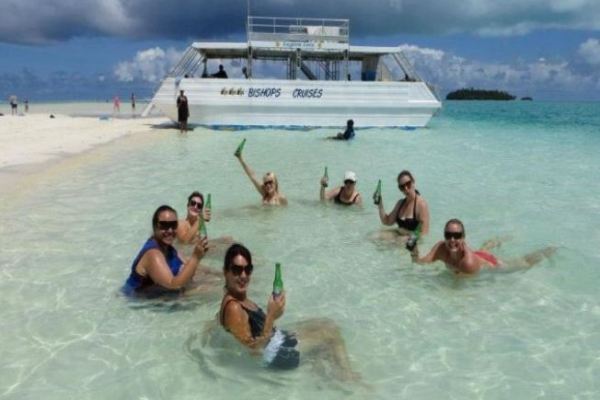 If you feel like a spot of shopping in Rarotonga the Te Punga Nui markets were great for buying food and fruit & veges, though a bit more pricey for souvenirs. And if all the browsing makes you thirsty, Trader Jacks is close at hand for a nice cool beverage.
For Cook Islands accommodation my pick of the hotels and resorts would be the below.
Aitutaki Lagoon Resort
I really liked this property; the gardens were nicely manicured and the rooms had a true island flavour, with thatched roof, natural wooden floors and island-style woven wall coverings. All rooms also have stunning views of the beautiful lagoon. From April this year the property is an adults only resort, so is one I'd recommend for couples and honeymooners seeking somewhere quiet and romantic.
Tamanu Beach Resort
This nicely affordable property in Aitutaki offers fully self-contained rooms with fridge/freezer, microwave, gas cooker and everything required for guests who want to self cater. The rooms are very spacious with a huge veranda, and cleverly situated in such a way as to give all of them partial lagoon views.
Just be aware that the rooms are not attached to the property, so you need to walk along the beach or road to get to the main property where the reception and restaurant are located.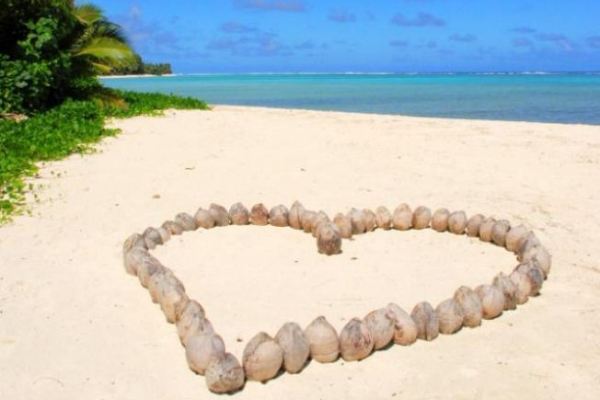 Sunset Resort
This was probably my favourite resort as being situated in Arorangi it faces all the magical sunsets (hence the name of the resort). All rooms are air-conditioned and all units have kitchens, plus the studios have their own private balcony with outdoor furniture. The beach is stunning and great for snorkelling, and if you sit on the waters edge you can see the whales come up to the reef.
Crown Beach Resort
This gorgeous resort is heaven for honeymooners and couples who want privacy. The stunning beachfront location showcases amazing sunsets. As you walk in the walled courtyard, to your right is a plunge pool, with a private gazebo to your left. We had dinner at Oceans Restaurant & Bar, and were very impressed with the food.
Te Manava Luxury Villas
For splashing out on a bit of luxury on your holiday, these villas are the best of the best. All villas have a spacious living area and full kitchen, and come with private swimming pool in a private courtyard. This is the most luxurious villa-style accommodation in Rarotonga. The resort also offers complimentary transfers to and from Pacific Resort as well, so guests can dine and use the kids club at Pacific Resort.
Need more information on a Rarotonga holiday? Contact a Flight Centre travel expert - 130 stores nationwide. Phone 0800 24 35 44.
Other Travel Articles You Might Like...