Thu, 26/11/2020 - 2:00pm
With a circumference of only 32km, getting around Rarotonga is pretty easy and there are plenty of travel options to choose from! We've broken them all down for you below so you can select the best options to suit your trip, making travelling around the island as easy and stress-free as possible.
HOT TIP: In case you didn't know, Rarotonga also uses New Zealand currency so there's no need to exchange any money before you go!
Car Hire in Rarotonga
Hiring a car is ideal for families or bigger groups! Whether you're wanting to pack in as many Rarotonga activities as possible or just wanting to get to exactly where you want to be when you want to be there, then this is the perfect option for you.
Plus, there are tons of affordable places to get your dream rental car. Maybe even treat yourself to a convertible car so you can feel the island wind in your hair! We'd recommend going with the local Polynesian Rental Cars & Bikes as they have seven handy locations around the island for you to pick up and return your car including Rarotonga International Airport. They also offer one way rentals and free pick-up and drop-off service from your accommodation!
Driving is pretty straightforward, taking about 45 to 50 minutes to drive around Rarotonga with only one main road circling the island, two roundabouts and absolutely no traffic lights! One thing to keep in mind is that there are plenty of scooters on the road, so it's important to watch out for them and be courteous to the riders by giving them plenty of room. It's "island time" so there's no need to rush!
HOT TIP: If you're booking a trip to Rarotonga, our Travel Experts can easily add car, van, scooter or bike hire to your booking so everything is all sorted before you go!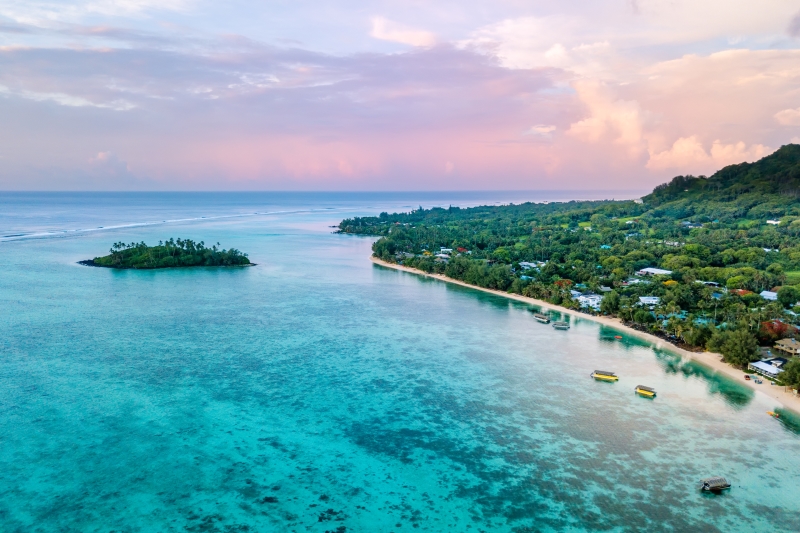 Beachfront in Rarotonga, Cook Islands.
Scooter Hire in Rarotonga
Scooters are a common and economical way for tourists to get around the island with freedom and flexibility, as well as to find your inner adventurer! Helmets are not mandatory, but it would be wise to rent one with your scooter for sure.
To ride a scooter in Rarotonga, you'll need a full NZ motorcycle license (as a NZ car license is not accepted to ride a scooter). If you don't have a motorcycle license, you'll be required to get a Cook Islands Visitors Motorbike Drivers License which costs $20. You'll need to go to the Cook Islands Police Station to get this and pass the theoretical and practical skills test which also costs $20.
Again, we recommended picking up a scooter from Polynesian Rental Cars & Bikes as you can ensure they operate to a high standard since they are accredited by Tourism Cook Islands! Keep in mind, during the peak tourist season from April to November it's not unusual to find a shortage of scooters, so it's best to book your scooter with us in advance to avoid any disappointment!
HOT TIP: Make sure you ask your Flight Centre Travel Expert to sort you out with an extra scooter cover on your travel insurance.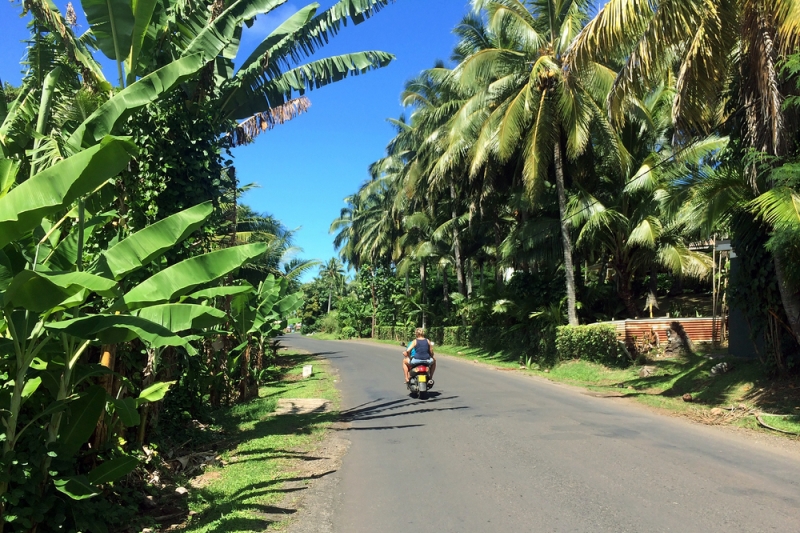 Scooter in Rarotonga, Cook Islands.
Rarotonga Buggy Tours
Calling all adrenaline junkies! If you're feeling adventurous, explore roads less travelled with Raro Buggy Tours. Enjoy 1.5-2 hours in the mud with this fun self-driving experience through dirt tracks - you'll even get to visit an abandoned hotel and a free lunch is provided! Plus if you sink a hole at golf afterwards, you can get your money back! Please note, you'll need to have an NZ restricted or full drivers license and be 18 years or over if driving. Talk to us about booking this cool expereince for you before you go too so you don't miss out.
Bus
One of the most relaxing ways to get around the island is to bus! There are just three types of buses in Rarotonga, making public transport around the island super simple: the Clockwise Bus, the Anti-Clockwise Bus and the Night Bus. You can find the full schedule here, but the info below gives you a glimpse of how straightforward it is.
Monday-Friday Hours (departing Cook's Corner): The Clockwise Bus departs every hour (on the hour) from 7am-11pm, and the Anti-Clockwise Bus departs every hour (on the half hour) from 8.30am until 4.30pm. The Night Bus (clockwise) also departs every hour (on the hour) from 6pm-11pm.
Weekend Hours (departing Cook's Corner): The Clockwise Bus departs every hour (on the hour) from 7am-11pm on Saturday, and 8am-12pm then 2pm-4pm on Sunday. The Anti-Clockwise Bus also departs every hour (on the half hour) from 8.30am-1.30pm on Saturday. The Night Bus runs 6pm-11pm on Saturday only.
In your first couple of days, we recommend doing a full loop of the island as it's the perfect opportunity to get to know the island and soak in the stunning coastal views!
HOT TIP: Beware, the buses often run on "island time"!!
Bikes & e-Bike Hire in Rarotonga
Take the cheapest, most active option by exploring the island at your own pace by bike! This gives you the chance to keep fit and build your tan, with the choice of staying on the easy, flat main roads or going off the beaten track to some of the inner island areas. Remember, cyclists are required to wear appropriate safety helmets.

To save your energy, you can also easily opt in for an e-bike which is suitable for all fitness levels! With your choice of standard cycling, pedal assist up to 35kph, or the fully electric mode, e-bikes can take you around the island twice on one charge!
Being one of the easiest places in the world to navigate around, this is one of the best ways to chat to friendly locals while touring the backroads, discovering various plantations, and finding the magical hidden gems of Rarotonga!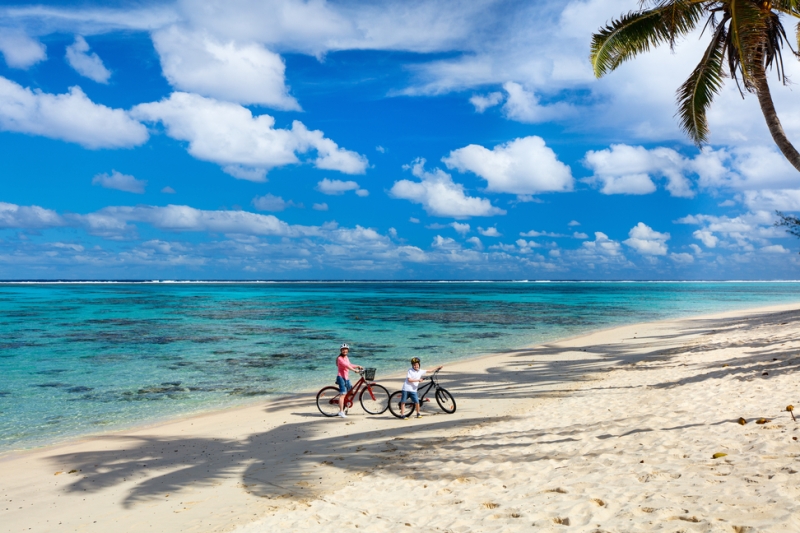 Bikes on the beachfront in Rarotonga, Cook Islands.
Other Travel Articles You Might Like...