Tue, 30/04/2013 - 7:19pm
Being serenaded on arrival was just the beginning of a super Samoa sojourn for Gabrielle Beacham from Flight Centre Palmerston North.
On arrival in Apia for our Samoa holidays it was like opening an oven door - hot and humid! By the baggage carousel a band of local musicians serenade passengers as they wait to collect their luggage, which is a lovely way to slip into island life.
I was really impressed with Apia as a town. The waterfront area is starting to be developed and there are plans to add more cafes/restaurants.  There are supermarkets galore (a lot of American products), plenty of ATMs and a surprising number of hairdressers. For getting around the island, local buses operate throughout the day and taxis are cheap.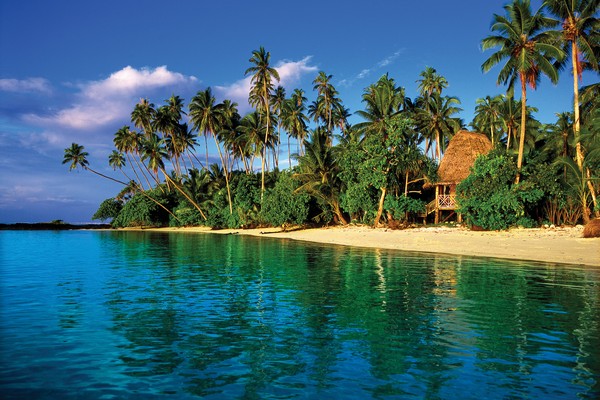 If you are looking to do a little shopping on holiday, don't miss out on visiting one of the Samoa markets on a busy Saturday morning. The Old Apia market has everything from clothing to hand made knick knacks, and you can even stop and watch local women weaving mats, hats, and handbags.
The newer Apia market offers a wide variety of tropical fruits and vegetables under a dry pavilion. And you don't have to worry about bargaining or paying tourist prices – all of the prices are clearly marked.
Christian churches of various denominations feature heavily in Samoan society and cultural identity, and there are churches just about everywhere. The pastor/priest is highly regarded within the village and their counsel is often sort for dispute resolution. Families give a large percentage of their income to the church.
Samoan pancakes or panikeke (deep fried balls of banana bread) are a MUST and absolutely delicious! They are cheap at 0.50 Tala (approx 25cents NZ) and can be bought at local store or ferry terminals. Pina Coladas are extremely refreshing in the island heat; the best ones are at the Siufaga Resort in Savai'i.
As one would expect, seafood is very popular and features heavily in national favourite dishes: Oka (raw fish and coconut cream), octopus, lobster, tuna, the list is endless.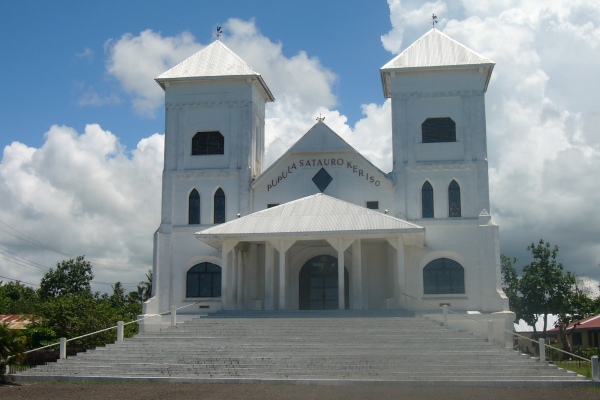 For Samoa accommodation the stand out options for me are:
Aggie Grey's Lagoon Resort and Hotel – On the whole this is a fantastic resort for families, couples and single travellers alike. The reception area is a nice escape from the heat, with large comfortable couches accented in Samoan prints – you know you're in Samoa! All rooms are ocean view. The al fresco breakfast/dining area is a great place to start your day; friendly staff are there to help serve breakfast.
The pool area is lovely and well maintained with lots of greenery and a swim up bar. The man-made beach front is surprisingly good and has thatched fales for shade while relaxing on the beach. The spa is beautiful; Balinese style with beautiful walkways out to open-style fales among the trees where treatments are administered.
Litia Sini – This is a 2 star property in a 5 star location – the beach is breathtakingly beautiful. Re-built since the 2009 tsunami, this is a great property for those who enjoy camping style holidays. With breakfast and dinner included in the rate, it's fantastic value.
Sinalei Reef Resort & Coconuts Beach Club – These two properties are next door to each other, but quite different. Sinalei has more of a lush green, rain forest setting and the property is large with walkways or paths along the front, facing the beach. Coconuts is far more 'beach-y' and is almost entirely set on the beach. To me, Coconuts is the quintessential tropical island resort: sand, beachfront location, stunning rooms (the rooms set on the beach in particular) and huge verandahs from which to look out over the ocean.
Stevenson's at Manase – For those who favour a quiet location and authentic accommodation with touches of comfort, this is the place. They have Deluxe Suites in funky colours and a private bar! The restaurant/bar area is across the road and is nicely decorated in vibrant reds and local wood.
All in all, most of the accommodation in Samoa exceeded my expectations. I loved Samoa and would happily return as soon as I could!
Need more information on holidays in Samoa? Contact a Flight Centre travel expert - 135 stores nationwide. Phone 0800 24 35 44.
Other Travel Articles You Might Like...