Tue, 05/10/2021 - 6:35pm
If you are wondering what the best beach resorts in Samoa are, look no further! Let us bring you one step closer to enchanting lagoons and ultimate relaxation with our top 5 Samoa Beach Resorts selection to help you plan your future tropical island getaway.
Upolu Island
1. Seabreeze Resort
A small island in front the Seabreeze Resort Samoa
Seabreeze Resort is the ultimate Samoan boutique beach resort in Upolu. The friendly staff knows every guest by their name and VIP treatment is guaranteed! With private beach access and stunning ocean views, this adult-only resort offers guests the opportunity to explore the lagoon by free use of glass-bottom kayak or snorkel.
Seabreeze Resort's location is not only incredibly beautiful, but it is also close to many spectacular natural sites with plenty of things to see and do for visitors. You can also ask the resort to arrange a fishing tour or surfing trip for you, and on Fridays the hotel offers activities that give guests an insight into Samoan life.
A typical day at this luxurious Samoan resort consists of relaxing on the beach, watching the local fishermen on the reef or getting a relaxing massage. The resort has a pool bar from where you can sip on delicious cocktails as well as two restaurants: the Cbreeza Pizzeria and the Waterfront, an award-wining restaurant that offers á-la-carte dishes and a wide range of New Zealand and Australian wines and beers. The relaxed and friendly atmosphere makes Seabreeze Resort one of the best beach resorts in Samoa.
2. Sheraton Samoa Beach Resort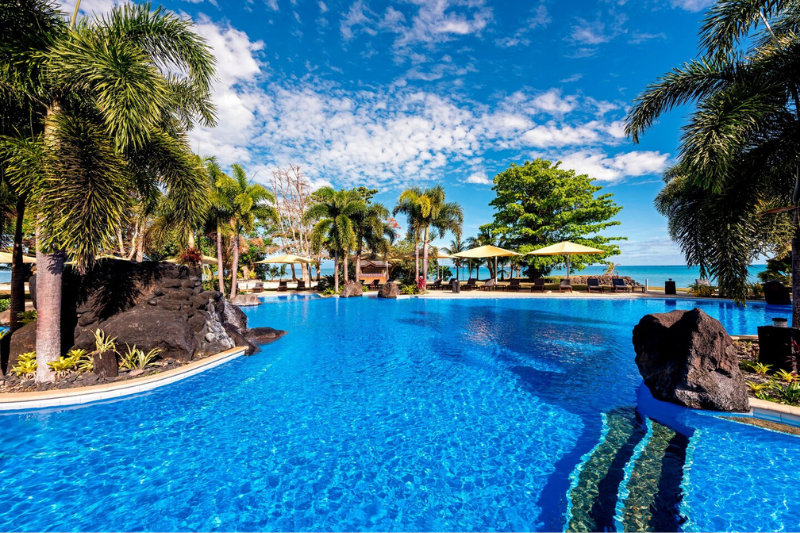 Sheraton Samoa Beach Resort's magical lagoon pool. Image credit: Sheraton
Located on the western coast of the Island of Upolu, just a 5-minute drive from Samoa's Faleolo International Airport, this tropical paradise settled by turquoise waters is a great base for a Samoa holiday. At Sheraton Samoa Beach Resort your choices are endless! This luxury beachfront accommodation, set in 224 acres of tropical gardens, offers amazing spa treatments, tennis, golf, a lagoon pool, kid's club, a well-equipped fitness center and unparalleled access to world-class kayaking, snorkelling and paddle boarding.
After a long day in the sun enjoying the Sheraton's many activities, guests can immerse themselves into the Samoan culture with live entertainment happening every night at the resort. The Sheraton also features many dining options with five restaurants and bars, with amazing views to boot. Each beachfront room offers a private balcony overlooking the lagoon and catches both the sunrise and sunset. All in all, the Sheraton is the ideal accommodation for a relaxing getaway and most definitely another one of the best beach resorts in Samoa.
3. Taumeasina Island Resort
Taumeasina Island Resort. Image credit: @davetony
Taumeasina Island Resort is a 360-degree tropical paradise island surrounded by beautiful crystal-clear waters. Situated 5 minutes drive from the capital city, Apia, the resort offers breathtaking views of the Pacific Ocean and luscious Upolu mountains. This is the only island resort in Samoa connected to the mainland by a causeway and its luxurious setting is like no other. You can choose to stay in a modern and luxurious Oceanview Room or why not try the fully self-contained Waterfront Villas for an authentic Samoan experience.
Dining options are made easy with three restaurants and two bars. Try Sina's restaurant for fine dining cuisine including traditional Samoan-inspired dishes, or Lapita Restaurant for more of a casual feel including live entertainment every night (we especially recommend the Fia Fia night which is very popular and needs to be booked in advance). In terms of what to do, there is a wide range of activities: snorkelling, kayaking, catamarans, tennis courts, an amazing pool and more.
Plus, there's an awesome playground for the kids too! And for something a bit different they also offer Samoan cooking classes or diving lessons. Or if you just want to have a relaxing Samoa holiday, book yourself a treatment at the Fofo Spa and Sauna, or just sunbathe on the white sandy beach. For all of these reasons, this Samoa luxury beach resort is one of our favourite resorts in Upolu.
4. Coconut Beach Club Resort and Spa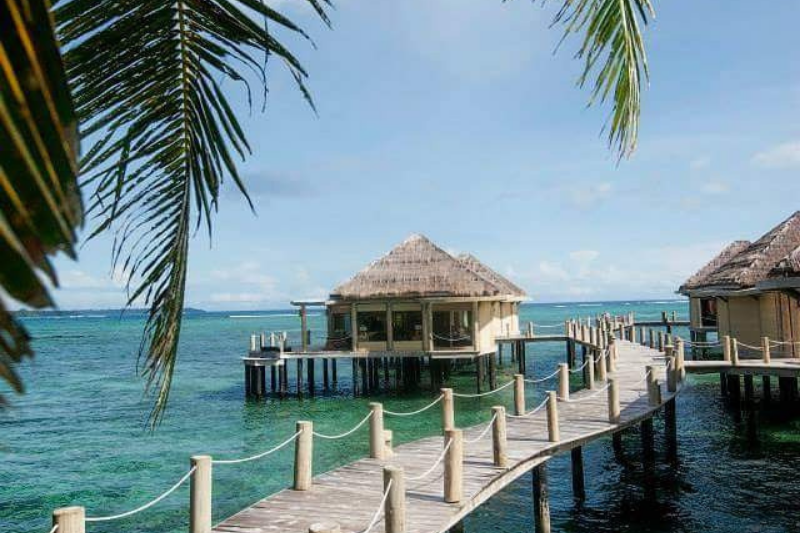 Overwater bungalow at Coconut Beach Resort and Spa. Image credit: @samoatourism
This unique Samoan oasis offers the facilities of a larger resort while still having an intimate atmosphere. Set in beautiful tropical gardens, Coconut Beach Club Resort and Spa offers amazing views over the lagoon and it is home to the only overwater bungalows in Samoa. These amazingly luxurious over-the-water fales, have a great deck with sun loungers - so once you're done relaxing, you can step off your private deck and straight into the turquoise waters.
Treat yourself to a massage at Coco Beach Spa which has recently been upgraded and expanded. Or have a swim in the gecko-shaped swimming pool, facing the lagoon, which features a great swim-up bar. And when it comes to food, the beachside restaurant offers some of the island's most delicious local cuisine. Snorkel and kayak gear are also available to explore the beauty of the lagoon.
Plus, on Saturdays, the resort offers a Samoa Culture Day where you can learn about Samoan history and traditional culture, with staff demonstrations and a visit to a local village – and best of all, it's free for all guests! One of the best beach resorts in Upolu Samoa, this resort is the perfect choice for your next island getaway.
Savai'i Island
5. Le Lagoto Resort and Spa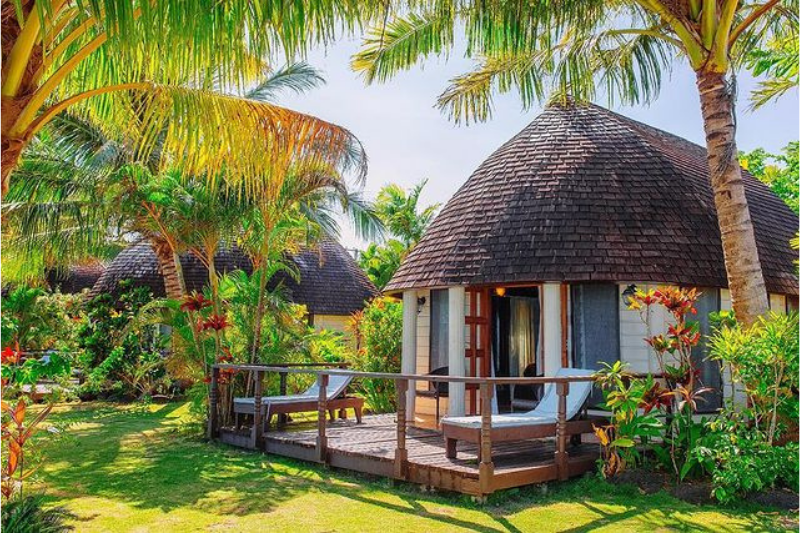 Authentic Samoan bungalow at Le Lagoto. Image credit: @lelagotoresortsamoa
Le Lagoto Resort and Spa located in a private and idyllic setting is one of the most beautiful beach resorts in Savai'i, Samoa. "Lagoto" means "sunset" in Samoan, and it does deliver on its name well! This little tropical gem, owned and run by locals, has the modern amenities and facilities of any larger resorts on the island while offering an intimate, personalised experience. This small boutique resort consists of only 10 Samoan-style bungalows, including 5 that are beachfront with views over the water and direct access to the beach.
The friendly staff is dedicated to making every guest's experience unforgettable. Vailili Restaurant offers some of the freshest food on the island from both traditional Samoan and international cuisines. Plus, you will also be able to enjoy weekly cultural shows held at the restaurant and immerse yourself in Samoa's rich history. Everything at Le Lagoto Resort and Spa has been planned to bring you absolute serenity!
Fall asleep in a hammocks or day bed to the sound of the palms swaying in the ocean breeze or relax by the infinity pool and enjoy a tasty cocktail at the Hans Poolside Bar. If you are looking for the most amazing relaxing holiday, Le Legato is where to go in Samoa!
Feeling inspired? Book your Samoa Flights here or check our Samoa Holiday deals here.
Other Travel Articles You Might Like...