Mon, 27/06/2016 - 7:09pm
There's more to the Cook Islands than just drinking cocktails while sitting on perfect white sandy beaches and gazing at crystal-clear lagoons (although of course, that is VERY nice!). The rich Cook Islands culture shapes the unique character of this South Pacific paradise and is the pride of its people. If you wish to immerse yourself in the Cook Islands lifestyle and dive into the very heart of its culture, here are six of the best experiences not to be missed! 
1. Island Discovery Tour  
Perfect for first-time visitors and the ideal start to kick off your Cook Islands holiday, Raro Tours' Island Discovery Tour is a lively and entertaining introduction to Rarotonga's geography, history and culture. The passionate local guides will introduce you to the hidden beauty of Rarotonga and will be happy to share with you some great Cook Islands culture facts! 
The three-hour air-conditioned coach tour takes you past the island's most significant landmarks and spiritual sites such as the Garden of Seven Canoes, beautiful white stone churches and Black Rock, where spirits were traditionally believed to depart for the afterlife. You will also learn about the myths and legends that shaped this rich Polynesian culture and the importance of the coconut to the Cook Islands people. Talk to us about adding this tour to your holiday, as we can organise it all for you. 
2. Punanga Nui Market in Avarua 
The Punanga Nui Market in Avarua, also nicknamed 'the heart of Rarotonga' by locals, is a must-do for visitors to experience the unique energy of the Cook Islands culture. The beautiful market situated by the waterfront is open every day during the week, Monday to Friday. However, we recommend visiting it on a Saturday as all the stalls are there and a free cultural show also takes place weekly on that day!
The Punanga Nui Market is the perfect place to discover the vibrant Cook Islands culture. You can find anything there from local fruit, veggies, freshly-caught fish and traditional island dishes to handmade ukuleles, pearls, clothing, and beautiful artwork made by locals. However, it's important to note that haggling of prices is not customary and can be considered rude in the Cook Islands.
This market is the ideal place to try some local food too, buy souvenirs or grab a fresh coconut on your way to the beach from one of the vibrant stalls. Also called "Nu" by the locals, fresh young coconut juice is very popular on the island and is the perfect drink after a day under the sun.
3. Te Vara Nui Village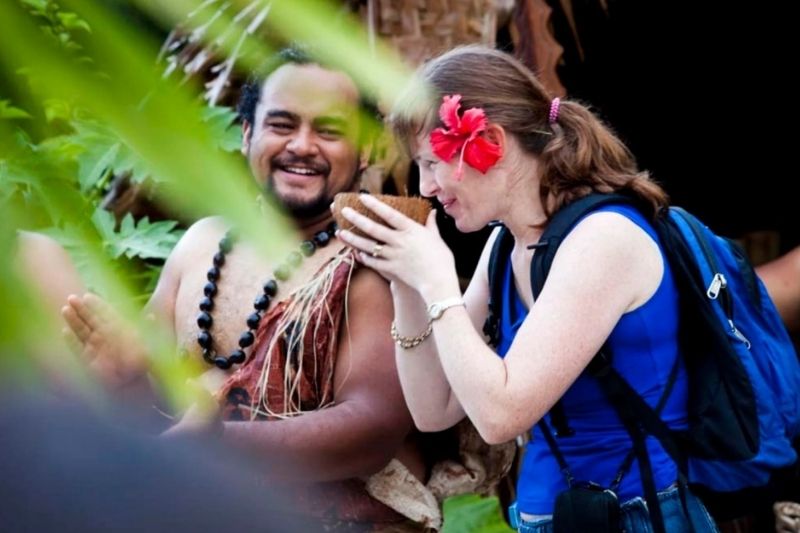 Cultural Village Tour at Te Vara Nui Village. Image Credit: Cook Islands Tourism
Te Vara Nui village's Cultural Tour is a great way to immerse yourself in the Cook Islands history and culture. The tour is hosted by knowledgeable locals that will share their heritage, legends and beliefs with you.  
The educational experience starts with a "Turou" welcome introduction, followed by a Marae visit, which similarly to a New Zealand Māori Marae, is a sacred place traditionally used for ceremonies. The immersive tour of this authentic Cook Islands cultural village also includes weaving and carving demonstrations from local artisans as well as the preparation of local Cook Islands costumes and traditional food. You will also learn about the Cook Islands Māori's ancestral fishing and navigation techniques, traditional medicine and the importance of the coconut tree in their culture also called "tree of life" by the locals.  
This 2-hour tour departs every Tuesday, Thursday, and Saturday afternoon and can be combined with the spectacular Cook Islands culture show: Te Vara Nui Village's Over Water Night Show and Buffet. Make sure you ask your Flight Centre travel expert to book this tour for you in advance so you don't miss out as it is very popular.  
4. Speak the Lingo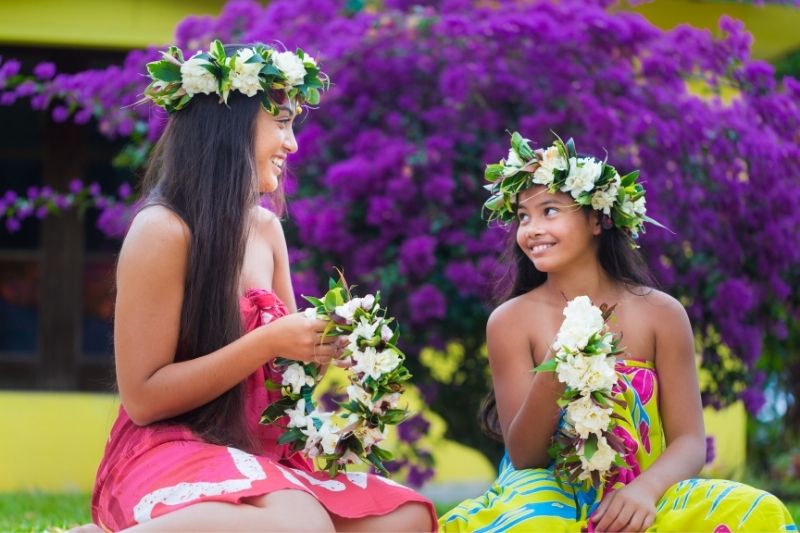 Locals conversing in Cook Islands Māori. Image Credit: Cook Islands Tourism
Learning the basics of the dialect spoken by the locals will allow you to develop a deeper understanding of the Cook Islands' history and culture. A few distinct dialects are spoken in the Cook Islands in addition to English such as Mangaia, Rarotonga, and Ngāpūtoru. However, the one most commonly used by locals is the Rarotongan dialect. Here are a few useful words that you can use on your next Cook Islands holiday: 
Kia Orana – Hello 
Pe'ea koe – How are you? 
Meitaki – Good/Thank you 
5. Island Night & Umukai Feast at The Edgewater Resort & Spa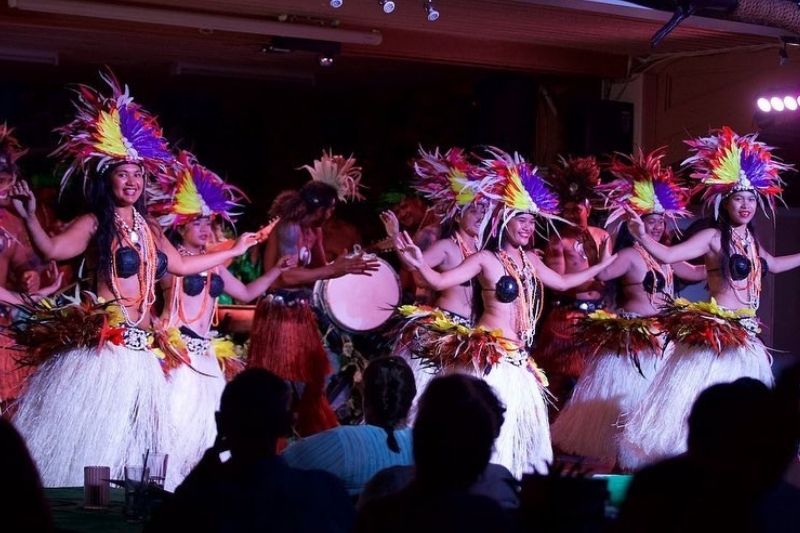 Island Night & Umukai Feast at The Edgewater Resort & Spa. Image Credit: Cook Islands Tourism
The Edgewater Resort & Spa offers a culture show twice a week, on Tuesday and Saturday nights, giving you the opportunity to immerse yourself in the rich Cook Islands culture through traditional dancing, music, and feasting. You will be mesmerised by the high energy of the Ta'akoka Dance Troupe's performers and the unique flavours of the traditional umukai feast.  
The buffet includes traditional dishes prepared by locals such as "rukau", a dish full of nutrition and flavours made of creamed young taro leaves and coconut cream as well as the famous "ika mata": raw fish marinated in lime juice served with coconut cream. This popular island night is one of the best cultural shows in Rarotonga and requires booking in advance (talk to us so we can help you). Complimentary transfers to the Edgewater are also available from anywhere in Rarotonga.
One thing to note is that the dress code in the Cook Islands is casual so dressing up to go to dinner can be kept to smart casual. And while we're on the topic of dress code, the exception to the casual rule is if you were to attend a church service - women would be required to wear a dress that preferably covers the shoulders and men would need to wear a collared shirt. 
6. Koru Café, Aitutaki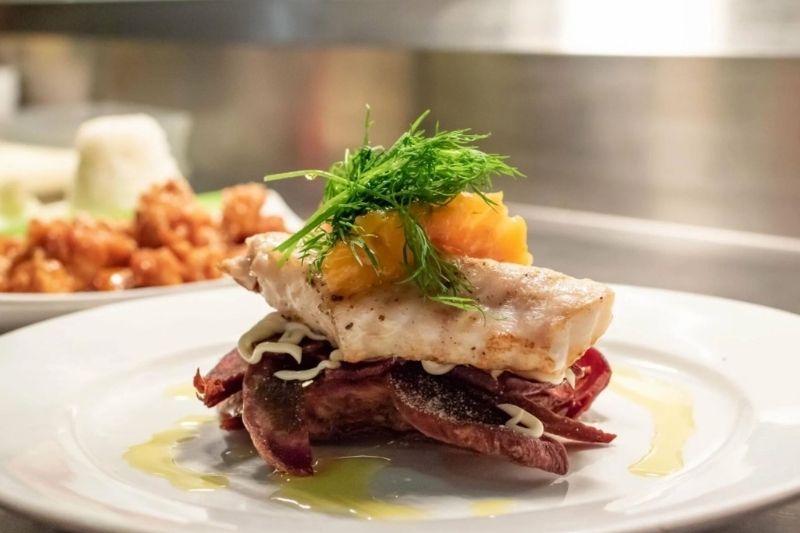 Fresh delicious local cuisine at Koru café, Aitutaki. Image Credit: Cook Islands Tourism
The Koru Café in Aitutaki is well-known for serving the best coffee on the island and is one of the locals' favourite cafes in the Cook Islands because of its delicious food and great service. Situated on the way to Ootu Beach, it's the perfect coffee stop before a lagoon cruise or a great place for lunch if you're enjoying a relaxing day at the beach. This wonderful café also promotes the Cook Islands culture by selling handmade crafts and arts made by locals. 
We recommend that you try one of their numerous seafood specialties made from the freshest fish on the island. This unique café serves breakfast and lunch only; however, you can still order BBQ and heat and eat dinner packs to take away and eat on the beach. The chef, Steve, will also happily prepare you a lavish picnic to take with you so you can enjoy a relaxing picnic on one of the heavenly beaches in Aitutaki.  
Check out our Cook Islands holiday deals here or read about other fun things to do in Rarotonga here!  
Other Travel Articles You Might Like...