Wed, 03/07/2019 - 5:12pm
You don't need much to enjoy a holiday Cook Island holiday, but these 10 items will help you get the most out of your trip.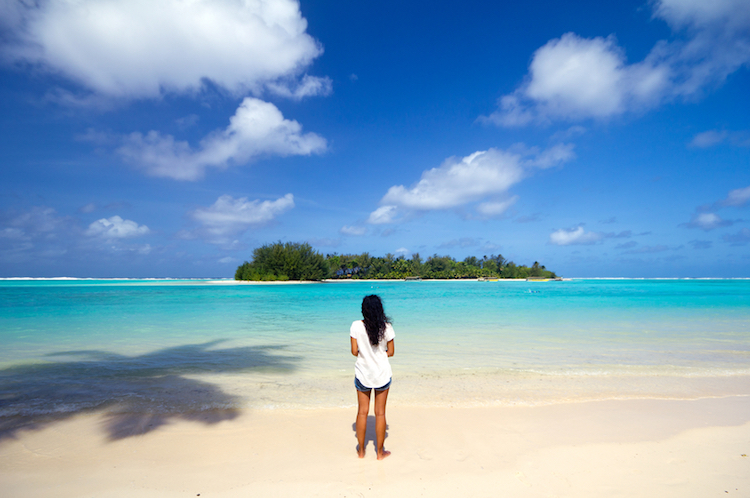 1. Bug spray
As in any tropical destination, mozzies can be a pest in the Cook Islands, especially after wet weather and in the more humid central areas. Mosquito repellants, from sprays and wristbands to coils and plug-ins, are available for sale in Rarotonga and Aitutaki, but you might want to bring your favourite bug buster with you, just in case.
2. New Zealand dollars
One of the best things about visiting the Cook Islands as a New Zealander is the money. The NZ dollar is Cook Islands official currency, which means no worries about exchanging currency or doing tricky mental conversions when shopping or eating out. ATMs are widely available in Rarotonga but if you're visiting Aitutaki you might want to bring some cash, on the off-chance that the island's two ATMs are both out of service.
How much spending money do you need in Rarotonga?
Although Cook Islands has the same currency as New Zealand, general items such as food, shopping, accommodation and activities can still be quite pricey! We recommend booking a hotel where buffet breakfast is included so you don't need to worry about eating breakfast at the cafes. Rarotonga is quite often cheaper than Aitutaki so if you're on a budget, it's safe to stay in this island.
Depending on your spending habits and lifestyle, a safe manageable pocket money would be $100 - $150 NZ dollars per day. You can of course bring more than this!
3. Food & Water
If there's one piece of advice you'll hear again and again before you visit Rarotonga, it's "bring food", especially snacks. Although there are plenty of cafes and restaurants on both main islands, and supermarkets shelves are full of familiar brands, taking some food with you is a good way to save money as these are often more expensive than food in New Zealand. While packaged groceries can go in your suitcase, a chilly bin will be needed if you are planning on bringing meat or dairy.
Traditional food in Cook Islands mostly include something with seafood, whether it's cooked or raw. While these are delicious and readily available, bringing something will mean you're able to eat something you love and you will be able to save money. We of course still recommend checking out the local cafes and restaurants for an authentic food experience!
Is it safe to drink tap water in Cook Islands?
Yes, water in Rarotonga and the other islands are treated. However for peace of mind, you should always bring bottled water along with you. You can also use your accommodation's kettle to boil water as another option.
4. Bathing suit or bikini?
In fact, since you're going to be spending so much time at the beach, why not bring two?
5. A good book
Ditto.
6. Sturdy shoes
Because, even in a tropical paradise like the Cook Islands, there are times jandals just won't cut it. If you're planning to hike Rarotonga's famous Cross-Island Track, you'll need gym shoes or hard-soled sandals like Tevas. A pair of reef shoes are also a must-have for snorkelling.
7. Rash guard
You can probably get away with a swimsuit and lots of sunscreen on a short snorkelling expedition, but if you plan on spending any serious time in the water you should use a rash guard (also known as a swim shirt or dive skin). Wear one for protection against scrapes from sharp coral and the effects of the sun – the SPF of a rash guard is about 10 times higher than a standard T-shirt. Plus it'll help keep you warm on the boat trip back to shore.
8. Other snorkelling gear
Masks, fins and snorkels can easily be hired in Rarotonga and Aitutaki (or provided free of charge by your resort), but a mask that's been fitted to your own face will be more comfortable and less likely to leak. And while snorkels are cleaned by the hire shop after every use, using your own is the easiest way to avoid the "ick" factor.
9. Waterproof camera
For capturing the Cook Islands awe-inspiring underwater world. GoPro cameras are the techie's favourite, but all the major camera brands – including Canon, Olympus and Panasonic – sell waterproof compact cameras, perfect for taking on your next snorkelling or diving trip.
10. Something warm and/or dry
Though there's an excellent chance it may stay in your suitcase all holiday, it's a good idea to pack a top layer alongside your shorts and tees. If your trip falls between November and April and you're worried about summer downpours (for some they're all part of the fun of a tropical holiday), bring a light rain jacket or waterproof poncho. In winter, consider taking something warm, like a fleece, for the cooler evenings.
Check out our holiday deals to Rarotonga here.
Other Travel Articles You Might Like...