Fri, 02/08/2019 - 11:23am
In-flight meals are such a big part of flying for Kiwis. While other folks may get one snack or meal when going from country to country, we often travel a lot further to get places (that's what happens when you're the last stop before Antarctica). The 24 hours between us and Europe or the 12 hours to the States can mean a whole lot of eating. Here are a few things that could be helpful to know.
The basics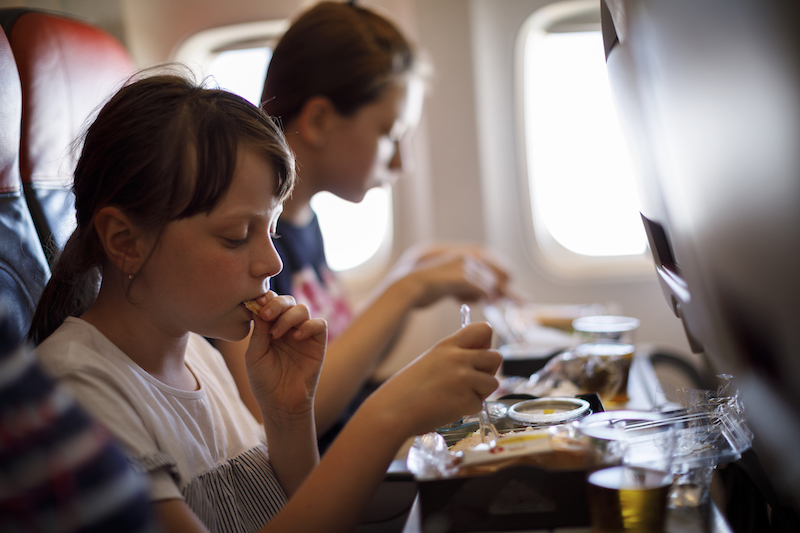 A meal in the sky. Photo: Getty Images
Most people know the drill. The flight crew announces that meals will be served, you put your seats upright and your tray table down and the cabin crew comes around with drinks, then meals, then tea and coffee – all separately. In economy there are usually a couple of choices but if you're some of the last to get served there might only be one option left. If you have special dietary requirements you need to let your Flight Centre travel expert know when you book so they can add it to your booking for the airline to know in advance.
There are lots of choices and they vary a bit between airlines and countries but some are: gluten free, diabetic, vegetarian, lacto ovo, Halal, Hindu and kosher. Some airlines will even provide a lower fat meal for those watching their weight. Special meals come out ahead of other meals and you need to make sure you're in your assigned seat so the flight crew can find you. If you need to eat between meals, or you slept through meal service, flight crew will always be able to provide something from the galley – just go and ask. It's worth remembering to check on the food situation on your flight before you go. Some airlines require you to pay for food on board, usually because the fare a "no frills airfare. You can often bring your own food on those flights too. Just check with your Flight Centre expert again as they can advise you if you have meals included in your airfare.
What to expect at the front of the plane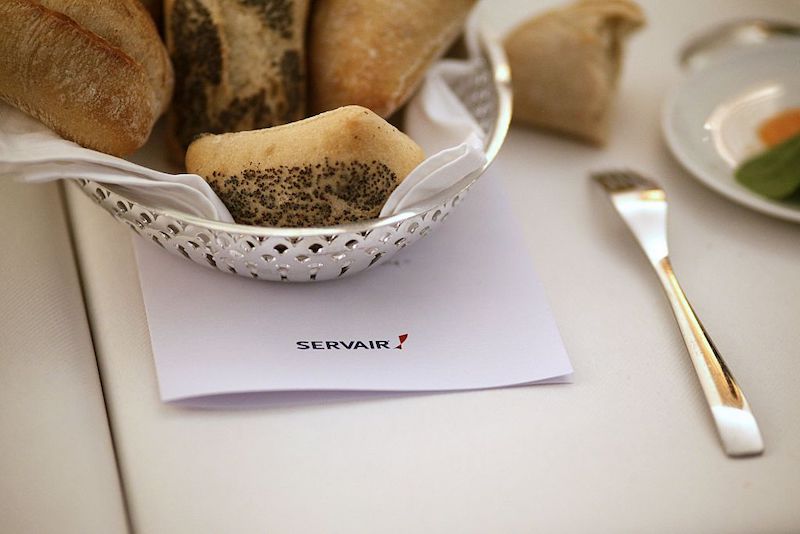 A detail of a business class meal. Photo: Getty Images
Things go a bit differently towards the front of the plane. Usually in business class there are three or more options for starters, main and dessert, and the food usually comes out on a plate rather than the trays used in economy. Many airlines have their own special additions – an afternoon tea trolley, canapes and champagne before dinner, dine on demand (eat when it suits you), or even an ice cream sundae trolley where you pick your flavour and toppings to create your own perfect dessert combination.
How airline meals are made
Hygiene is paramount when it comes to airline food. Flight Centre writers have visited a few airline catering facilities between us, and the process – even just to go on a tour – is rigorous. You have to take off all jewellery, wash and sanitise your hands multiple times, wear lab coats and covers over your hair, hands and shoes (with the hair nets there are even strict techniques for putting them on). It's not worth it for catering companies to take any risks, so hygiene protocols are strictly enforced and supervised to avoid any food contamination. One less thing to worry about when you're dining on a plane.
Eating in the sky versus eating on the ground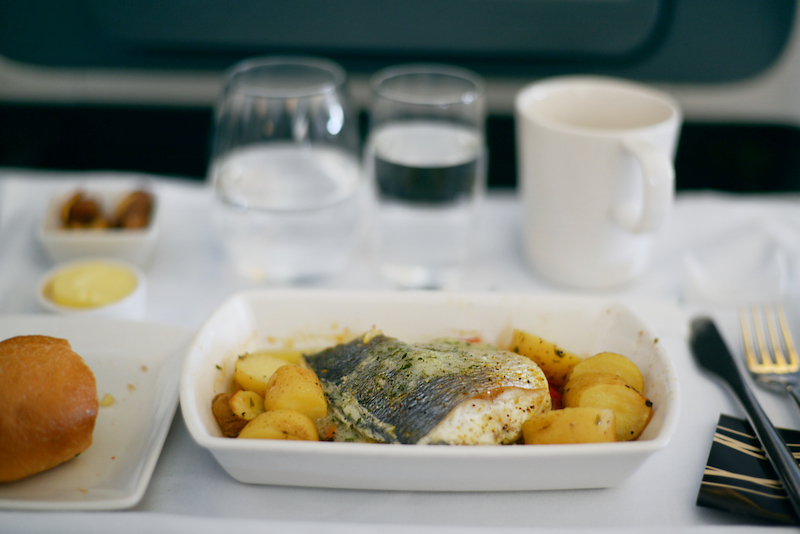 An airline meal of roast fish and vegetables. Photo: Getty Images
There's a lot that goes into designing in-flight menus, and many airlines employ high-profile chefs to help them get their food offerings just right. Neil Perry, Peter Gordon, Michael Meredith and even experimental chef Heston Blumenthal have all helped or consulted on airline menus, along with many other chefs famous in their own countries. According to Ronald Khoo, assistant manager for beverages at Cathay Pacific in Hong Kong, your senses are dulled by between 30 and 40 percent on a plane, so any taste (be it food or wine) that is subtle on the ground could end up tasteless in the air. Here's one thing to remember when you're ordering drinks and food: favour bold flavours. Also keep in mind that a stew, curry or casserole is far less likely than 'meat and 3 vege' dish to end up tasting dry – often a risk at high altitudes.
Plastic and waste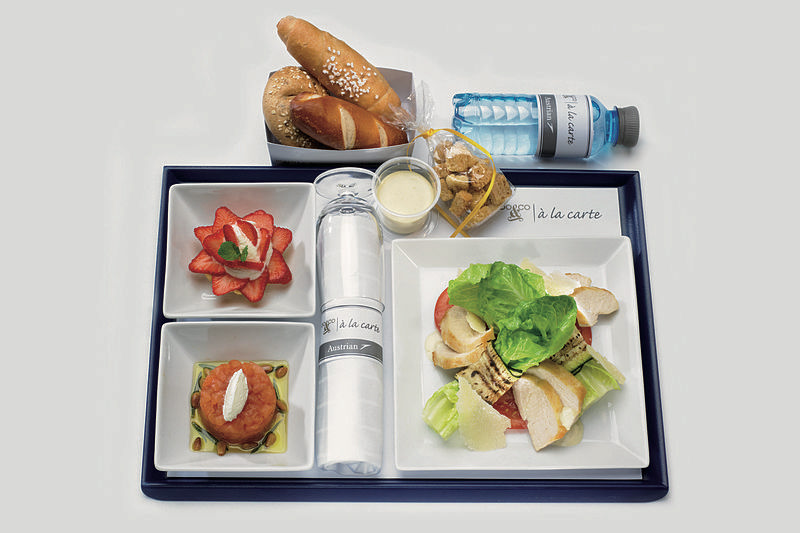 A traditionally served airline meal. Photo: Creative Commons
Airlines are increasingly concerned with issues of sustainability. Air New Zealand, for example, has removed plastic water bottles and individual sauce packets from many flights and is set to roll out coffee cups made from plants rather than plastic across its domestic and international networks from October. Meanwhile Singapore Airlines plans to become entirely plastic swizzle stick and straw-free by September 2019, and has replaced the polythene bags used for children's toys with recyclable paper packaging. Menu cards, tissue paper and toilet rolls are now all made with ethically-sourced FSC-certified paper.
You'll see things changing with most airlines as they try to become more environmentally friendly. Fiji Airways is a good example: it has just launched a service called Dine on The Ground, offering Business and Premier passengers a pre-flight gourmet meal to be eaten at the airport. Travellers can order meals to eat just before boarding, so there's much less wastage with uneaten meals and plastic packaging. Another bonus: eating before boarding means you're able to get some shut eye from the moment you strap into your seat.
Staying healthy
Many airlines are looking at their food offerings and trying to make them a little more health conscious, but if you're worried about the health profile of food on board you can always bring your own snacks with you. Always check an airline's policy on nuts if you're going to do this and remember that if you bring your own fruit you'll need to eat it on board or get rid of it before you hit biosecurity at the other end (some countries are much stricter on this than others). Bring your own water bottle so you can drink often and get it refilled in the galley rather than waiting for drinks to come to you.
New advances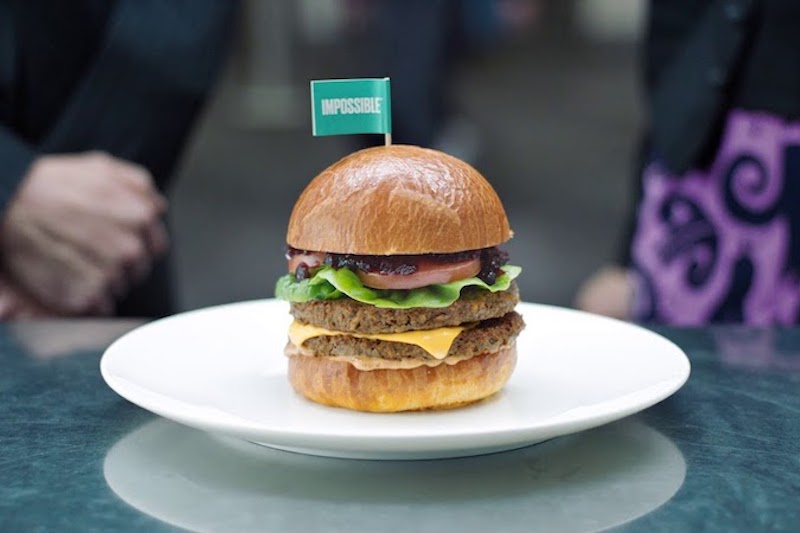 An Air New Zealand Impossible Burger. Photo: supplied
In-flight dining is changing rapidly to suit changing customer needs. Last year Air New Zealand made a huge splash with the introduction of the plant-based Impossible Burger in Business Class, and Qantas drew a lot of attention for its new food choices on their Dreamliner Perth to London route. These included options like specially designed herbal teas, healthy poke bowls, dishes with plenty of vegetables designed to increase hydration, kombucha for good digestion and other options all designed to reduce jetlag and make you feel better coming off the other end.
As in-flight catering gets healthier, tastier and more varied, an increasing number of us are proudly declaring what we'd once have been laughed at for admitting: we love airline food.
Other Travel Articles You Might Like...