What to pack in your carry-on to make your long-haul flight more comfortable
Thu, 07/12/2017 - 11:50am
Whether you struggle to sleep on the plane, are prone to getting sick after your trip or suffer from jet-lag, long-haul flights are often not the nicest part of your holiday! There are, however, plenty of things that can help minimise the discomfort and avoid the worse effects of flying.
Remember to check with you Flight Centre Travel Expert what the current rules are around liquids and other restricted items in your carry on.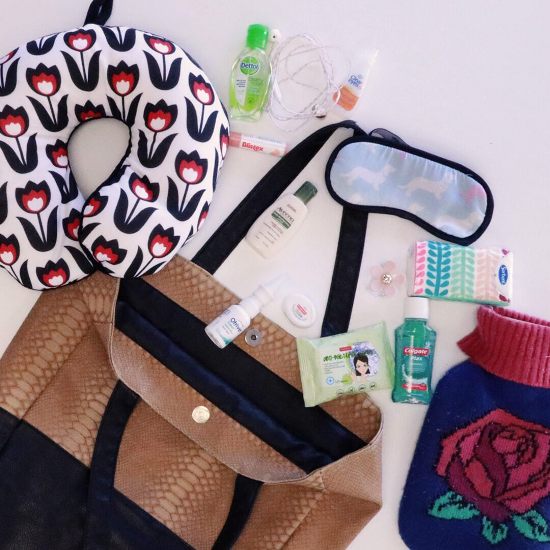 Neck pillow
These are essential for helping you get a good sleep on the plane; the pillows provided by the airlines are very small and don't always offer the same support that you get from a horse-shoe shaped neck pillow. Their shape also makes them easy to attach to a backpack or handbag.
Eye mask
This is also an essential for getting to sleep – you might be ready to sleep when the lights are still on and an eye mask will help you sleeping longer.
Hot water bottle (empty)
Ask the flight attendants for some hot water if you get cold on the plane. Also helps with any aches you might have.
Eye drops and nose spray
They might not seem like obvious things to take on board, but these will help with dryness from the air-conditioning on the plane. Nose spray helps keep the airways hydrated which helps fight off germs, and eye drops will help tired, dry eyes.
Tissues/Wet wipes
Wet wipes aren't just for people travelling with small children! Tissues and wet wipes come in handy a lot; they're great for cleaning up spills and mess, can be used to remove makeup and without showers readily available, wet wipes are a great way to freshen up. If you're a bit worried about the sanitation of a surface, either can be used to wipe it down for peace of mind too! There are compostable wipes, which we would recommend using and they are now readily available in supermarkets.
Dental floss and mouthwash
Some airlines do provide toothbrush and paste on long-haul flights, but having dental floss and mouth wash can make all the difference, especially if you have a long stop-over in between flights.
Ear plugs and headphones
If you don't like using the airline's supplied headphones, bringing your own is a good alternative, and you can still plug them into the on-board entertainment. If you need music to sleep, having an option with ear buds is much more comfortable. Noise-cancelling ear plugs are also key to a great sleep.
Moisturisers and lip balms
Being able to keep your skin hydrated will help you feel better when you get off the plane. The skin on your face and hands will dry out especially quickly in air-conditioning, so a facial moisturiser and/or hand cream will be your saving grace. Lip balm will also keep your lips from getting dry and cracked.
Hand sanitiser
It's often that you hear people get a cold straight after being on a long-haul flight so another way to fight off germs and stay healthy is by using hand sanitiser during the flight.
Deodorant/perfume
This is something that can make everyone's journey a bit easier, and will make you feel refreshed. Even if you're not a person who sweats much, it's reassuring to know that you have something with you as back up in case you need it.
Take a small bag within your carry-on bag
Keep the items you're going to use throughout the flight plus any important items in this smaller bag and have it with you when you're seated so you don't have to stand up and disturb other passengers too much. You can leave bulkier items in your larger bag stored in the over-head lockers.
Other Travel Articles You Might Like...