Wed, 21/10/2015 - 7:32pm
Once you've made a proper journey by train, you'll never look back. It's not just the convenience – though being able to board and disembark in the city centre, avoiding all the airport hassle, is a huge plus. You know that saying "it's about the journey, not the destination"? That's rail travel in a nutshell. And that's especially the case in Europe, where the trains are comfortable, the scenery magnificent, and the rail network vast.
The Eurail Pass has long been the favourite way for New Zealanders to see Europe by train. While not the bargain it once was, the pass still offers rail travellers amazing flexibility and freedom. Thinking about booking one? Here's what you need to know.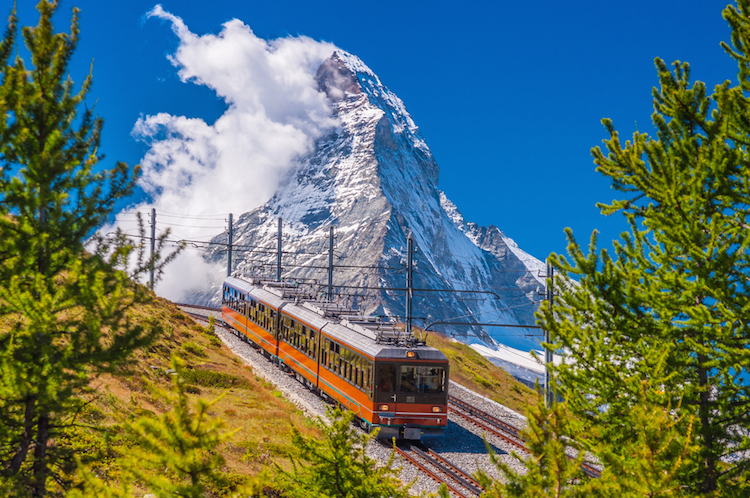 A train on the Gornergrat Railway passes the Matterhorn, Switzerland. Credit: Shutterstock.com / Olimpiu Pop
"Eurail"? Don't you mean InterRail?
If you're buying a European railpass from outside the Europe, you'll be sold a Eurail Pass. Only European residents qualify for an InterRail pass.
So, should I book a Eurail Pass?
That all depends. How much rail travel are you planning on? Do you know exactly where you want to go, on which days? Or would you rather hop-on and hop-off, with minimal pre-planning? Are you aged 26 or younger? The answers will affect whether a Eurail Pass makes financial sense. In some cases booking individual tickets may be more cost-effective, especially if your plans are finalised well in advance. A travel agent can help you decide if a Eurail Pass is the right choice for you.
Eurail Global Pass, Eurail Select Pass – what's the difference?
The Global Pass is Eurail's gold-plated option: unlimited 1st class train travel across most of Europe, for either a number of consecutive days or for 5, 10 or 15 days within a set period. With Select Pass, you choose four bordering countries and 5, 6, 8 or 10 travel days within a 2-month window. The cost of the Select Pass will depend on the countries you pick: a France-Germany-Switzerland-Italy pass will cost more than one valid only in Eastern Europe. Eurail also offers cheaper 2-country and 1-country options.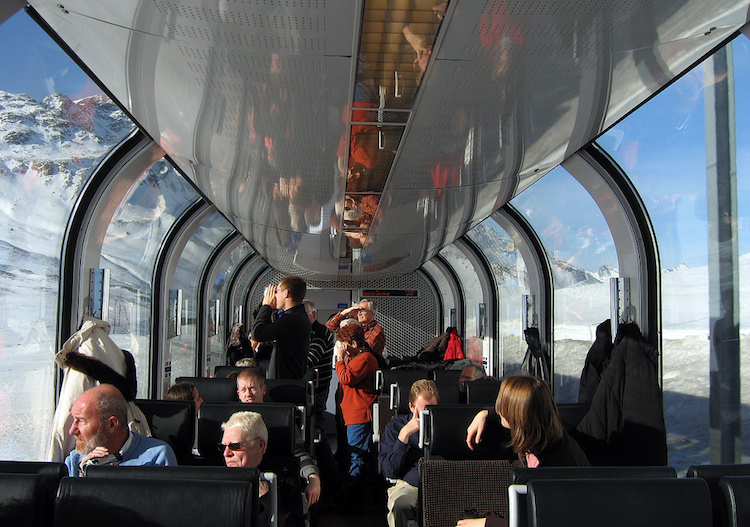 The viewing carriage on the Bernina Express, Switzerland. Credit: Flickr.com / Emanuele.
So I can just jump on any train I like?
Not exactly. Rail passes aren't valid on city commuter trains or on privately-run rail networks (Italy's high-speed Italo trains are an example). Some countries, including France and Italy, now require advance reservations for most trains, and levy a small "passholder surcharge" on each booking. But in many countries – Germany, Denmark and Austria, to name a few – travelling by railpass is as easy as it's always been. In these countries, hop-on, hop-off is still the rule, usually with no surcharges or advanced booking required.
Is the Eurail Pass valid in the UK?
No. And while your Eurail Pass entitles you to a special "passholder fare" on Eurostar (the high-speed train connecting London with Paris and Brussels), you won't save that much. In fact, if you book ahead, a standard Eurostar fare may be cheaper.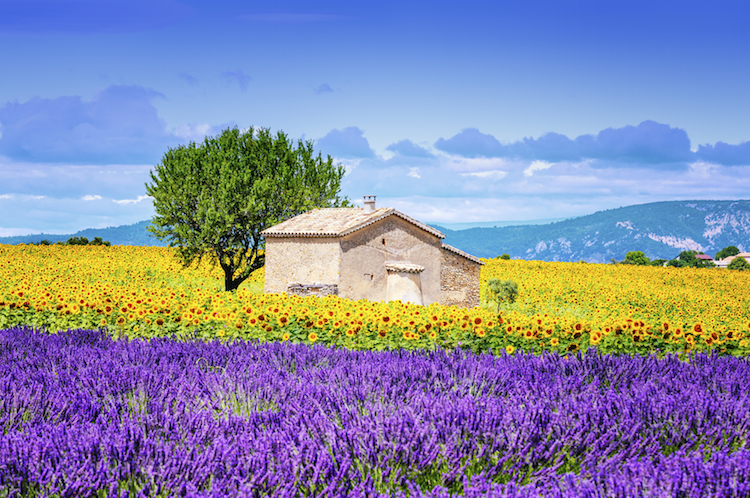 Provence, France, in the summertime. Credit: iStock.com / Ventdusud.
The big question: where should I go?
That's the fun part. Book a Eurail Pass and Europe opens up to you. Some of the world's greatest railway routes are in Europe, almost all of them bookable with a Eurail Pass. Your wish-list might include:
- The Semmering Line, Austria.
   When this beautiful route opened in 1854 it was the highest railway line on earth. The line, a UNESCO World Heritage Site, remains vertigo-inducing, a sequence of sky-high bridges and viaducts through deep valleys and snowy peaks.
- The Bernina Line, Switzerland.
  Another World Heritage Site railway, the Bernina whisks you past glaciers, lakes and frozen-in-time villages, and over Europe's highest railway crossing, the Bernina Pass. Trains feature extra-large panorama windows to fully capture the breathtaking views.
- Paris to Nice by TGV, France.
  When going by TGV high-speed train takes only around 90 minutes more than by air (when you factor in the train to the airport, check-in, flight and bus at the other end), it's a wonder that everyone doesn't take the train. From Paris, head south through the verdant Rhone Valley and into the purple lavender fields of Provence, skipping around Marseille and following the rocky Cote d'Azur coastline to the Mediterranean city of Nice.
Other Travel Articles You Might Like...