Fri, 09/10/2015 - 9:14pm
We were hoping for a Lada, but the equally boxy Suzuki would have to do. Slovenia was never really Eastern European anyway, so why should the roads be full of Soviet cars? Sure, there was General Tito's Socialist experiment called Yugoslavia, but the tiny country surrounded by Croatia, Italy, Austria and Hungary has always been defiantly Central European.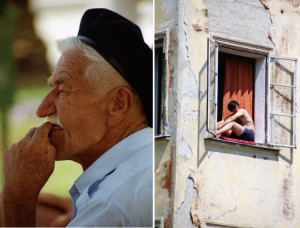 Ljubljana locals. Credit: Carol Atkinson.
Leaving a European capital can be challenging as you negotiate trams, weaving Vespas and the dubious pleasures of one-way ring roads, but making it out of the Slovenian capital of Ljubljana is surprisingly easy. Turn left twice, followed by a leisurely right, and we're on the main road out of town. I've had more problems exiting the Countdown car park on a Saturday afternoon.
First stop is Lake Bled with the Julian Alps looming in the background. The intimate Church of the Assumption on Blejski Otok (Bled Island) in the middle of the lake is the iconic image of Slovenia. Amidst Bled's tourist-town tat, the church's graceful spire is ubiquitous, so we adjourn to the lakeside and hire a creaking rowboat to see the real thing.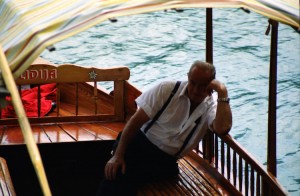 Rower at Lake Bled. Credit: Carol Atkinson.
"Self-row" is the cheapest way to get to Blejski Otok, but flush or lazy travellers can splash out on a flasher boat with a natty local rower. Today most visitors are doing their own thing, and Bled's crack rowing team lies dozing under the Central European sun. Mooring the boat on the island's gentle landing almost proves my undoing (blame the wind), but an Italian tourist grabs my hand just as I'm about to fall out of the boat. Grazie, (or hvala as they say in Slovenia).
We travel further towards the Julian Alps on secondary roads through quiet villages. You could easily transit Slovenia in a few hours by motorway, but it's more fun to negotiate around crawling trucks overloaded with shaggy dog wigs of wispy hay. Just four hours from Ljubljana we arrive at Lake Bohinj in Slovenia's alpine lake district. Paragliders launch themselves from the spiky indigo peaks surrounding our guesthouse, and grey-purple pinnacles are highlighted against a cobalt sky. Lake Bohinj is quieter than Bled and days are filled with meandering ferry rides to sleepy Ribcev Laz at the opposite end of the slender lake. Nightlife is equally leisurely, and the local beer garden bedecked with fairy lights is where all the cheesy pop hits of the 1980s have gone for a comfortable if ironic retirement.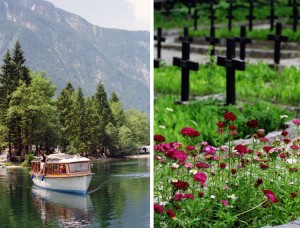 Lake Bohinj, left, and partisan crosses at Cerkno, right. Credit: Carol Atkinson.
Heading back to Ljubljana, we detour southwest through the rural region of Cerkno. The limitations of our local map suddenly become very evident. Leaving the city had been easy, but finding the Franja Partisan Hospital proves tougher. Still, we shouldn't be deterred, as the Nazi might of the Third Reich was unable to uncover the clandestine camp through all of WWII. Fate intervenes as a local flags us down and climbs in the back seat. Through global charades he directs us to our destination after a circuitous journey with absolutely no road signs. He instantly recognises a friend at a bar at the ticket office and abandons us immediately. We head into the winding river canyon on our own.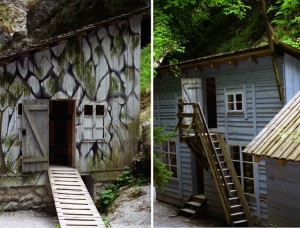 Franja Partisan Hospital, Cerkno. Credit: Carol Atkinson.
The narrow ravines around Cerkno were vital to hide partisan hospitals supporting the Slovenian resistance against Nazi Germany. More than 15,000 soldiers were treated in 120 secret hospitals dotted around Slovenia. Negotiating the narrow gorge of the Cerenscica River, we discover thirteen wooden cabins secreted in the rocky cliffs. The gorge suffered aerial attacks by the Luftwaffe, but the rudimentary medical complex was never discovered and remained in use to the war's end. Access is now much easier with ladders and walkways leading to camouflaged buildings including surgeries and x-ray cabins.
Our Slovenian navigator is still making friends at a bar, but finds time to draws a map for us on a beer coaster. He's not content with just lines and arrows, but adds lots of detail for the journey back to Ljubljana. A hilltop castle at Skofja Loka for reference. The Julian Alps to the northwest. Even Lake Bled and the island to the northeast.
It's a masterpiece of rustic cartography, and just like Slovenia, he makes it all fit into a tiny but perfect space.
Other Travel Articles You Might Like...