Thu, 11/06/2020 - 1:38pm
We can't travel to Greece right now, but we're still allowed to dream about it! Here is how to "travel" to Greece without even leaving your couch!
Films & streaming
Sure, Pierce Brosnan's singing is remarkably inconsistent and the plots are wafer thin, but for sheer guilty pleasure escapism – soundtracked by ABBA songs and coloured with the aquamarine imagery of the Greek islands – it's hard to go past Mamma Mia! (2008) and Mamma Mia! Here We Go Again (2018). Check out Netflix for a double feature of the sun-kissed flicks filmed on the northern Aegean islands of Skopelos and Skiathos.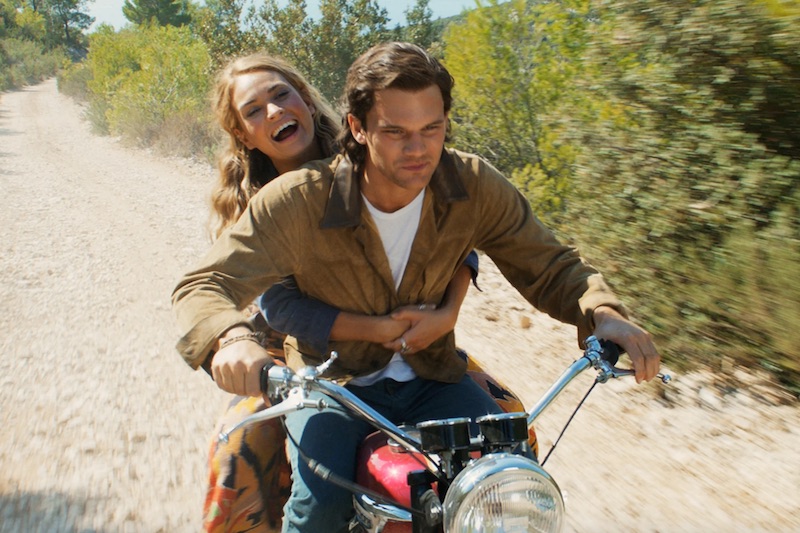 A publicity image from Mamma Mia 2: Here We Go Again (Photo: supplied)
Just a short ferry ride from the southern Turkish town of Kas, Kastellorizo is Greece's most remote island, and the rocky outpost was used as the location for
Mediterraneo
(1991), an entertaining comedy-drama about Italian soldiers stranded on a Greek island in WWII. To the west, Crete was the location of
Zorba the Greek
(1964). You'll probably know 'Zorba's Dance', the catchy theme tune, when you hear it.
Both films are available on DVD from Auckland's Video Shop, AroVideo in Wellington or Christchurch's Alice in Videoland.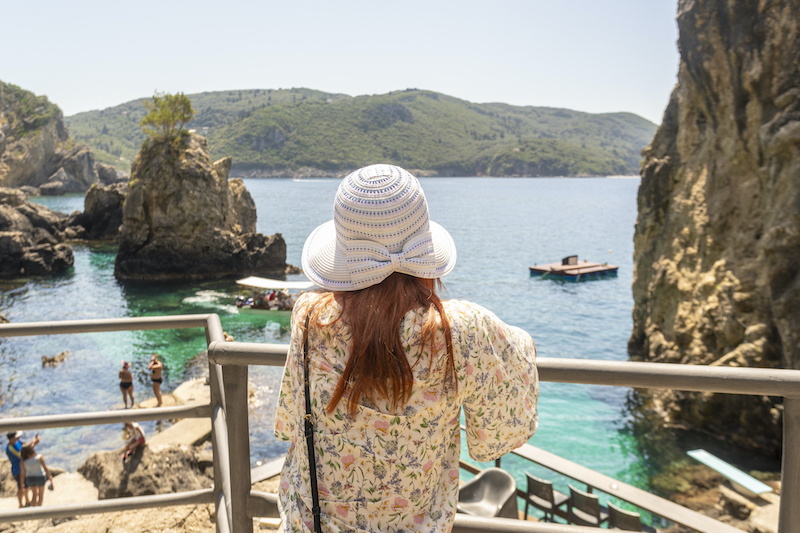 La Grotta Beach in Paleokastritsa, Corfu. (Photo: Getty Images)
Reading
Reprinted many times since being first published in 1958, Mani: Travels in the Southern Peloponnese by English author Patrick Leigh Fermor is regarded as one of travel writing's classic books. Published eight years later in 1966, Fermor's Roumeli: Travels in Northern Greece is a highly regarded companion volume.
The Corfu Trilogy compiles the family memoirs of the four years British wildlife conservationist Gerald Durrell spent on the island of Corfu. Spanning the pre-war years 1935 to 1939, the books were filmed as the entertaining BBC comedy-drama The Durrells from 2016 to 2019. (Available to purchase on DVD in New Zealand).
The exceptionally versatile Stephen Fry may be more well-known as an actor and TV presenter, but in Mythos: the Greek Myths Retold (2017) he's also written a brilliantly entertaining and accessible guide to the diverse panoply of Greek gods.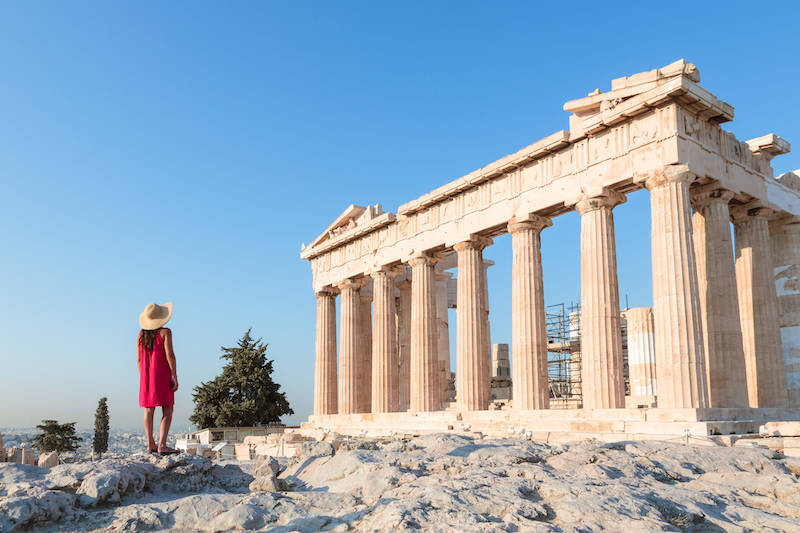 The Acropolis, Athens. (Photo: Getty Images)
Online experiences
As part of Google's Arts & Culture project, it's possible to take an at home and in-depth look at the treasures and antiquities of Athens' Acropolis Museum. 360° and 3D technology allows visitors to stroll virtually through the exhibition galleries of the modern museum opened in 2009, and information is provided on the most important archeological pieces. External friezes from the Parthenon temple still standing high above the city are a vital part of the museum's treasures. It's also possible to view in 3D other antiquities from the Parthenon – controversially still kept in London – on Google's Arts & Culture site. Search for 'British Museum'.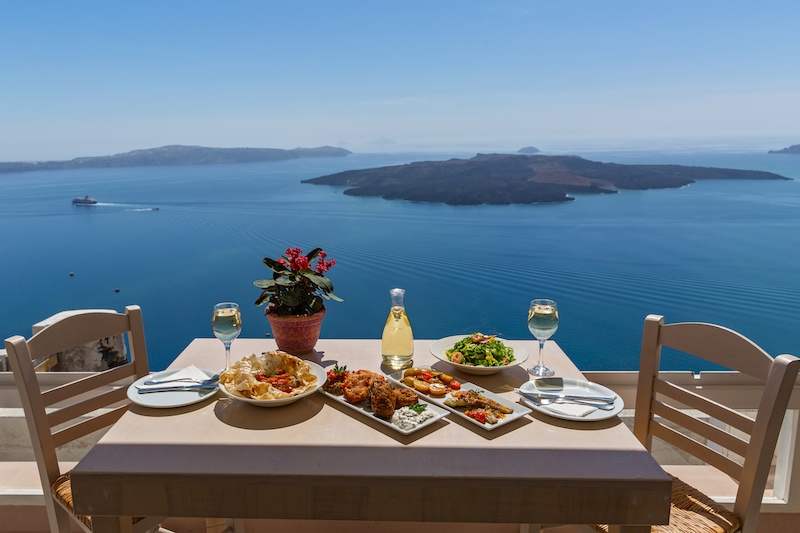 Lunch overlooking Santorini, Greece. (Photo: Getty Images)
Greek restaurants in New Zealand
Modern Greek flavours are the highlight at Gerome in the Auckland suburb of Parnell – try the slow-roasted lamb kleftiko or visit for lunch and try the well-priced souvlaki wrap. To source authentic Greek ingredients or sign up for Greek cooking classes, check out A Taste of Greece in the North Shore suburb of Brown's Bay.
Further south in Wellington, home to New Zealand's biggest Greek community, is Oikos Hellenic Cuisine, a bustling modern trattoria. Wellington's best souvlaki can be found at Souvlaki at Akropolis; there are two locations in the city. In Christchurch, Dmitri's has been serving up great souvlaki since 1985 – visit their stall in the city's new Riverside Market – while Athens Yacht Club on the edge of the CBD is a more contemporary Greek eatery. Share a few mezedes (small plates) including chargrilled octopus or psarokeftedes (fish croquettes)
Other Travel Articles You Might Like...