Tue, 03/03/2020 - 11:23am
If you're looking for a dreamy holiday with a side order of history, you can't go past Greece, the spectacularly beautiful Mediterranean nation with ancient roots.
The food
Greek food may not have the near-mythical status of French or Italian cuisine, but it could well be even more delicious. It's characterised by a focus on incredible fresh produce, artisan dairy products (generally sheep and goat), lots of olive oil, plenty of fish, and a smattering of poultry and lamb (beef is uncommon here). You probably know about dolmadakia (dolmades), spanakopita (spinach and cheese pie) and moussaka, but those are only the start of the great things to eat in Greece. Try kolokythokeftedes, crispy courgette balls with feta and mint, and loukoumades, bite-sized golden puffs of fried dough sprinkled with sugar syrup, walnuts and cinnamon – delicious!!
The ancient history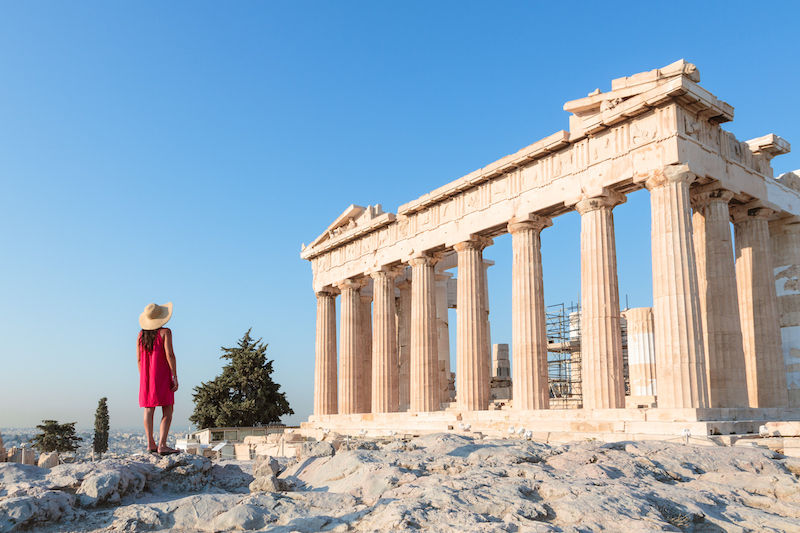 The Parthenon, Athens. Photo: Getty Images
Hundreds of years before Rome was even founded, Greece was home to the most advanced civilisation on earth. Today, thanks to towering figures like Homer, Plato and Socrates, it's still considered Europe's cradle of arts and philosophy. The remnants of Ancient Greece are to be found all over the country, and include temples, theatres, palaces and fortresses. In Athens, the Parthenon – a 5th century BC temple dedicated to the goddess Athena – is a jaw-dropping sight; three hours' drive to the west, Olympia was a major religious site and the place where the ancient Olympic Games were held. Mycenae, the stronghold of the great king Agamemnon, is still remarkably well preserved, as is Knossos, the ancient Minoan capital of the island of Crete.
The islands
Interested in ancient Greek history, but still want your holiday to include plenty of time relaxing on the beach? Head straight to the idyllic Greek Islands. A typical day on a Greek island might include an expedition to a historic site before the day heats up, then lunch at a whitewashed taverna under a vine-leaf covered pergola, a quick cooling dip in the azure-blue ocean, and an evening wander through the town's narrow laneways before dinner at a charming beachfront restaurant. For history buffs, Crete, Rhodes, Patmos and Corfu should be top of the list; travellers in search of great nightlife gravitate towards Mykonos, Ios, Zakynthos and Kos. And if you get bored of one island, no problem: an extensive ferry network means it's easy to spend your trip 'island-hopping' between neighbouring islands as the whim takes you.
The towns and cities
You know about Athens, but how much have you heard about the other cities that make Greece such a fascinating place to visit? Greece's gracious second city, Thessaloniki (also known as Saloniki or Salonica), is considered more laidback, cultured and stylish than Athens, and serves as a gateway to the country's scenic northern region. The waterfront city of Patras (or Patra) on the northwestern tip of the Peloponnese peninsula is handily located for day trips to nearby Olympia and Delphi, and a lovely place to spend a few days before taking the ferry to the Ionian Islands. And then there's bustling Athens, with seemingly endless ancient landmarks, brilliant restaurants and bars, and some of the best nightlife in all of Europe.
The Scenery
Let's start with the beaches. Even if you consider yourself a veteran of beautiful beaches, you'll be blown away by the best Greece has to offer, from the black sands of Santorini to the velvety-white dunes of Simos. Other jaw-dropping beach destinations include Kleftiko, a stunning beach with lunar-like white rock formations on Milos (the island where the Venus de Milo was found) and the spectacular Navagio beach – also known as Shipwreck Beach – on the island of Zakynthos. Greece's interior is equally gorgeous. Visit Meteora to see towering natural rock pinnacles topped by a precarious complex of medieval monasteries, and legendary Mount Olympus for hiking and camping in one of Greece's most spectacular national parks.
Other Travel Articles You Might Like...