Mon, 01/07/2019 - 1:44pm
Featuring whitewashed hill towns, the cosmopolitan port city of Bari and the beautiful Baroque architecture of Lecce, the southern Italian region of Puglia boasts many opportunities to experience the flavours and tradition of authentic restaurants, cafes and wine bars.
Al Trabucco da Mimi, Gargano Peninsula
Head north from Bari along coastal forested roads to the sleepy Gargano Peninsula. High above the Adriatic Sea near the coastal town of Vieste, Al Trabucco da Mimi is a casual seafood restaurant built around a traditional Puglian wooden fishing platform (a trabucco). Partner a Puglian Falanghina white wine from Lecce with antipasto of prawns and wild chicory, before a secondi course of grilled octopus and pomegranate. It's all very local and it's all very fresh.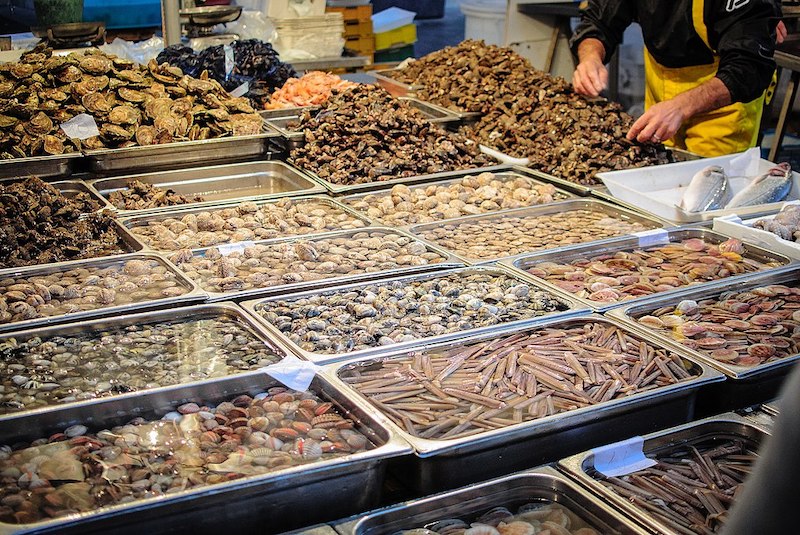 The seafood market in Bari. Photo: Italo Greco / CC BY-2.0
Seafood market, Bari
Quite possibly Puglia's freshest raw seafood - including squid, oysters and briny sea urchins - is served daily from around 11am at the market's rustic waterfront tables. Served simply with lemon wedges, a mixed plateful is €5 (around NZ$8.50), and usually comes with a side order of Italian charm from Bari's wise-cracking fishermen. Frosty Peroni beer – drunk straight from the bottle – is the beverage of choice for most locals.
Terranima, Bari
Forged out of necessity due to southern Italy's economically disadvantaged past, Puglia's cucina povera (literally 'food of the poor') focuses on making the most of simple local ingredients. This friendly osteria in Bari's new town is popular for orecchiette pasta, made without the addition of eggs and served with anchovies, chilli, garlic and pecorino cheese. Terranima also offers an authentic version of riso, patate e cozze, a local Bari dish combining baked rice, potatoes and mussels.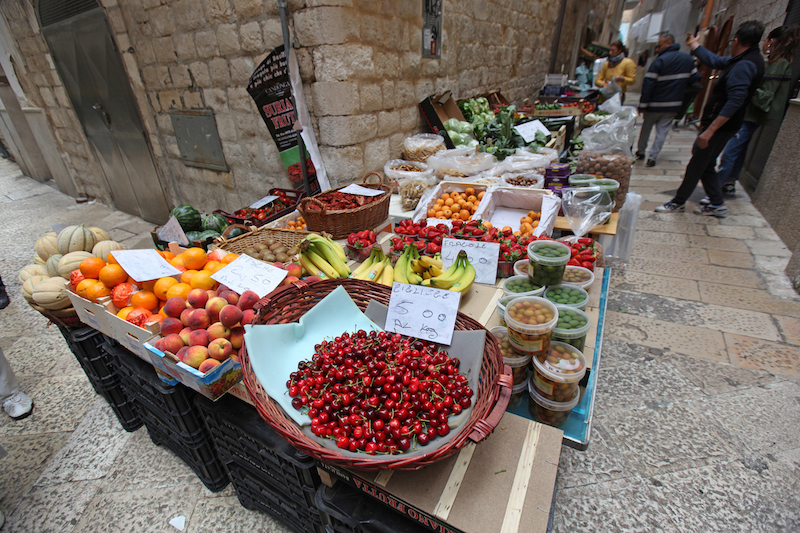 A street market in Bari's old town. Photo: Getty
Panificio Fiore, Bari
Tucked away in the winding backstreets of Bari's old town, the 'Flower Bakery' is the kind of place you sense well before you see it. The comforting aroma of fresh focaccia bread wafts out of the simple shopfront, and the pavement outside is usually full of loyal locals enjoying still-warm slices of yeasty goodness. Focaccia sandwiches filled with cheese, tomato and salami are available, but most popular is the plain version, topped simply with tomato, olives and herbs, and baked fresh in Fiore's decades-old oven throughout the day.

La Cucina di Mamma Elvira, Lecce
A spinoff of Lecce's popular Enoteca Mamma Elvira wine bar, itself an excellent spot to try flinty varietals from the up and coming Salento wine area, La Cucina di Mamma Elvira is a hip and modern version of a traditional trattoria. Standout options on the seasonal menu include homemade pasta with red prawns from the southwestern Puglian town of Gallipoli, and eggplant polpette (vegetarian meatballs) in a rich tomato sauce. The drinks list includes some of Puglia's best craft beers. Try the Belgian-style Jouissance from Birrificio Decimoprimo near Bari.
Caffe Alvino, Lecce
This heritage cafe on Lecce's Piazza Sant' Oronzo is the best spot to try two of the city's culinary favourites. Cradled by delicate and buttery short pastry, pasticciotto are usually filled with creamy ricotta custard or rich pistachio cream. New wave interpretations like Nutella are also on offer, but the original flavours are definitely the best. Order a couple and take the heat out of a Lecce summer with caffe Leccese, iced espresso coffee served with almond milk syrup.

Baldo Gelato, Lecce
Lecce's beautiful Baroque old town is crammed with gelateria, but even in this southern Italian ice-cream hotspot Baldo is something special. Located on Via Umberto, a popular walking street lined with good wine bars, Baldo's insistence on using the freshest of seasonal ingredients results in creamy treats like fragola (strawberry), gelsi (mulberry) and pesca (peach). During spring and summer, Baldo's icy sorbet-like granita is very refreshing.
Quanta Basta, Lecce
With a considered approach to cocktail making and outdoor tables surrounded by Lecce's heritage charm, Quanta Basta is one of the city's best spots for an end-of-day aperitivo drink. The orange-tinged sparkling refreshment of an Aperol Spritz is a popular drink with Quanta Basta's twilight roll call of tourists and locals, but a Negroni cocktail is a more sophisticated option. Order a Negroni Sbagliato, substituting sparkling Prosecco for the recipe's usual addition of gin. Sbagliato translates to 'mistaken', and reputedly the amended recipe was inadvertently invented by a bartender not paying enough attention.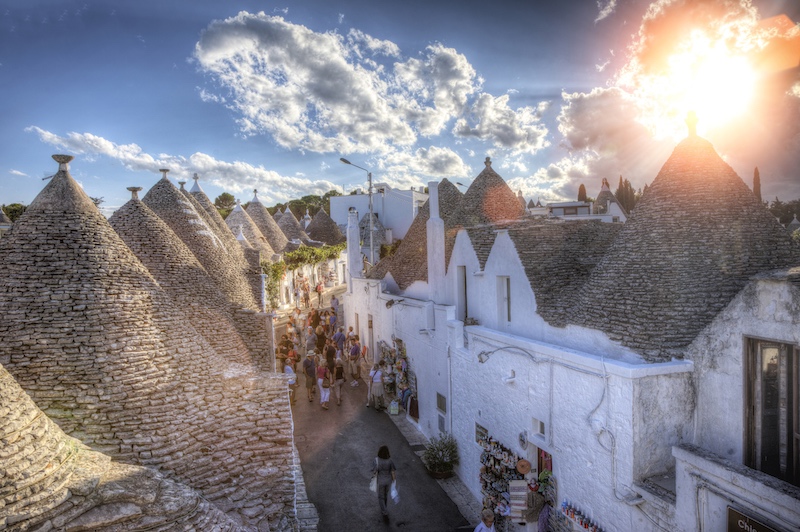 Trulli houses and shops, Alberobello. Photo: Getty Images
Trattoria Terra Madre, Alberobello
Housed amid the charming labyrinth of Alberobello's slate-roofed trulli houses, Trattoria Terra Madre is an excellent place to discover how important vegetables are in the region's cucina povera. Leisurely tasting menus starting at €26 (NZ$44) showcase local and seasonal ingredients including eggplant, zucchini and peppers, and much of Trattoria Terra Madre's produce comes from their own organic gardens.
Rosticceria L'Antico Borgo, Cisternino
Travelling carnivores can also get their fix at this historic and long-established combination of butcher's shop and trattoria in the Puglian hill town of Cisternino. Meaty options, including excellent steak and ribs, are all priced by the kilo, but most popular are the town's traditional bombettes. Tender pork is wrapped around a chunk of richly-flavoured cheese and then grilled to order. Add chips, salad and a glass of robust red wine to complete the locals' favourite.

Other Travel Articles You Might Like...