15 Places to Enjoy the Best Craft Beer in New Zealand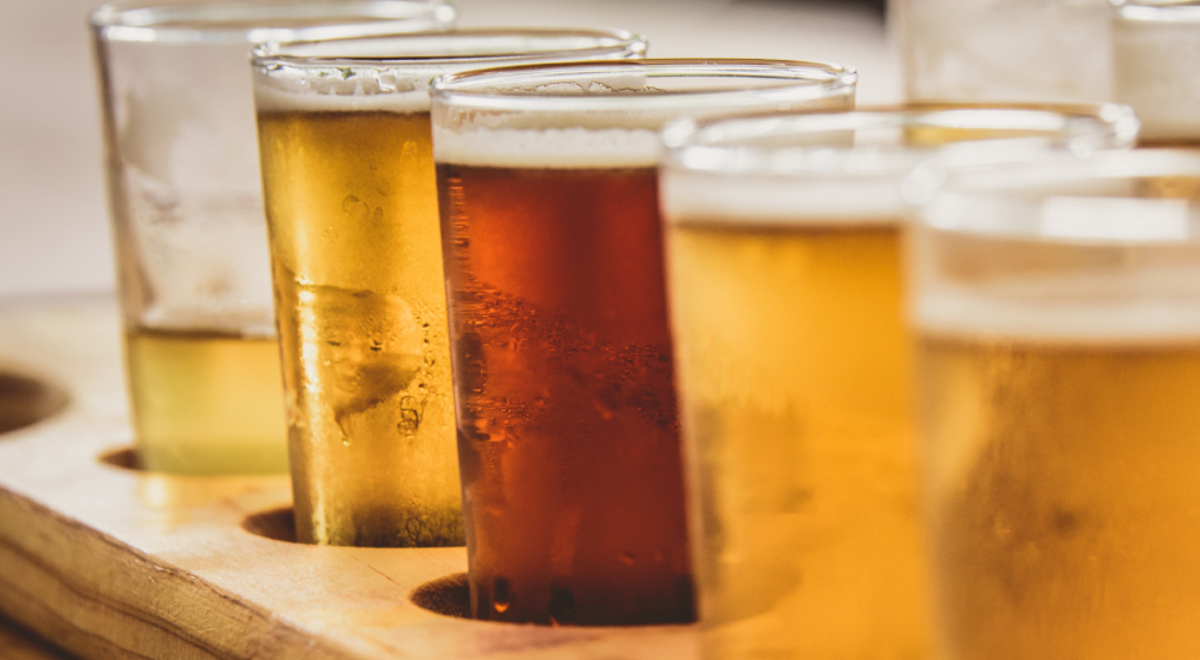 We might not be able to go to Oktoberfest in Germany at the moment but who needs to when we have the best craft beers in the whole world right here in New Zealand!?! And where are the best craft beer breweries and bars in New Zealand, you ask? Well, we've done the keg work, ahem sorry, leg work for you and compiled a list of the best 15 places to get a craft beer in Aotearoa! The list is from top to bottom of the country so you can start planning your craft beer lover's journey through NZ now! 
1. McLeod's Pizza Barn & Brewery, Waipu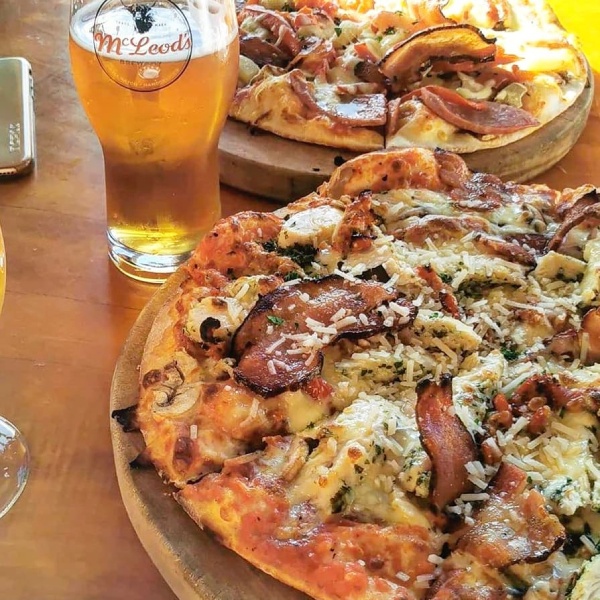 McLeod's Pizza Barn & Brewery in Waipu. Image credit: Erin O'Sullivan
Where? 2 Cove Road, Waipu.
What? Waipu's iconic Pizza Barn is a must when it comes to great pizza, but wait this blog is about craft beer right!? Do not fear, brothers Geoff and Clayton Gwynne, who own the pizza barn, started McLeod's Brewery in 2014. So now you can enjoy their amazing beer accompanied by some delicious pizza - a winning combination!
Must-try beer? Paradise Pale Ale - made with NZ hops, this pale ale has some tropical flavours - think orange, lime, papaya - super refreshing!
 
2. The Sawmill Brewery and Smoko Room, Matakana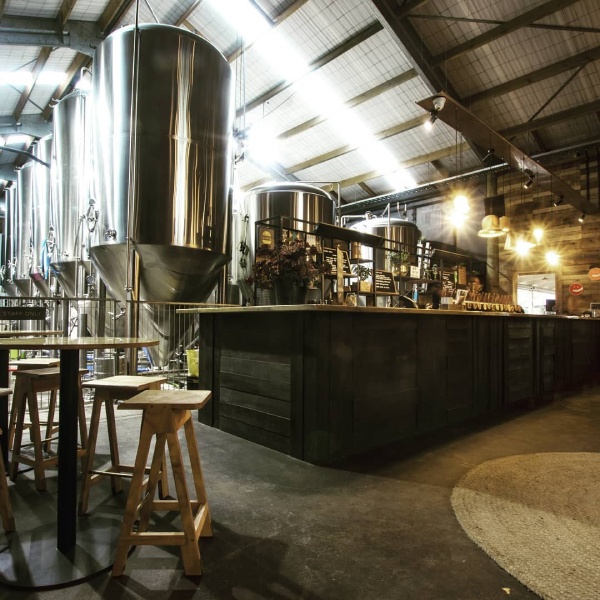 The Sawmill Brewery. Image credit: Jo Currie
Where? 1004 Leigh Road,Matakana.
What? Sawmill Brewery got its name because it was originally built on the site of an old local timber mill established in the 1860s. Now the brewery has moved to Matakana and is run by a team of passionate brewers who make super fresh quality beer using New Zealand grown hops and malted barley. The Smoko Room is part of the brewery and offers some very nice food with a menu that celebrates local growers and uses ethically sourced, seasonal produce. Match your food to one of their 14 beers on tap or try one of their tasting trays.
Must-try beer? The Hefeweizen - a highly carbonated wheat beer with spicy notes yet dry and refreshing - perfect for summer!
 
3. Hallertau, Riverhead, Auckland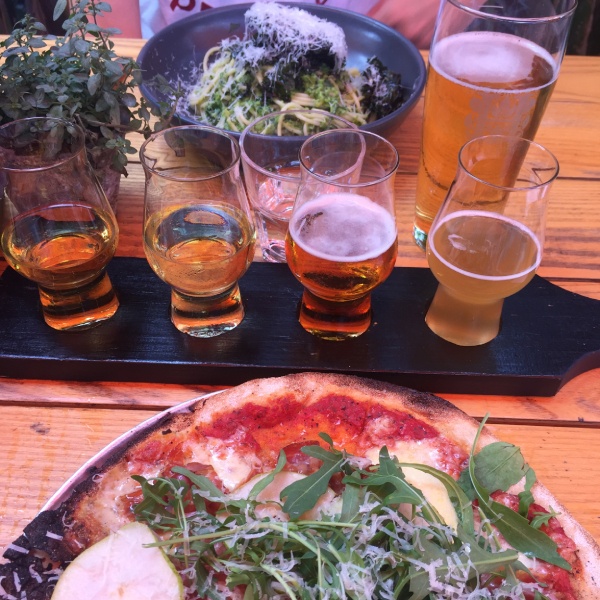 Beer tasting tray and delicious food at Hallertau. Image credit: Sarah Thompson
Where? 1171 Coatesville Riverhead Highway, Riverhead, Auckland. They also have other locations, but the Riverhead one is our favourite! 
What? Just a 20-minute drive from Auckland central, Hallertau is a great brewery with an awesome beergarten and one of the best places to get a craft beer in Auckland! This is a great place for a chill Sunday afternoon, and it's perfect for families too as they even have a playground. There's often some live music too which is awesome. The food is great, we love their pizzas especially, or the Hallertau Beef Burger which is delish. And of course their beers are fantastic and brewed on site.
Must-try beer? The seasonal Boric Tangelo Witbier - a sour beer made with tangelos from local orchard Boric - beware, it's a zinger!
 
4. The Beer Spot, Auckland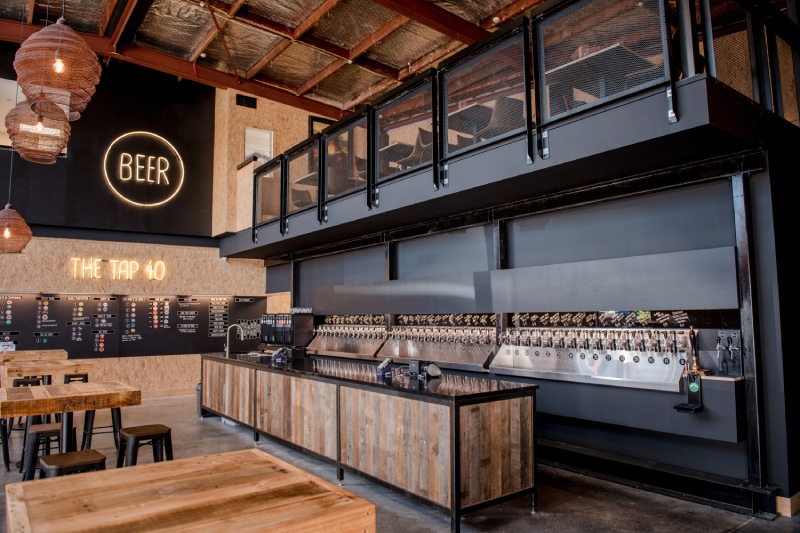 The Beer Spot Morningside. Image credit Richard Parsonson
Where? They have 5 locations all over Auckland: Northcote, Huapai, Morningside, Whangaparaoa and Panmure.
What? These are not breweries but they are very good tap rooms where you can get your hands on the best craft beers in New Zealand. They offer 40 taps of beery goodness at all locations and their staff are super knowledgeable and will recommend the best beer for you. The best thing about these guys is that they have a different food truck parked by each location which changes out each week. Think Manila Eats, Jo Bros Burgers, The White Lady (yes, the very one for those who know!!!) and Ramen Takara, to name a few.
Must-try beer? Their beers change all the time so we recommend getting a tasting paddle and trying a few!
 
5. Alibi Brewing Company, Waiheke Island, Auckland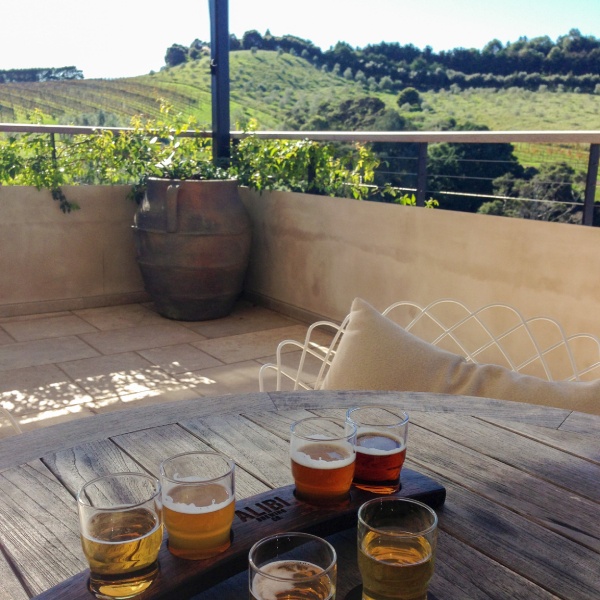 Alibi beer tasting at Tantalus Estate Vineyard on Waiheke Island. Image credit: Sarah Thompson
Where? 70/72 Onetangi Road, Waiheke Island.
What? This very cool micro-brewery is part of Tantalus Estate Vineyard on Waiheke Island, which also boasts the most amazing restaurant. The Brewer's Lounge is separate from the restaurant and has a secretive, speakeasy sort of feel, very moody and intimate. Their beers are made in the traditional way but with some great experimental choices too, especially some of their beautiful seasonal beers on tap. Plus, they also serve their beers in the restaurant so you can still enjoy an amazing fine dining experience accompanied by some fine beers.
Must-try beer? Caliche West Coast IPA - a super pale ale with notes of mango, lychee, passionfruit and lime.
 
6. Good George Brewing & Dining Hall, Hamilton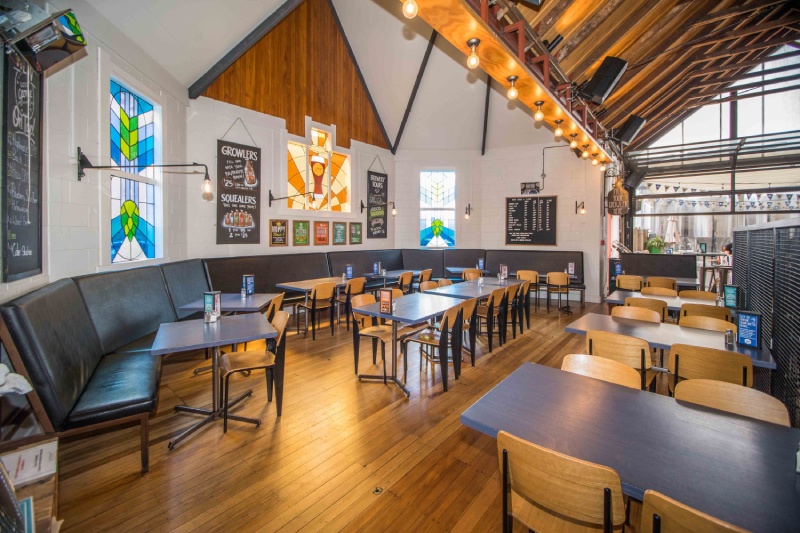 The Good George Dining Hall in Hamilton, set up in an old 1960s church. Image credit: Good George
Where? 32A Somerset Street, Frankton, Hamilton.
What? Good George now has several bars around the country but this is the original Good George bar and home of their brewery in Hamilton, set up in an old 1960s church - it's the OG pub when it comes to getting a good craft beer in Hamilton! They have a beer garden which is right next to the brew tanks so you'll get to see them make the magic happen. They also have a really good food menu with their recommended beer match which is pretty cool. And every Thursday, you can get an awesome burger and a beer for only $25 - can't go wrong!
Must-try beer? Worthy Hazy Pilsner - a refreshing, zesty and lightly bitter beer.
 
7. Sunshine Brewery and Taproom, Gisborne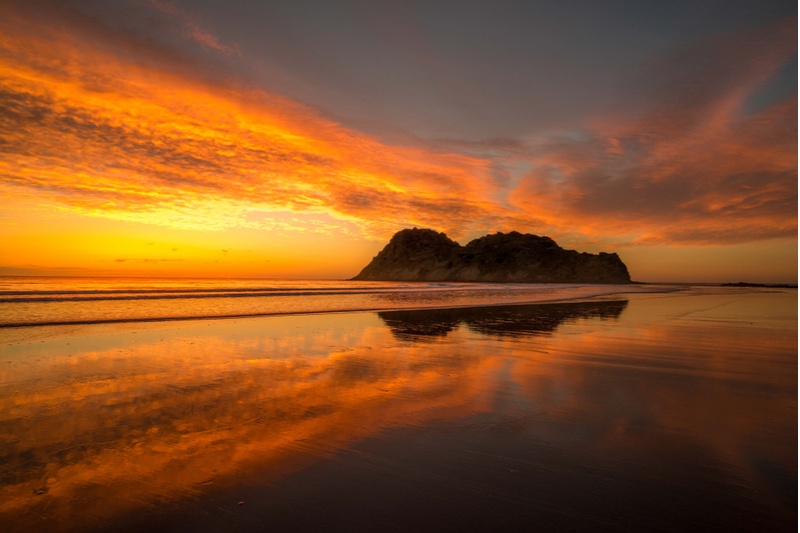 Gisborne sunrise where Sunshine Brewery beers are first to see the sun! Image credit: Shutterstock
Where? 49 Awapuni Road, Awapuni, Gisborne.
What? As they very cleverly put it on their website, Sunshine Brewery produces "the first beer to see the sun" so that's gotta count for something, right (not sure what but we'll let you be the judge)?! Sunshine is a boutique brewery with a passionate team of brewers/surfers who have been making beer since 1989. The brewery is close to the beach so you can hit the West Coast waves and then enjoy a cold one at the taproom - in true Gisborne style! The taproom offers pizzas and a light snack menu and you can witness the whole brewing process while enjoying your beer too.
Must-try beer? Summer XPA - the taste of a real Kiwi summer! Lightly malted with tropical notes.

8. Tuatara Brewery and Tap Room, Paraparaumu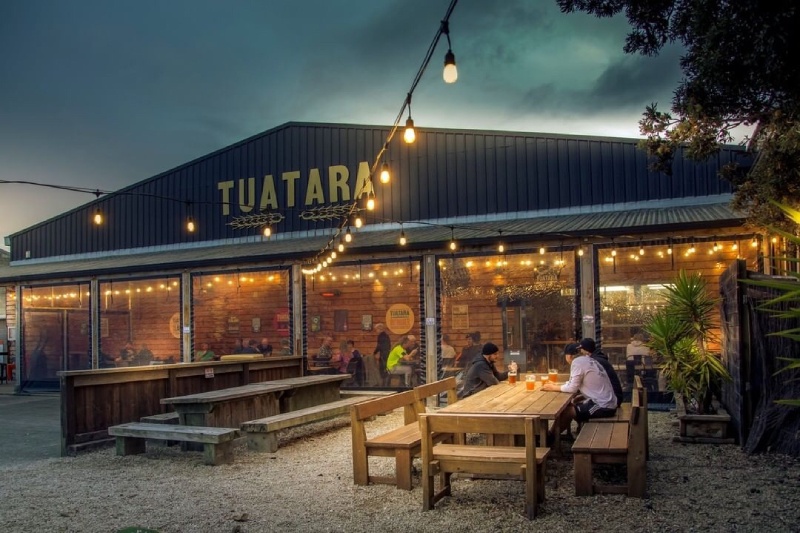 Tuatara Tap Room. Image credit: Tuatara Brewery
Where? 7 Sheffield Street, Paraparaumu.
What? Tuatara began as a backyard operation in Waikanae and is now grown to being one of New Zealand's most well-known breweries. The Tap Room has a great garden bar and 12 taps of Tuatara's finest brews and they have some great food on offer too like cheese platters or pizzas. You can also book a tasting experience which includes a tasting tray of 4 different beers with matching food as well as a craft beer expert taking you through the history of beer through the ages, a close up look at the raw ingredients Tuatara uses and a look at the brewing process.
Must-try beer? Helles Lager - a smooth, balanced lager with notes of lemon and a wholesome bready malt.
 
9. Garage Project and Aro Taproom, Wellington
Where? 91 Aro Street, Aro Valley, Wellington. 
What? One of Wellington's most famous craft beer breweries, Garage Project started as a tiny brewery making just 50 litres of beer in an old derelict petrol station back in 2011. Things have changed now of course and they have multiple locations across Wellington and one in Auckland too. The Aro Taproom is located close to the brewery itself and offers 18 taps as well as some delicious snacks, small plates and toasted cheese melts - yum! They have some true and trusted beers there like their famous beer called "Beer" (!) -  a pale lager - as well as some out of the box sours and wild ferments too. 
Must-try beer? Hatsukoi - a Japanese inspired pilsner, crisp and easy to drink.

10. Fortune Favours, Wellington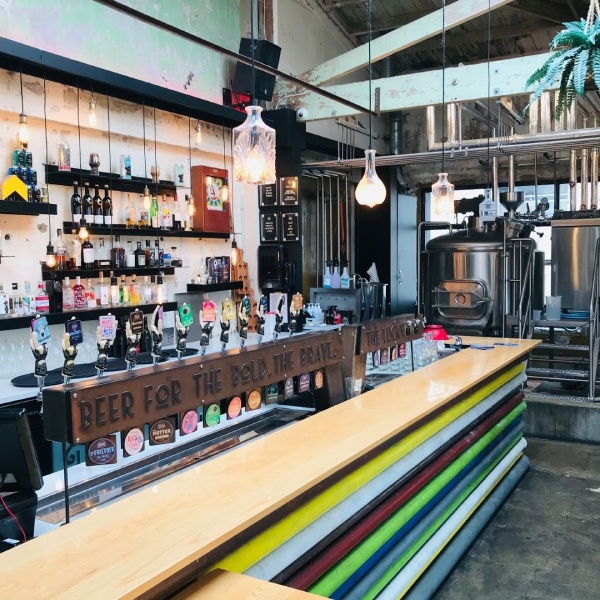 Fortune Favours in Wellington - Beer for the Bold, the Brave and the Lucky! Image credit: Fortune Favours.
Where? 7 Leeds Street, Te Aro, Wellington.
What? Right in the centre of Wellington is Fortune Favours whose self-assigned crusade is to make good beer accessible to all! The Brewbar offers some of their core range as well as some one-off specialty brews. For food, they have partnered with The Cheese Wheel offering artisan cheeses from around New Zealand. And they also have burgers from Gorilla Burger including an awesome vegan burger. We love their motto as well: "Beer for the Bold, the Brave and the Lucky"! 
Must-try beer? The Wellingtonian - a balanced NZIPA packed with distinctly Kiwi hops.
 
11. Sprig and Fern Brewery and Hardy Street Tavern, Nelson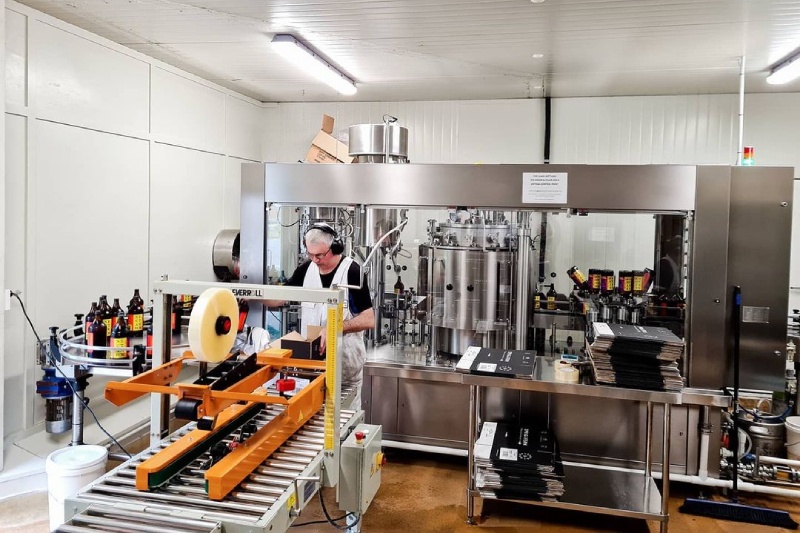 The bottling process at Sprig and Fern Brewery in Nelson. Image credit: Sprig and Fern
Where? 280 Hardy Street, Nelson.
What? Sprig and Fern Brewery is located in Richmond, just 10 minutes from Nelson City. Their philosophy is simple: they use quality ingredients to ensure they produce some top notch beers and definitely some of the best craft beers in Nelson. They source their hops from all the over the world and their malts from both the North and the South Island. They have quite a few different taverns in Nelson, Wellington and Christchurch, but our favourite is the Hardy Street Tavern in Nelson - a cosy pub and a locals' favourite. We love their beer garden to enjoy a beer in the sun and their outdoor heaters keep the place nice and warm so you can still enjoy one of their 18 beers on tap throughout the evening.
Must-try beer? Chocolate Porter - a smooth and silky beer with some great chocolate flavours. 

12. Cassels Brewing Co, Christchurch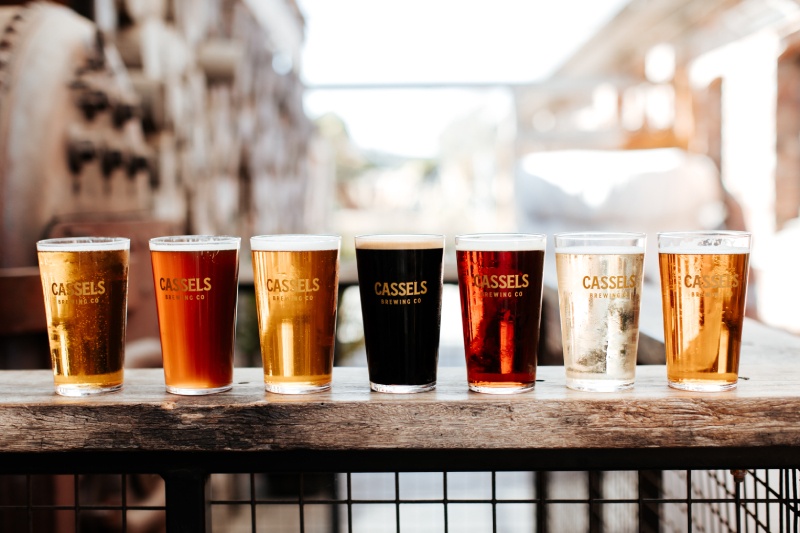 Some fine Cassels brews! Image credit: Cassels Brewing Co
Where? 3 Garlands Road, Woolston, Christchurch.
What? A family brewery, Cassels, started in the 1980s when the family started playing around with brewing their own beers using their wood-fired range at home. The results were great and they started dreaming of creating a wood-fired craft brewery - with only 2 others in the world, it was not an easy feat but they succeeded in 2009! The brewery grew and grew but got hit pretty hard by the 2011 earthquake. They then decided to go even bigger than before and they now have a brewery (one of only 2 operational wood-fired breweries in the world!), a bar, a cafe, a music venue and a restaurant, all on the one site - making it one of the best spots to enjoy a craft beer in Christchurch. 
Must-try beer? Nectaron® IPA - an NZ IPA with intense tropical fruit aromas.

13. b.effect and b.social Restaurant & Bar, Wanaka 
Beer tasting at b.effect in Wanaka. Image credit: Lisa Broderick
Where? 60 Anderson Road, Wanaka.
What? James Hay, a Wanaka local, started the b.effect brewery in 2015 and has been using the best local ingredients to make some very fine and uniquely flavoured beers right in the heart of Wanaka. b.social Restaurant & Bar serves up their amazing beers alongside some very tasty food. Don't miss out on the poutine or the kimchi loaded fries which are delicious. They also have a great beer garden which is open year round so you can enjoy a beer in the sun whether it's a nice hot summer day or you've just come off the slopes and are looking for the perfect après ski hang out!
Must-try beer? Wanaka Lager - a crisp and refreshing beer mixing sweet Vienna malt with bitter Pacifica hops.
14. Cargo Brewery at Waitiri Creek, Queenstown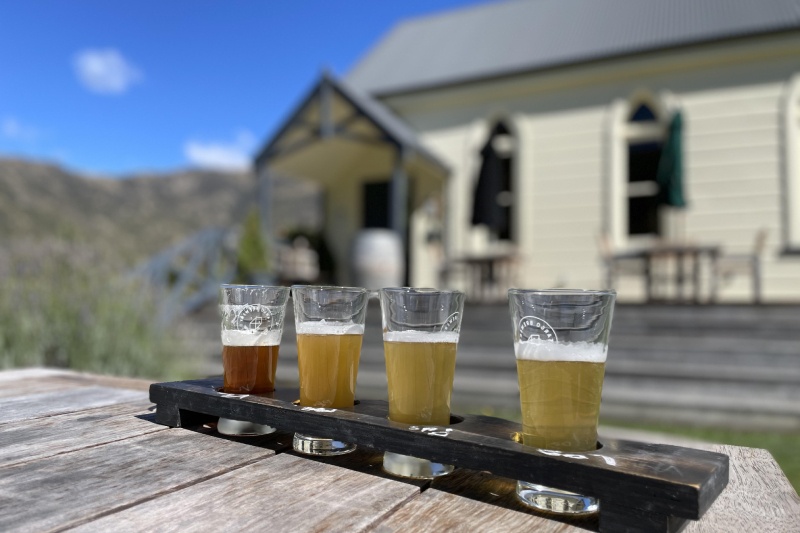 Cargo Brewery at Waitiri Creek. Image credit: Fraser Smith
Where? 2323 Gibbston Valley, Queenstown,
What? When it comes to craft beer in Queenstown, you can't go past Cargo! The Cargo Brewery, cellar door and tasting room are located in the stunning Gibbston Valley (about 30 minutes drive from Queenstown) in a restored historic church which was originally built in 1894. The setting at Waitiri Creek is spectacular and very much worth the drive. Their beer garden offers acres of green grass and features some really cool family-friendly activities like cricket, beach volleyball, football, badminton, croquet and even a trampoline area! They also grow their own hops right on the property guaranteeing the freshest hops end up in their delicious beers. Food wise, make sure you try the Cargo Hot Dog which includes a Cargo Sausage, made with their beer! They also have a great kids platter option which is a nice addition for families.
Must-try beer? Wheat Beer - Cargo's take on the German-style Hefeweizen - a cloudy ale with notes of banana, bubblegum (!!) and citrus.

15. Emerson's Brewery and Taproom, Dunedin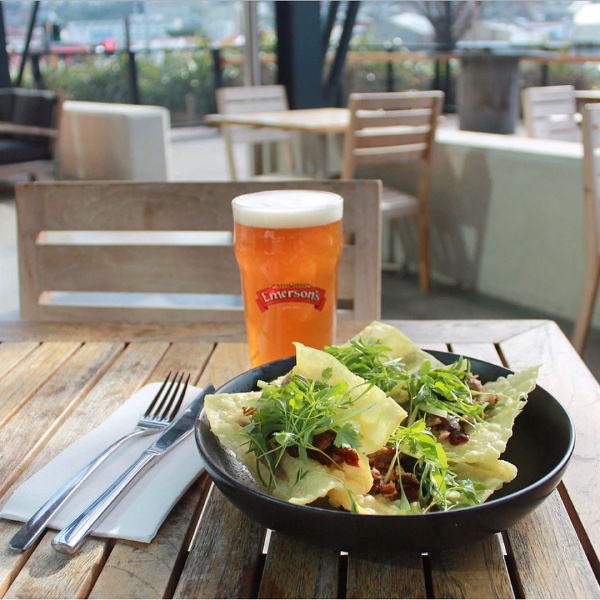 Enjoying a cold Emerson's beer with Peking Duck Wonton Crisps. Image credit: Emerson's Brewery and Taproom
Where? 70 Anzac Avenue, Dunedin Central.
What? The Emerson's story began when Dunedin local, Richard Emerson, travelled to Edinburgh, Scotland, and after seeing how amazing their pubs and beers were, came back home to NZ and decided to give it a go himself. In 1992 the Emerson Brewing Co was established and the rest is history! Emerson's is now a true Dunedin icon and their taproom definitely serves up the best pint in Dunners! For food, try the Grown Up Macaroni Cheese or the Smoked Beef Brisket - very moreish. Or try one of their sharing plates like the Peking Duck Wonton Crisps with hoisin sauce, spring onion and cucumber - ooh la la!!
Must-try beer? Orange Roughy - a hazy, hoppy ale with tropical fruit and citrus notes.
And voilà! This is your complete guide to craft beer travels in New Zealand...Well, it's actually not complete because there are many, many, many more breweries and places to enjoy a beautiful craft beer in Aotearoa but you gotta start somewhere! And when you're ready to book your trip, make sure you talk to us of course so we can book your flights, accommodation, car hire and everything in between.