28 Films That Will Transport You From Your Couch Far Away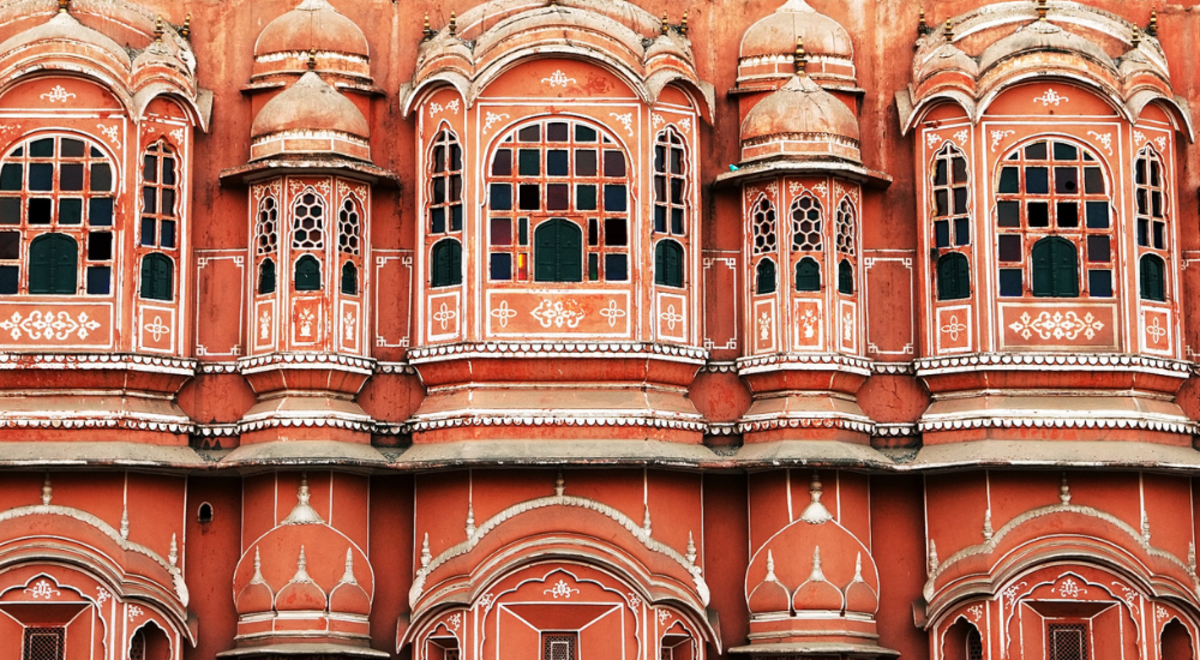 We're still not allowed to travel but we're allowed to dream about travel! Here's a short list of curated movies to take you over the seas and far away!

Amelie - to Paris
The ultimate, right? This charming French film follows a waitress in Paris who tries to spread joy to everyone she meets. It's quirky, funny and heartwarming.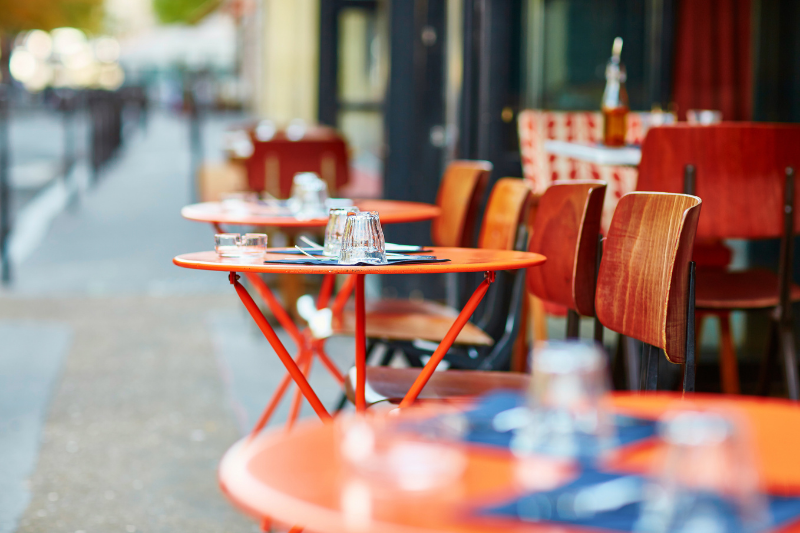 A Paris cafe similar to the one worked in by Amelie, the titular character in the film. Image: Shutterstock.
Roman Holiday - to Rome
We can't go to Rome right now, but it doesn't seem to dampen our desire to. The antidote is this 1953 black and white classic. Audrey Hepburn plays a princess on a goodwill tour, and Gregory Peck is an American journalist, and when their paths unexpectedly cross, of course, a love story unfolds. Predictable but brilliant.
The Spanish Apartment - to Barcelona
Called l'Auberge Espagnole, this very funny film is about a young Frenchman who moves into an apartment in Barcelona, with an eclectic mix of roommates from Spain, Denmark, Italy, England, Germany and Belgium. It's a liberating tale of being far away from home. Possibly the escape we all need right now, eh?
Lost in Translation - to Tokyo
A Hollywood star and a lonely newlywed form an unexpected friendship in a Tokyo bar. It's got Bill Murray and Scarlett Johansson in it, and it's directed by Sofia Coppola, so you can expect a quirky, moody ride that reminds you of any slightly odd friendship you've formed on the road.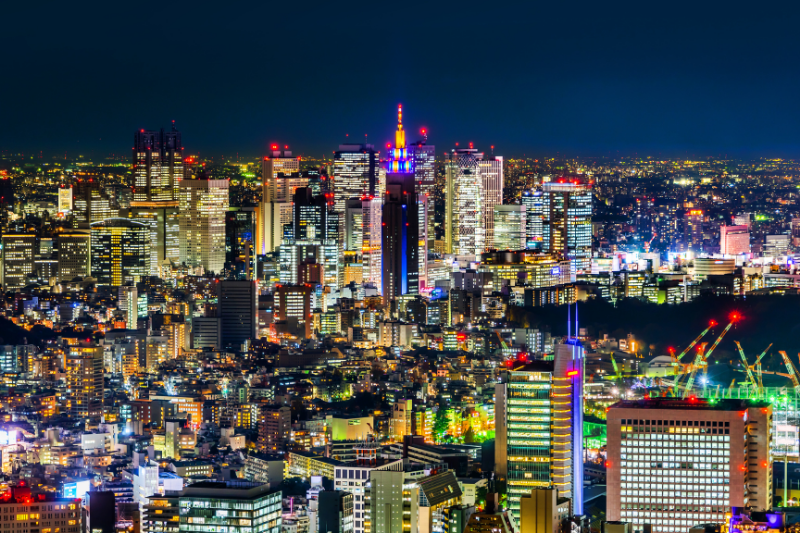 Shinjuku, the neon-lit backdrop of 'Lost in Translation'. Image: Shutterstock.
The Secret Life of Walter Mitty - everywhere
The visual embodiment of wanderlust, this film follows a photo editor at a magazine embark on a journey to find a missing photograph. He goes from New York City to Iceland, the Arctic to the Himalayas. Heartwarming and life-affirming, it's guaranteed to give you all of the feelings at home on your couch.
The Adventures of Priscilla Queen Of The Desert - to Outback Australia
Two drag queens and a trans-woman travel to Alice Springs in a purple school bus… it's a story of self-discovery and big ballads. 
7 Years In Tibet - to Tibet
This one is a book by Austrian author Heinrich Harrer, about his seven years mountaineering in Tibet during the time Tibet was under Chinese control. Expect big glaciers and blue skies, and lots of inspiring stuff.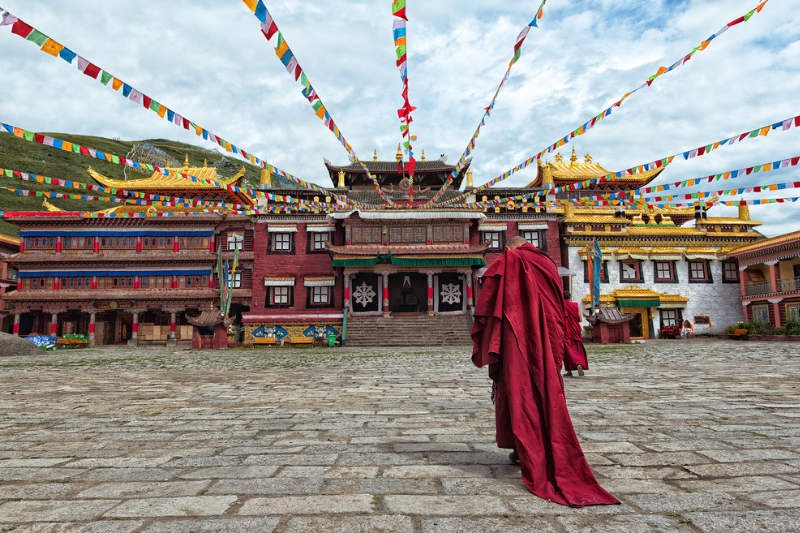 Lama going towards the temple, Lhasa, Tibet. Image: Shutterstock.
Before Sunrise - Vienna
A romantic film about two strangers who meet on a train before spending an evening exploring the Austrian capital. It's all about the serendipity of travel, crossing paths with strangers and the unique experiences you have on the road.
The film is the first in a trilogy, followed by Before Sunset, and Before Midnight. Both of these following films star the same couple when their paths cross again. It's the ideal isolation movie marathon, really.
Baraka - nowhere and everywhere
Without dialogue, this beautiful film takes the viewer on a journey around the world, showing how humans and animals interact with their natural and man-made environments.
Babies - nowhere and everywhere
Another film without dialogue, this film follows four babies from birth through the first year of their lives. There's one baby in Kenya, one in Mongolia, one in Tokyo and one in San Francisco – and the similarities and differences are eye-opening and incredible.
Guantanamera - to Cuba
This is the story of transporting a dead body across Cuba… and it is as difficult as it sounds. It's a road trip you'd never want to do, but an entertaining one nonetheless.
Home - around the globe
Shot entirely from a helicopter over 50 different locations, this film shows how life is lived on the planet across different regions from Costa Rica to Canada, Iceland to Mauritius, Nepal to Ecuador. A culturally voyeuristic journey around the world.
In Bruges - to Belgium
Two Irish hitmen in the Belgian city… An action-packed tale that is wildly different to the fairytale setting it takes place in.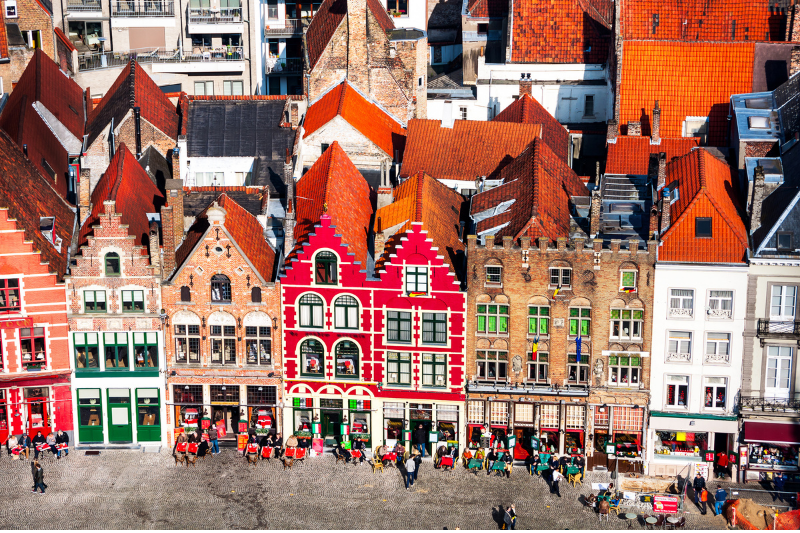 Quintessential Belgian houses in Bruges, the setting for the escapades of two hopeless hitmen. Image: Shutterstock.
Into the Wild - to Alaska
This film tells the story of 24-year old Chris McCandles, who is wandering in the wilderness in self-isolation. 
Indiana Jones - all over
Is there a more iconic film franchise? There are four films, and if nothing else, Harrison Ford's fedora-wearing archaeology professor character certainly makes for attractive, adrenalin-packed viewing.
The Best Exotic Marigold Hotel - to India
A group of Brits head to India to escape the bleak retirement life they were dreading at home. Landing at the Marigold Hotel in Jaipur, they embark on a colourful and hilarious journey of fish-out-of-water experiences and love stories. Plus the cast is great.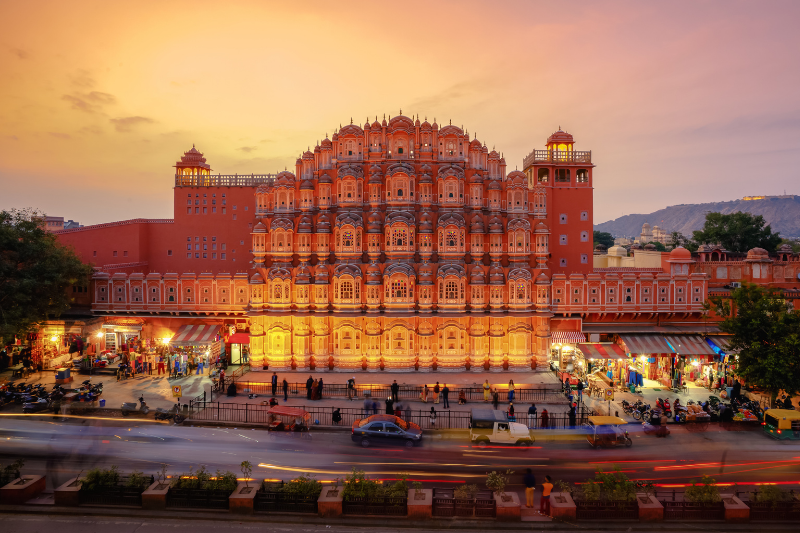 Hawa Mahal, Palace of Winds, located in Jaipur, where 'The Best Exotic Marigold Hotel' is set. Image: Shutterstock
Under the Tuscan Sun - to Tuscany
A woman buys a villa in Tuscany after her marriage falls apart. It's basically the dream (minus the marriage failing part). Think day trips to the coast, beautiful views and good food… it's the original Eat, Pray, Love.
The Motorcycle Diaries - to South America
Ernesto "Che" Guevara, an Argentinian revolutionary discovers political injustice while road tripping across Latin America with his friend Alberto Granado. The films follows them across the continent as they visit famous landmarks and wind through the mountains at Machu Picchu.
The Beach - to Thailand
A very young Leonardo DiCaprio plays Richard, a carefree traveller in Thailand who is told about an isolated island that's supposedly paradise… but of course paradise is never what is seems.
Y Tu Mama Tambien - to Mexico
Two friends and an older woman road trip through Oaxaca in Mexico, searching for a fictional beach. The film's director Alfonso Cuaron has been praised for uncovering the region's poverty, which many other films shot in the area gloss over.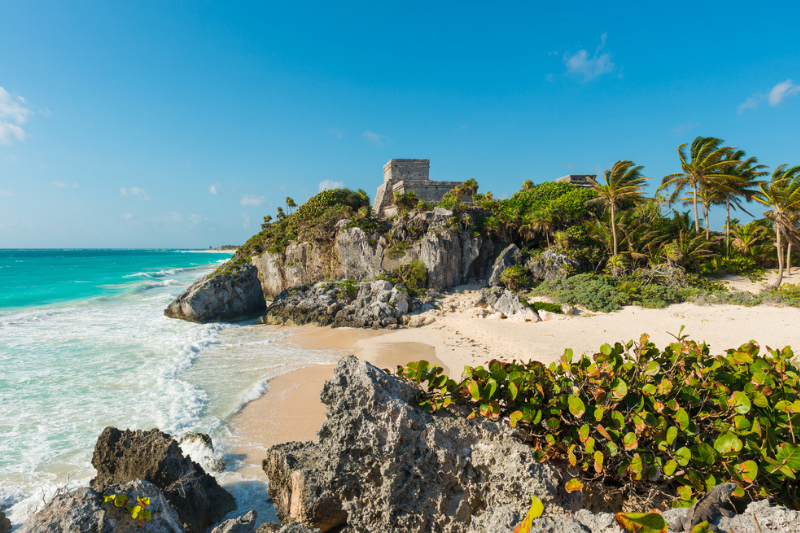 The protagonists in 'Y Tu Mama Tambien' are searching for a beach similar to this one in Tulum, Mexico. Image: Shutterstock.

The Darjeeling Limited - to India
A Wes Anderson classic, this film is set on a crowded train heading across vast landscapes in India. Visually beautiful, quirky and challenging as an Anderson flick always is.
Vicky, Cristina, Barcelona - to Spain
Adventures and love affairs while in Spain – who would have thought? Set in Barcelona this film follows two young women on holiday and how the city comes to life.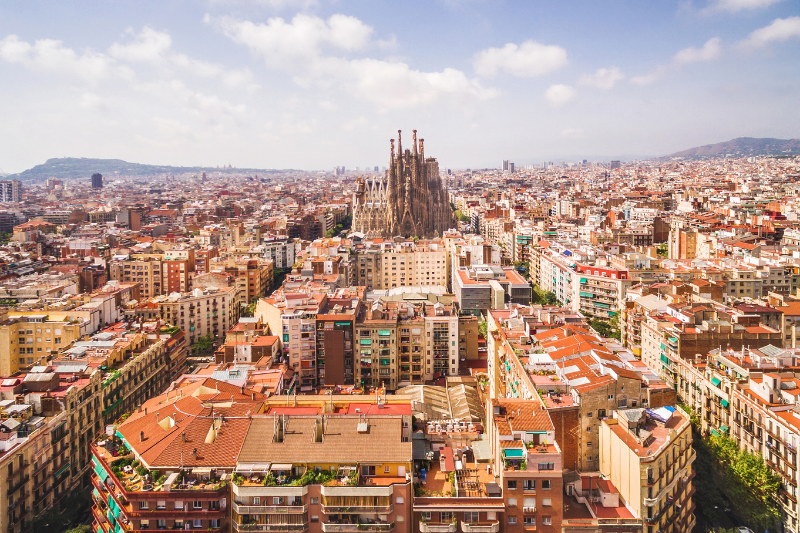 Explore the streets of Barcelona with Vicky and Cristina in this classic Woody Allen film. Image: Shutterstock.
Midnight in Paris - to France
A modern day classic, this film follows Gil Pender (Owen Wilson) as he gets caught up in the literary history of Paris. It's like a literary crash course in a Disney movie.
Tracks - to Western Australia
The story of real life writer Robyn Davidson, this film follows actress Mia Wasikowska as she travels across the desert of Western Australia with four camels and a dog. A wild idea even now, Davidson did this in the '70s!
Carol - to the USA
An ode to the road trip, this period drama follows the forbidden love affair between Therese and Carol, as they head off on a winding road trip from NYC through Ohio, Illinois and Iowa.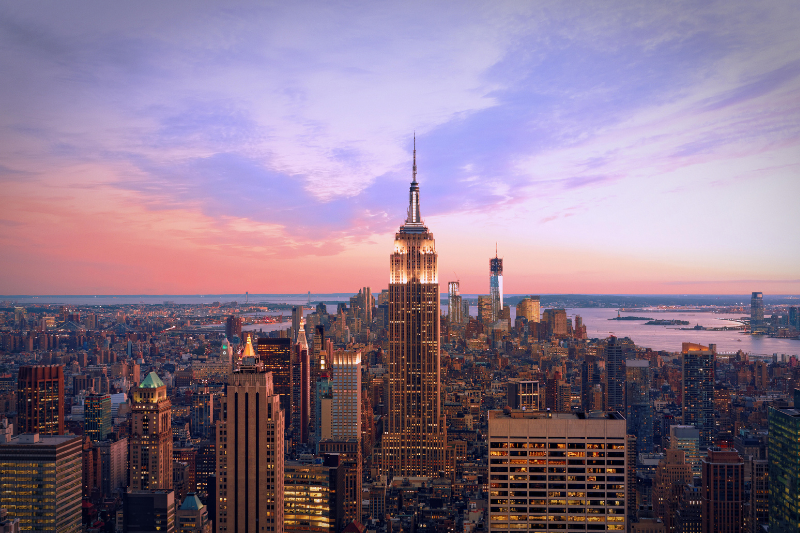 Set in New York and other eastern states, 'Carol' is a romantic drama made in 2015, based on the 1952 novel 'The Price of Salt'. Image: Shutterstock
Call Me By Your name - to Italy
There are a few films set in Italy, and it's not difficult to see why. It's gorgeous. This one, from 2017, is set in Bergamo and Lombardy, and is the story of two young men at their family property in the countryside over a summer.
Crazy Rich Asians - Singapore
Another modern comedy, this film follows a New Yorker to her boyfriend's family home in Singapore – where she finds out he is more than a little wealthy. A good, easy laugh.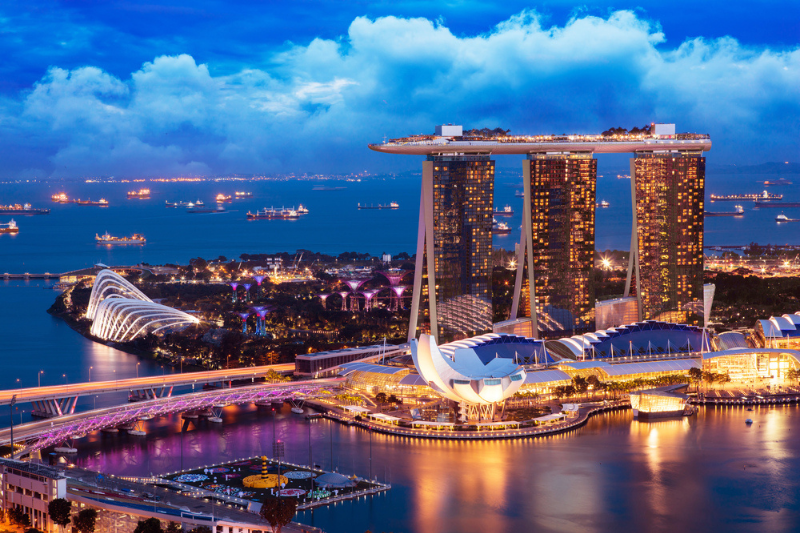 Singapore, and its food, provide the colourful setting for popular book-film adaptation 'Crazy Rich Asians'. Image: Shutterstock.
Whale Rider - to New Zealand
This is not transporting you far way per se but we had to include a Kiwi movie in there! Set in the picturesque New Zealand countryside, this is the story of a Maori family and how they show love. Only males are allowed to ascend to chiefdom in the Maori culture, but when the child selected to be the next leader dies at birth, his twin sister has to fight to prove she can do the job.

There are MANY more, such as...
Murder on the Orient Express
National Lampoons Vacation
Thelma and Louise
Mamamia
Sweet Home Alabama
The Irishman
The English Patient
Eat, Pray, Love
 
Did you know?
There are foreign content sections on Netflix. All you need to do is google 'Content categories on Netflix' and you'll find the codes that will take you there. Type in the web address https://www.netflix.com/browse/genre/INSERTNUMBER and add the code to the end and voila, you've entered a whole new world of content. De nada (that's you're welcome in Spanish).
This blog was originally written by Vicki Fletcher for Flight Centre Australia.