Best beaches, attractions and activities in the Gold Coast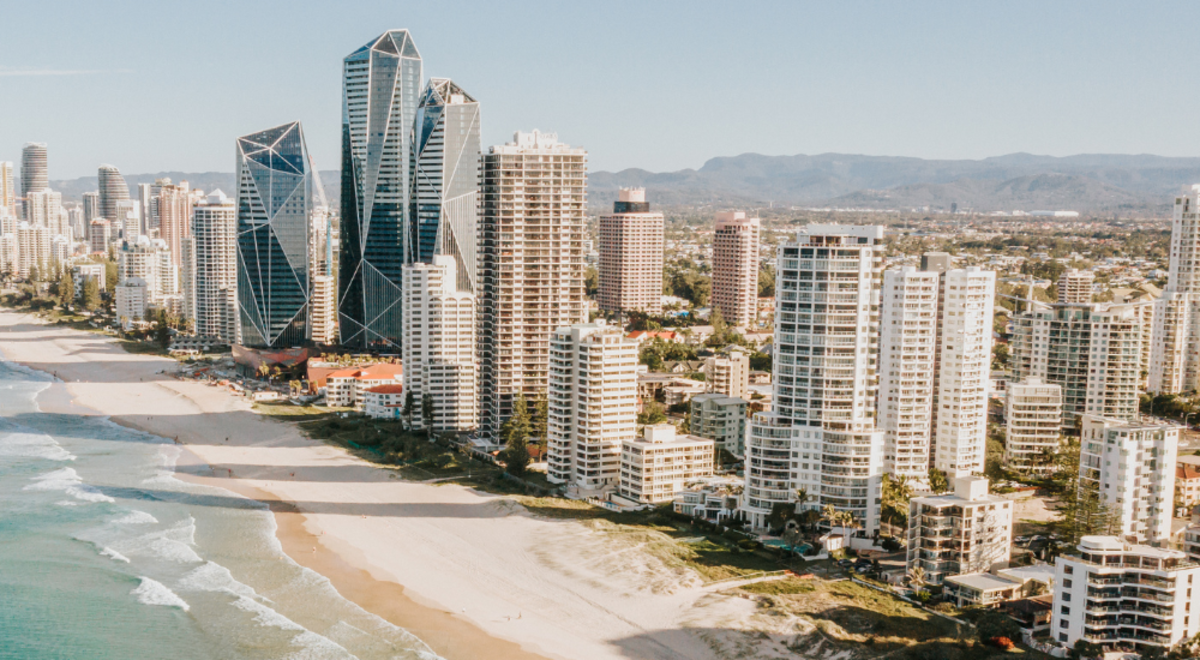 Fortunately for you, the Gold Coast is jam-packed with attractions and activities galore. From getting the heart racing at one of the many theme parks to finding the perfect beach for the ultimate day of ocean dips and relaxation or simply eating to your heart's content at the abundance of great restaurants and cafes. There's so much to choose from, so here are our top 10 of the best Gold Coast beaches, the best Gold Coast tourist attractaions and activities!
 
Best Gold Coast Beaches 
Starting strong with the best Gold Coast beaches! Stretching along 57 glorious kilometres of coastline, there is no shortage of beautiful beaches on the Gold Coast and it is one of the best free gold coast attractions too! To make the decision a bit easier for you we have narrowed it down to our top three picks of the best beaches in the Gold Coast:  
Tallebudgera Creek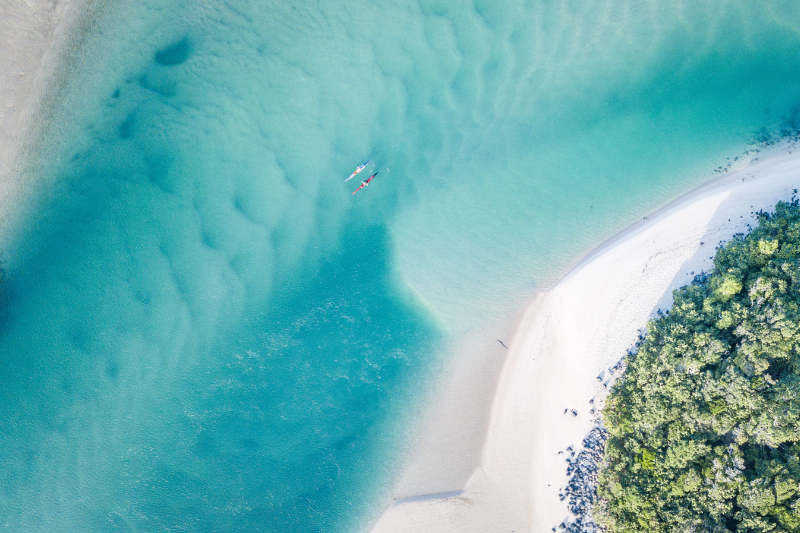 Aerial shot of the popular Tallebudgera Creek. Image credit: Getty Images.
Located a short trip from Burleigh Heads this postcard-perfect spot is the top pick for families. Choose to bask beachside or opt for the calmer shores of the creek, with tree-lined shores and a National Park backdrop, finding a shady posse is a breeze. Ensure you leave room for a cheeky treat and coffee as the popular Custard Canteen is conveniently located alongside the creek.  
Top Tip: Finish your afternoon with a walk around Burleigh National Park, or burgers and beers right by the water at Burleigh Pavillion while watching a cracker sunset!
 
Rainbow Bay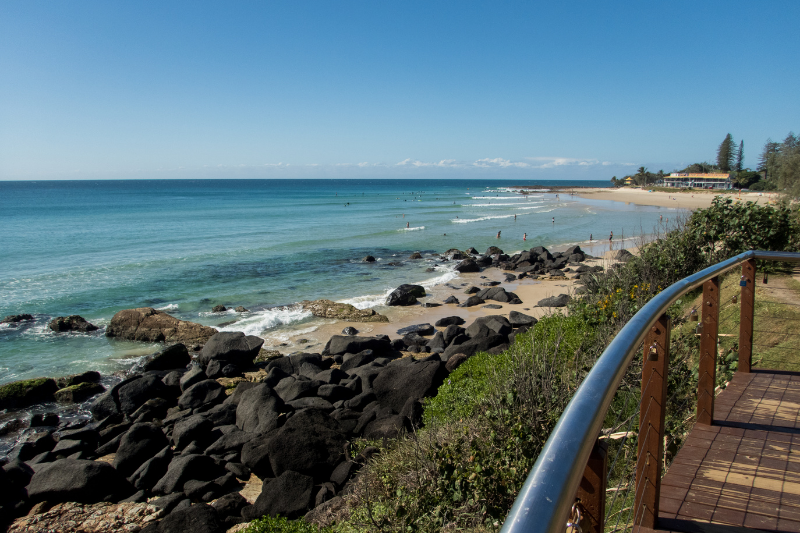 Rainbow Bay. Image credit: Getty Images.
For those chasing waves, the beaches in Coolangatta are sure to deliver. Our recommendation is to set up for the day and make the most of the world-class surf spot, lock in a surf lesson (or pop the kids in for a moment of peace!) or set up a picnic right by the playground and simply just enjoy the beauty of this magic spot. Rest assured, there is plenty of coffee and food spots within easy walking distance from the beach. One of our favourites is the perfectly located Little Mali, an easy 200m walk, the only hard decision will be what to choose from the delicious menu.
 
The Spit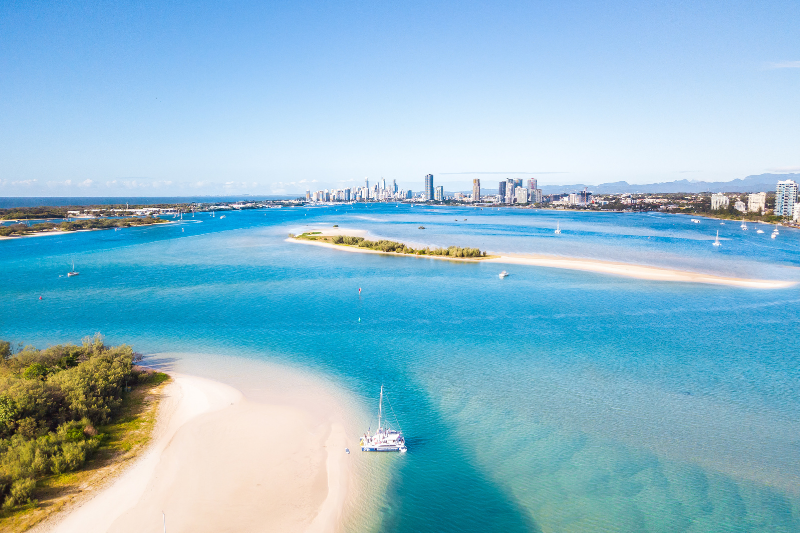 The gentle shores of the Broadwater, sitting alongside The Spit. Image credit: Getty Images.
If you're planning on staying on the northern end of the Gold Coast, The Spit is an ideal spot to slot in a cheeky beach session. Recently revamped, the surrounding parkland offers sheltered picnic tables, BBQs, and the calm shores of The Broadwater to swim in or the ever-popular beachside. If you're a sunset enthusiast plan for a late afternoon cheeseboard and wine on the shoreline as you watch the boats cruise by. Bonus points if you spot some dolphins, turtles or manatees swimming past!
 
Gold Coast Attractions 
There's no lack of attractions in Gold Coast Queensland! From embracing the surrounding nature in its various forms to enjoying the shopping and dining scene or getting the endorphins pumping at a theme park. This tropical paradise offers something for everyone. 
Gold Coast Theme Parks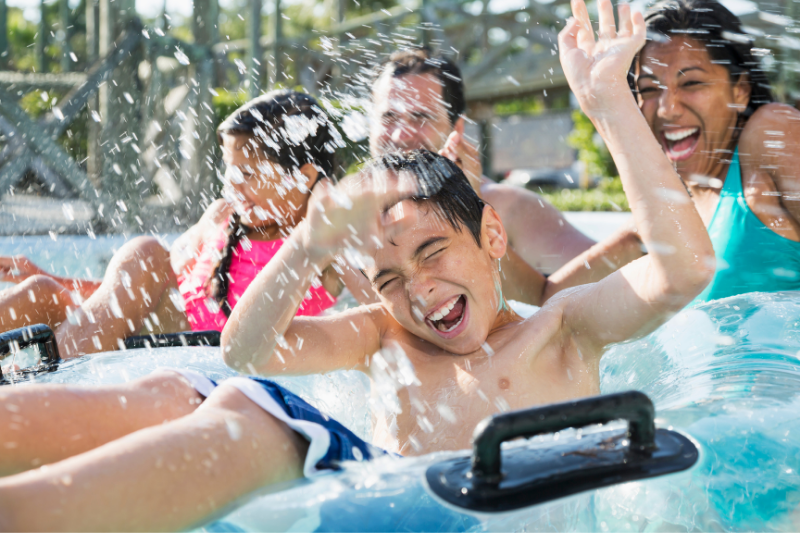 Family fun at a waterpark. Image credit: Getty Images.
It wouldn't be a Gold Coast trip without the addition of a theme park day or two. Fortunately, we have you covered! If cooling off whilst also getting the heart racing as you zip down a water slide or scoot at speed down an impossibly giant funnel sounds like you, then a day at White Water World is for you. Meet your favourite superheroes or movie stars at Warner Bros Movie World alongside experiencing exhilarating adventure rides. And make sure to tick off the longest and fastest rollercoaster in the Southern Hemisphere, The DC Rivals Hypercoast, while you're there. Plus check out Our Gold Coast Theme Parks survival guide here!
 
O'Reilly's Treetop Walk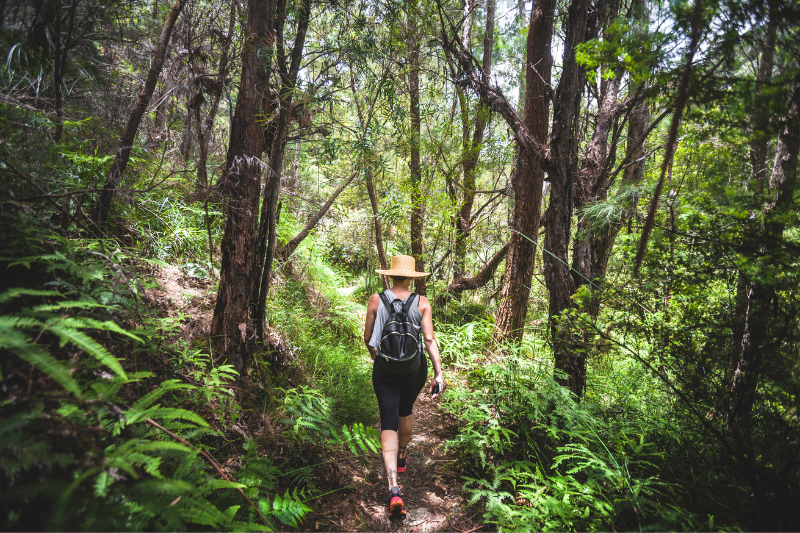 Woman hiking Daves Creek Circuit at Lamington National Park. Image credit: Getty Images.
Don your walking shoes and take on Lamington National Park. Get up close with some of Australia's most beautiful rainforest flora and the many birds and animals that inhabit the treetops as you walk along the suspension bridges located 15m above ground. Make visiting this spot a breeze with an O'Reilly's Lamington National Park Day Tour including a visit to Mt Tambourine, lunch and more. 
 
Dracula's Cabaret Dinner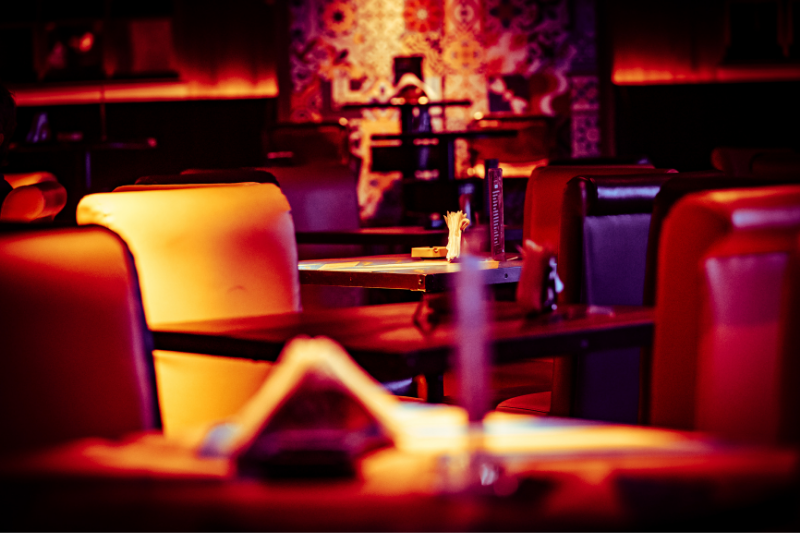 Moody setting of a cabaret performance venue. Image credit: Getty Images.
If dinner and a show tickle your fancy, then Dracula,s Cabaret is for you. Expect to be delighted by an ever-evolving show that will be sure to have you gasping and giggling in equal measures all whilst you are served a three-course dinner and drinks. There is good reason this venue has been around since 1985 and continues to thrive. Just note that Dracula's is for adults only and is definitely not suitable for children.
 
Outlet Shops Gold Coast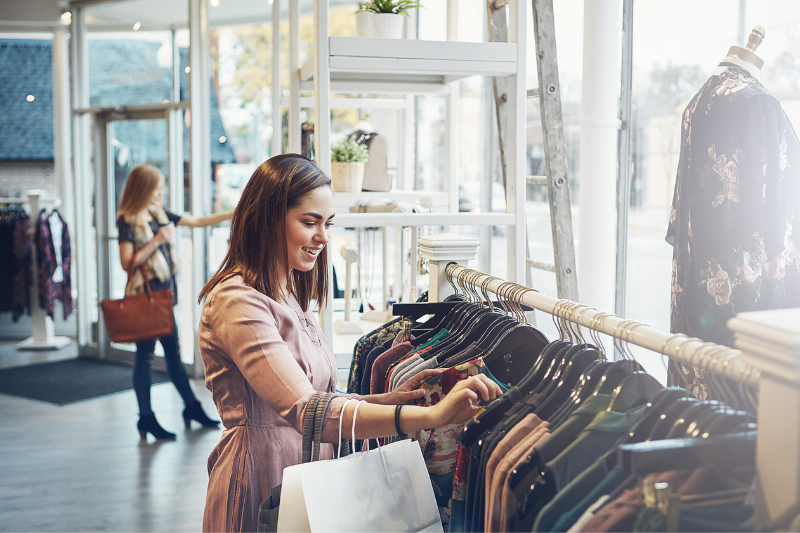 Young woman shopping at a clothing store. Image credit: Getty Images.
Everyone loves a cheeky bargain or even better, an entire shopping centre dedicated to outlet shopping! If you are an avid shopper or self-confessed bargain hunter a day spent scouring the shops at Harbour Town needs to be factored into the itinerary. Score some great deals and stock up on the wardrobe for the coming year. For those searching for Billabong, Rip Curl, Roxy or Quicksilver deals, a dedicated group of surf brand outlets can be found at Ashmore Factory Outlets – an easy 15-minute drive from Harbour Town.
 
Activities in the Gold Coast
Getting out and experiencing something new is essential when on holiday, because when are you going to be able to do it again, right?! So when it comes to Gold Coast holiday activities, from parasailing to jet ski adventures and climbing spires, the opportunities are endless. 
Skypoint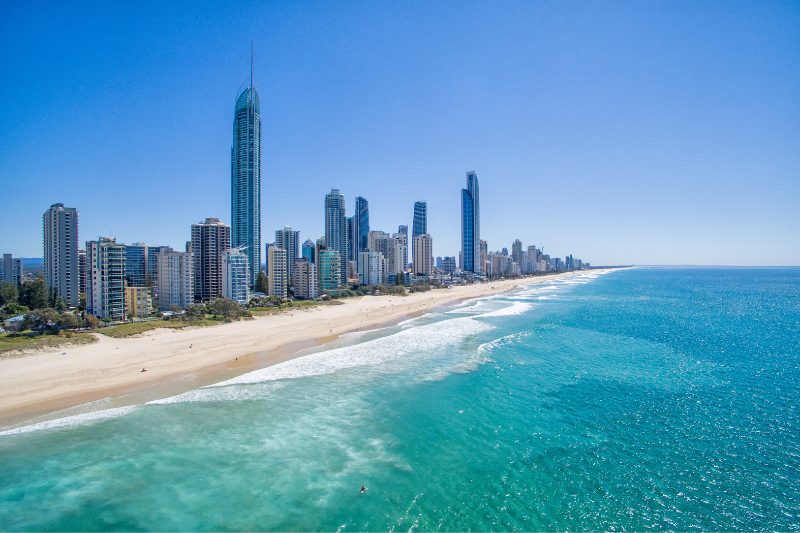 The Q1 Skyscraper Building in Surfers Paradise. Image credit: Getty Images.
Ready to get the heart racing? Lock in an open-air adventure with a SkyPoint Climb at Q1, Surfers Paradise. Located 270 metres above sea level and offering breath-taking views across the Gold Coast this will be one for the memory bank. Choose from four different times including sunrise, day, twilight, and night. We recommend booking in advance to lock in your preferred time slot. 
 
Kayak Trip
Kayaking on the Gold Coast. Image credit: Getty Images.
For those wanting to experience the Gold Coast on the water a half-day kayaking tour with Australian Kayaking Adventures is the perfect option. Paddle around the tranquil waters of the Gold Coast with your qualified guide, keep an eye out for dolphins, turtles, stingrays and more. Pop on a snorkel and fins to get up close and personal with the sea life and if it couldn't get much better, you also get to enjoy a beachside continental breakfast. Talk about the perfect morning! 
 
Parasail and Jet Ski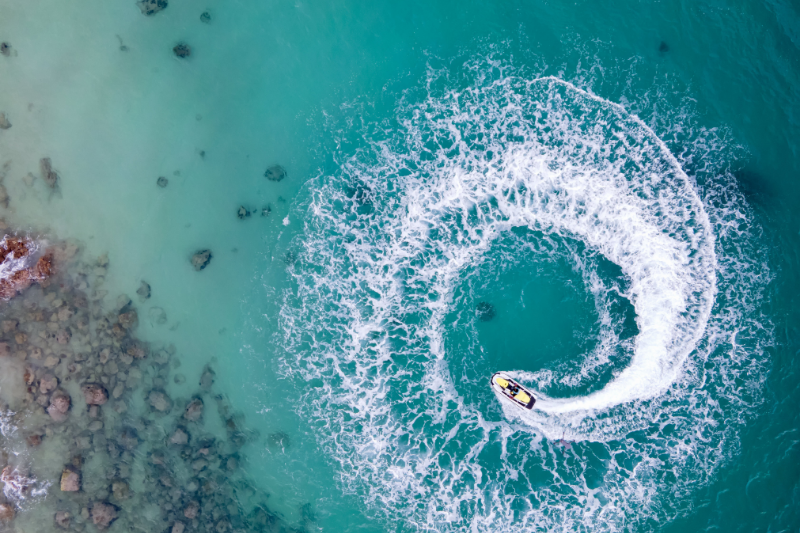 Jet skier on the crystal-clear waters of the Gold Coast. Image credit: Getty Images.
It's one thing being on top of the water, but a completely different experience is being above it. If you're searching for adventurous things to do on the Gold Coast this may tick that box. Located in Surfers Paradise, Gold Coast Watersports will get you up and gliding through the air with no worries in the world, apart from enjoying the view that is! If getting on the back of a Jet Ski is more your preferred mode of transport, they also offer guided tours of various lengths that adventure through the Broadwater with mangrove passages, island stop-offs and the chance to see some local wildlife along the way. 
 
You may be thinking, but what about Gold Coast winter activities? The region boasts an average of 245 days of top-notch weather days each year - it's called the sunshine state for a good reason! In the winter months, you should expect to experience sunny and dry days with a temperate range of 11-21°C. So, what are you waiting for... get booking!
 
Feeling inspired? Book your Gold Coast flights here or check out our Gold Coast holiday packages here.