The Open Road: Our Guide To The Best Road Trips in Canada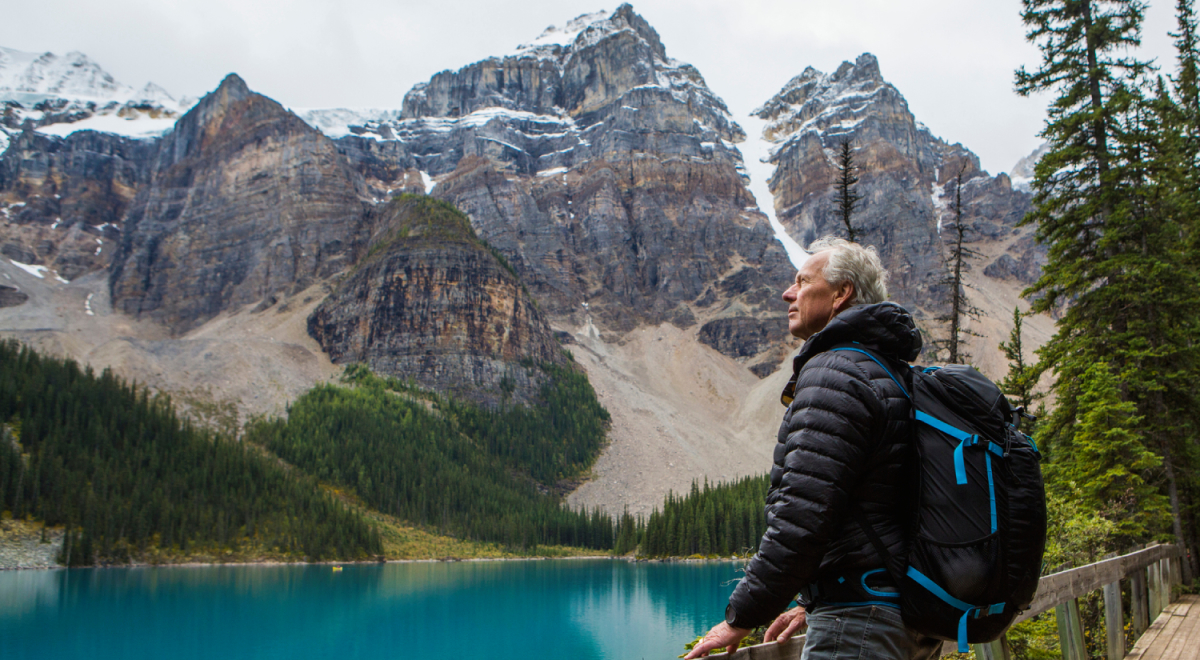 ---
---
What will you find in this guide:
What it's like road tripping in Canada and how long it takes.

The best route to drive across Canada that'll best fit you.

Some safety tips to ensure your road trip proceeds smoothly.
---

Canada is home to some of the most unique and varied landscapes – majestic mountains, sky blue lakes, temperate rainforests, Arctic tundra and jaw-dropping glaciers. No matter where you go, the picturesque views will be breathtaking no matter where you land.
As the second-largest country in the world with the longest coastline, Canada is basically made for road tripping. From short scenic drives such as the Sea-to-Sky highway to action-packed weeklong road trips like the Trans-Canada Highway, there will be a road trip for you. If the thought of driving next to some of the most exquisite scenery tingles your senses, this blog is made for you. Here are some of Canada's best and most impressive road trips.
The Cabot Trail, Nova Scotia
If you're looking for a nice escape from the fast-paced city life, nothing beats the most iconic trail on the East Coast of Canada, the 300 kilometre Cabot Trail in Nova Scotia.
To get started, fly into Cape Breton Island's largest city, Sydney, and rent yourself a car to start the journey. Give yourself 5 days because what would be the point of just getting in your car and driving nonstop? Your first stop is at the Gaelic College, where Scottish immigrants will teach their traditions like bagpipe, fiddle playing, step dancing and kilt-making. If you're more of a water baby, visit the North River Kayak Tours to go for a paddle on the briny river towards the open Atlantic. If you're lucky, maybe you'll spot some bald eagles or even better, sea lions.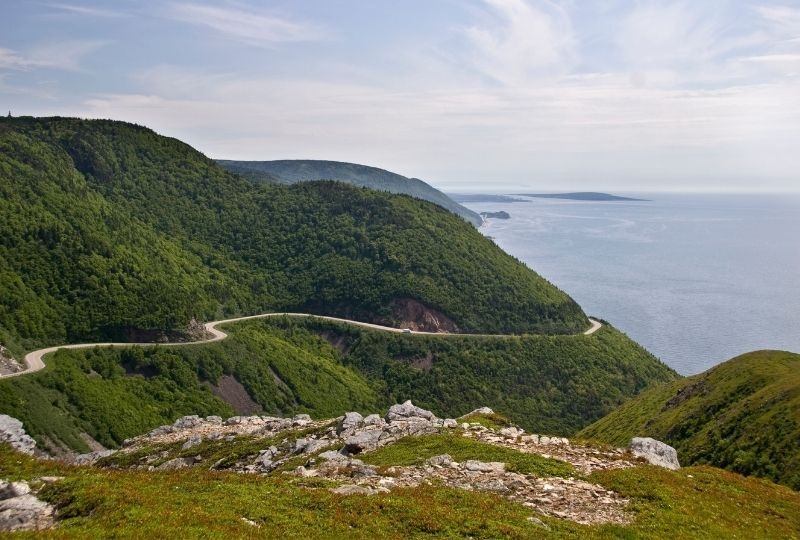 Make your way north, where you will hug the coastline and admire the jaw-dropping sea views and small fishing villages before arriving at the Highlands National Park. Here, have fun searching for the giant red Adirondack chairs in awe-inspiring locations to get a better view of the spectacular highlands and ocean views. You might even spot a majestic moose or minke and pilot whales! Another local favourite is the Skyline Trail, where beautiful boardwalks take you over fragile headland plants for a stunning view of the coastline and the mighty Gulf of St Lawrence.
  
Once you arrive at Cheticamp, visit the Centre de la Mi-Careme ('mid-Lent' in French) to learn about the Mi-Careme fete an age-old celebration that happens each year and sees residents make masks and disguise themselves from head to toe. Down the road, you can browse whimsical folk art at the Sunset Art Gallery.
Of course, one of the best parts of a road trip is trying the food along the way. Fish and seafood are top-notch, and even chefs say that the Cape Breton lobster is the best in the world. The Lobster is in season May to July and one of the many reasons that it is best to travel The Cabot Trail from early summer to early autumn.
It's important to note that activities and accommodations can also be closed at other times of the year. Make sure to visit Baddeck Lobster Suppers for a true feast!
Icefields Parkway, Alberta
A front-row seat to some of the range's most spectacular glaciers and turquoise lakes is the Icefields Parkway. Driving along Highway 93 – surrounded by the Canadian Rockies, this full-day road trip is sure to be a breath of fresh mountain air. The Icefields Parkway is tucked snuggly between Canada's finest national parks, Banff and Jasper so get ready to be blown away by I incredible scenery from every angle.
Starting at Banff National Park, unpack your picnic basket in an open field and admire the stunning views mother nature has created –beware though, hungry critters lurk all around. While you're there, make sure you visit the glassy, turquoise Lake Louise surrounded by glorious snow-capped mountains.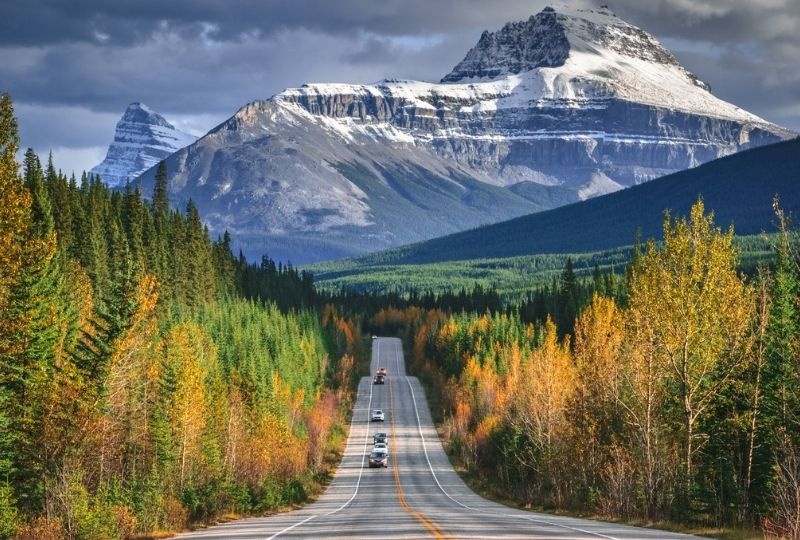 At Peyto Lake's upper viewpoint, you'll be looking down at the bright, turquoise coloured lake, tinted from the large amounts of glacier rock flour that flows into it during summer. The view is not to be missed and make sure you bring a camera.
Further north is the Mistaya Canyon where you'll have the perfect opportunity to shake off and stretch your legs. Although it is a bit of a walk, you won't want to miss watching the powerful water rush between the rock formations. If you go during colder seasons, be extra careful of the snow and ice as it makes it extra slippery!
Once you arrive at the big curve in the road, aka the 'Big Bend', you will soon be arriving at the Athabasca Glacier. The best view of the glacier is actually on it, so book a glacier tour from the Columbia Icefield Discovery Centre. If that sounds a little too cold – the Columbia Icefield Skywalk is a 10minute drive where you can see the striking view from afar.
 
Sea-to-Sky Highway, British Columbia
It's hard to know where to look when you're winding along the scenic Sea-to-Sky Highway (aka Highway 99). Look up to see the snow-capped peaks of British Columbia's Coastal Mountains, or north towards the blue waters of Howe Sound fjord and the Sunshine Coast. Around each bend is a new vista and roadside stop and the 120-kilometre drive from Vancouver to Whistler can easily be lengthened into a journey lasting several days.
Before you start your drive north, visit the Capilano Suspension Bridge Park. At 70 meters high, it may be daunting if you're afraid of heights but it's worth it for the incredible views. After crossing over the Capilano River, the bridge becomes a treetop walk where you'll be able to stand right in the heart of the old-growth fir trees.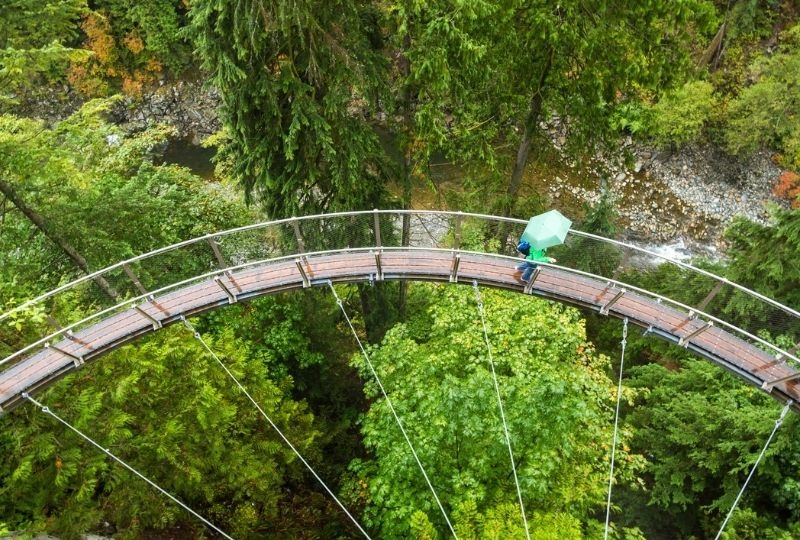 Next, you can head to the Britannia Mine Museum. At this National Historic Site, visitors travel back to the heady days of copper mining on the coast. Continuing towards Squamish, refresh in the spray of Shannon Falls, British Columbia's third-highest waterfall. As one of the most beautiful waterfalls near Vancouver, it is a great place to go for a refreshing walk and take incredible photos.
Hop aboard the Sea to Sky Gondola for a 10-minute ride to the top. At 885m above sea level, Summit Lodge features sweeping views of the Howe Sound Fjord. It's a short hike to renowned natural landmark Stawamus (Squamish) Chief. A leisurely walk along the Spirit Trail loop reveals the history of Squamish First Nations. The more adventurous can test rock climbing skills on the Via Ferrata.
 
When driving up to Whistler, a stop at the Brandy Falls Provincial Park is a must! Go for a quick 15-minute walk to marvel at the Brandywine Falls. Unlike Shannon falls where the rocks catch the falling water, Brandywine is a clean 70-metre waterfall drop with a beautiful rainbow at the bottom.
Vancouver Island, British Columbia
Vancouver Island is hands down one of the most scenic places to visit in Canada. Home to a variety of landscapes such as century-year-old rainforests, rugged mountains, endless coastlines, and historical towns and cities.
Start your trip in British Columbia's capital, Victoria, containing some of the most iconic landmarks such as the Fairmont Empress. This iconic hotel looks over the Inner Harbour, and has hosted royal visits through the decades, since as far back as 1908. If you'd like to experience an authentic high tea containing delicious scones and homemade strawberry jam, fluffy pastries made from local ingredients, and finger sandwiches served in style and elegance, make sure to visit the Fairmont Empress.
Travelling north from Victoria is the Cowichan Valley, known for orchards and wineries. Containing 14 out of 32 wineries on Vancouver Island, you will be able to taste a spectrum of unique handcrafted wines and beers, local to this area. While you're here, take a quick break at Cowichan Lake, one of the largest bodies of pristine freshwater at 30 kilometres long.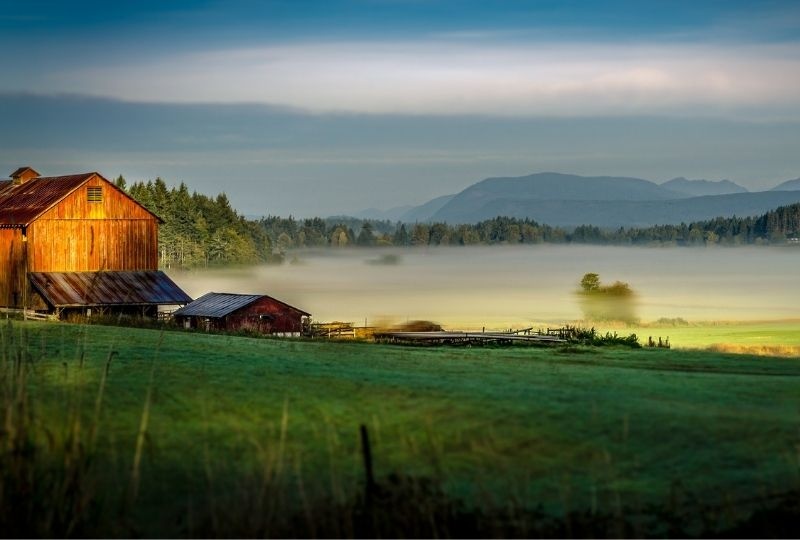 Once you reach MacMillan Provincial Park, admiring the towering trees at Cathedral Grove is a must-do! With some of the trees being 800 years old, 75 metres tall, and up to 9 metres in circumference, this ancient Douglas fir forest is a perfect place for a photo op and to get in touch with nature.   
Finally, you will arrive at Canada's surfing capital, Tofino. With old-growth forests on one side and an endless stretch of white-sand beaches on the other, it is the perfect place to go for a surf. At the end of the day, enjoy the red sunset from the Long Beach.
The Dempster Highway, Yukon
Tucked in the northwest corner of Canada is the Dempster Highway, the only Canadian all-weather road that drives through the Arctic circle and connects Dawson City in Yukon, to Inuvik in the Northwest Territories. Of all the off-road trips, although The Dempster Highway will require more preparation and will be harder on your vehicle, those who choose this adventure will be rewarded with the delivers the best off-the-beaten-track experience.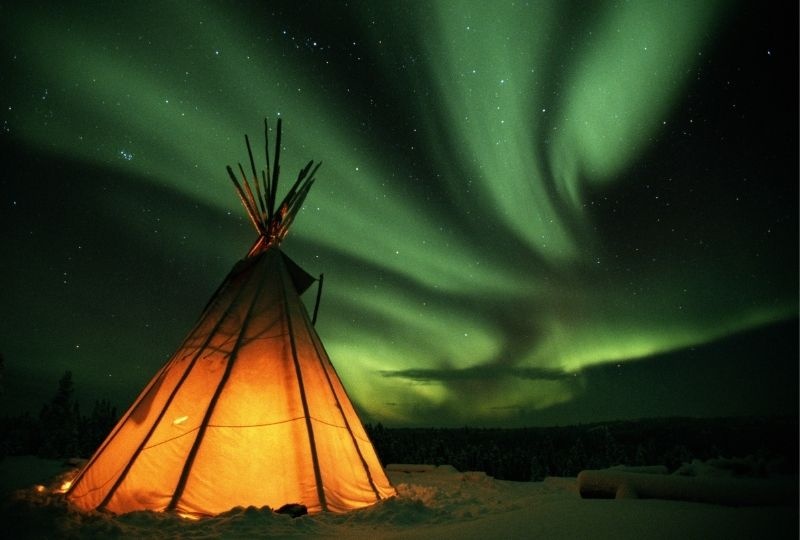 Before starting this week-long journey, load up on supplies such as food, water, emergency supplies, and petrol as there is only one hotel accommodation midway through the trip at eagle plains and three petrol stations along this 738-kilometre highway. There are multiple campgrounds along this road so make sure to plan ahead.
Driving along the Dempster Highway is extremely isolating but the landscape is unrivalled. It provides a meditative experience of being alone with nature and the road, as you pass through majestic boreal forests, bright orange and red tundra, and snow-tipped mountains.
In darker months, the sky will be illuminated with the glowing ribbons of the northern lights, dancing across the sky. If the icy roads of Winter don't sound like your thing, the best road conditions are between June and September, where you will also be able to experience the Great Northern Arts Festival in mid-July. Regardless of which season you go, the scenic views will be one of best you will ever see.
Trans-Canada Highway
Looking for a truly grand month-long road trip through Canada? The Trans-Canada Highway goes from coast to coast and passes through all 10 provinces and most major cities. Whether you start on the west in Victoria or the east at St John's, take your time on Canada's longest national road for a trip of a lifetime! Fuel up, queue the songs and put the pedal to the metal.
Starting your Canadian road trip, British Columbia is home to both historical cities such as Victoria on Vancouver Island, and bustling, modern, and ethnically diverse cities like Vancouver. Surrounded by an abundance of flourishing trees, Vancouver is an art hub filled with art galleries, museums, theatre, and music.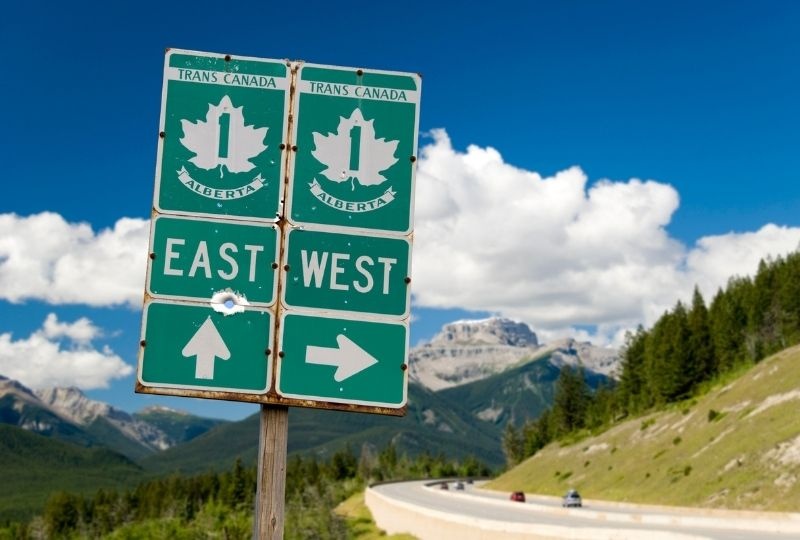 Alberta is the heart of the Badlands and the Banff National Park. Along the southern river valleys are the dry and rugged Alberta Badlands, famous for containing world-famous dinosaur fossils. On the other hand, the Banff National Park contains the most stunning glacial lakes, Candian Rockies, and picture-perfect forests.
Continuing east, Saskatchewan is known for their large stretches of grasslands, covering the southern plains, making it perfect for a relaxing and scenic drive. Manitoba on the other hand has several large lakes such as Lake Winnipeg and Lake Manitoba and more than 80 provincial parks for hiking, biking, canoeing, camping and more.
Once you reach Ontario and Quebec, you will see a lot more metropolis cities with soaring skyscrapers, such as Toronto and Montreal, and historical stone buildings and narrow streets in Ottawa and Quebec City. Take your time strolling through the city, discovering bistros and boutiques at every turn.
New Brunswick and Newfoundland and Labrador have some of the best national parks. New Brunswick's Fundy Bay of Fundy is a perfect place to watch the tide rise to 16 metres and look at the vast mudflats at low tide. Newfoundland's Gros Morne National Park is home to the second-highest peak, majestic waterfalls, and fjords formed by glaciers.
These are just a few spots to visit while on your road trip in Canada, but there are hundreds of other activities for you to do. 
---
Safety and Road Tripping Tips
Drive with extra caution in summer traffic, wildlife corridors and winter conditions (drive times may vary).

Some road trip routes require a pass. You can find the prices on their website.

Make sure your vehicle is reliable, especially for the longer road trips that are in the outback as there may be no reception.

Plan your route in advance with stops for fuel, food, and bathroom breaks.

Check road and weather conditions beforehand. The further north you go, the higher the chance of bad weather conditions such as snowy roads, icy roads or muddy dirt roads.

If your eyes are starting to droop and you are yawning while driving, it means it's time to pull over and rest.

Some attractions, especially in rural areas are not open all year around so make sure to call ahead.
---