Fun Activities and Things to do in Taupo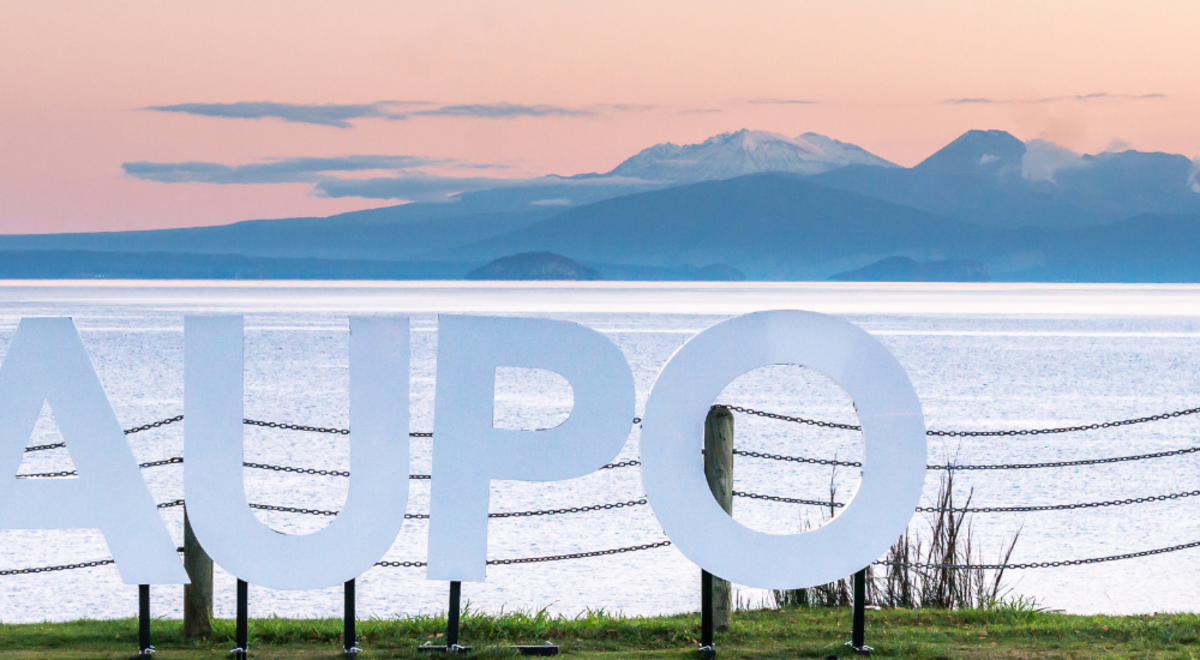 ---
---
Regardless of whether you are a family, couple or solo traveller, Taupo has the unique ability to accommodate all visitors' needs. Even if you are on a tight budget, there are a variety of free things to do in Taupo that will leave you with lasting memories.

What to do in Taupo? For those that love the outdoors, the various hikes, cycling tracks and water-based sports activities are a must. If you are seeking a relaxing weekend away, the thriving arts and culture scene and thermal pools will ensure your trip is memorable. Or if you are packing up the family for a holiday, the range of attractions, kid-friendly hot springs and Taupo Winter Festival are perfectly catered to guarantee maximum fun is achieved!
Taupo also gains bonus points for being dog friendly. If you can't face leaving your furry companion at home, many of the hikes allow leashed dogs, Ernest Kemp Cruises and Huka Falls River Cruise love having well-behaved furry customers on board and a large range of pet-friendly cafés and accommodation can be found throughout the area.
Taupo attractions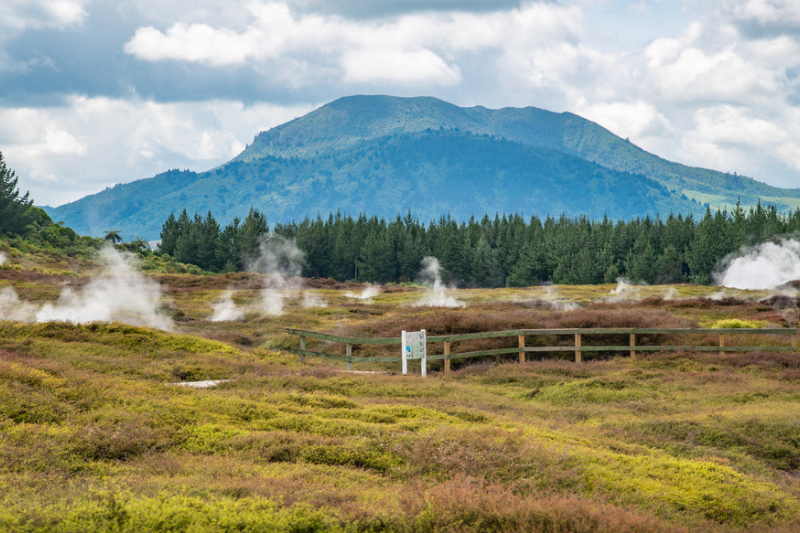 Steaming vents at Craters of the Moon Park. Image credit: Shutterstock.
The mineral-rich thermal baths of Taupo present the perfect opportunity to relax, rewind and soak away those aches and pains. The Wairakei Terraces & Thermal Health Spa, located below the Wairakei silica terraces and waterfall is a pocket of naturally formed paradise that allows you to bask in peace for hours. Book in for a massage or spa treatment ahead of time to make your visit extra special. For a location, a little more family-friendly the Taupo DeBretts Hot Springs has a dragon hydro slide, two heated racing slides and a playground to keep the kids entertained and you in complete relaxation mode!
To get up close and personal with the geothermal activity in the area take a scenic walk through the Geothermal Craters of the Moon Park. Set up with wooden walking tracks and viewing platforms dotted throughout the park you can appreciate this natural attraction at a safe distance.

Walking, cycling and hiking in Taupo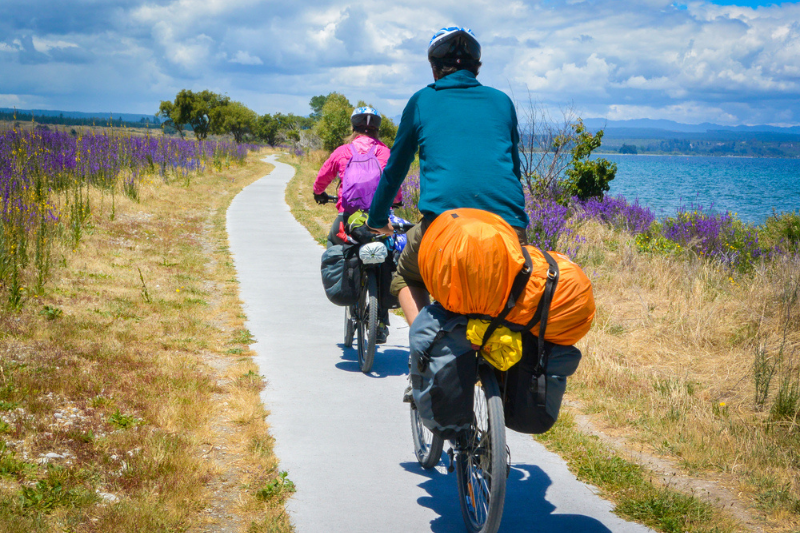 Bike riding along Lake Taupo. Image credit: Shutterstock.
There is no better way to truly experience the beautiful landscapes of Taupo than taking the time to complete some of the many walking and cycling tracks in the area. The Great Lake Walkway is perfect for those wanting a gentle, lakefront and riverside stroll or ride. Starting in Taupo Harbour and finishing in Five Mile Bay this 10km track boasts scenic views throughout.
For something a little more challenging, check out the Huka Falls Trail, the Tongariro River Trail or the Lake Rotopounamu tracks. These all weave through native bush, past stunning river views and rolling farmlands. For those with more time, the Tongariro Alpine Crossing is of course highly recommended, and only about an hour's drive from Taupo. The trek is rated as one of the best day hikes in New Zealand and for very good reasons! This 19km journey goes across the Tongariro National Park, which impressively is a UNESCO Dual World Heritage Park and showcases impressive vistas alongside mountain springs, steam vents and the breathtaking Emerald Lakes.
 
Indulge in food, beer & wine in Taupo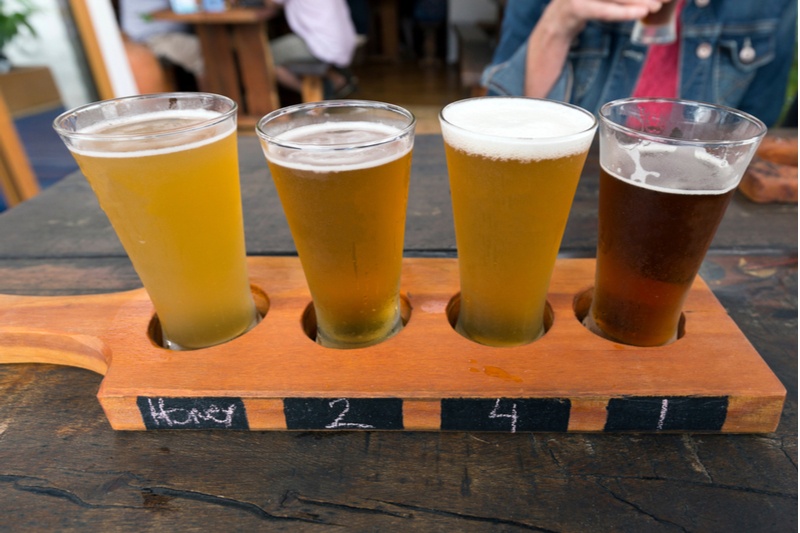 Beer tasting in Taupo. Image credit: Shutterstock.
After all the hiking, cycling and water activities there is no better way to top off the day than spending the evening nestled up at a restaurant with great food and wine. Although small, Taupo offers up a great range of quality restaurants and cafés.
For those seeking a view while they dine, Kinloch Manor & Villas will offer both an indulgent meal and an incredible view of the lake and surrounding mountains. If award-winning dining is your forte you can't pass up The Bistro, specialising in sourcing local ingredients, the menu is ever changing as produce changes seasonally. For something a little more relaxed the Two Mile Bay Sailing Club offers wood-fired pizzas,  beers on tap and is located right on the lake.
One of the best places to enjoy a good beer tasting is at the Crafty TROUT Brewery, a very quirky fishing lodge style bar!
Café culture is strong in Taupo, with many quirky and vibrant cafés to be found around the area. Café Baku serves up a great cup of coffee which is perfectly paired with the baked goods on offer. If you are looking for a breakfast to fill you for a day spent adventuring, the delicious eats at The Storehouse will do the trick. From fried chicken waffles, tropical smoothie bowls and secret recipe sandwiches you are spoilt for choice! If you are planning on kicking off your morning with an early morning ride or walk along the Great Lake Trails, be sure to leave time to stop off at The Tipsy Trout for a wholesome morning brekkie and great coffee.

Viewing platforms around Taupo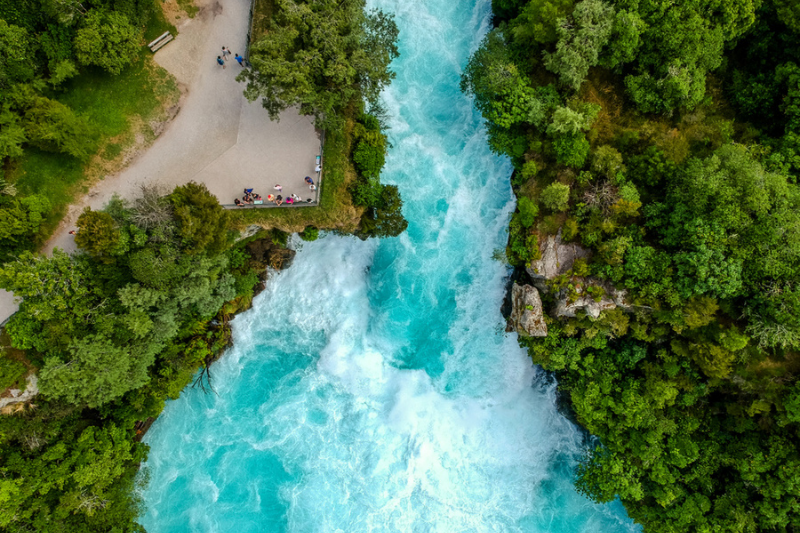 Aerial view of Huka Falls. Image Credit: Shutterstock.
If hiking through the beautiful scenery isn't your cup of tea you are still able to experience the wonders of the area without much exertion. On top of the list is Huka Falls which is a part of New Zealand's longest river, The Waikato. The Huka Falls comprises of a surging, gradual fall into a beautiful blue pool. Walking tracks and viewing platforms are peppered around ensuring that you have ample opportunity to take in the beauty of the river and its surrounds.
For something a little more dramatic, be sure to time your visit to Aratiatia Rapids perfectly to get the full experience. If you are a fan of Peter Jackson cinematic pieces you will notice that these scenic rapids make a cameo appearance in The Hobbit: The Desolation of Smaug. Through the summer months, the dam gates are opened at 10am, 12pm, 2pm and 4pm allowing you to watch the turbulent gushing of the water as it is released. In winter the dam gates are opened at 10am, 12pm and 2pm.

Water-based activities in Taupo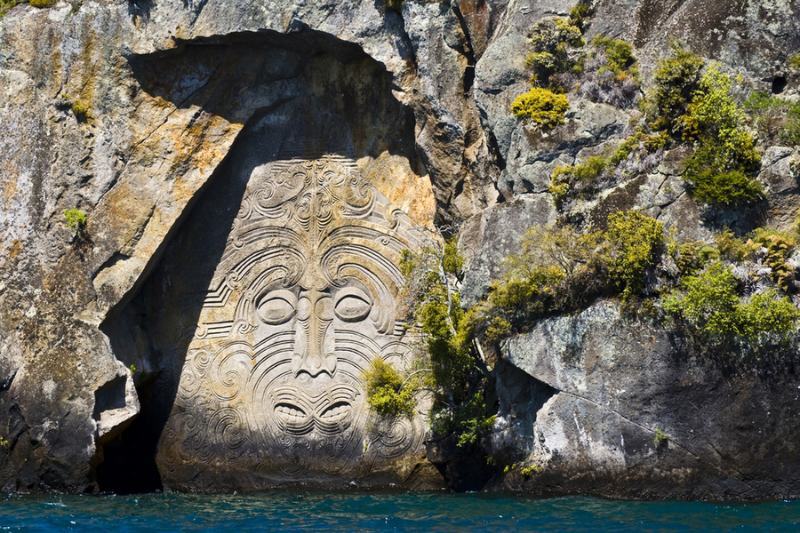 Maori rock carvings in Ngatoroirangi Mine Bay. Image credit: Shutterstock.
From the mountains to the lakeside to the geothermal springs, Taupo is a natural playground. For those that love water-based activities, Lake Taupo is a haven. Whether you like being in it or above it, there is a way for you to experience it in your preferred manner. The lake is refreshingly swimmable through the year and is the perfect spot for a lakeside picnic and swim through the warmer months. For those a little more adventurous you can parasail over the lake (insane views guaranteed!), or take in the views at a slower pace from a kayak or stand-up paddleboard.

For those that love a spot of fishing, you can book in for a fishing charter or partake in fly-fishing on the many rivers. If you enjoy taking the day at a slower pace, a scenic boat cruise is a fantastic option. Keep an eye out for the native wildlife, beautiful bush-clad coves and appreciate the intricate Maori rock carvings in Ngatoroirangi Mine Bay, forming some of New Zealand's most incredible artworks!

The thriving arts & culture scene in Taupo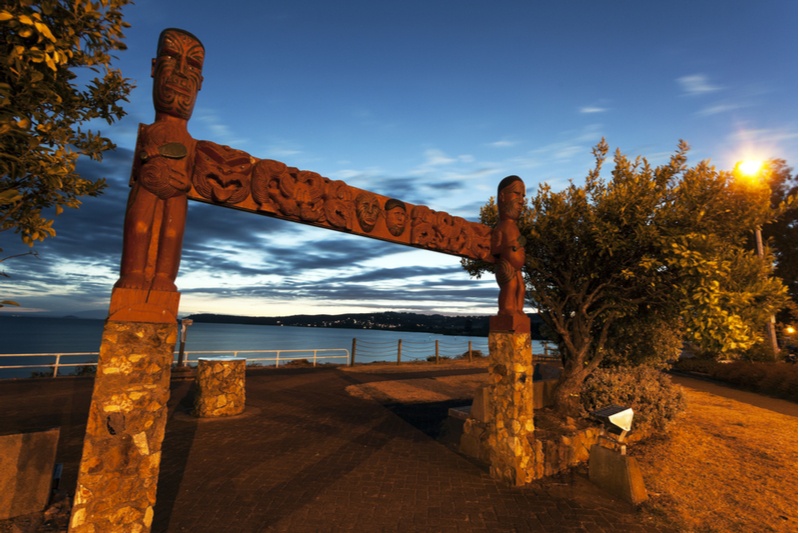 Maori artwork by the lake. Image Credit: Shutterstock.
A trip to Taupo would not be complete without taking the time to embrace the thriving arts culture in the area. With several art galleries in town, frequent exhibitions and many events throughout the year, you can perfectly time your trip to line up with one of these celebrations. The Taupo Art Trail typically runs over Queen's Birthday weekend, it is a unique event that allows attendees to visit artists' studios to view their creative process up close. Another not to be missed event is the Graffiato: Taupo Street Art Festival aimed at bringing both local and international artists to Taupo to add to the town's collection of intricate and diverse public murals.
For those wanting to gain more of an appreciation and understanding of the cultural significance of the area, the Taupo Museum is a great first stop, the heritage of the local iwi Ngati Tuwharetoa is showcased here. Also, there is the opportunity to visit some of the significant Maori pa sites to learn about the history of the area. The Opotaka Historic Reserve is famous for being the first location that the great warrior Ngati Toa chief Te Rauparaha performed the Ka Mate haka.
Taupo activities & events
Clear waters of Lake Taupo. Image credit: Shutterstock
Taupo hosts an exciting range of high profile sporting events throughout the year. From IRONMAN New Zealand, the Lake Taupo Cycle Challenge and the area's iconic Across the Lake Swim. This fun event caters for all abilities and ages and encourages all to take part; and the best part… you end your swim with a warm cup of soup and bun at the finish line!
Those with an affinity for music will love the annual Taupo Summer Concert. Featuring well-known kiwi acts and a few other bands from abroad, the Taupo Amphitheatre is the perfect setting with a great atmosphere that needs to be experienced. For those with school-aged kids, the Taupo Winter Festival is a perfect event to time your visit around. With events running over the 2-week school holidays period you are spoilt for choice with things to do, see and experience.
There is a good reason that Taupo continues to be a favourite destination for many and is a frequent tourist hot spot. If you haven't already considered visiting this distinctive town, it is highly encouraged to add it to your travel list!

Get in contact now with your Flight Centre Travel Expert who can help you book your accommodation, activities and flights to Taupo!