Pack The Wetsuit: The Best Snorkelling Phuket Has To Offer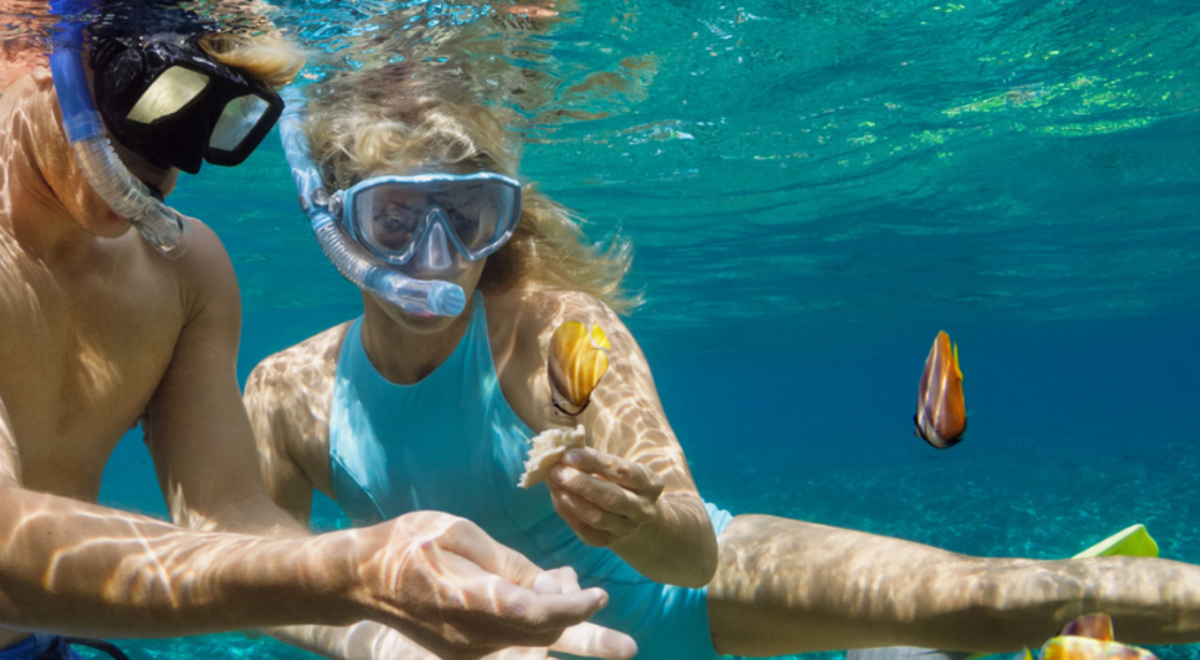 ---
---
For those wanting something more exotic and adventurous – snorkelling is one of the best ways to experience the beauty of Thailand.   
What you'll find in this guide:  
The best islands near Phuket for snorkelling  

The best beaches you can snorkel off in Phuket  

The best time of year for snorkelling in Phuket  

Phuket snorkelling tips 
Whether you are a snorkeller at heart or simply want to make the most of your travels in Thailand, there are underwater destinations you don't want to miss.    
Phuket is a very popular part of Thailand, so the question is can you snorkel there? The short answer is yes. Phuket is filled with mountains, islands and beaches. It is surrounded by rainforest and is closer to the Andaman Sea meaning the Flora and Fauna species are particularly abundant. The many islands in proximity to Phuket allow for incredible day trips and longer stays.
There is no doubt that snorkelling in Phuket is one of the most famous activities and don't be surprised if the snorkellers are not only travellers: residents and locals make the most out of their environment too. Let us show you the best Phuket snorkelling islands and beaches in a region where marine life is second to none!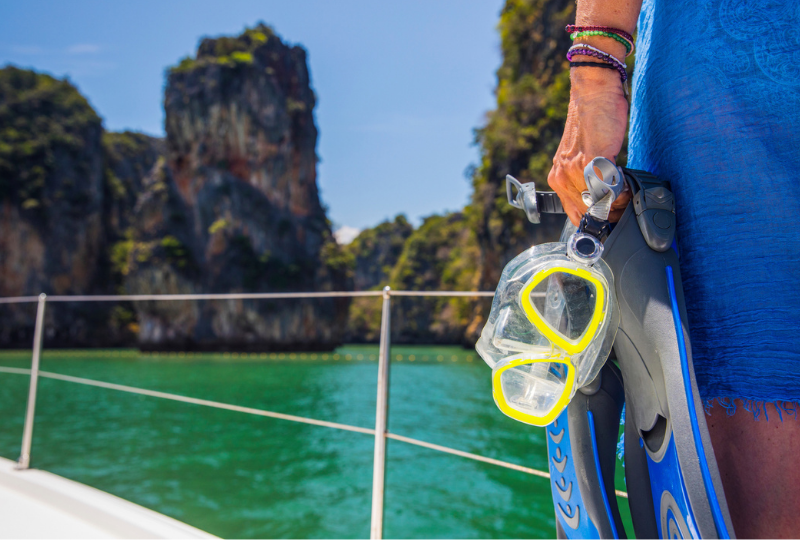 The Best Islands For Snorkelling Near Phuket  
The best snorkelling is found around the islands near Phuket, with the favourites being Similan Islands, Phi Phi Island, Coral Island, Koh Khai Island and Bon Island.  
Coral Island 
Coral Island or Koh Hey is the perfect destination for a day trip. Its proximity from Rawai Beach in south Phuket could be considered one of the best reasons to visit the island, but most importantly the unique colour of the sea fosters the dreamy tropical blue background that you came to soak in. Banana beach is the highlight of Coral Island where coral formations are abundant. Jump in a charter speedboat from the south shoreline of Phuket and be ready to snorkel in under 15 minutes!   
Similan Islands  
How do 200 species of hard corals, colourful tropical fish, sea turtles and even sharks sound to you? The Similan Islands are among Southeast Asia's largest dive sites while being located just 84km northwest of Phuket. The world-famous site for diving also allows for a snorkelling experience to remember.  
All sorts of marine creatures have established reefs where the conditions for growth are ideal. Expect a sea temperature of about 28 degrees Celsius and incredibly clear waters to see the greatest profusion of reef fish in Thai waters.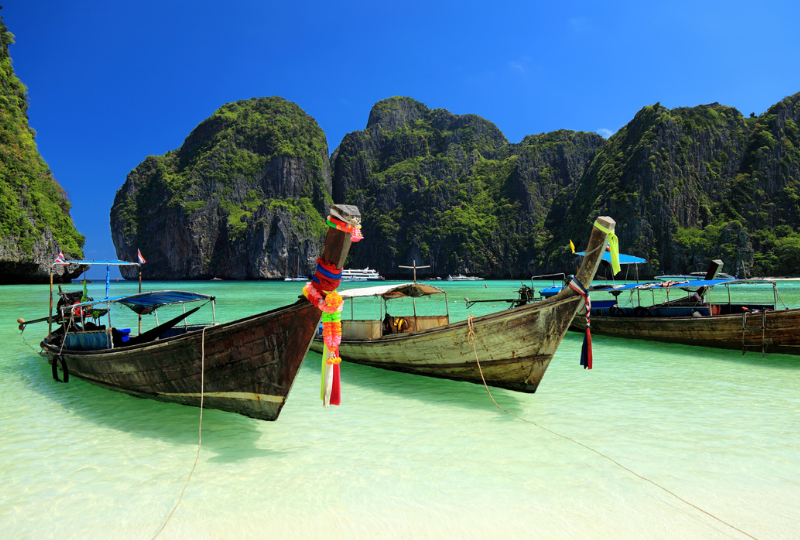 Maya Bay, Phi Phi Islands
Phi Phi Islands  
The Phi Phi Islands are an outstanding snorkelling destination, with an incredible variety of tropical fish and bright coral. The best way to make the most out of a day trip to Phi Phi Island is to charter a boat to avoid the crowds. You can also join a day tour, most of which run all year round and include excellent snorkelling excursions, but make sure you use the services of an operator that does not cut rates based on a lack of safety standards.  
These cheaper options are likely to take people to the most crowded bays at peak periods. To make the most of your snorkelling experience, it's a good idea to do a little research into the service operator or a private boat charter in advance.     
Koh Khai   
Travelling a short 15 minutes to the East Coast of Phuket Island, you will be delighted to find three beautiful, connected islands for the perfect day trip. You can walk from one to the other and snorkel in clear water. The biggest of these islands is Khai Nai Island and offers the perfect environment for snorkelling with crystal white sand and different types of marine life.
On the other hand, Khai Nui, the smallest island, is also an ideal snorkelling location thanks to its spectacular, colourful reefs. Koh Khai Islands are popular among families because of their shallow waters allowing great proximity to marine life and safe waters for kids. To get there, you can easily book a tour, or for a more personalised experience, some companies offer private speed boat options.
Bon Island  
Bon Island is located just south of Rawai Beach in Phuket and its easy access in a quick longtail boat ride makes it the perfect escape for a short and beautiful snorkelling adventure. Known as the best place in Thailand to swim with manta rays, Bon Island is the cleaning station of the marine species between November and April. There is a fifty-fifty chance of spotting one of these beautiful marine giants but we still recommend snorkelling there regardless. Manta Rays thrive in stronger currents, so this is an experience recommended for strong swimmers only.   
The Best Snorkelling Beaches In Phuket  
The best beaches are often the remote and hidden ones, not disturbed by boats and swimmers, and in Phuket there is a beach for everyone. Here are some of the best beaches for your snorkel adventures.    
Ao Sane Beach   
This is the best place if you want to do shore snorkelling thanks to three tiny coves divided by rock formations, making the ideal destination for underwater exploration. The coves are within walking distance of one another, and you will also find a small affordable restaurant for a wholesome snorkelling day trip. Snorkelling gear can be conveniently hired at the local dive centre.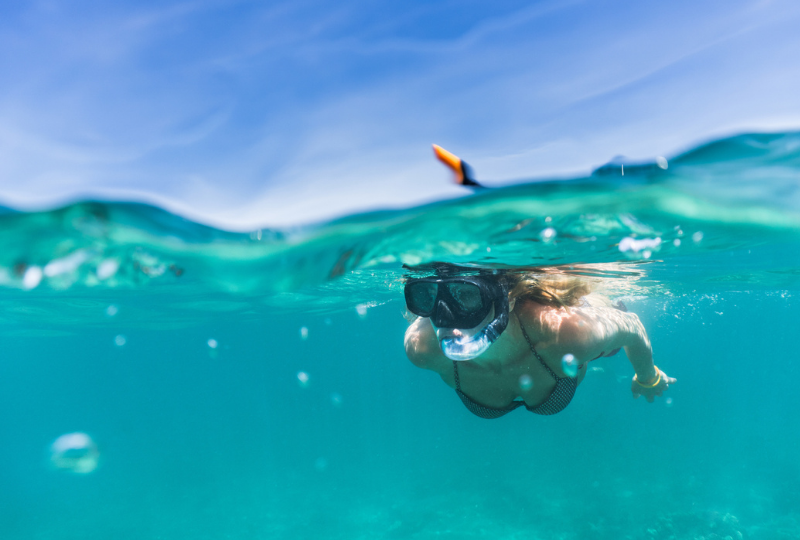 Ya Nui beach   
This is a tiny beach located in the very south of Phuket Island. Tucked in a cove between the Windmill Viewpoint and Promthep Cape with all of the charms of a small beach.   
Banana Beach  
This hidden treasure is surprisingly and conveniently located near Phuket airport. It might only be 800 metres long but Banana beach is one of the least populated. It is not exploited by too many people, allowing its beauty to remain more untouched. Although it might take some effort to find it, you'll be rewarded with clear waters suited for snorkelling.   
The Naithon Beach   
Unlike most of the other beaches in the region, this beach is located on the west of Phuket Island. The peaceful atmosphere of the nearby village attracts nature lovers looking for a serene snorkelling experience. Plus, it's just 10km south of the Phuket International Airport, though you'd never know by how quiet it is.   
Patong Beach  
There is nowhere else quite like Patong beach. If you are looking for a destination offering all kinds of activities and entertainment, Patong Beach is your spot. The beauty of Patong lies in its easy access where very little planning is required, thanks to its location in the heart of town. Snorkelling by the rocks at the northern end of the beach is the best spot, and you'll easily find vendors offering snorkel equipment right on the beach.    
Note: Looking for somewhere to stay that offers the best of both worlds: a serene luxury escape with access to the bustling life of Patong? Amari is the ultimate resort stay located only 5 minutes away from the beach. Check out more of our favourite Thailand resorts. 
Merlin Beach   
As the only beach in Phuket with a natural reef right off the shore, Merlin offers great marine life, and if you're lucky, you might even see sea turtles on the beach. Merlin is on the extreme south of Patong Beach and offers one of the best snorkelling on the island of Phuket. If you need a post-snorkel relaxation, head to one of the massage huts on the beach for a moment of relaxation, comfort and rejuvenation in the perfect setting.  
Kata beach   
A dream beach for both white powdery sand and underwater worlds, this small bay lies between the Nai Harn Beach and Phromthep Cape on the south end of Phuket island. Its rocky environment is a shelter for diverse marine life where you can observe beautiful coral and plenty of fish.  
The best time of the day to snorkel is around midday to enjoy the highest water visibility, but be sure to lather up with sunscreen! There is also a dive centre to rent snorkelling gear and some great hotels nearby worth staying at. 
Freedom Beach   
Although it requires a little effort to reach and the right time of the year, the soft white sand and clear water are great for swimming and snorkelling. The beach is only open between December and June (high season) but is easily accessible from Patong. Catch a longtail boat from the south end of Patong in the morning, grab your snorkelling gear and explore the impressive underwater world before potentially treating yourself to a well-deserved massage right on the beach! This is adventure-wellbeing at its finest.  
Paradise Beach   
This beach is a prime spot for beginner snorkellers and children with amazing views of Patong bay. The main parts of the reef are just in front of the beach and around the rocky edges where you can snorkel in clear water with colourful patches of coral and a variety of fish.  
The main tip to share for Paradise Beach is to avoid peak season as it gets crowded. However, at other times, the beautiful tiny double beach is a great snorkelling spot, but you must be willing to pay a fee to reach the beach. (200 Baht). Nevertheless, once in, you can expect incredible service, facilities and a beautiful clean beach.    
Laem Ka Beach  
Seeking a more secluded spot? A little gem hidden from view is Laem Ka Beach. Located in the very south of Phuket near Rawai, you will find calm water to wander around the many rock formations.  
The abundance of sea life is perfect for adventurous snorkelers who want to go off the beaten track. Don't expect fancy restaurants but there are a few stands selling fruit and other snacks and drinks.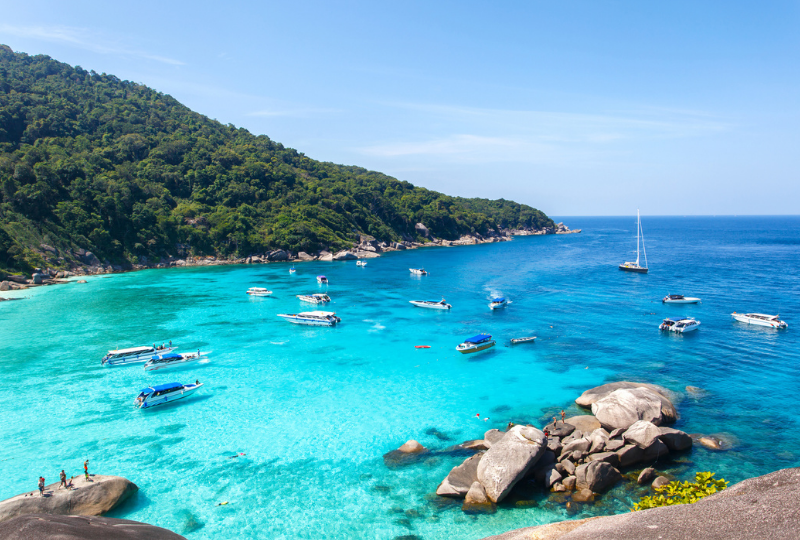 The Best Time For Snorkelling In Phuket  
You can snorkel in Phuket year-round, however, the best time is outside monsoon season between November to April. Exploring the underwater worlds during these months allows for calmer seas and safer snorkelling in Phuket. As mentioned above, some beaches and islands are closed or we recommend avoiding them outside of peak season due to the weather.   
Phuket Snorkelling Tips   
Wear appropriate clothes, sunscreen and a hat. Don't forget the sun's rays are reflected by the water.    
Be aware of jet skis and make yourself as visible as possible while snorkelling.   
Always defog your mask before diving and choose the right size equipment.    
Do not touch or take coral or marine life under any circumstances.    
Relax and enjoy your dive. The most important thing is to always keep calm.   
Be well informed about the weather and water conditions before planning your snorkelling experience.