Discover The Best Of Regional Australia While On A Road Trip
We're more excited than ever to go on good old fashioned Aussie road trips. And there's nothing more important when road tripping than knowing where you can stop for baked goods, a cold bevvy or the most scenic route from A to B.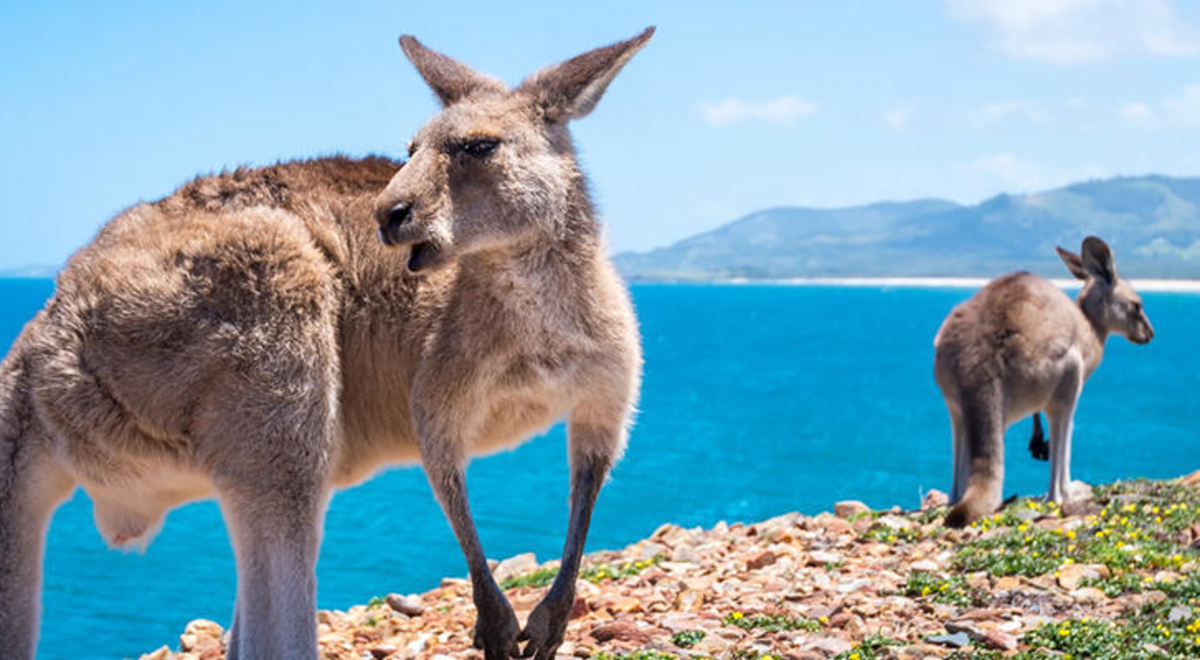 ---
---
We're more excited than ever to go on good old fashioned Aussie road trips. And there's nothing more important when road tripping than knowing where you can stop for baked goods, a cold bevvy or the most scenic route from A to B. 
---
Discover The Best Of Regional Australia While On A Road Trip
NSW South Coast
From Sydney
Just over three hours' drive south, the hilltop town of Milton is a charming introduction to the picturesque region. We suggest stopping at Pilgrims, a delicious vegetarian cafe, and Wholefoods Store or the Milton Farm Shop for local produce and specialties. There are also some great boutiques to check out, including Spaces 2538 and AKWA Surf. 
In Ulladulla we suggest dining at Native Cafe overlooking the harbour, Rapt Bratz to pick up cool kidswear, Sol Sisters Artisan Collective for clothes, homewares and jewellery, plus Dwell 35 South and Coyote Boutique.
Don't miss Cupitt's Estate, a winery cum brewery cum fromagerie on the edge of town for a long lunch.
In the small town of Burrill Lake, you can't go past The Fish Shop for fish and chips, and Holiday Haven at Burrill Lake hosts live music by the lake each Saturday during summer.
When it comes to activities, there's certainly no shortage. "You can go fishing, paddle boarding, canoeing and enjoy our beautiful unspoilt beaches," Janice says. "Come on down, we are ready to welcome you."
From Canberra 
An hour east of Canberra is the beautiful historic town of Braidwood. On the main route connecting Canberra to the coast, Braidwood has suffered massively with the Kings Highway being closed on and off. The main street is lined with grand stone buildings, many of which are occupied by beautiful boutiques and cafes. The Braidwood Bakery, which has been in business for decades, is a must-visit. Their pies and pastries usually attract quite the crowd during peak season. 
After the drive down the winding Clyde Mountain, the first town you'll reach is Nelligen, on the banks of the Clyde River. Nelligen local and Flight Centre Batemans Bay Senior Travel Consultant Nicole Casben recommends Nelligen River Cafe for a bite to eat. 
---
Batemans Bay to Eden
Once you hit Batemans Bay you're in the real heart of the South Coast. Nicole suggests stopping in for a spot of shopping at local boutiques Forever Fashion, Brooke's Place, Sirens, Journey Style and Homewares, and many more. 
The Princes Highway south from Batemans Bay all the way to Eden winds through many quaint towns, making up a huge stretch of coastline that's been affected by the fires. 
Worthwhile stops along this route include
Mogo, a tiny town with a main street lined with boutique stores and cafes, plus the award-winning Mogo Zoo, which supports a range of endangered animal species. With the grounds currently being rehabilitated, the zoo is set to open to the public again in February 2020.
Moruya, which hosts a weekly country market by the river. Hot tip: line up for the woodfired pizza slices, they're worth the wait.
Narooma, a regional hub, is where boats depart to visit Montague Island, a marine reserve that's home to hundreds of seals and more than 90 bird species, including little penguins. 
Central Tilba and Tilba Tilba are twin towns set in a beautiful valley and the setting for popular TV show River Cottage Australia.
Bega, famous for its cheese brand, is another regional hub worth stopping in for the Bega Cheese Heritage Centre, and the Bega Valley Regional Gallery, home to one of Australia's richest portraiture awards. 
Eden, one of the last towns before the Victorian border, is a popular spot for spotting humpback whales in the winter months, and for its Killer Whale Museum. You can also buy mussels straight from the wharf. 
Blue Mountains, NSW
From Sydney, head northwest through Richmond to the Bells Line of Road, which will take you on a loop of the Blue Mountains. While it's possible to do some of these spots in a day, a long weekend will really allow you to make the most of the mountains' beautiful towns and grand valleys. The first half of the journey takes you along one ridgeline through Bilpin, Mount Wilson and along to Lithgow. From Lithgow you loop back east along a more southern ridgeline. This section is where you'll find the larger towns of Mount Victoria, Katoomba, Leura and more. 
You can also take the train from Sydney all the way to Mount Victoria. Busses are currently replacing trains between Mount Victoria, Lithgow and Bathurst due to fire damage on the tracks.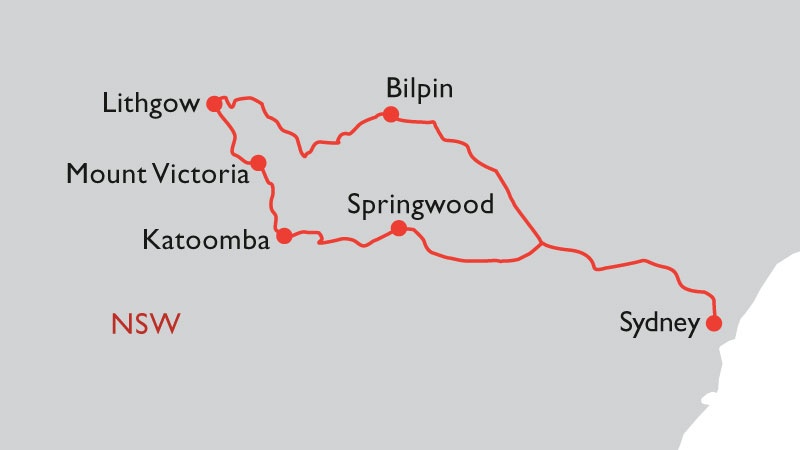 ---
Where to stop: Bilpin to Lithgow
Bilpin is known for its fruit orchards, and while there won't be as much fruit to pick this year given the damage to orchards, you can still feast on a famous apple pie from the Bilpin Fruit Bowl, drink cider from Hillbilly Cider or Bilpin Cider Co, and get local products like apple cider vinegar at Wirraninna Ridge.
Just past Bilpin you'll find Blue Mountains Glow Worm Tours at Berambang. Nighttime tours take you into a canyon to discover the magical bioluminescent creatures.
In Lithgow dive into the region's history at Esbank House and Museum and the Lithgow State Mine Museum.
For a dose of nature, head to Hassans Walls Lookout, the highest in the Blue Mountains, and easily accessible just a few minutes drive from Lithgow.
If you've got a few days, stay in the area to check out abandoned mining towns like Glen Davis ruins and Newnes Mining township, more glow worm tunnels, the Craftworks Distillery on the edge of the Capertree Valley, and the Jenolan Caves. 
Where to stop: Lithgow to Leura
The first stop is Mount Victoria, a historical centre in the mountains with the historical society museum.
In Blackheath book in for a meal at the one-hatted Fumo, serving up modern Japanese.
In Katoomba, you can't miss the iconic Three Sisters, or a day at Scenic World exploring the beautiful bushland via the Scenic Railway, Skyway or Walkway.
Katoomba and neighbouring Leura have a strong arts and culture community with galleries, the street art walk on Beverly Place, Katoomba, as well as a number of shopping boutiques and cafes with seasonal menus.
For bushwalking, head to Wentworth Falls which escapes the blazes, so many trails remain open. Always check on the local council and national park websites for the latest closures. 
Gippsland, Victoria
The vast Gippsland region east of Melbourne is a rich farming area home to dairies, wineries and hundreds of small producers – the kind of businesses that rely heavily on tourist traffic and local visitors. 
On a road trip from Melbourne you can head north to the Alpine High Country and Snowy River Country regions, or east to the Gippsland Lakes Region and the Coastal wilderness Region.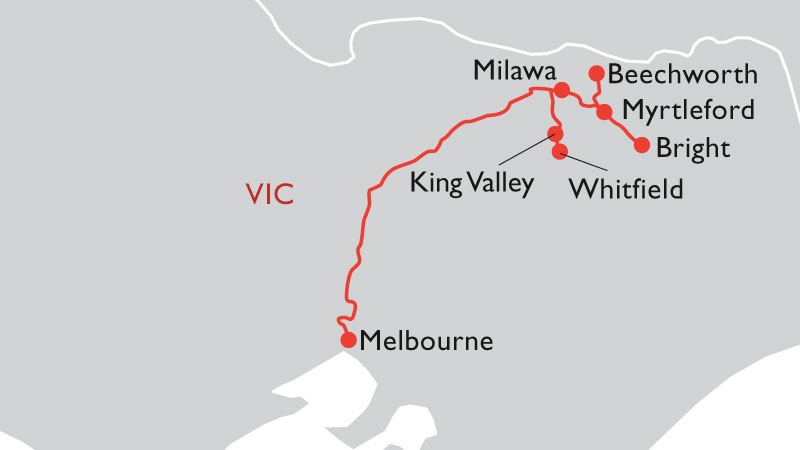 ---
Things to do in Northern Victoria
Visit King Valley at Whitfield, home to a range of wineries and breweries such as La Cantina Winery, King River Brewery, Dal Zotto Wines and more.
Stop off to pick up goods from local producers around Milawa such as the Milawa Cheese Factory and Milawa Mustards, and head further north for the Tolpuddle Goat Cheese Farm in Tarrawingee.
Head to Bright for country hospitality and a range of boutiques, breweries, coffee roasters and cafes, including Bright Brewery, Sixpence Coffee, and Gingerbaker.
Further north, Beechworth is a quintessential country town with gorgeous architecture, museums, mountain biking and bushwalking.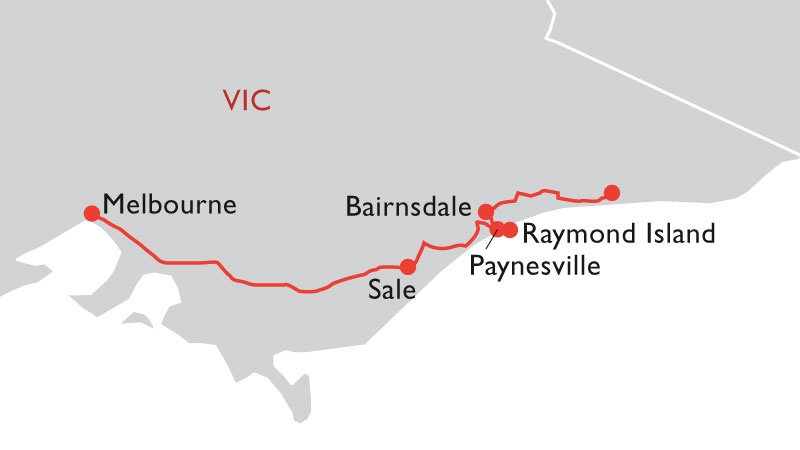 Things to do in Eastern Victoria
Make your first stop in Paynesville, home to plenty of eateries such as Bullant Brewery and The Old Pub Paynesville.
From here you can head to 90 Mile Beach or Raymond Island – home to the Koala trail known for its furry residents.
The Lakes Region is home to a network of lakes and lagoons, home to wildlife including lake dolphins and pelicans. The Mitchell River Silt Jetties are also a highlight, being the longest silt jetties in the world.
Bairnsdale is also worth a visit, home to the Court House, which is a great art gallery showcasing works from the region that highlight the region's history, and then explore the surrounding regions. 
---
Adelaide Hills, South Australia
A stone's throw from South Australia's capital, the Adelaide Hills offer the perfect day or weekend trip out of the city. Alyx Cauchi, Team Leader of Flight Centre Mount Barker in the Adelaide Hills, says there is plenty to see and do. "There are so many wineries still open. New Era Vineyards in Woodside is open, though it was almost destroyed, and next door, Bird in Hand was hardly touched. Shaw + Smith is also great – there are heaps [of wineries] open and they need your business," she says.
The region is also known for its food, so you can even turn your mini break into an Epicurean adventure.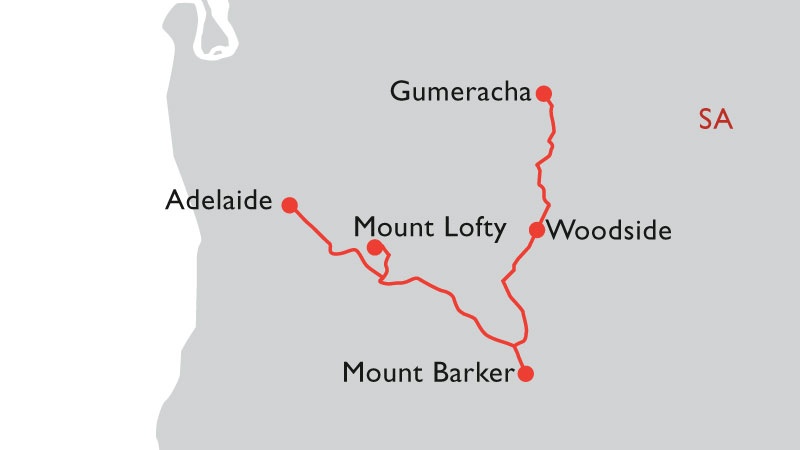 ---
Be sure to check out:
The Adelaide Hills Wine Region Facebook page has updates on wineries as well as events, such as the annual Crush Festival on in January.
Cleland Wildlife Park, home to rescued native animals, is great for families. "The park wasn't affected by the fires, but the vet and keepers have been doing amazing work helping with emergency wildlife cases from the fires," Alyx says.
Big Rocking Horse in Gumerancha is also worth a visit with kids.
Melba's Chocolates in Woodside for a sweet treat. 
"It's about getting out and supporting the community as much as we can. There is so much to see and do, and the Adelaide Hills will welcome you with open arms," Alyx says.
Kangaroo Island, South Australia
Long lauded for its natural beauty and unique and varied wildlife, Kangaroo Island is the gem in South Australia's crown of tourist hotspots. 
From Adelaide, it's just over 90 minutes' drive south to Cape Jervis. From here you can hop aboard the Kangaroo Island car and passenger ferry, which is currently subsidised to encourage more visitors.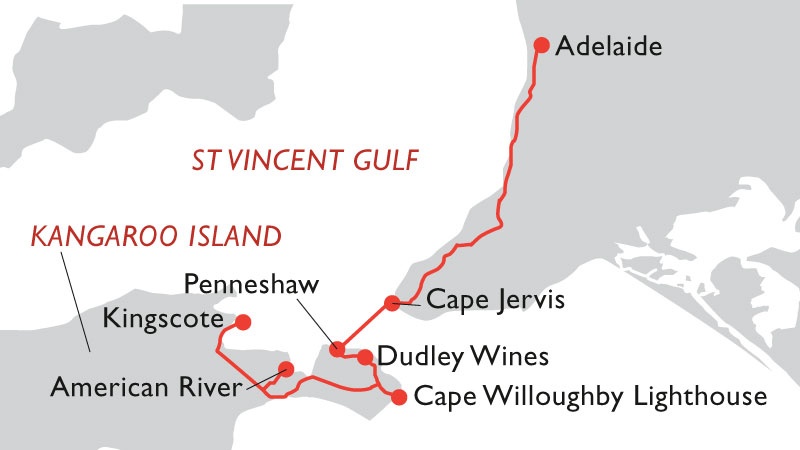 ---
What to do on a day trip
On arrival to the island you'll land in Penneshaw, a quaint village filled with charming pubs and restaurants. For a day trip, Sameer recommends exploring the most eastern part of the island.
In Penneshaw, visit the Maritime and Folk Museum and see the little penguin colony, best viewed at sundown.
Head east along the coast for a wine tasting at Dudley Wines. "The wines are delicious, the food fresh and the views jaw-dropping," Sameer says.
Further east you'll find Cape Willoughby Lighthouse, South Australia's first lighthouse. There are guided tours of the lightstation, bushwalks for all levels of fitness and whale watching between May and October. 
What to do in a few days
For a longer stay, Sameer recommends driving south from Penneshaw to find a string of white sandy beaches and protected bays. American River is worth visiting, boasting the first house on Kangaroo Island (dating from 1844), and an aquatic reserve, making it ideal for fishing, swimming and boating. There are pelicans, wallabies and other wildlife commonly spotted right in town. 
Further north is Kingscote, the capital of the island, and where the Kangaroo Island airport is located.
Kingscote is, in fact, South Australia's oldest European settlement, so there's the Hope Cottage Folk Museum and Reeves Point heritage site to explore.
The Kangaroo Island Art Gallery is also here, showcasing works by members of the Kangaroo Island Art Society.
Finally, kick back with a handmade brew at the Kangaroo Island Brewery or a wine at either Amadio Wines or Bay of Shoals Wines.