Roto-Vegas: Here Are The Top 10 Things To Do In Rotorua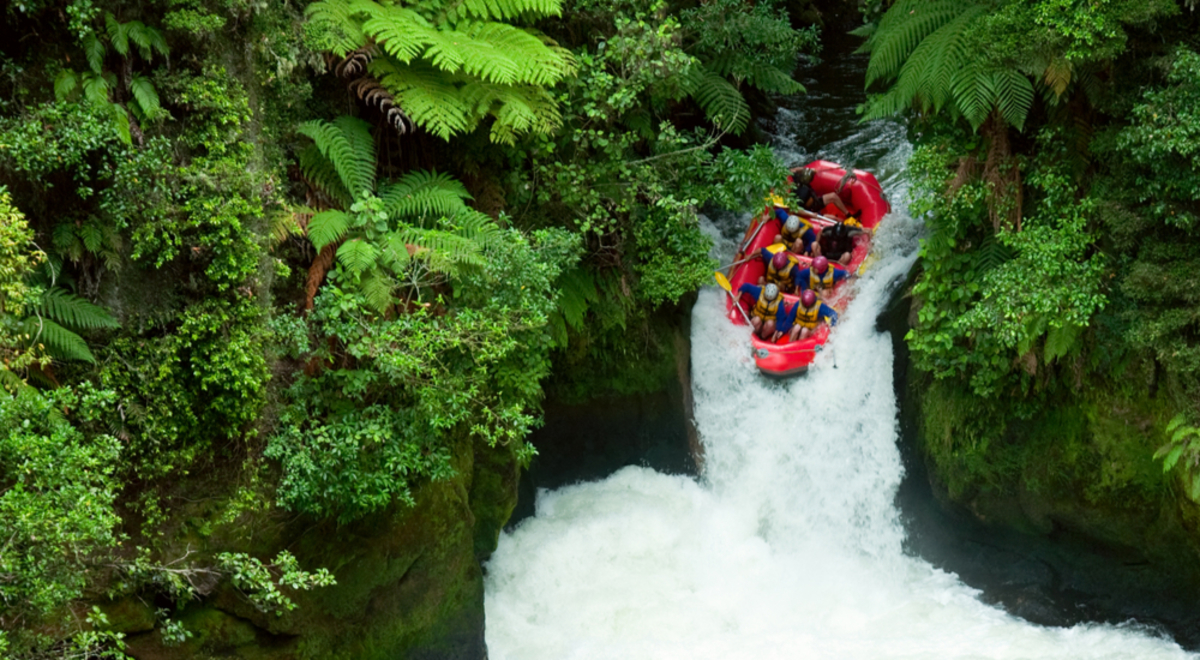 Some would say Rotorua is the Queenstown of the North, and we would also add that it's not called Roto-Vegas for no reason!! Because yes, Rotorua has it all - the lake, the scenery, the culture, the adventure, the smell (ahem), and above all, some amazing action-packed activities (and some not as action-packed too)! We could have done a top 100 but we've settled for the very best…here is the top 10 things to do in Rotorua! 
1. Redwoods Treewalk
This is truly an awesome experience where you get to take a walk high up among the beautiful giant redwood trees, some of them 118 years old. The walk will take you through 28 suspension bridges and 27 platforms, and the walkway's height ranges between 9 to 20 metres (so if you're afraid of heights, maybe skip this one!!). It takes about 40 minutes to do the walk and you'll get a great bird's eye view of the forest along the way. Kids can join too, preferably kids old enough to walk; although they do have special purpose-built baby strollers for the smaller ones, but just note that it's on a first in, first served basis.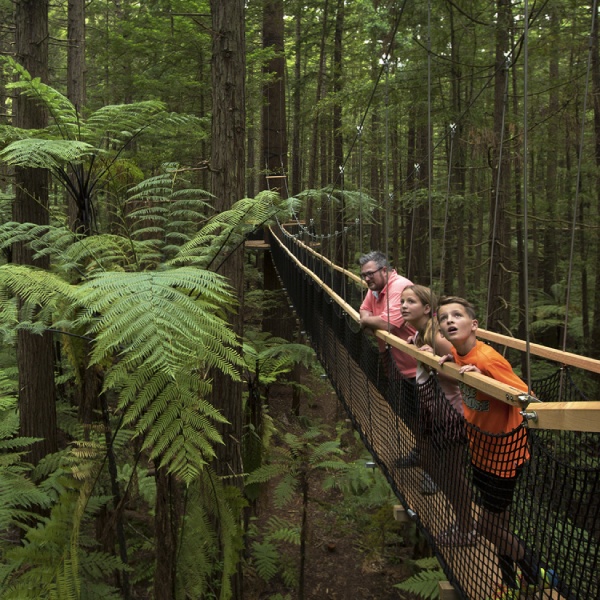 Redwoods Treewalk. Image credit: David Worhood
2. Te Puia
Rotorua is of course well-known for its geothermal activity, giving the area its wonderful aroma (!), and one of the best places you can see some geothermal action is at Te Puia. There, you'll be able to walk through 60 hectares of natural bush, geysers and mud pools, including the famous Pohutu Geyser, which is the biggest, active geyser in the Southern Hemisphere - so pretty impressive indeed! But we also love Te Puia because there are a few different things you can do there too. There's a model Maori village and marae and you can also watch master carvers and weavers demonstrate their traditional Maori carving and weaving techniques. They've also got a brand new Kiwi Conservation Centre where you can observe our beloved national treasure - the kiwi bird. Plus learn about Te Puia's conservation efforts to protect and breed our native kiwi birds. And another cool feature is the Kids Zone where little ones can take part in fun activities like poi, haka, long stick games, porotiti (spinning toy) and more.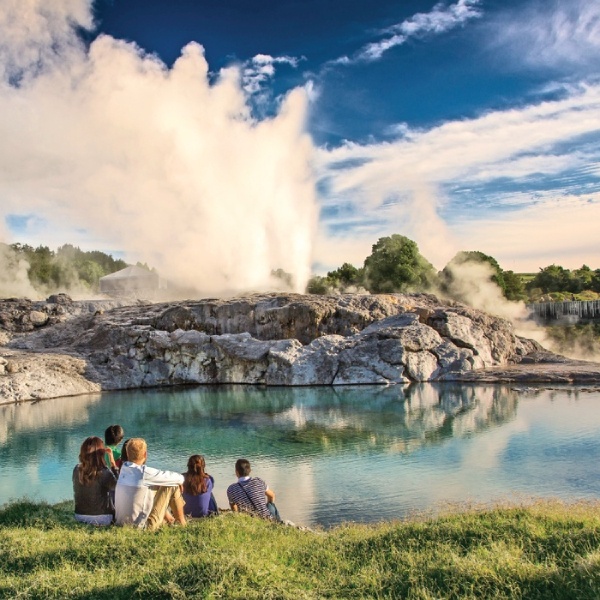 Te Puia Geothermal Valley. Image Credit: Te Puia
3. Velocity Valley
Now this is where the action is - not for the faint hearted! Velocity Valley is an extreme adventure park which offers a few different action-mad activities. There's the Agrojet, a jet boat ride on a custom-designed jet sprint course, where you'll go 100kmph and experience some serious 3G force and 360 turns.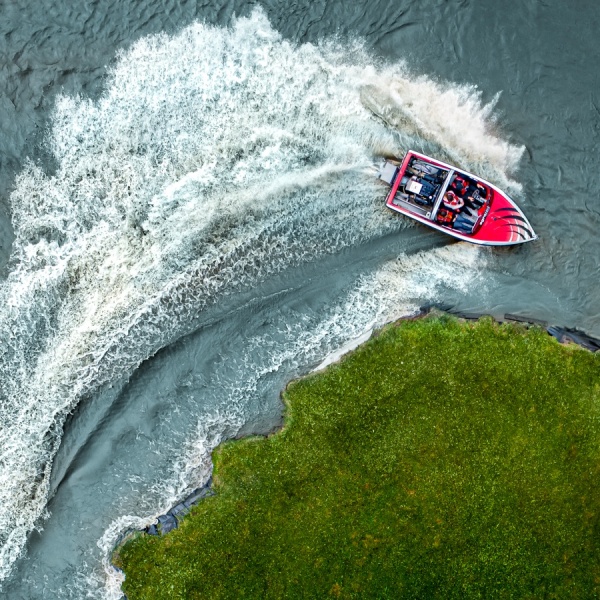 The Agrojet. Image Credit: Velocity Valley
Next is the Freefall Xtreme, the only place in New Zealand where you can body fly outdoors. It's like sky diving but without the sky part! You get to experience zero gravity and exhilarating speeds of up to 220kmph and your "flight" is longer than a 12,000 feet skydive - so it's a win win really!

Another fun ride is the Shweeb Racer - a very hard one to explain with words but we'll give it a try. Imagine you're in a sort of capsule, attached to a monorail and you pedal your way around a course and you get to race your friend at the same time! Not sure if that made sense, so here is a photo below to explain it, but really, you should just go and experience it for yourself!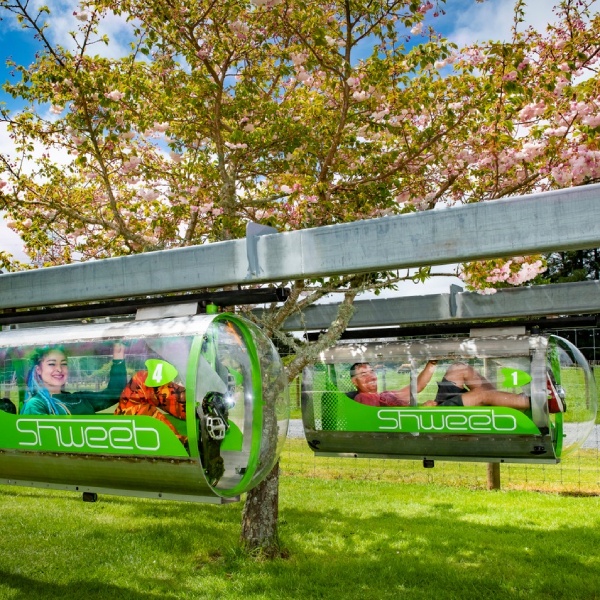 The Shweeb Racer. Image Credit: Velocity Valley
And last but not least on the Velocity Valley menu, is the Swoop - a giant bungy swing which you can experience on your own or with up to 2 friends! Although we feel, only those closest to you should really join you, because you'll be going from 40 metres high (similar to an 11-storey building ) and you will drop headfirst towards the ground going from 0 to 130kmph in 1 second… unless of course, you don't mind screaming your head off right next to a stranger! Oh and you have to release the cord yourself too, so maybe take someone with you who will definitely have the cojones to pull that cord!!!
 
4. Polynesian Spa
If you're not into the action-packed activities as much, OR if you've done all of that and you need a break, then make sure you go to Polynesian Spa. Located right by the lake, in the centre of town, Polynesian Spa offers an authentic and relaxing geothermal experience. The hot mineral waters of Polynesian Spa come from 2 natural springs and feed 28 different hot pools. The Priest Spring waters are slightly more acidic and help relieve tired muscles and aches; and the Rachel Spring waters are higher in alkaline which helps nourish the skin. If you want to treat yourself even more, we'd recommend splashing out (pun intended) and paying a little bit more to get your own Lake View Private Pool. At 38.5°C, the private pools offer panoramic views over the lake and are the perfect spot to truly relax.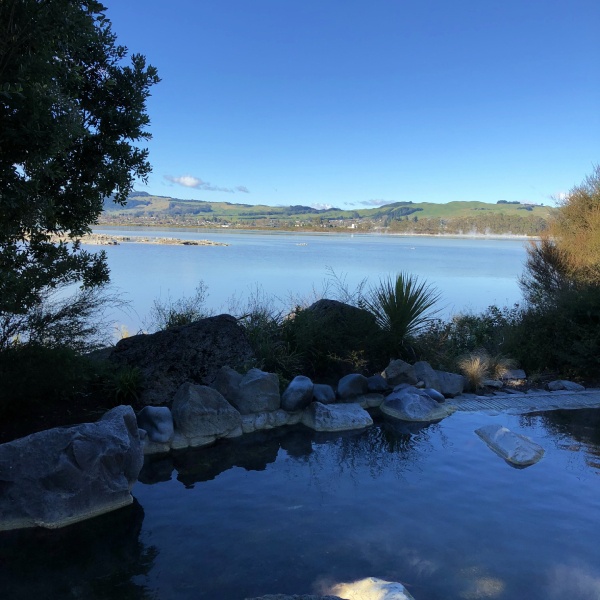 Great view over Lake Rotorua from Polynesian Spa.
5. ZORB
Ever wanted to roll down a hill in a giant inflatable ball? Yes? Then read on! ZORB was invented by 2 Kiwi blokes, Andrew Akers and Dwane van der Sluis, back in 1997 and it's the only place in New Zealand where you can experience this crazy fun activity. They have 4 different tracks you can roll through - the Sidewinder Track which will take you on a zig-zag extravaganza, the Straight which is a 250m long slope going straight down, the Mega Track which is the longest, fastest and steepest track in Middle Earth (and the world!), and the Big Air, their newest track with some epic drops and fast bends. Some of the tracks even allow you to ride the ZORB with friends or family, so you can share the hilarity around!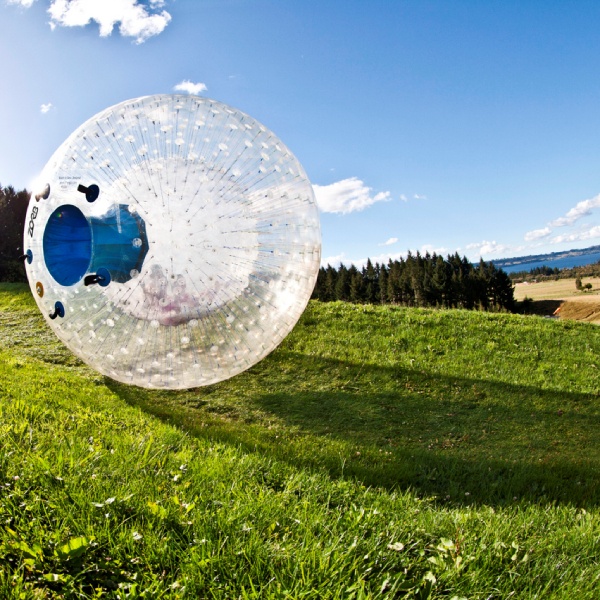 Straight Track at ZORB. Image Credit: ZORB Rotorua
6. Rotorua Canopy Tours
Rotorua Canopy Tours offer an amazing eco adventure in an ancient native forest on the outskirts of Rotorua - think ziplines, swing bridges, cliff walks and tree platforms. The Original Canopy Tour includes 6 thrilling ziplines with a total of 600m of ziplining and 2 huge swing bridges. Kids as young as 6 can join this particular tour, making it a great family day out. Or you can go for The Ultimate Canopy Tour which offers a higher, longer and even more spectacular adventure (suitable from 10 years +). This option includes 6 ziplines with  a total of 1200m of ziplining, a 50m-high cliff walkway, 3 suspended swing bridges, a giant spiral staircase, and an 18-metre controlled descent - it's a step up in adventure level so thrill-lovers only!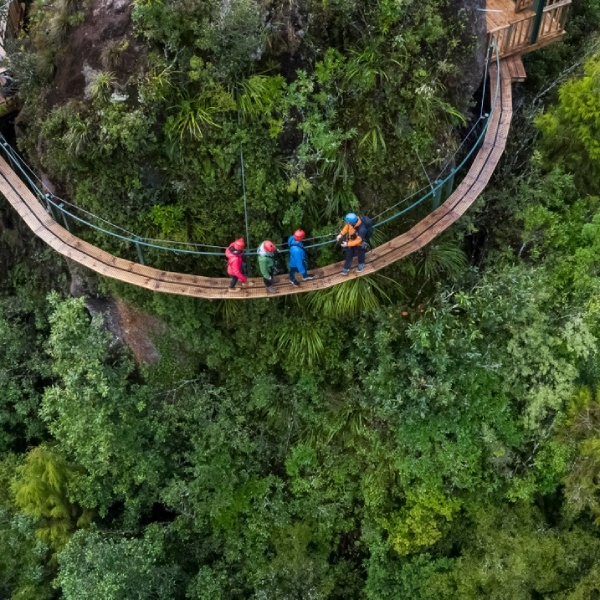 Cliff walk as part of The Ultimate Canopy Tour. Image Credit: Rotorua Canopy Tours
7. Kaituna Whitewater Rafting with River Rats
Whitewater rafting is awesome fun and the River Rats Kaituna Waterfall Experience will take you to some of the best rafting in New Zealand, in Okere (about 25 minutes drive from Rotorua). You'll get to speed through 14 rapids (wahoo!) and go down three waterfalls including the world's highest commercially rafted waterfall - the Tutea Falls at a whopping 7 metres high! So just be ready for some serious thrills, some serious fun…and also be prepared to get completely soaked!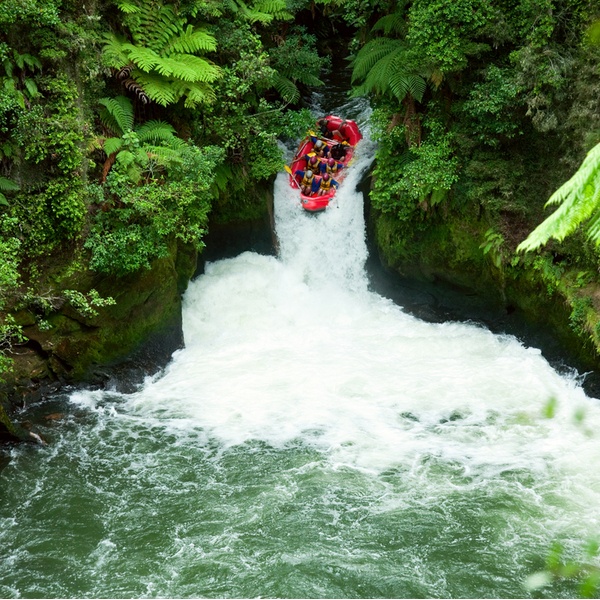 Whitewater rafting at Kaituna River. Image Credit: Shutterstock
8. Hell's Gate
Another great activity to slow down the pace a bit is Hell's Gate. This geothermal reserve and mud spa is set in beautiful native bush and is rich in Maori myths and legends. The healing properties of the sulphur waters and geothermal mud have been used by local Maori for over 800 years and it is believed they help ease inflammation and arthritis, as well as rejuvenate the skin. There are a few different experiences to choose from at Hell's Gate: you can enjoy the sulphur spas on their own, or you can also add a visit of the geothermal reserve (guided or self-guided) and the ultimate is to add the mud baths as well, which is a really unique and fun experience - highly recommended.
Please note Hell's Gate is closed at the moment but will be re-opening from 23 October 2020.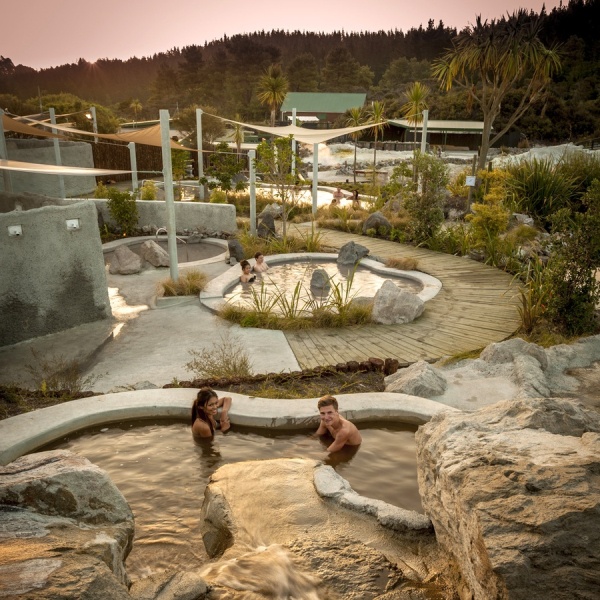 Hell's Gate. Image Credit Hell's Gate
9. Tarawera & Lakes Eco-Tour with Rotorua Duck Tours
Now, this is a real hoot and great for the little ones too! Jump on board an Amphibious WW2 landing craft, called a Duck, and explore the area on land and on water. They have a few tour options but our favourite is the Tarawera & Lakes tour, which will take you on a 2-hour journey from the centre of town and into a culturally, ecologically and historically significant area. You'll get to splash through three lakes - Lake Okareka, Lake Tikitapu and, of course, iconic Lake Tarawera. Plus the Ducks are now heated for the chillier days, so all in all, a quacking good time guaranteed!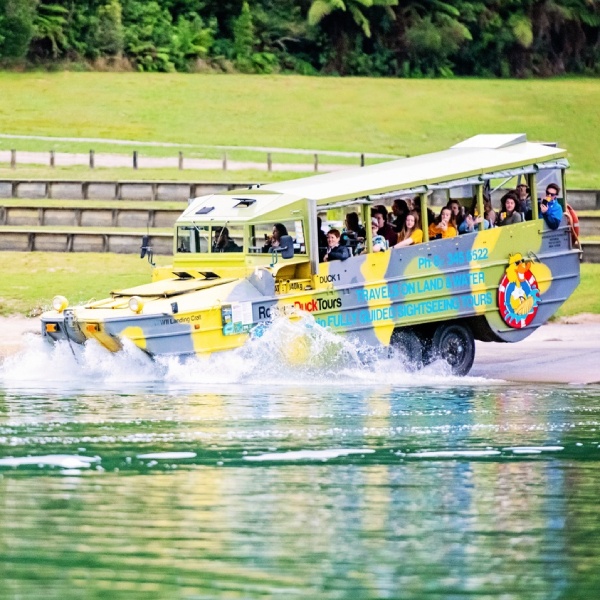 One of the amphibious Ducks from Rotorua Duck Tours. Image credit: Rotorua Duck Tours
10. Skyline Gondola and Luge
And last but not least, is the unmissable Skyline Gondola and Luge. Jump on board the gondola and enjoy a scenic ride with views over Lake Rotorua and the whole area. Once you're at the top, there are a few things you can do like mountain biking, try the Skyswing, walk on one of the nature trails, eat out at one of the restaurants and more… plus, of course there's the luge, which is awesome fun. They have a few tracks - the nice and easy Scenic Track, the Intermediate Track with chicanes and a tunnel, or the Advanced Track with tight bends, fun dips and a tunnel too! This is a great family activity - little ones can ride with an adult in tandem, or riders who are between 110cm and 135cm can ride the Scenic and Intermediate tracks unaccompanied. As for the Advanced track, it is only for riders who are 10+ years (and over 135cm).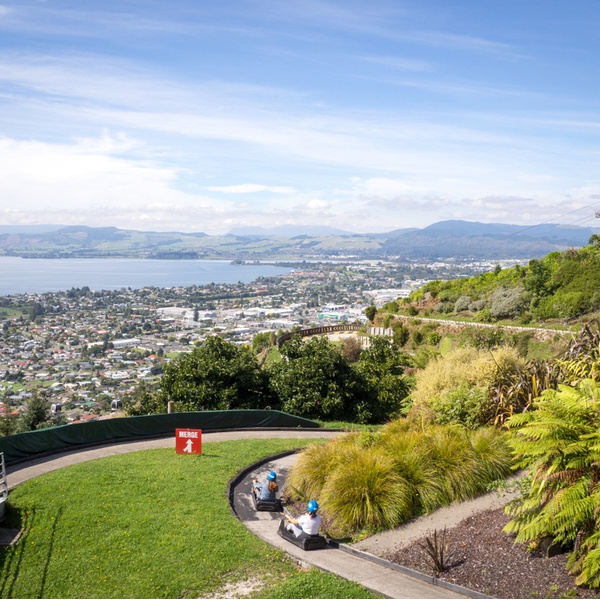 The Luge. Image Credit: Shutterstock

And that's a wrap on our Top 10 Things to do in Rotorua - make sure you talk to us about booking your Rotorua adventures, as well as accommodation and flights.