Top 13 Fun Family-Friendly Rotorua Activities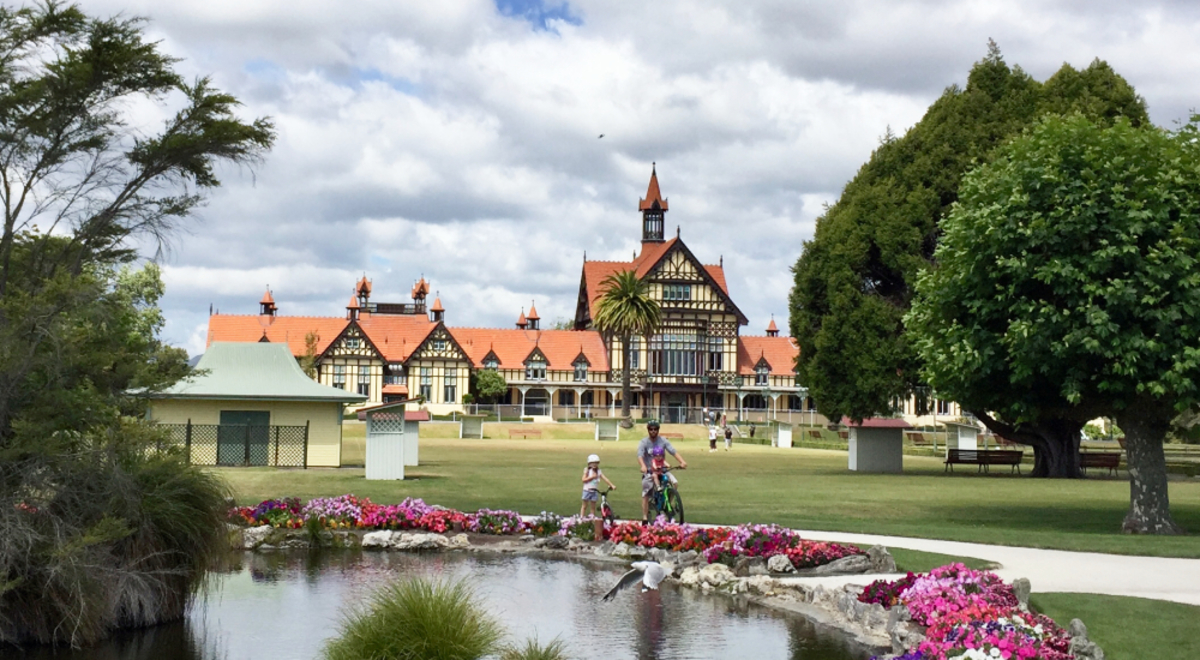 If you are looking for the best family-friendly activities in Rotorua, read on! From nature-based activities to water-based fun, family-friendly biking, and everything in between, I'll share with you our personal favourite family activities in Rotorua, based on first-hand experience!
1. Best Rotorua family activity for nature lovers: Redwoods Treewalk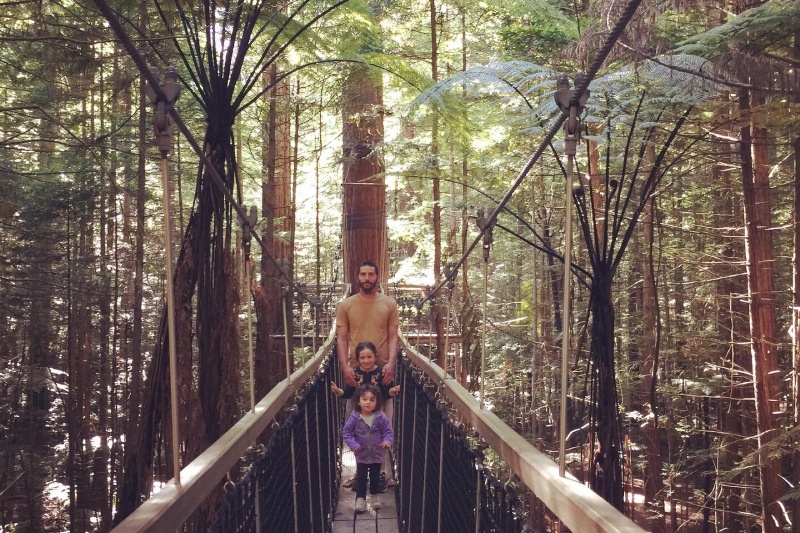 Family fun at Redwoods Treewalk in Rotorua. Image credit: Sarah Thompson
Redwoods Treewalk was hands down one of our favourite things to do in Rotorua! This amazing experience is a treetop walk on suspension bridges and high platforms amongst the beautiful redwood trees. You basically go from giant tree to giant tree walking across 28 suspension bridges at a height ranging from 9 to 20 metres. At first Miss 2 was a little bit worried about the wobble on the bridges but with encouragements from her sister (Miss 5), she quickly gained confidence and absolutely loved it! The views of the forest are seriously impressive, and the kids really enjoyed being up high and observing the nature, listening to the birds and forest sounds.

The walk usually takes about 40 minutes, but we took our time (the perks of having a slow toddler!) and we made sure we also read all the signage along the way to learn about the redwood trees and the history of the forest. All in all, a really cool activity for some family fun in Rotorua.
Pro tip: I highly recommend going early in the morning to avoid crowds. We went at opening time (9.30am) and we were one of the first families there but as we finished our walk, it was definitely getting a lot busier. And for the little ones it's best not to have too many people there so the bridges don't sway too much.
 
2. Most fun Rotorua activity to do with kids: the Luge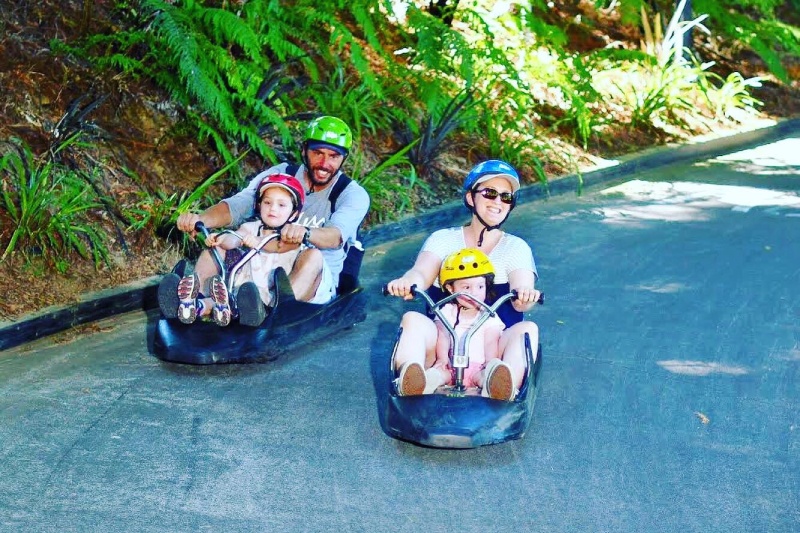 The Rotorua luge, fun for all ages. Image credit: Sarah Thompson (purchased from Skyline Rotorua)
This is an oldie but a goodie! In fact, the luge never gets old, it's simply one of those must do things in Rotorua! It is a great choice because it's fun for the little ones but also for older kids and teens too (and since we're talking about teens, check out our blog on the best New Zealand holidays for teens).

For those who are not familiar with the luge, first up you have to go up the gondola to reach the top of the hill where the Skyline Rotorua complex is. There are quite a few different activities to do there, such as mountain biking, ziplining, nature trails, the Skyswing, etc, but our favourite is the luge. You get given helmets for the whole family and then head to the luge tracks. The luge itself is kind of like a toboggan on wheels. You control the speed and steering yourself but don't worry, they give you a little tutorial before your first ride.

There are three different levels of tracks: the Scenic track for beginners (like me!), the Intermediate track and the Advanced track. Hubby and I each had one of the girls on board our luge and we did the scenic track a couple of times and the Intermediate track for our last ride - the kids loved it! Plus, you can race each other on the track, which is super fun.
Pro tip: There are a few different combo deals depending on how many rides you want to do, or if you want to add any of the other attractions, so make sure you talk to your Flight Centre Co-Captain to get that all organised and booked for you.
 
3. Best family-friendly bike trails in Rotorua
Rotorua is renowned for world-class mountain biking trails, but there are also some fantastic bike trails that are suitable for kids. And if you're looking for free things to do in Rotorua, this is one of the best options!
We tried a few of the family-friendly trails ourselves so here are our personal recommendations:
- Mokopuna track: This track is on the Long Mile Road side of the Whakarewarewa Forest (close to Redwoods Treewalk). This is a really great loop ride, nice and easy for little ones but still very enjoyable as you are riding through the Redwoods forest. The surface is hard-packed gravel making it nice and smooth to ride too. This was my personal favourite track and it was my very first mountain bike ride so I would say it's a good option to start with. Just note that it is a shared track with walkers and strollers are allowed there as well.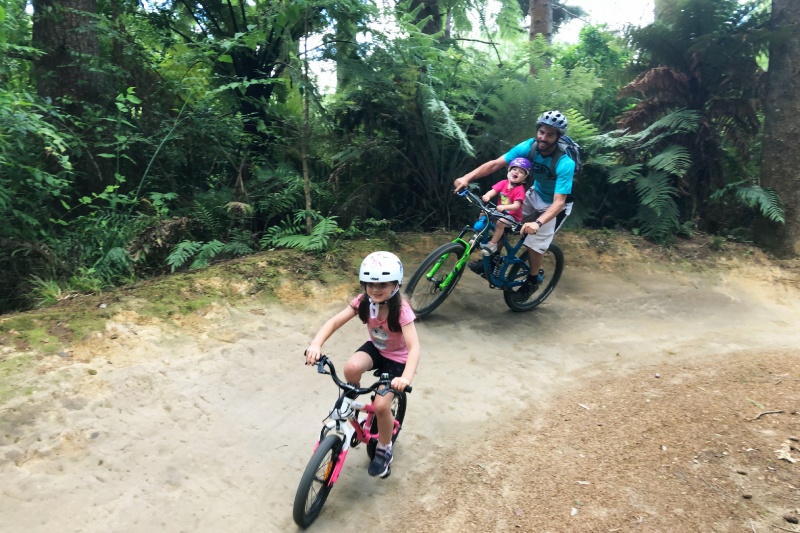 Mountain biking in the Redwoods, Whakarewarewa Forest. Image credit: Sarah Thompson
- The Kids Loop, Tahi and The Dipper tracks: These tracks are part of the Whakarewarewa Mountain Bike Park which is on the Waipa side of the forest. The park has been recently upgraded with some amazing facilities including toilets and showers, a café and a bike hire shop where you can hire bikes and gear including bikes for kids as young as 4 years old. The Kids Loop is really good to practise and has some great signage to teach the kids how to orientate themselves.

You can just do the Kids Loop or you can also join onto other trails like Tahi, and then join back, taking you on one big loop. The Dipper is a little bit harder but we still managed it with Miss 5 only having to hop off her bike and push up some hills a few times, but it does mean it's more fun too with some great big dips and downhill parts!
Pro tip: Pack your togs in the car because once you're done with biking for the day, make sure you head to Secret Spot Hot Tubs (on the same Waipa side as the trails above), a unique place where you can hire your own hot tub for an hour and have drinks in there while you soak! Mum and dad can enjoy a craft beer and the kids can sip on a hot chocolate while in the tub - an awesome way to end the day!
 
- Hamurana lakeside track: This is not mountain biking, but it is a nice option if you have very young kids riding their own balance bike or if you just want an easy short chill ride by the lake. Hamurana is situated about 20 minutes from the centre of Rotorua and the track is right by the lake and is very scenic. We did it on a beautiful sunny clear day and it was glorious!

Make sure you pack a picnic as there are some picnic tables along the way. There is also a small playground with toilets (gotta have those toilet facilities for the kids!) and there are some safe swim spots along the way too which are great for young children as it is very shallow, so make sure you pack your togs too! Just note though that it's not so good for the adults, because it seriously is shallow and never gets deep, I tried to walk for what seemed like an eternity and the water level only went  passed my knees!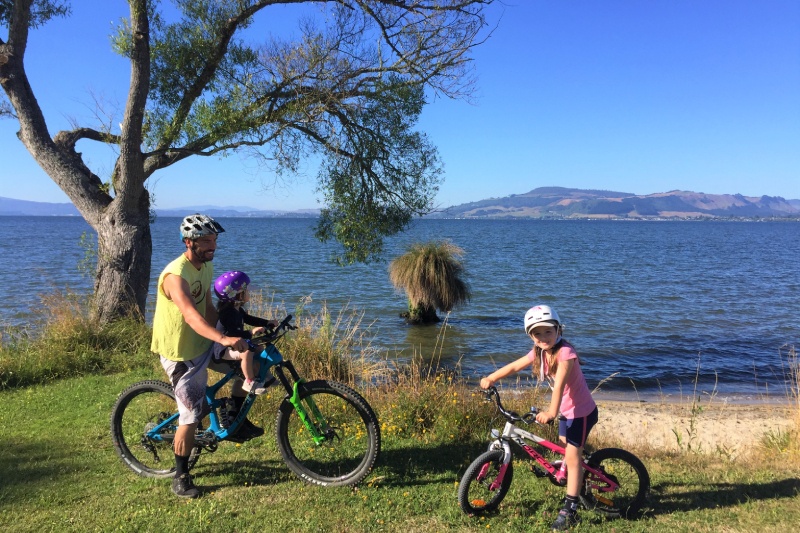 Biking along Rotorua Lake by Hamurana. Image credit: Sarah Thompson
- Riding around the city and lakefront: Again, not mountain biking but there are some bike trails in the city by the lakefront that are quite cool. Some of them even take you past some of the geothermal spots by the lakefront which the kids enjoyed (although be ready for complaints about the smell!!).

You can start at the Rotorua lakefront boardwalk and carry on along the lake and head towards the Government Gardens, admire the Rotorua Museum on your way - it is currently closed for renovations so we couldn't visit it but once it is open, make sure you include it in your plans. Then if you go towards Polynesian Spa and look for the Geothermal Walking Track by the lake, where you can also bike along and enjoy the sulphur ride!

The best thing about doing this ride is that there are few playgrounds along the way - the Lakefront playground by the boardwalk was our favourite plus Eat Street is just across the road. And if you don't know what Eat Street is, it is simply the best place for eating out with the kids in Rotorua! It is a pedestrian street with rows and rows of dining options, all with covered outdoor areas and with so many options, you'll be sure to find something for the whole family; and a lot of these places have great kids menus and options too.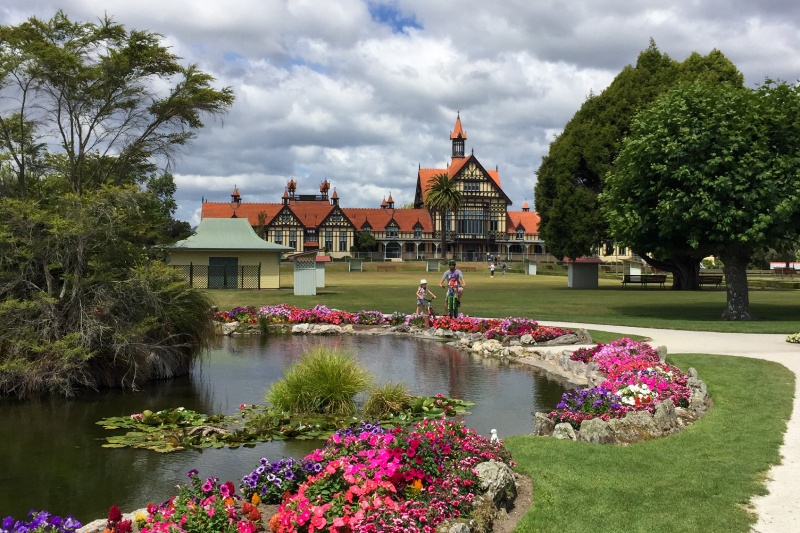 Riding bikes in the Government Gardens with the Rotorua Museum in the background. mage credit: Sarah Thompson
4. Best spot for a swim with the kids in the Rotorua area: The Blue Lake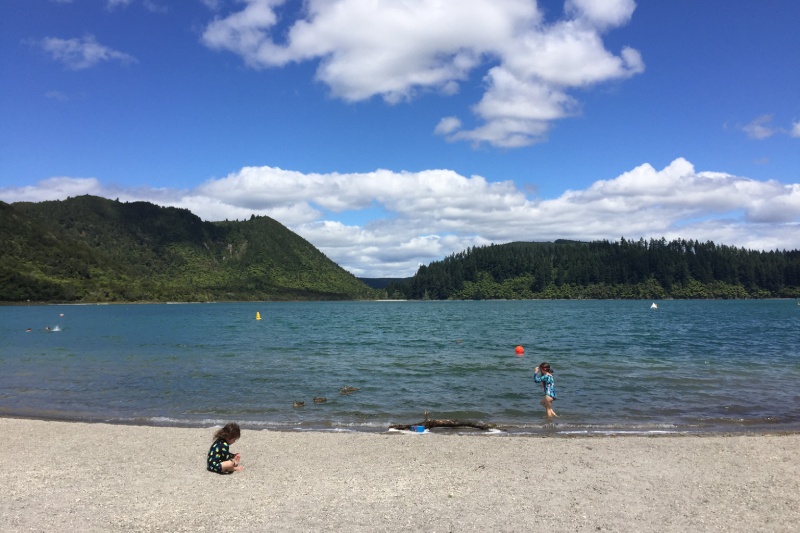 Swimming at The Blue Lake. Image credit: Sarah Thompson
We tried a few swimming spots in the area (including the never-deep end of Lake Rotorua!!) and the very best spot for a swim in the Rotorua area is definitely Lake Tikitapu (commonly known as The Blue Lake for its beautiful blue hue). There is a huge car park which, even in the busy summer period, was never full. There is also a big grassy area which was really nice to just lie down in the sun or enjoy a picnic (away from sand!).

The beach itself is made out of small rocky sand/pebbles, so not as nice to lie down on; but the water is crystal clear and the setting itself is stunning, with bush-cladded hills surrounding the lake. In terms of swimming, it's great because the shallow edges are great for kids and toddlers, and the adults can still enjoy a proper swim as it gets gradually deeper. The water temperature is slightly on the cold side so maybe pack the kids' wetsuits if you have some. There is also a small playground and some toilets (again, facilities are a must with kids!). Plus, to the girls' delight, there were some ducks swimming nearby when we went so I mean, you can't get much better than this!
 
5. Best waterfalls in Rotorua: Okere Falls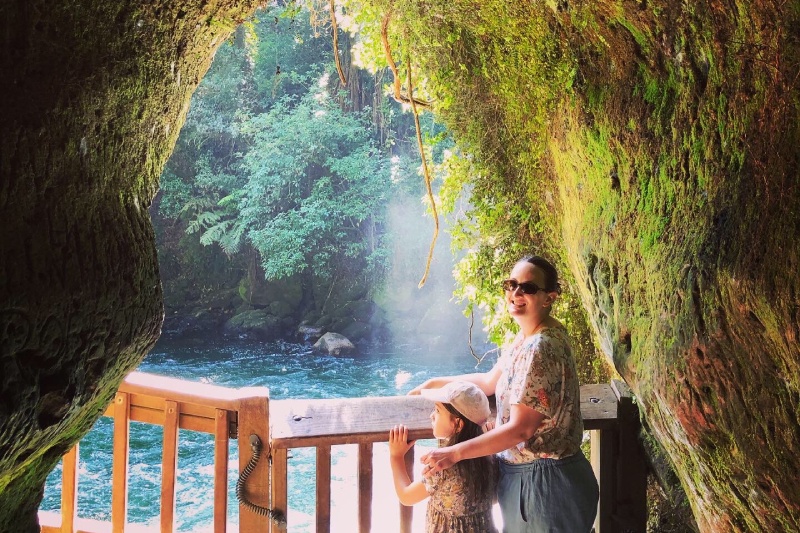 Okere Falls Caves. Image credit: Sarah Thompson
If you like chasing waterfalls like us, you'll love Okere Falls! It's about 25 minutes drive from central Rotorua and it's great with kids as you can either go down a short track (with steps) and get very close to these powerful falls, and it's only about a 5-minute walk so super easy! Or there is a longer walk through the bush where you can get some awesome views of the falls from above as well as getting to see some really cool caves and the remnants of an old power station!

It took us about an hour and a half, but we did have a 2-year old toddler who decided to walk extremely slowly that day and we also took a nice long morning tea break so you can probably do it in an hour! If you're lucky you might even see some white-water rafters going down the fall, which is great fun!

After exerting yourself with a long walk, you must stop at Okere Falls Store for lunch - trust me, you won't regret it. Their food is amazing, and they have a lovely outdoor eating area/beer garden where they also grow their own veggies and herbs which they use in their cooking. I had this great dish called "WE BE BOWL'N" with pesto infused pearl barley, smokey beans, haloumi, balsamic roasted tomato, spinach, avocado, sweet almond dukkah and poached eggs - so yum! It was so nice we actually came back another time for dinner and had some delicious burgers, accompanied by some crisp craft beers.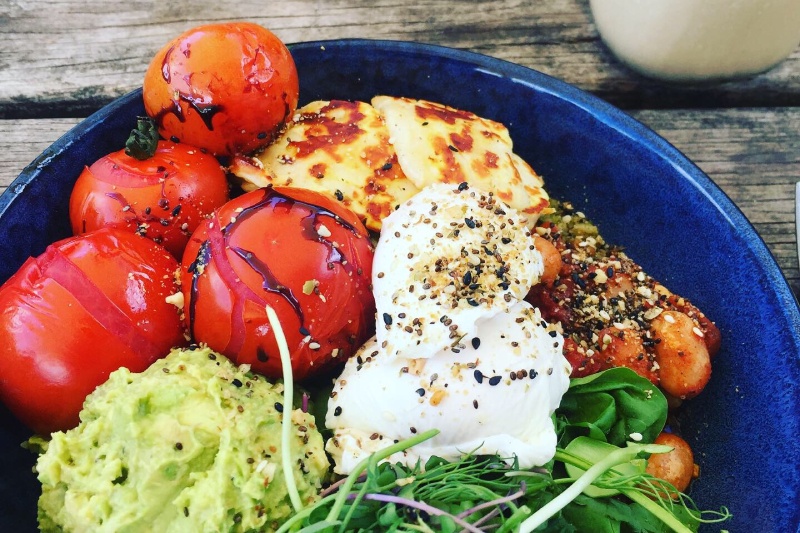 Lunch at Okere Falls Store. Image credit: Sarah Thompson
6. Best hidden gem in Rotorua: Hamurana Springs Nature Reserve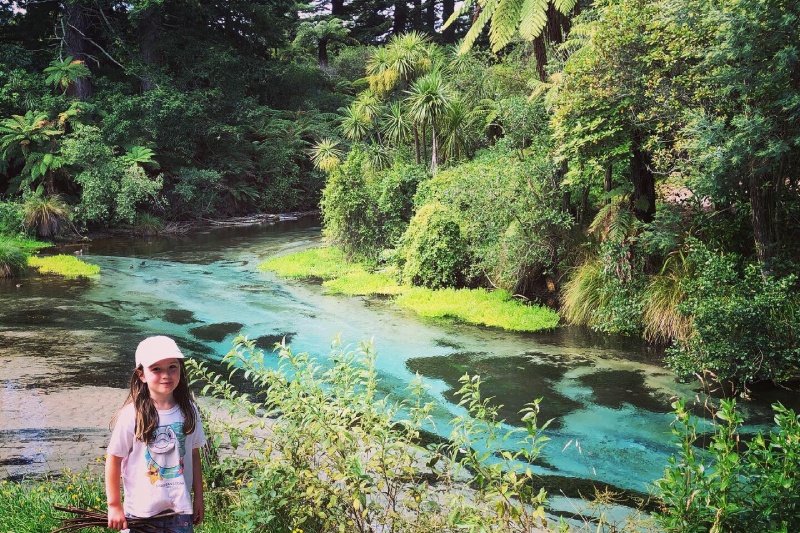 The turquoise waters at Hamurana Springs Nature Reserve. Image credit: Sarah Thompson
If you're looking for Rotorua things to do with toddlers, Hamurana Springs Nature Reserve is great as it offers a very nice gentle walk by the river, and through a Redwoods grove. This is a bit of a hidden gem as it's about 25 minutes drive from the city centre and we only knew about it after a local told us about it. When we visited, we only saw one or 2 other families there so it was great to have pretty much this whole park to ourselves too.We took our time again and it took us about an hour to do the walk which is a nice round trip.

The colour of the water is out of this world, the most turquoise water I've ever seen! And the part of the walk through the giant redwood trees was lovely, our girls loved running around and exploring. The biggest highlight of the walk was Te Puna-a-Hangarua, the deepest natural freshwater spring in the North Island! It's about 15 metres deep and it produces about 4 million litres of water per hour! There is also another cool spot along the way called the "dancing sands" where bubbles coming from underground make the sand move around producing this fun "dancing" effect which the kids loved.

Please note there is a fee to enter the reserve so not a free activity but still a pretty cheap family activity in Rotorua.
 
7. Best geothermal activity for families: Te Puia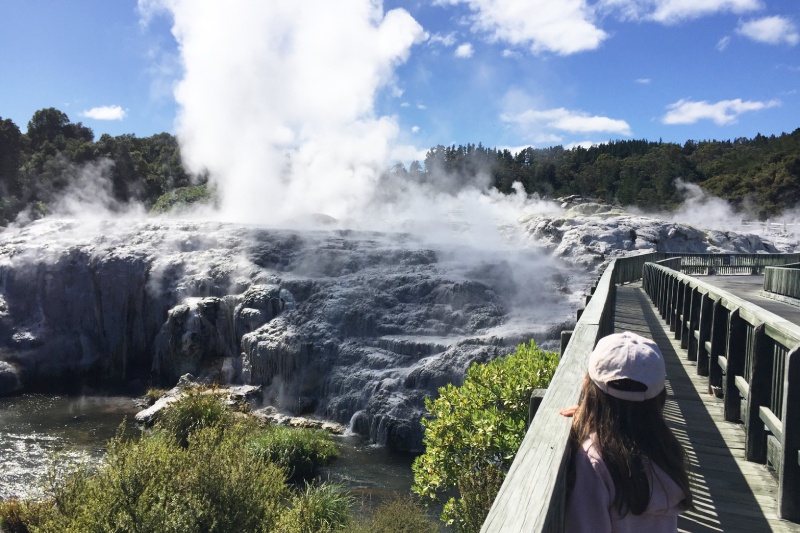 Te Puia geothermal park. Image credit: Sarah Thompson
There are quite a few geothermal attractions in Rotorua and we haven't tried them all but we definitely loved Te Puia! It was very family-friendly, they even had prams you could use (for people like me who forgot their toddler's pram up in Auckland!). We got the Day Pass which includes quite a lot - access to the geothermal park of course, entry into their Kiwi Conservation Centre, Maori carving and weaving demonstrations, as well as some cute children activities like poi or Rakau sticks.

The walk around the geothermal park is the main attraction so we started with that. There are 60 hectares to explore and there is quite a lot to see along the way - hot springs, geysers, mud pools, etc. And of course, the Pohutu Geyser which is the biggest, active geyser in the Southern Hemisphere! You have to time your visit so you see the geyser in action so I would recommend joining their guided tours if you can.

The Kiwi Conservation Centre where you can see live kiwi birds was a highlight for the kids - we had to go and do it twice! It's dark in there so you can see these amazing nocturnal animals at their best and we got to see them nice and close which was a real treat. All in all, one of the best family activities Rotorua!
 
8. Best hot pool in Rotorua for kids and toddlers: Polynesian Spa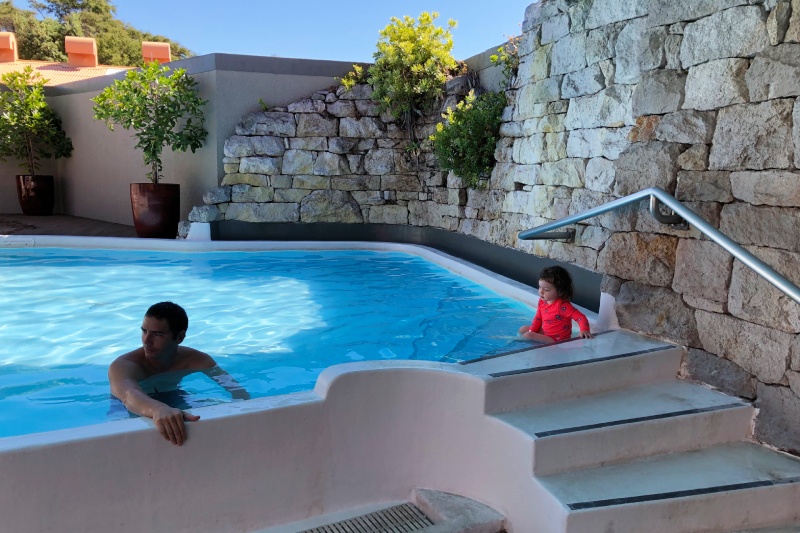 Polynesian Spa Family Pool. Image credit: Sarah Thompson
Polynesian Spa is the most iconic bathing experience in Rotorua where you can relax in geothermal hot mineral waters. The family pools are really nice with different pool options. There is a big freshwater pool heated at 33°C which features a cool little waterslide which was perfect for Miss 5 (not so much for toddlers though) and there are also 2 other smaller hot pools - one at 37°C which our toddler loved and one at 40°C (that was too hot for the kids and I but dad loved it though!).

I would recommend getting there early in the morning if you can to avoid the crowds as the overall family area is not that big, so we got there first thing at 9am and managed to enjoy all the pools without too many other people there which was nice!

There is also an adult-only area which is really lovely, if you wanted to take turns or plan a separate visit without the kids, which is what I did and treated myself to a massage too at their amazing Retreat Day Spa - very ooh la la!!
 
9. Five Extra Free Things to do in Rotorua with Kids
On top of everything above there are also some other great free things to do in Rotorua to help keep your holiday budget in check! So here we go, here is a list of free Rotorua things to do with kids:
- Kerosene Creek
About a 30-minute drive out of town, along State Highway 5 towards Taupo, this creek is a great way to enjoy a thermal experience for free! This stream is geothermally heated, and you can just park your car and go for a short walk to enjoy a relaxing dip in some very nice hot waters. Great for the kids too as there are some nice shallow spots you can sit in.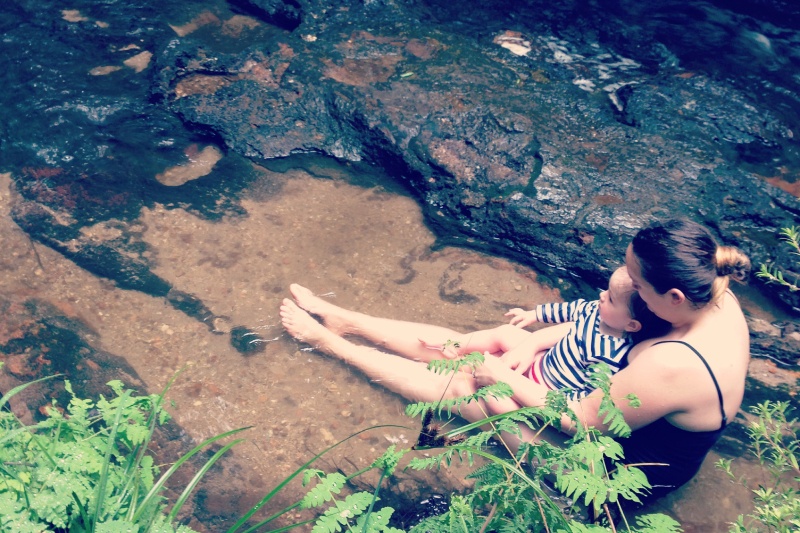 Kerosene Creek. Image credit: Sarah Thompson
- Kuirau Park
This geothermal wonderland is New Zealand's only free geothermal public park. It is located right in the centre of town and is a great way to spend an hour or two exploring with the kids. The park itself is beautiful and has a few walkways to wander around or bring your bikes as it's bike-friendly too. There are some great geothermal attractions to see like mud pools, a crater lake, hot springs but our favourite thing of all was the free thermal foot bath where you get to dip your feet in some nice hot water. There are also some BBQs and picnic tables as well as a playground so a great place for some free family-fun in Rotorua!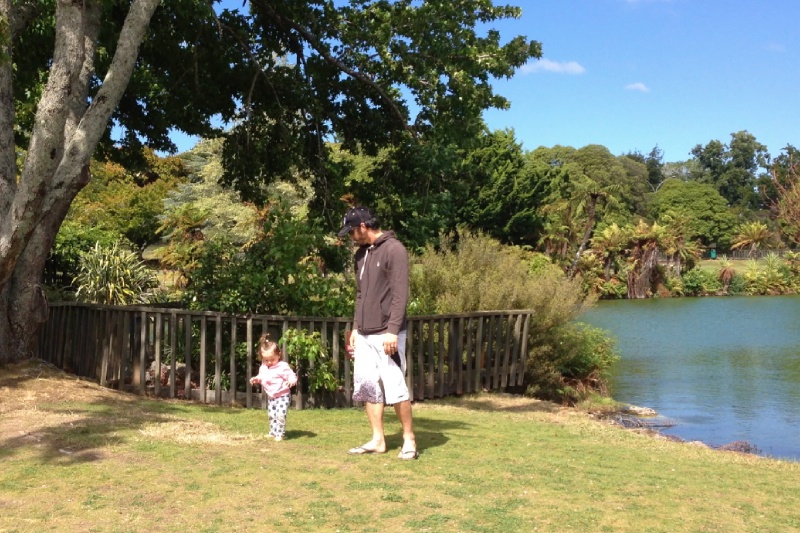 Kuirau Park. Image credit: Sarah Thompson
- Swimming in one of the many lakes
As we've ascertained Lake Rotorua itself is ok for shallow swimming for kids and there are a few different spots you can find along the lake. We found a tiny little spot near Mourea (not to be confused with Moorea, that's quite different!) which was good for the kids with a forever shallow shore!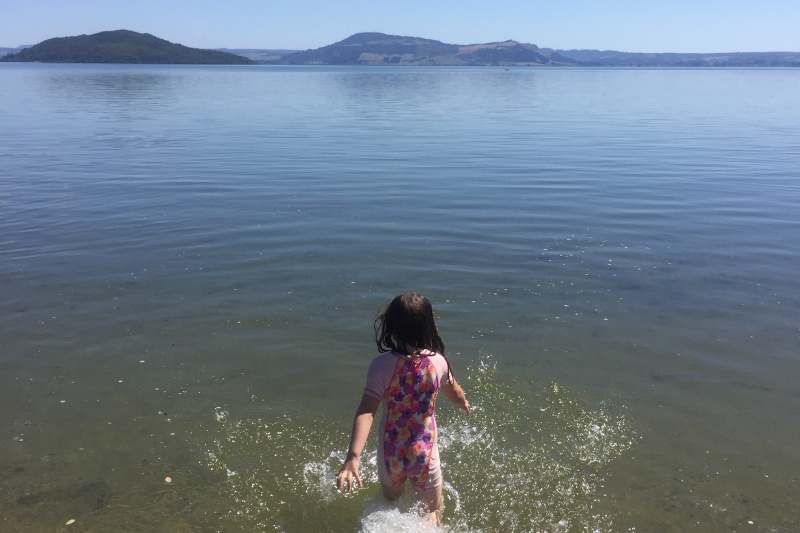 Swimming spot near Mourea, Lake Rotorua. Image credit: Sarah Thompson
But otherwise make sure you go check out the other lakes in the area, the Blue Lake being our favourite as mentioned, but there is also Lake Okareka which has some great swimming spots (the one by the boardwalk is the best), Lake Tarawera, althought the beach there is quite small, but there is a café right by the water's edge which is very nice. Or if you don't mind a longer drive, I would recommend Lake Okataina which is a lot more remote so much quieter and is really great for swimming, with a jetty to jump off from as well. Just note it is not accessible for caravans and larger vehicles because the road is very narrow and windy.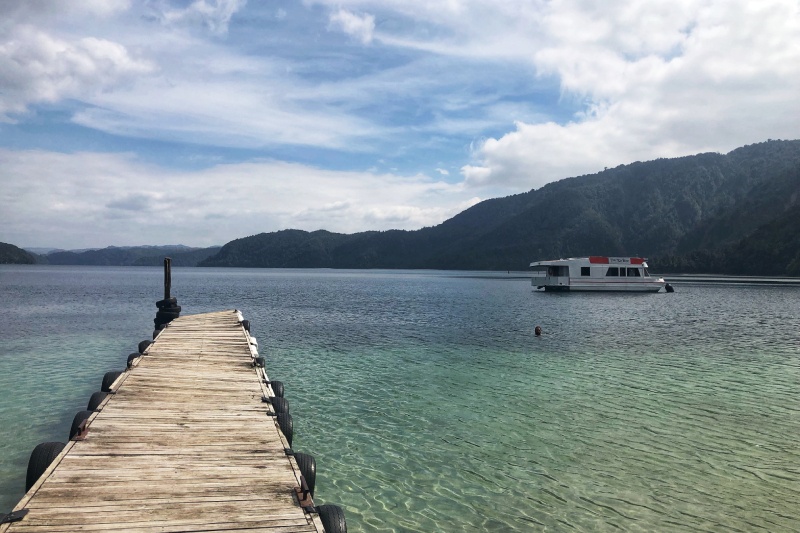 Lake Okataina - great jetty to jump off from. Image credit: Sarah Thompson
- Lake Rotoma deserves its own paragraph because it is not only a fantastic lake for swimming with a beauriful beach and the best water quality of all the Rotorua lakes, but it also has an amazing playground right on the beach. So the kids can have a swim, play, have a swim, play and repeat all day! I would recommend you bring a picnic or definitely plenty of snacks and water because there are no shops or cafés at all there so come prepared, and there are plenty of spots on the grass by the beach to sit and have a picnic.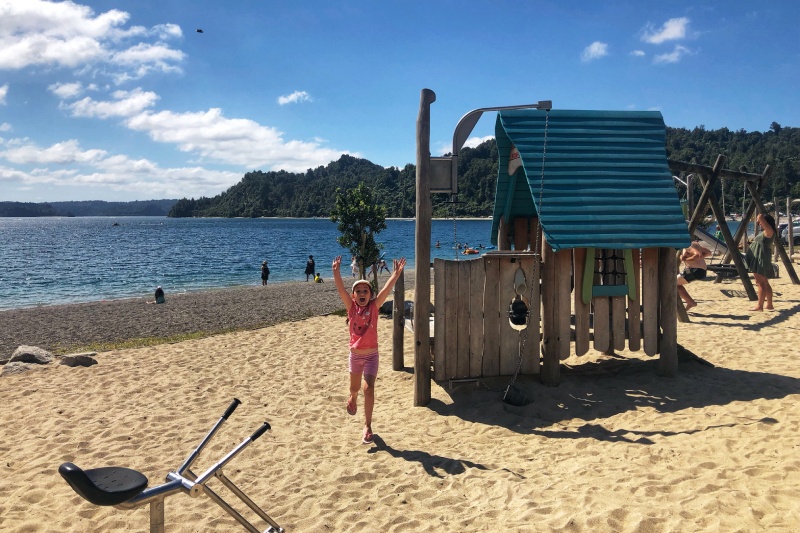 Playground at Lake Rotoma. Image credit: Sarah Thompson
- So many walks
There are so many different walking tracks in the area I can't list them all, but here are a few family-friendly ones to check out: Rainbow Mountain-Crater Lake Walk, Mt Ngongotaha Nature Loop Track and Tikitapu Nature Walk (you can check the DOC website for more details on these walks). There is also a nice walk to do at the Blue Lake, you can go all the way around the lake and it is nice and easy for the kids (or just do parts of it like we did and come back!). 

Well, that's it folks! If you were looking for Rotorua things to do with kids, I hope this has helped you out a bit! If you're feeling inspired make sure you check out our Rotorua holidays or Rotorua accommodation deals and start planning you family getaway to Roto-Vegas!
Watch our Kids Talk video series