Top 5 Snorkelling Spots in New Zealand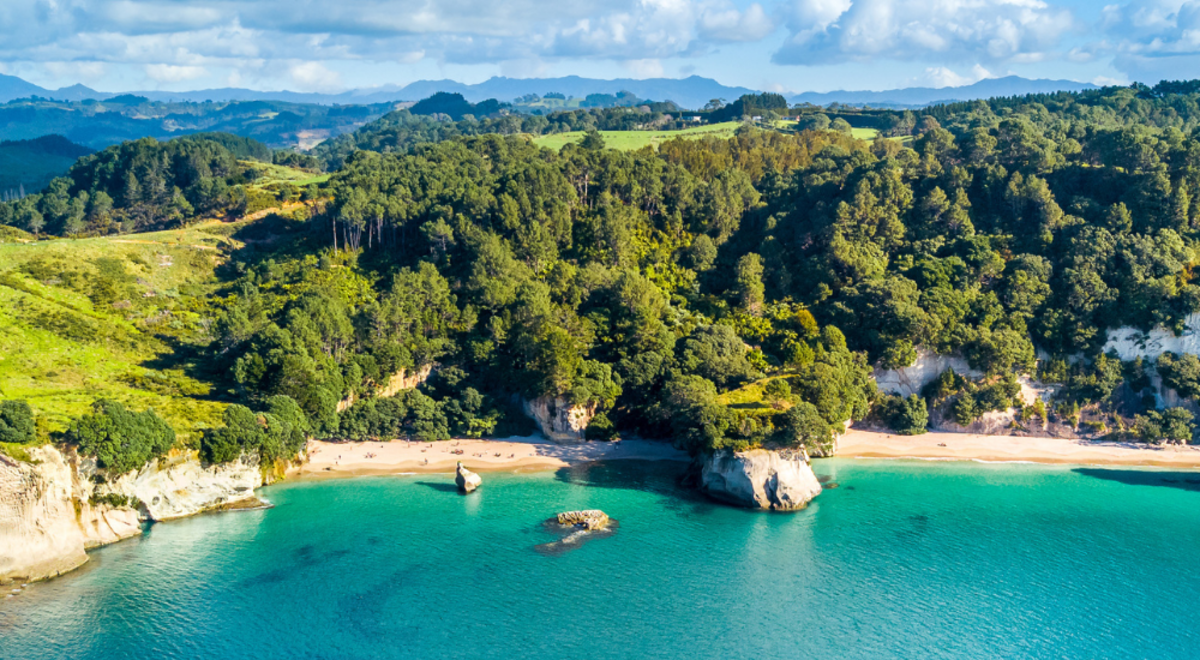 Thinking of getting your snorkel on next trip? Well, you have come to the right place! Fortunately for you, New Zealand has no shortage of beautiful beaches and marine reserves, and with that comes some pretty epic snorkelling locations too. Let's begin this snorkelling New Zealand journey…
1. Poor Knights Islands Marine Reserve, Northland
Ocean adventures at Poor Knights Islands. Image credit: Shutterstock
Situated in Matapouri in the upper North Island, this marine reserve needs to be seen to be believed! Located 23km off the Tutukaka Coast, it is easily accessed by charter boats from most ports in the Hauraki Gulf and Northland. It is recommended to allow for an entire day to both reach the reserve and to properly enjoy your time there.

It is a pretty good indication that the snorkelling has to be top-notch when the area is an internationally renowned dive site (pending World Heritage Site!) and highly rated amongst dive and scuba diving enthusiasts. The Poor Knights Marine Reserve has had many things to boast about in its 11 million years existence (!!) - originating from the remains of a group of ancient volcanoes it is made out of many tunnels, caves, archways, walls and impressive drop-offs. It is home to a diverse range of subtropical fish, unique to the area including the mosaic moray, Lord Howe coral fish and the spotted black groper and is made up of an abundance of gardens, kelp forests and gorgonian coral fields.

The best thing about Poor Knights Islands snorkelling (and scuba diving) is that there are various areas that allow for different levels of abilities. The fish are well known for being extremely friendly making for a memorable trip, and if timed perfectly for the summer months squadrons of stingrays can be seen cruising through the waters.
2. Goat Island Marine Reserve, Auckland, Rodney
Goat Island Marine Reserve. Image credit: Shutterstock
If you're local to Auckland you have probably already heard about or visited the Goat Island Marine Reserve, New Zealand's first marine reserve. Located a scenic 1 ½ half-hour drive north from the city, it is perfect for a family-friendly day trip and Goat Island snorkelling is a must!

The reserve extends from Cape Rodney to Okakari Point and includes Te Hawere-a-Maki/Goat Island that can be seen from the shore. Prior to being declared a marine reserve the area was victim to overfishing, however, since being established as a marine reserve in 1975 the area has steadily become a diverse ecological area. It is also home to the University of Auckland's Leigh Marine Laboratory with scientists undertaking regular studies on the marine ecosystem.

Under the ocean you can expect to be greeted with an abundant and friendly array of fish – make sure to keep an eye out for Monkey Face and Charlie Lip, the two resident snappers who reach in excess of a whopping one metre in length. In addition, there are thriving sponge gardens, seaweed forests and many critters to be found through the rocky shoreline. This spot is perfect for those who want to snorkel close to the beach as the shoreline is easily accessed and abundant with sea life. For divers, the deeper areas further out from the shore offer a great opportunity to respectfully check out lace corals, gorgonian fans and a variety of sea sponges.

Make sure you leave time to check out the two coastal walkways that offer great views and plenty of spots to stop off for a scenic picnic. 
3. Tawharanui Regional Park, Auckland, Rodney
A busy summer day at Anchor Bay in Tawharanui Regional Park. Image credit: Shutterstock
Located a short drive from Matakana, the bays around the Tawharanui Peninsula are nothing short of amazing! With Pohutukawa-lined bays, rolling green farmland, numerous rock pools, and surrounding reefs to snorkel in, this is the perfect spot for the whole family. Come prepared for a day spent beachside and enjoy all that this beautiful location has to offer.

The area was only declared a marine reserve in recent years (2011 to be exact), but it has been restricted from fishing since 1981, so you can be sure you'll see some amazing marine wildlife there. There have been 50 species of fish identified as residing in the area, along with a thriving lobster population and frequent sightings of bottle-nosed dolphins and orcas.

Tawharanui Regional Park is also an open sanctuary with a blend of conservation, recreation and sustainable farming taking place. The vision for the area is to have a coastal landscape that is suitable for bird species such as our national treasure, the kiwi, along with the bellbird, whitehead, pateke, and robin to have an environment that allows them to thrive. When driving in you will notice a 2.5km predator-proof fence built across the sanctuary that has been constructed to aid in restricting access of pests such as rats, stoats and possums into the area. Since 2004 the community-based organisation's hard work has allowed for 14 bird species to return or be reintroduced to the sanctuary.
4. Te Whanganui-a-Hei (Cathedral Cove) Marine Reserve, Waikato
Clifftop view of Cathedral Cove Marine Reserve. Image credit: Shutterstock
Officially recognised in 1992 as the first marine reserve on the Coromandel Peninsula, Cathedral Cove's magnificence perfectly embodies the postcard-perfect snaps you have probably seen of it. Just when you thought Cathedral Cove couldn't get more impressive it is also well known as an excellent snorkelling site for all experience levels.

Located an easy 5 to 10-minute walk from the Cathedral Cove car park the waters in Gemstone Bay has been uniquely set up as a snorkelling trail known as the Gemstone Bay Snorkel Trail. The trail is located 50- 150 metres from the shoreline and is mapped out by four separate buoys, an easy swimming distance apart. Each buoy has handles and information panels to easily identify the marine life that you are seeing within that particular marine environment. Expect to see snapper and goatfish in the soft sand bottom locations and those with a rocky bottom will have parore, sweep, crayfish and paketi.

Another great spot for beginner snorkellers at Te Whanganui-a-Hei Marine Reserve is the next bay around from Gemstone, an additional 10-minute walk. The soft sandy shores of Stingray Bay is the perfect setting for those getting used to their snorkel gear, while also being a haven for ray sighting in the summer months (and plenty of fish too of course!). Similarly to Tawharanui Regional Park, it is suggested to make a day of it. So pack up the kids, bring a picnic and make the most out of your day while enjoying the best Cathedral Cove snorkelling has to offer!

For those a little more experienced the Alderman Islands, located 20km off the coast of Pauanui, is often compared to the Poor Knights Marine Reserve. The five islands offer a unique diving environment with underwater caves and stunning volcanic formations.
5. Horoirangi Marine Reserve, Nelson
Cable Bay Walkway near Horoirangi Marine Reserve. Image credit: Shutterstock
The final spot to check off your best snorkelling New Zealand list is one of the most recently declared sanctuaries in New Zealand, the Horoirangi Marine Reserve. Declared as a marine reserve in 2006, all marine life within the boundaries is completely protected and fishing is forbidden. The name Horoirangi derives from an important Maori ancestor who is a guardian of her people and is seen to bring in fertility and abundance.

After a scenic 11km drive from Nelson, you will find yourself at the reserve, located on the eastern side of Tasman Bay. The most distinguishing feature of Horoirangi is the towering bluffs which provide a dramatic backdrop and also cause intertidal and subtidal reef formations. The best location for snorkelling is the north of the reserve and close to Ataata Point. You can expect to see plenty of marine life - crayfish and reef fish such as blue cod, wrasses, tarakihi and more. In addition, the reserve boasts an abundance of large sponges alongside starfishes, urchins, molluscs, ascidians and seaweed.
Similar to other spots, Horoirangi Reserve also offers many hiking routes, has beautiful park-like reserves perfect for picnicking with the family, or even for those with a boat available you are able to anchor (with care) in the area to enjoy the snorkelling and seashore activities.
If you're in the Nelson area, make sure you also check out our blog with our top tips on what to do in Nelson here.
All in all, it is obvious that New Zealand does not lack in incredible snorkelling and scuba diving locations, and offers many more beyond the five snorkel sites mentioned, but this should be a good start for your next trip!
Lastly, as a reminder to keep these beautiful spots thriving for generations to come, it is asked that you do not take or disturb any of the marine life, their habits or disrupt the seafloor. Please do not feed the fish and other marine life; this is disruptive to their natural behaviours. We are so fortunate to have these natural wonders of New Zealand easily accessible to us, respecting the various habitats on both sea and land is crucial to their ongoing health and continued survival. 
Get in touch with us to book your New Zealand snorkelling trip by calling 0800 24 35 44 or enquire online here and we'll contact you! Plus you can also book your domestic flights here.