Ubud Bali: Where To Stay And What To Do Beyond Downtown Ubud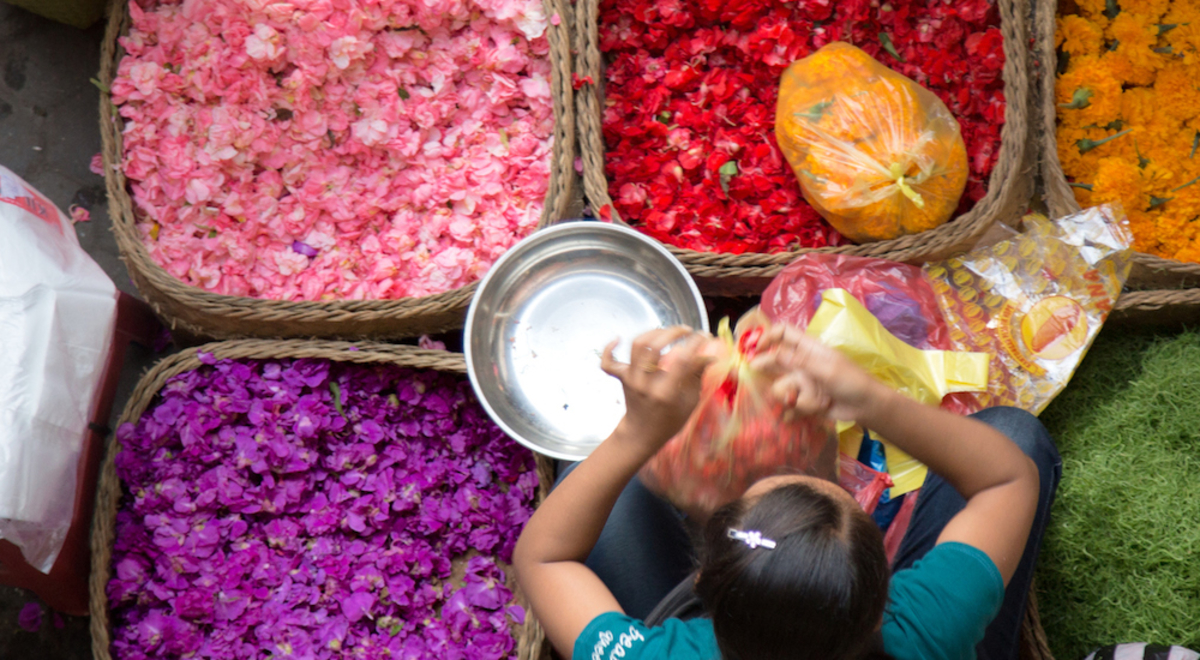 ---
---
Ubud is one of the most magical parts of Bali, but you need to get out of the busy downtown district to really experience Ubud at its best. Here's our guide to where to go – and what to eat, see and do once you get there.
Ubud, Bali's most visited inland destination, was thrust into the international spotlight with the popularity of Eat Pray Love and has steadily attracted a stream of international visitors since, keen to experience a more culture-driven side of the island. The area is made up of a network of traditional Balinese villages within a 5km or so radius from downtown Ubud, a bustling centre which is home to Ubud Palace, a busy craft market, and plenty of shops and cafes to call in at. But there's also loads of treasures to be uncovered amid the verdant jungle and serene rice paddies that surround the central hub. With many of the attractions spread out and tucked away, it helps to have a list of recommendations. Here's my guide to making the most of your Ubud holiday.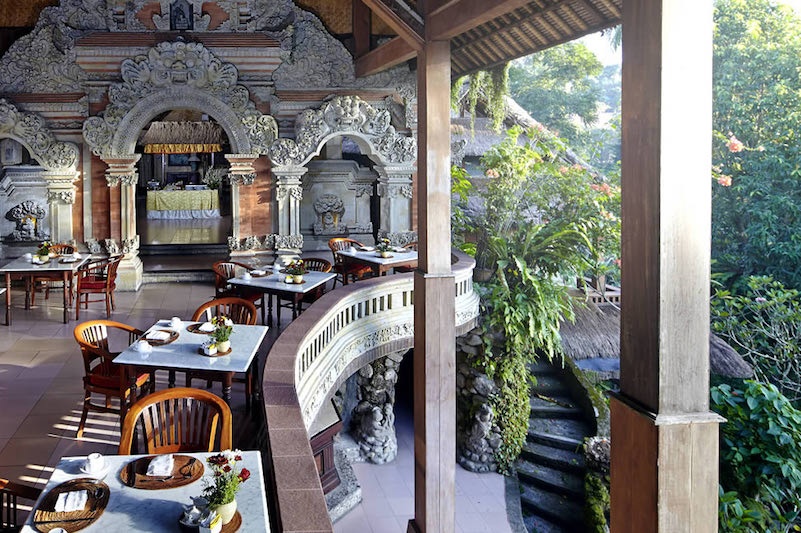 The terrace restaurant at the Hotel Tjampuhan Spa Ubud, Bali. Photo: supplied
STAY
If you're looking for a hotel or resort that combines luxury, seclusion and jaw-dropping beauty, Ubud is the place. The most desirable resorts are perched high in the hills, with tiered balconies, patios and infinity pools that seem suspended, as if by magic, above deep gullys carpeted with verdant jungle. There are accommodation options to suit all design tastes, from cleanly contemporary – try the COMO Uma Ubud – to traditional and historic, like the Hotel Tjampuhan Spa, which has been welcoming visitors to Ubud since 1928. Formerly a royal guesthouse, in the mid 20th century the Tjampuhan became known to artists as the place to stay in central Bali. Today it retains the same relaxed, slightly bohemian vibe, but with every creature comfort you could imagine. The Tjampuhan's sister property, the Pita Maha Resort & Spa, is a good choice if you prefer a villa experience. Boasting 24 villas arranged in the style of a Balinese village, the Pita Maha offers all the convenience and privacy of a villa stay, but with the added appeal of an excellent on-site restaurant, lounge bar and spa.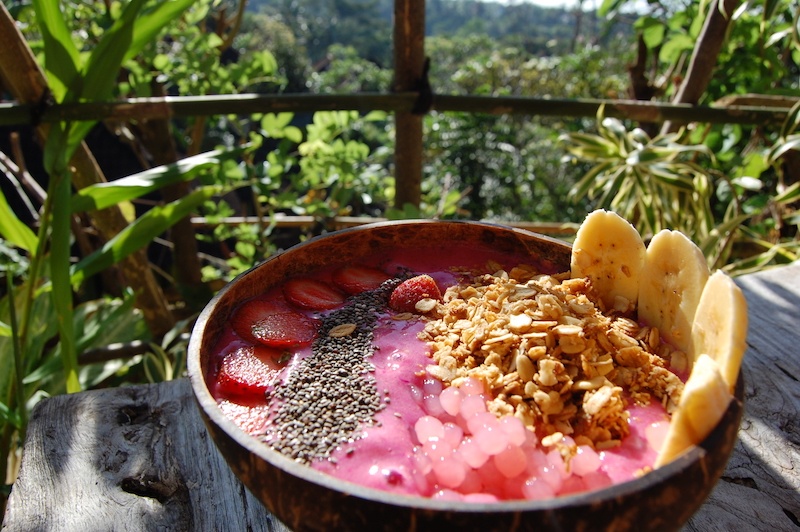 A breakfast smoothie bowl at Yellow Flower Cafe, Ubud. Photo: Anna King Shahab
EAT
Being a mecca for yogis and folk seeking a simpler, more natural life, it follows that Ubud offers a host of wholefoods and plant-based eateries. Perched on Campuhan Ridge, accessible only by foot and run by a local family, Yellow Flower Cafe was our favourite spot to walk to each morning for a late (okay, often a second) breakfast. Try for a coveted table on the terrace, and choose from favourites like brightly coloured tropical fruit smoothie bowls, red rice salads with marinated tempeh (a fermented bean curd cake that's prevalent in Indonesian cooking), and restorative lemongrass-infused kombucha.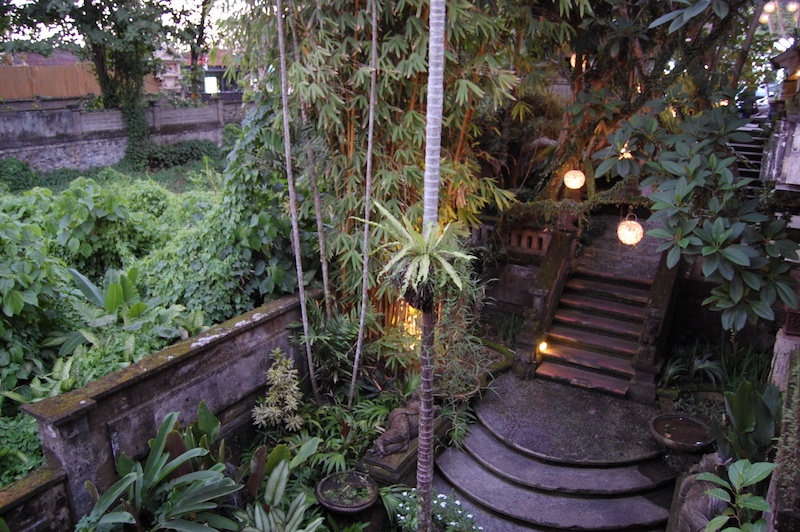 The terrace at Indus, Ubud. Photo: Anna King Shahab
Indus offers an equally sublime jungle gully view from its expansive and handsome stone-constructed back terrace, a great spot to head to at dusk for a cocktail and Indonesian fare, accompanied by live music. In the village of Penestanan, La Pacha Mama does fast, fun and fabulous Mexican – the giant fluoro pink horse at the centre of the place says it all – and there's a vegetarian menu as well as a seafood one.
For a completely vegan menu, featuring organic produce from the extensive on-site garden, head to Moksa, located on the edge of the rice paddies in Sayan (yes, the restaurant even grows its own rice). The Moksa sampler plate is a great way to get a variety of tastes, and we loved the rich and creamy eggplant rendang. At dinner time you can choose an appetiser, main and dessert for around $17 – bargain.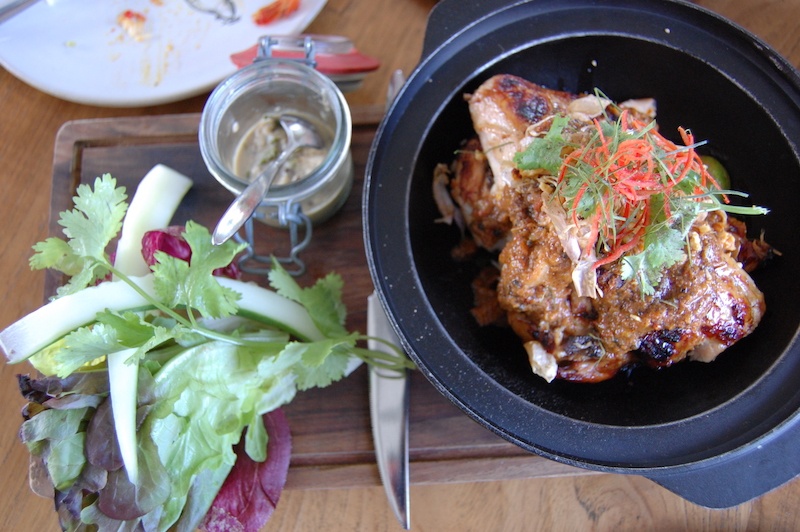 Organic local chicken at Hujan Locale, Ubud. Photo: Anna King Shahab
Perhaps our most memorable meal in Ubud was a late lunch we had at Hujan Locale, tucked down a lane in the city centre. In a beautifully decorated two-level interior decked out with rattan furniture, with concertina windows opening out to the quiet lane and temple below, the kitchen turns out elegant takes on Balinese and wider Indonesian cuisine. Think crunchy papaya salads, tender local classic Balinese bebek guling (crisp barbecued duck), plump juicy prawns in richly spiced sauces, all made with local organic ingredients. The cocktails are exemplary too.
DO AND SEE
Soak up the holistic vibe of this place with a yoga class. There are many yoga studios around Ubud, and most offer casual classes as well as longer workshops and meditation courses. Try The Yoga Barn (close to downtown central) or Intuitive Flow (handily close to Yellow Flower Cafe on Campuhan Ridge).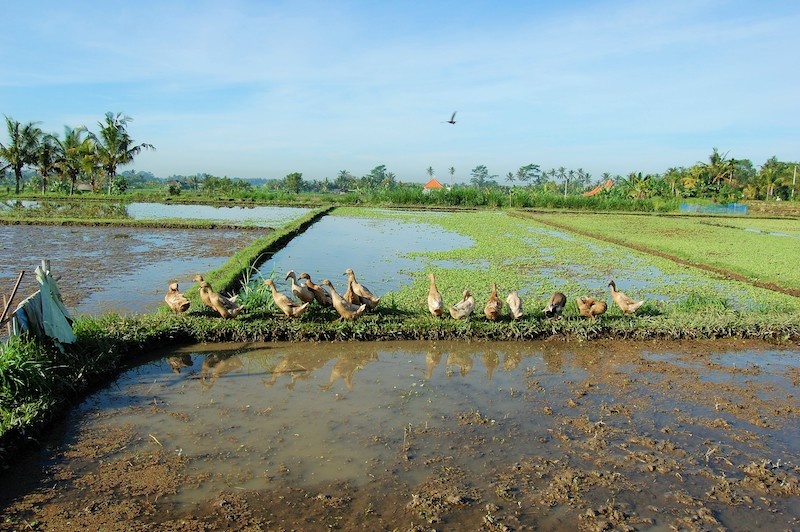 Ducks taking their morning walk, Sayan. Photo: Anna King Shahab
Take a morning jog or stroll through the rice paddies – I did this each morning in the rice paddies between Penestanan and Sayan. Narrow concrete and dirt paths snake through field after field. As the sun comes up you'll spot locals washing clothes in the streams, pigs rooting for food and gaggles of noisy ducks pecking at sprouting plants in the water. It's so picturesque it's almost ridiculous. Ditto a hike along Campuhan Ridge – you can walk a good few kilometres along narrow paths, with elevated views of the jungle and rice paddies, before emerging onto the main road.
Visit the Monkey Forest near downtown Ubud. You can buy bananas there to feed them, but only do this  if you're cool with primates jumping on to your head and scrambling up your limbs to get to the grub – they don't wait to be invited!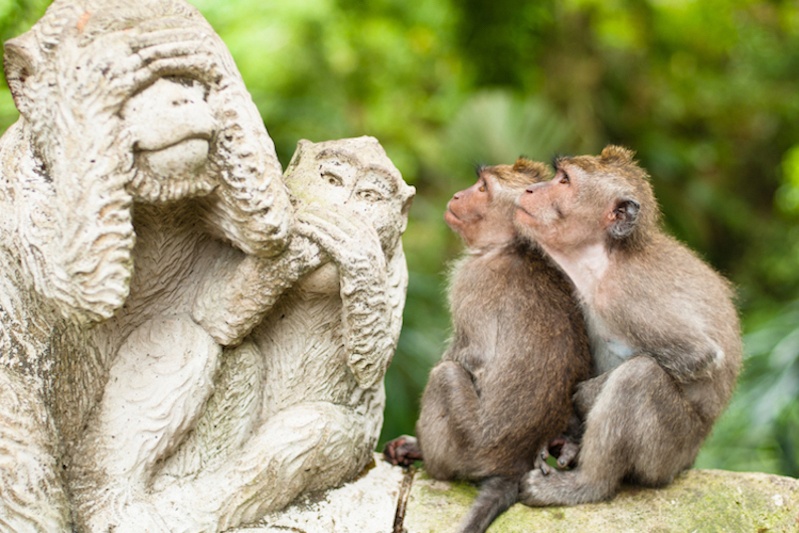 The Ubud monkey forest. Photo: Getty Images
Take a cooking class. Hujan Locale offers a class that progresses through the local market and famed rice terraces of neighbouring region Tabanan by bicycle, before learning five dishes and making a canang sari, and a detailed, handcrafted offering of flowers and fruit, to take to the temple. Guests and non-alike can take advantage of the classes at Sokasi, the cooking school at the stunning Four Seasons Bali at Sayan; on offer are both traditional Balinese-style and plant-based whole-foods classes, which are held beside the river in a structure designed by acclaimed bamboo architect Elora Hardy.
Follow the rhythmic sound of cymbals and bells to witness a frequently occurring Hindu procession. Villagers gather and walk to the local temple, dressed in white, carrying offering on their heads. It might seem deep and ceremonious, but you'll soon spot teens Snapchatting along the way or kids fooling around: the Balinese have a charmingly relaxed confidence in their traditions.
GETTING AROUND
If you've pre-booked accommodation in Ubud, it's a good idea to organise a pickup from the airport or wherever you're arriving from at the same time. It's not easy to get around the area, riddled with tiny lanes and unlit walkways, so it's best to definitely get transfers arranged in advance.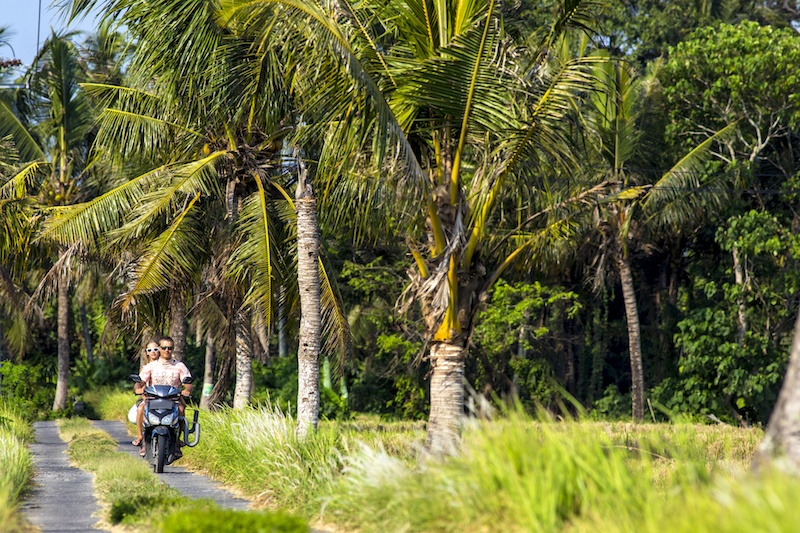 The best way to get around Ubud. Photo: Getty Images
In Ubud, scooter hire is easy and costs around $8 per day. Most hire places will give you a full tank of gas and you simply return the bike with a full tank. Petrol can be bought from most of the numerous general stores, by the plastic ex-soft drink bottle! Be aware that while the quieter roads are easy to navigate on scooter, as you get closer to downtown the traffic thickens, so just follow the pack and go slow. You also want to check your travel insurance policy first to make sure that you are covered should something happen while you're riding a scooter.
Another option is to hire a dricev. Drivers are readily available to hire by the day or half, just ask the host at your hotel or villa to help you out.