Singles Cruises
Just you and the wide open ocean... well almost. Singles cruises offer a great escape for people who want to chill out alone or for individuals keen to make new friends through a shared sea adventure.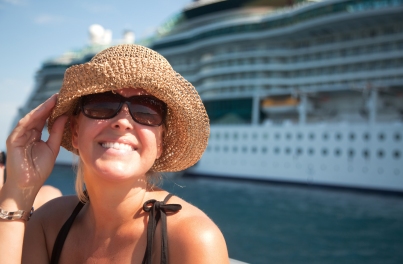 There's no reason to miss out on a wonderful cruise holiday just because you don't have someone to travel with. Single travellers are increasingly booking cruises due to the potential for meeting like-minded other travellers, the vast range of entertainment on board and excursions away from the boat to keep everyone occupied. Alternatively, passengers may choose to simply relax and do nothing but laze on deck. This is your holiday and you're welcome to spend it as you choose.
Single occupancy cabins have grown in popularity in recent years. Innovative and stylish single cabins can be found on board the Norwegian Epic, Holland America, Crystal and Cunard cruises.
Highlights
Meet Like-minded People: You've already picked the same cruise holiday, so you have something in common with your fellow passengers already. Simply get out there and take part in group activities and shore excursions.
Security: Many people holidaying alone feel vulnerable to theft or crime. A cruise holiday provides a safe environment for people travelling on their own, although vigilance is of course always recommended.
Dining: If you choose a cruise with allocated dinner seating at a large table, you'll have instant companions and never eat alone.
Solo Parties: Many cruise lines host parties for solo travellers so it's easy to make new friends.
Singles Cruise Myths
These common misconceptions about single traveller cruises arose because in the past cruise holidays were geared towards couples and groups. Nowadays cruise lines realise that cruises are hugely popular with many different types of people and the industry has evolved to meet the needs of solo passengers.
Myth: Single travellers booking a cruise cost twice as much per person.
Reality: Traditionally this was the case. Some cruise lines still place a supplement on singles but operators have wised up to the fact that cruise holidays are hugely popular with solo travellers. New cruise liners have more single occupancy cabins and offer events geared towards single cruisers.
Myth: Everyone is looking for romance.
Reality: Not true. Most solo cruisers are there for a great holiday and to meet friendly people just like you.
Myth: Singles cruises are boring.
Reality: Only if you make it. With so many planned and unplanned activities on-board and on-shore, you'll have plenty to keep you occupied. Many cruise lines can arrange a meeting place for single travellers on shore days, so if you haven't arranged a shore excursion you can meet other people and go ashore together.
To book your singles cruise or to find out more, contact one of our travel consultants today on 0800 24 35 44. Don't forget to ask about great deals on flights, travel insurance and more.
Singles Cruises
Get a quote or simply find out more about this cruise ...
Are travel experts
Are based in New Zealand
Will tailor itineraries to meet your needs
Can find exclusive packages to save you money