How to Choose Your Cabin Type
You can break down cabin types on most cruise ships into just four categories: interior, oceanview, balcony and suite. That said, you will find different cabin categories, even on the same ship, can vary substantially in size and amenities. As with hotel rooms, the bigger and more luxurious the cabins, the more you will pay. Cabins with balconies and suites are the priciest.
One simple cabin choice test is to ask yourself what you want from your cruise. If you are planning to spend much of your time enjoying the huge range of daily entertainment, then an interior, less expensive cabin may suit. If your cruise is all about rest and relaxation with lots of cabin down time and quiet enjoyment of the ocean vistas, then a balcony or suite could be just your ticket.
Read on to determine which cabin type you think will suit you best!

If you would rather economise on a place to sleep and set more holiday cash aside for having fun, then an interior cabin could be ideal. Sometimes known as an "Inside Cabin", these cabins are situated around the central section of the ship, with the vast majority having no view. Rare exceptions include atrium-facing interior cabins on some Royal Caribbean ships or cabins fitted with "virtual window" flat panel screens. Talk to your Cruise Specialist about the price difference between an interior and oceanview cabin, as the margin may be quite small.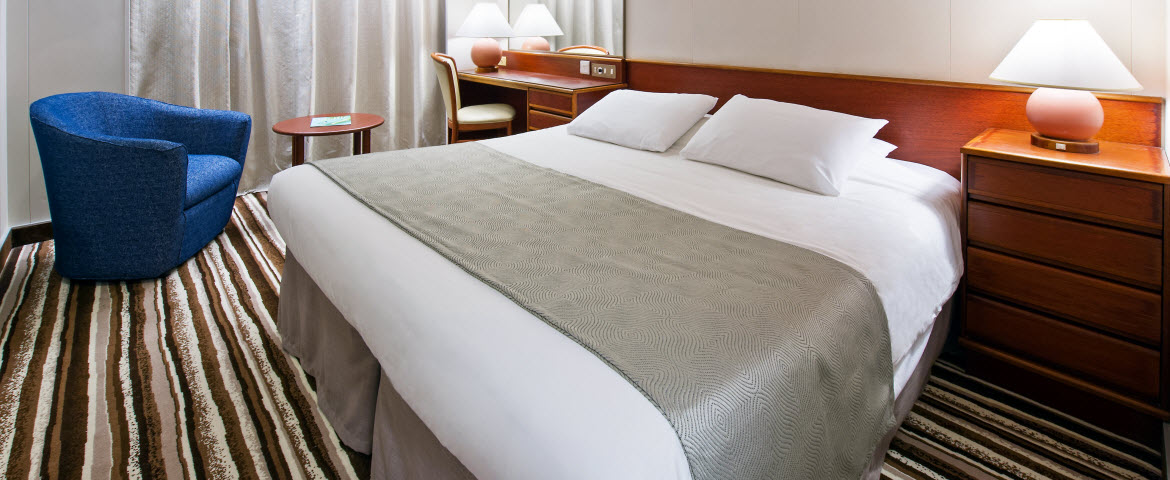 Benefits of an Interior Cabin:
Value for money: You still get to eat the same food as everyone else, swim in the same pools, and see the same entertainment
Make better use of the onboard facilities: You will spend more time out and about on the ship finding new things you never saw before.
You can sleep in complete darkness: for those who like to sleep in complete darkness and not have the morning sun waking them up, an interior cabin is the way to go.
You can go on more cruises because you have spent less: You can go on twice as many cruises for the same price if you stay in an interior cabin instead of a balcony. Being a more frequent cruiser means more loyalty perks as well.

Sometimes known as an Outside Cabin, are usually similar in size to interior cabins, but with natural light from a porthole or picture window, depending on deck position, and a view ranging from good to obstructed (such as facing lifeboat or other on-deck equipment). Porthole cabins are on the lower decks and are generally the least expensive in this category. Most modern ships have large picture windows rather than portholes, but these windows may not be opened, so if you'd like a sea breeze in your room, you'll need a balcony cabin.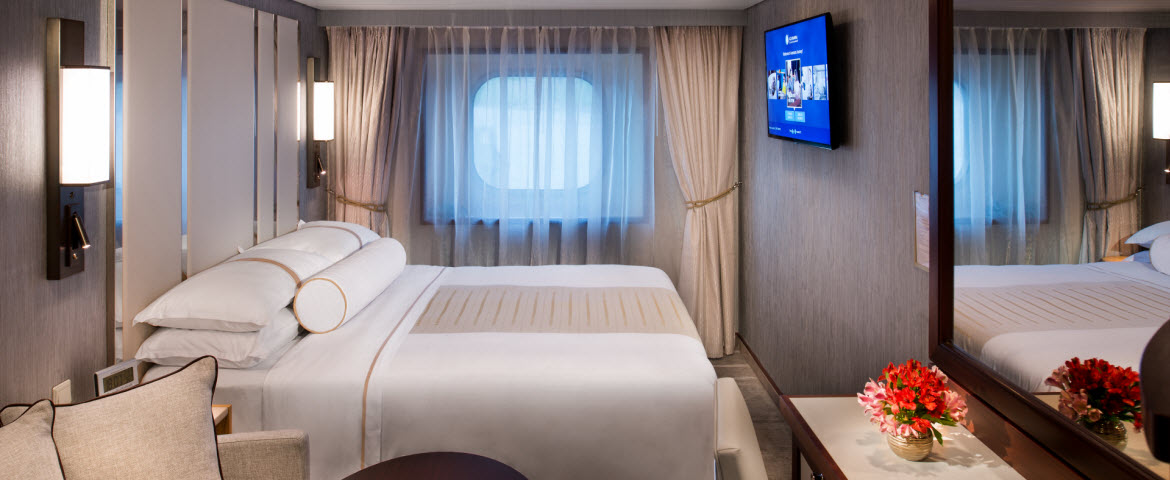 Benefits of a Oceanview Cabin:
Natural Light & Ocean Views: These rooms will let you view the beautiful destinations as you cruise by.
Great for families: These rooms are generally across the hall from interior cabins, so parents can choose a room with a view and place the kids in the interior cabins.
Affordable: Oceanview cabins only vary slightly in price to an interior cabin so make sure you speak to one of our Cruise Specialists!

Generally the next step up on the tariff scale, your balcony cabin will have a sliding door and a spot to sit to take in the fresh air and the view. A balcony on a beautiful day or evening can also add to the enjoyment of an in-room meal. Again, not all these cabins are created equal. Bargains can be had by accepting a restricted-view balcony cabin while other cabin positions may attract a premium. Chat to your consultant about the price of a balcony cabin, as it sometimes won't cost you much more than an outside cabin.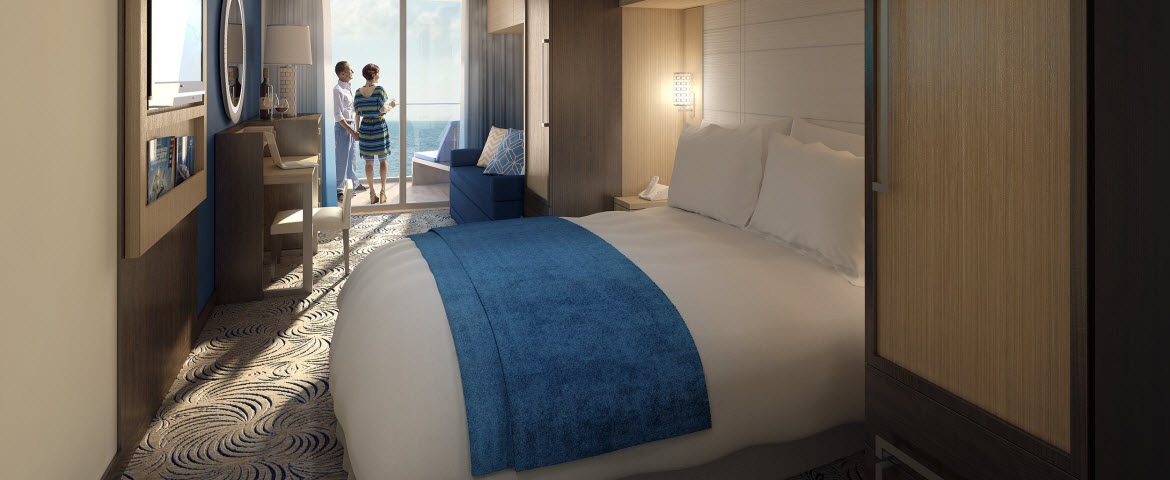 Benefits of a Baclony Cabin:
Privacy: A balcony room is perfect for those passengers that appreciate this extra privacy, or at least the possibility to get away from the crowds and indulge in a little private time. There will also be no looking around for a spare deck chair and no worrying about losing your spot when you head off to the bar.
Fresh Sea Air: Simply open up your balcony doors and enjoy fresh sea air.
Room With A View: Your own private balcony can give you some of the most breathtaking views of your whole trip, especially if you're sailing past epic landscapes such as glaciers, medieval European river towns, or colourful coral reef networks.

Top of the cabin range, and usually towards the top of the ship, these range from mini-suites on some cruise lines right through to penthouse-sized apartments and villas for the ultimate in cruise luxury. Expect at least a larger balcony and separate sitting area, some offer interconnecting cabins for families and may accommodate groups of up to 14 passengers. Spa cabins are another plush option – these suites offer direct access to the ship's spa facilities. While you will pay a premium for your suite, it may bring with it some all-inclusive bonuses such as concierge service, private lounge access, free laundry, priority specialty dining and more. Your Flight Centre Cruise Specialist can advise on getting the best bang for your buck.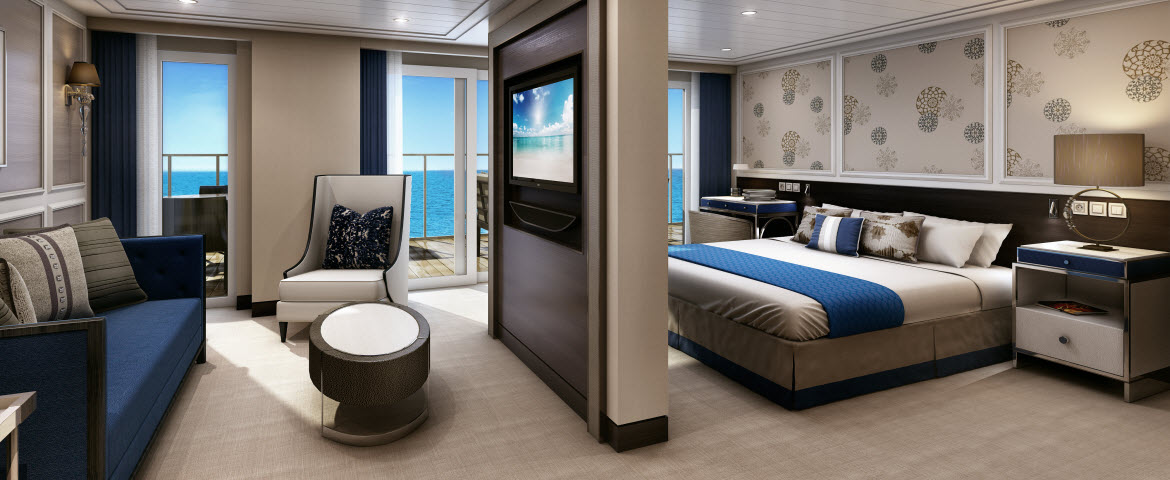 Benefits of a Suite Cabin:
Private balcony & great views: Fresh air and incredible views are all part of the furniture in a Suite Cabin
Spacious living areas: Most suite cabins offer separate living and sleeping areas with walk-in closets, a full bathroom and deluxe amenities so you can stretch out, put your feet up, and enjoy the incredible views.
Extra Inclusions: Suite guests enjoy more amenities and personalised service such as priority boarding, concierge services, free specialty dining & access to private areas of the ship.
More Helpful Advice on Choosing Your Ship & Cabin:
Our Cruise Specialists are ready to help