Our Cruise Specialists are ready to help
How to Choose Your Cabin Location
"Location, location, location" - get it right and it will make your holiday, get it wrong and you may lose hours of sleep as the sounds of scraping chairs or loud music on the pool deck above can keep you tossing and turning all night long. Top or Bottom, Front Back or Middle. Choose which location best suits you: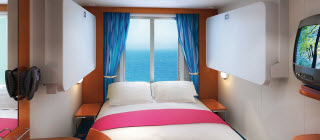 A great value option that will get you debarking faster on port days give you an up-close view of the ocean! The lower and more central you are in a ship, the less roll and sway you will feel. For cruisers with mobility difficulties, accessible cabins are likely to be located on the lower levels of the ship.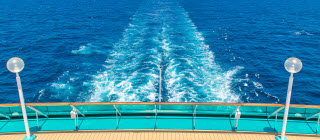 Often cabins situated at the aft (or the back of the ship) will come with the biggest balconies and the most wonderful views of the wake of the ship. You don't usually have a lot of neighbours but you may be subject to various engineering noises and vibrations.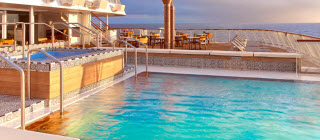 Centrally located, the midship has the best access to all of the ships incredible amenities including restaurants, bars, lounges & pool decks! The midship is the best location for passengers who suffer from sea sickness, or need to be close by to the elevators but they can sometimes be noisier due to the number of people walking past your cabin door.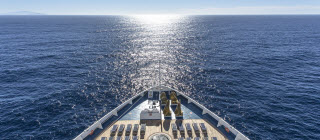 Cruisers in the forward cabins are the first to see what's ahead, which is great when you sail into each port of call. Close by are typically the theatres, fitness centres & spas. However, if you are prone to motion sickness, then this position is not recommended as the forward cabins are the most affected by rough seas.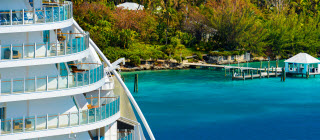 The higher the deck, the better the views when entering ports or scenic cruising but these do come at a higher cost than the lower decks. If you like to be amongst the action, then the cabins on the upper decks are for you, being the closest to the entertainment, outdoor pool areas, sports courts & activities.

There are four key things to consider when choosing your location on a cruise ship: Noise, Stability, Distance, & Views.
Avoid the bump and grind
Light sleepers, or those cruisers looking for long periods of cabin rest and relaxation, will be happiest in a spot away from high traffic areas – and that means taking into account what is going on above and below as well as adjacent. The very structure of ships means noise can resonate between decks. Spots for light sleepers to avoid but perfect for the socially minded include
Directly underneath the pool deck (often called the Lido deck) and associated bar and buffet areas
Near kitchens and service areas
Nightclubs, bar lounges & casinos
The sports decks
Bow wave noise can affect some cabins in the forward section, low down, while the same goes for engine rumble in some lower-level cabins aft (near the back). The best noise-insulated cabins tend to have other passenger decks above and below. And some people find they get a wonderful night's sleep in an interior cabin where there is less intrusion from natural light.
Distance in getting from A to B
Some of the largest cruise ships are, literally, giant, multi-storey holiday resorts. Even the so-called mid-sized ships with up to 2,000 passengers can be fun to get around and cruisers often find that they can get some decent exercise by dodging the lifts and taking the stairs between decks and their various entertainment, dining and leisure venues.
However, less mobile passengers, or families with small children, may find this is a challenge and they should avoid a cabin too far forward or aft, which may mean a long trek down the corridor to lift access between decks. The best cabins for those who can't walk too far are close to the lifts and, ideally, within a deck or two of dining rooms and key entertainment areas. There are also special cabins on major cruise ships for those who need a wheelchair.
Flight Centre has recently partnered with Medical Travel Companions, who offer transportation and concierge services including qualified nurses, paramedics, or travel nannies for passengers to ensure a stress-free trip. Speak to one of our Flight Centre consultants for more information.

Stability to keep the tummy on an even keel
It takes heavy weather to make today's cruise ships rock and roll to the point of discomfort. Sophisticated stabiliser technology makes for a generally smooth ride. But if you are particularly worried about the potential for motion sickness, look for mid-ship cabins as these tend to be more cushioned from any rocking bow to stern.
Cabins on lower levels will be least affected, but that restricts your option of booking a balcony cabin or suite. The next best position is a cabin aft where forward up and down motion will be minimised – and where you can still have the option of a piece of the outdoors.
Rooms with a view
It goes without saying that the best views come from cabins on higher decks, though the trade-off might be a little more motion and a little more noise, depending on position. Some cruise lines offer forward-facing balcony cabins and suites that give impressive views over the bow (the front), not unlike the view from the bridge.

Other cruisers are loyal to cabins at the opposite end of the ship. The "stepped" angle of the stern (the back) on many ships tends to provide more balcony space and an equally impressive view of the ship's wake.
One final tip: the type of cruise may dictate which side of the ship you need to be on for the best view. For example, on an anti-clockwise cruise around New Zealand, port-side cabins will sell out first. It pays to plot your route before you book but there is certainly a lot to consider when choosing your location on a cruise. Do your own research and study the deck plan or get some great tips from one of our expert cruise consultants who have spent a combined 27,000 nights at sea!
More Helpful Advice on Choosing Your Ship & Cabin: